Le Martire comes from Italy and they have some old bands to listen on to do their good punkrock. Something happened with this interview but now it´s finally here. October 2016
Please tell me a little bit history of the group?
-Lemartire are born from the ashes of the Total Crash of Authority, a band born from the friendship between Paolo and Enea. After years of adventures and deadly triple jumps, two new member join the band, first Roger and then Niko. These new entries finally gave stability to the formation and so the band immediately decided to start writing new songs.
The demo of 2012 is followed by a long recording silence that seems to end with a self-produced eponymous lp in 2016, which put Lemartire back on track.
Due to personal reasons, after the latest release, Roger and Niko decided to leave the band.
Currently, Davide takes over the drums and the formation drops to 3, but the Lemartire still has high-impact lives.
Please tell me a little about every member in the group right now, age, family, work, interests and something bad about everyone? Earlier bands? Other bands on the side?
-Enea: Guitar and voice, 28, carpenter who left his hometown for the old italian industrial capital (Torino)
Paolo: Bass and voice, 30, electronic technician who also play bass in "Le Madri degli Orfani" and manage a youth center
Davide: Drums, 19, student and world traveler.
I can hear much different influences , mostly punk and not so much the oldschool Italian HC? Favorites from the past?
-Yes it's normal, this LP has got the influences of all the four members who have registered it, ranging over the entire punk and HC scene, since the beginning to present days.
Le Martire are you satisfied with the name? How did it came up? What does it mean? You weren't afraid that some other band would be named like this. Which is the best bandname you know?
-Yes, we are very proud of this name. It was born from a lexical error made by Paolo and has been adopted since then for its originality and musicality in the pronunciation. It also represents a sign of demarcation and change for us.
In our opinion, the best name for a band is the one who represent it.
What´s the best thing with playing live?
-The contact with the audience and to be able to share something with it, seeing in the eyes and attitude of people a positive feedback.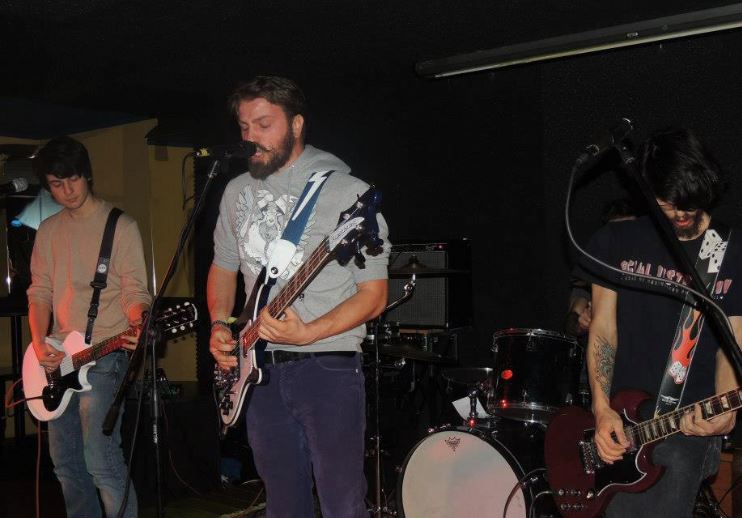 And where is best to play? And the worst place?
-Generally speaking it's hard to tell. First of all it's important the relationship between the band and the manager of the club (or those in charge), and then of course the main thing that matter is the relationship with the audience. A good concert is the one with participation.
How is to play this sort of music in Italy right now? Which types of bands do you have concerts together with?
-It's not easy, but there is a small scene and between bands we help each other and share live dates.
How would you describe your music in three words?
-Energetic, instinctive and direct.
What does punk mean to you, is it only a word or is it a lifestyle?
-It's a way of life although is no longer the way it was in the past, it evolved like everything.
How do you see on downloading, mp3 and that stuff?
-It's a good way to get to know and deepen a band or a genre, but then if you like the artists you have to support them buying cds
How is it to live in Italy now? Politically?
-It's shitty! But you can't just sit around moping, you need to work and do your best to improve something every day.
Is there any good bands from Italy now? Is the punkscene/hardcorescene big? The metal scene? How is it in your hometown?
-As we said before, there are many small local scenes, there are bands that are a bit more known, but in the end we all know each other.
What do you know about Sweden?
-Honestly not much, I think the same amount of stuff that you may know about Italy
Have you heard any good bands from Sweden?
-Yes, on top of our minds there are a few examples as: Avskum, Millencollin, Satanic Surfers and derivatives, Hives, Backyard Babies, Refused etc.
Your lyrics, who does them and what influences you? Is it easier to do lyrics now or was its easier to do it when you was younger? Only in Italian?
-The lyrics were written by Paolo, Enea e Roger. Now only by the first two.
Growing up the issues have changed and so our way to face them. We write mostly about social protests and personal experiences so the lyrics come out naturally in our mother language, but that doesn't mean we dislike other languages.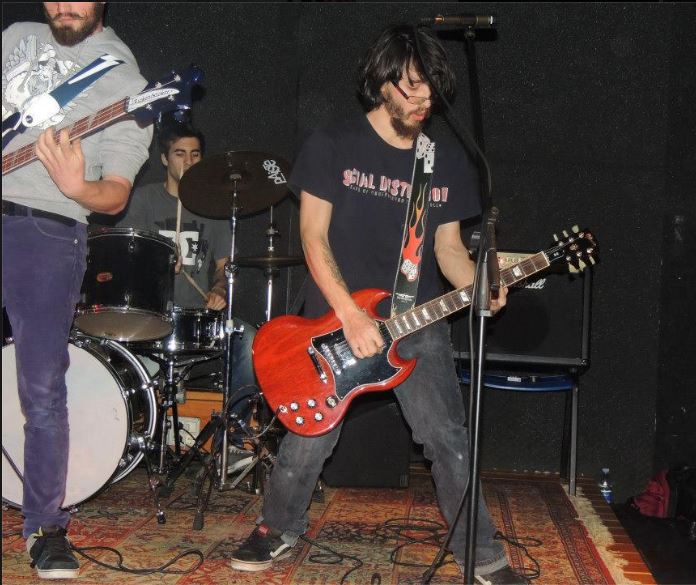 Is there any subject that you never will write anything about?
-We don't want to write just to attract a certain audience, we only write our thoughts.
Politic and music, does it goes hand in hand? Which is your most political song?
-As we said, we consider them more about social protests then politics. These two elements can go hand in hand, as well as music and politics, but I don't think this is our case.
Best political band/artist?
-Here in Italy I don't think that there is still someone in music who can answer to this definition, but I might be wrong. As for the rest of the world, we can think of Jello Biafra and also Propagandhi.
Do you think that music(lyrics and so on) can change anyones life, I mean people who listens to music?
-We hope so.
Your cover on your CD looks really nice, is it important to have a record cover which shows people which type of music you play?(You don´t really have that) Your favorite recordcover? Who does your covers?
-The cover was made with great patience from Niko, we didn't care much for the association of the cover with the music of the disc, we just liked the graphic.
Paolo likes the illustrated covers like the ones of the Comeback Kid and Propaghandi, Enea instead is more old school and likes the ones with simpler graphics.
Is it important to get out physical records of your stuff? Why or why not? Vinyl, CD, cassette, what do you prefer if you could choose whatever ?
-Yes we think that is very important, we like that people who enjoyed the show can get our LP. We prefer CDs and vinyls, the audiotapes, given the limited current use (at least in Italy) are more like gadgets.
Please tell me a funny thing which have happened during your career and under some gig?
-One time we attend a tribute night to Ramones, and we ended up totally wasted with the manager of the club defecating outside it.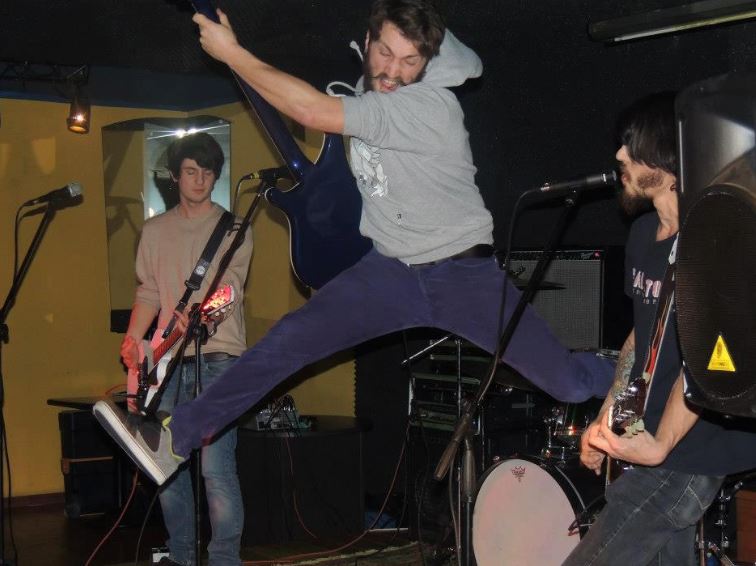 <![if !supportLineBreakNewLine]>
<![endif]> How does your audience look like? Which people do you miss on your concerts? Which is the biggest band you ever have played together with?

-We have a group of affectionates, but we also like to play for new people every time. We've played with bands of the 90s, such as Impossibili, Zheros and subsequents projects of the De Crew components.

Please rank your five favoriterecords, five favoriteconcerts and five most important things in life?

-Album: Sick of it all "YoursTruly", Lemartire "Lemartire", Social distortion "White Light, White Heat, White Trash", Negazione "Tutti pazzi 1983-1992", Dead Kennedys "Mutiny on the Bay".

Concerts: Madness, Motorhead, Sick of it all, Refused, A Wilhelm scream

Life: friendship, music, friendship, music and musicship

First, last and most expensive record ever bought?

-Paolo: honestly I can't remember the first one, I think it was one of the Shandon. The last one is "Off the Leash" – Real McKenzies and i don't know the most expensive.

Enea: the first one I think it was Enjoi by Cccp, the last oneo "78 Lame" by Lappeso e I don't remember the most expensive.

Is it boring with interviews? Is it much interviews?

-This is the first one for us. Paolo is more used to interview with his other band "Le madri degli Orfani", but those have always been on the radio, face to face with the conductors which is always very fun. This was the first one written also for him.

If you could choose five bands from the past and the history and nowadays and both dead and living bands to have a concert together with your band. Which five have you been chosen?

-Clash, Negazione, Sottopressione, Motorhead, Sick of it all

Is music a good way to get out frustration and become a nicer person outside the music?

-Yes, it's a loyal friend that will never betray us.

Which is the most odd question you ever have got in an interview?

-I think it is "What do you know about Sweden?"

Which is the question you want to have but you never get. Please ask it and answer it?
-"Where did the Snorky went?" – "They went under the sea, along with the Atlantics, which are actually the Smurfs".

Futureplans for the band?

-We are working for you, we hope to have another LP in the near future, in the meantime we are focusing on playing live

For yourself?

-Keep doing fine in our private lives

Wisdomword?

-Poor are first to the forks but last at the table

Something to add?

-Thank you so much for reading the interview 'til the end, goodbye!