Legenderna is a band which plays GAIS-punk. They have played in a lot of different bands and here we get an interview with them just before the footballpremiere in 2009.
Why did you start the band?
-We hadn´t a place to be.
Other bands you play in? Torpedo I know but some other bands?
-Sweetwater, Remedies, Grapeland, Medborgargardet, Varpmosse 19, punkcoverband Undercovers etc.
All in the band is supporting GAIS(I suppose)?
-Rhetoric question…
What do you think about records which is tribute records to different footballteams?
-The first GAIS-record was really good, and so was Typiskt Västkustskt, and Heja Grönsvart with Riot. It have been done a lot of rubbish too but there is some good not-GAIS songs like Bubbles with Cockney Rejects for example.
You do an old Cocksparrer-song- and you do it good....have you got permission from them or?
They didn´t say no…
Why not any own songs?
-They comes on our next record…
Do you have any new material?
-That´s the thought.
What do you think about this season?
-10th place maybe and IFK Göteborg is going down to Superettan.
Bandy and GAIS , how is that?
-Of course bandy is supporterculture with bengals and you can take a beer on the match without anyone is giving you shit.
How have people react on the record?
-Mostly positive but some people don´t like it. .
You can often hear the record on matches, how is the feeling when you hear your record on Ullevi?
-Honourful and fun, it´s a little bit a shame with Ullevis bad sound and I hope that Gamla Ullevi have better sound.
Why is GAIS rock n roll?
-It´s more so that the audience have always been rock n roll.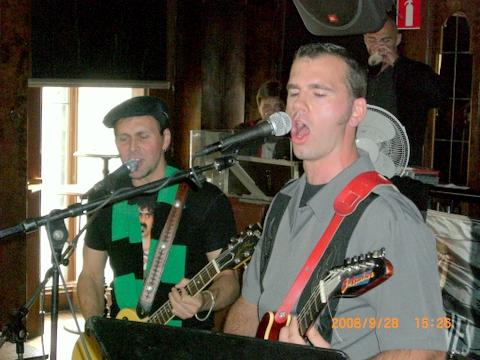 What´s the difference if you compare with other clubs?
-The engagement, just not only stand there and look more to do anything about things.
Football and music, does it go hand in hand?
-Is there alcohol in beer?…
What is typical with a people who support GAIS, are we really people who like to be hurt or what do you think?
-The engagement, the will to offer, to never give up. …
Please rank five favouritereocrds, five favouriteconcerts and five most important things in life ?
-Records: Tell Us The Truth (Sham 69), We're Only In It For The Drugs (Ebba Grön), Nuthin' Fancy (Lynyrd Skynyrd), London Calling (Clash), Snedsågad Skethusgavel (Göteborg Sound).
Concerts: Leather Nun in Errols 1985, Deep Purple in Scandinavium 1987, Rolling Stones in Eriksberg 1990, Cockney Rejects in Oslo some years ago, Molly Hatchet in Sticky Fingers in the beginning of 2000.
Five most important things in life: GAIS, GAIS Bandy, Beer, rock, whisky.
The first , last and most expensive record ever bought?
-First: Strung Up (Sweet), Latest: Varje Tid (Slobobans Undergång), Most expensive: Land Of Hope And Glory (Sex Pistols)
The most embarrassing record in your collection?
-Something with the Pinks (Degerfors proudnesst).
Best footballsongs except the GAIS-songs?
-You'll never walk alone (Gerry & The Pacemakers), Bubbles (Cockney Rejects), some song with Macclads.
Is there any more songs with Torpedo?
-we hope so , we have started to rehearse after a 15 month long break. The goal is to release a record and most with unreleased material.
The futureplans with Legenderna?
-One more record have been fun, and a gig for GAIS Bandy.
Futureplans for yourself?
-A good footballseason, beer on Saturday, much rock'n'roll.
Please tell me something about everyone, how long you have been supporting GAIS, family, interests and something bad about every one?
-Stompen: almost 40, family, have supported GAIS since he was born, Swedish rock, he works fulltime, stopped snuffing for 2 years.
Anders: 40 years, family, Supported GAIS his whole life, motorcycles, works full time, he went down with his motorcycle once.
Erik: 40 years, lives together with someone, GAISare as long as Anders, do mechanics with his Audi, works full time. He snuffs Ettan.
Persson; 40 years, family , supporter to GAIS longer than another teacher on SAMSKOLAN, southern rock, have an own company, he fell asleep in the bar in Västervik when we were there on a away match. .
Olle: 40 years, plays music, have supported GAIS as long as Erik, drink booze, have hos own company,stopped to snuff some year ago.
Peter, soon 40 years, have supported GAIS almost as long as Olle, british punkrock from the 70´s, works on a boatcompany, He fell asleep on the restaurant Bordet.
Wisdomword?
-"Never herrase a pig."
Something to add?
-we thank you for a nice interview with many good questions. Support GAIS. !"