Lazy Sodz is a norwegian group which I really like a lot. They have recently released a LP …here they answers a lot of questions from me . October 2022.
Please tell me a little history of the group, members and what you do when you don´t play music, what do you work and which ages are you in?
Lazy Sodz was founded by Kjetil Andersen, Johnny Halvorsen and Anders Vatle Borger in february 2018 with the intentions of playing covers of old Norwegian punk songs from the south-east of Norway. After about half a year and a couple of gigs we started to make a few songs of our own. This got more focus, so today we play mostly our own songs, but throw in a coversong or two sometimes if we feel like it.
Work? Thomas Lønstad, our drummer, is a hard working man and the go-to guy for train stuff. The rest of us? Well, we don't do shit.
Have it been the same members all the time, or have it been many lineup changes? Please tell me a little about every member? Earlier bands?
We did the old switch-a-roo on our drummer after about 1-2 years. Johnny left and Thomas became our new drummer. Our last gig with Johnny was in the autumn of 2019 we think. Other than that, we've stayed together through good times and bad times!
All of the members are "hillbillies in the city", not much of interest there, but we can tell you about some of our earlier bands; Some of Kjetils earlier bands include Slips, Sterke Svakheter, T-Zers, Fuck-Ups, Ratcats and Stookers. Anders has been in Dvergpornoklubben and Bauges Barn. Thomas has been in Betlehem Abortion Clinic, Stagedive Suicide and Bauges Barn together with Anders.
Lazy Sodz is the name, where did it came from and you wasn´t afraid that some other group would be named so?
Our name is, obviously, stolen from the Sex Pistols. There's no reason to re-invent the wheel if it keeps rolling, so we don't really care if someone else is named the same as us. We think there's at least two bands named the same as us, Lazy Sods and The Lazy Sods. They're both Pistols-coverbands, and both of them write their names with a S instead of a Z.
What´s best with playing live ? Have you been start playing after covid-times? Where is best to play, which country, town, place?
The good times The energy! Free travel and beer! (at least sometimes, hahaha).
In these post-covid times we have a lot going on! We have played about 15 gigs after lockdown we think.
The worst place to play? Stream! Those damn streaming studios with cameras on rails and shiny camera lenses everywhere! We don't know if we have any favourite places to play.. Every place, every city, every town has something to offer. We usually prefer to play in smaller venues and pubs, crowded with people around a small stage.
Have you been one of all these bands which have made livestreams now during the covid-19 time or how is it?
Hrmmm… Yes, we did two livestreams, one at Blitz and one in Jessheim. There was way too many cameras, and we're really happy we don't have to do that anymore! We felt like we were surrounded by some surveillance authority or something!
Is it important to give out the record as physical releases do you think? Would it feel like you have released a record if you only release it digital?
A digital release don't feel like a real release! It has to be something physical! To hold the release in your hands, listening to it, looking at the coverart - that's a real release! A digital release feels like just a random song being played on the radio….so that's no good.
Do you play any covers when you play live? If you do, which then?
We have played tons of covers, and some of them we still play sometimes. As we said earlier, all of our coversongs are old, both obscure and well known, from the south east of Norway. If we do a cover these days, we mostly play "Svart Framtid - Displin", "PVC - Sykebil" or "K.Anfall - Fader Vår", but we prefer to play our own songs.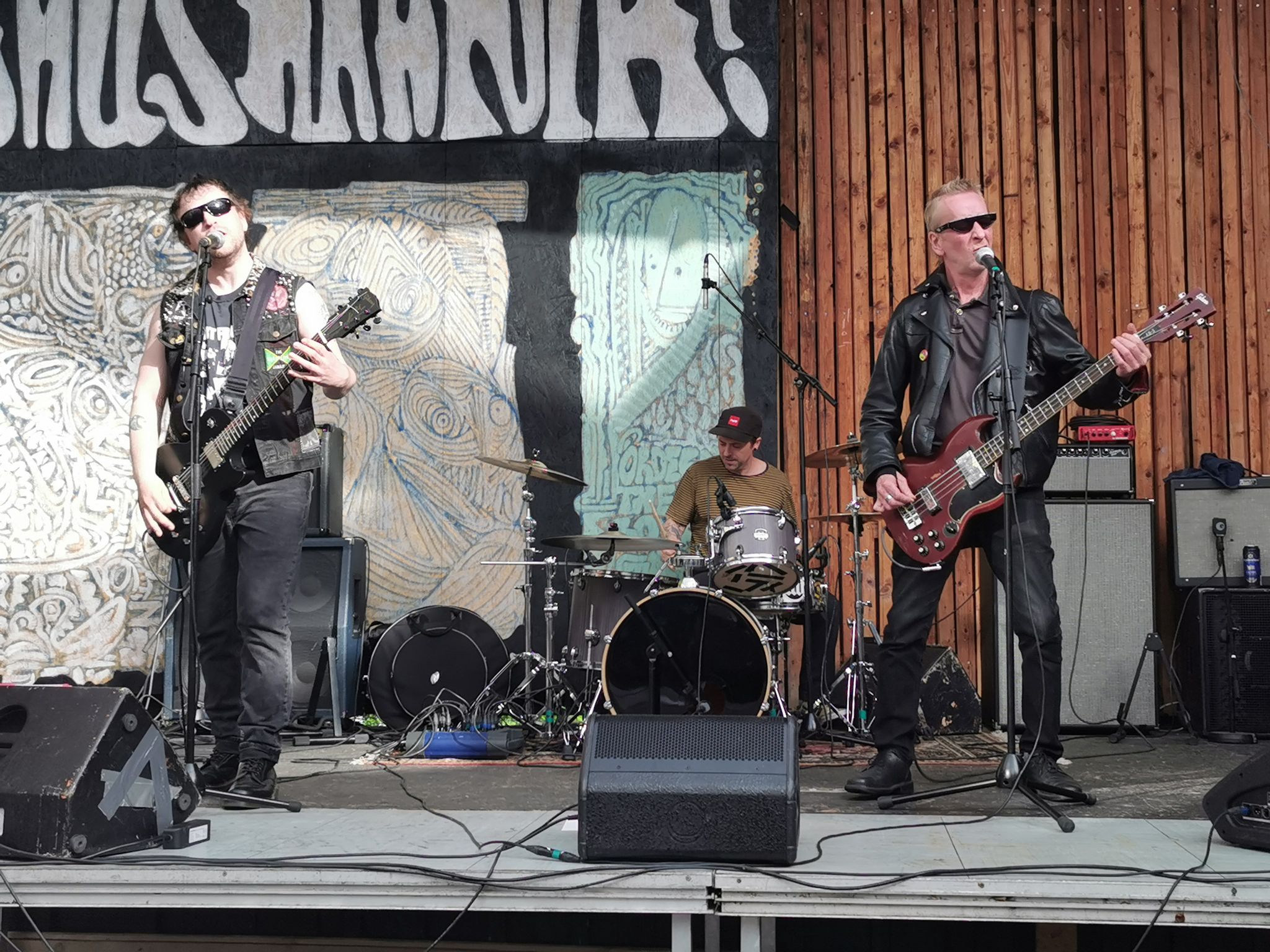 Please tell me a little about following songs
a) Alltid vaera liten
b) Igår blir I dag
c) Underskriv her
Alltid vaera liten - This song is about being a powerless loser in the society, being look down upon by the "elite"
I går blir i dag - Depression and the feeling of being stuck in a dark, endless loop, where every day seems like the day before.
Underskriv her - Big brother, modern surveillance, paranoia and the feeling of being watched.
Is it important to get out your opinions in your music, and is it a good way to get out frustration too?
We think it's important to speak your heart, but we prefer to share thoughts, feeling and ideas about different topics and rather than "preach" what other people should think. We see ourselves more as a storyteller.. speaking about our reality and our misery, hahaha.
Frustration? You bet! We release a lot of frustration!
Do you think that your lyrics can have effect on other people who listens to them…any example on it? Have you changed anyones mind?
Yeah, maybe someone does relate to some of our lyrics… Or so we've been told a couple of times. If we have changed anyones mind we don't know.. Maybe they've changed their minds about us?
How is it to play this sort of music in Norway which type of bands are you having concerts with??
We have no difficulties playing our kind of music in Norway today. The scene is alive and well, and there's several venues to choose from. Things were much worse 40 years ago!
Some of the bands we have been having concerts with are: Politisk Hjærnesvikt AS, The Fects, Anti-Social Rejects, Pink Dirt, The Oxydants and Faensmakt.
I like beer and also make beer.. If Lazy Sodz would do a beer , what would it be named and which sort of beer would it be? Or maybe you´re straightedge?
Our own beer would be the homemade, bad, lazy beer standing dusty and forgotten in the dark corner of the cellar because no one remembered to pour it out… Lazy Beer maybe?
How would you describe your music in three words to anyone who never have heard you?
Pønk rock roll!
Which is your own favoritesong among your own songs?
We don't do favourites! Which song that is a favourite depends on which songs that are the newest…but if we have to choose:
Thomas: Offentlig Beklagelse
Kjetil: Nyhetene
Anders: Øyeblikk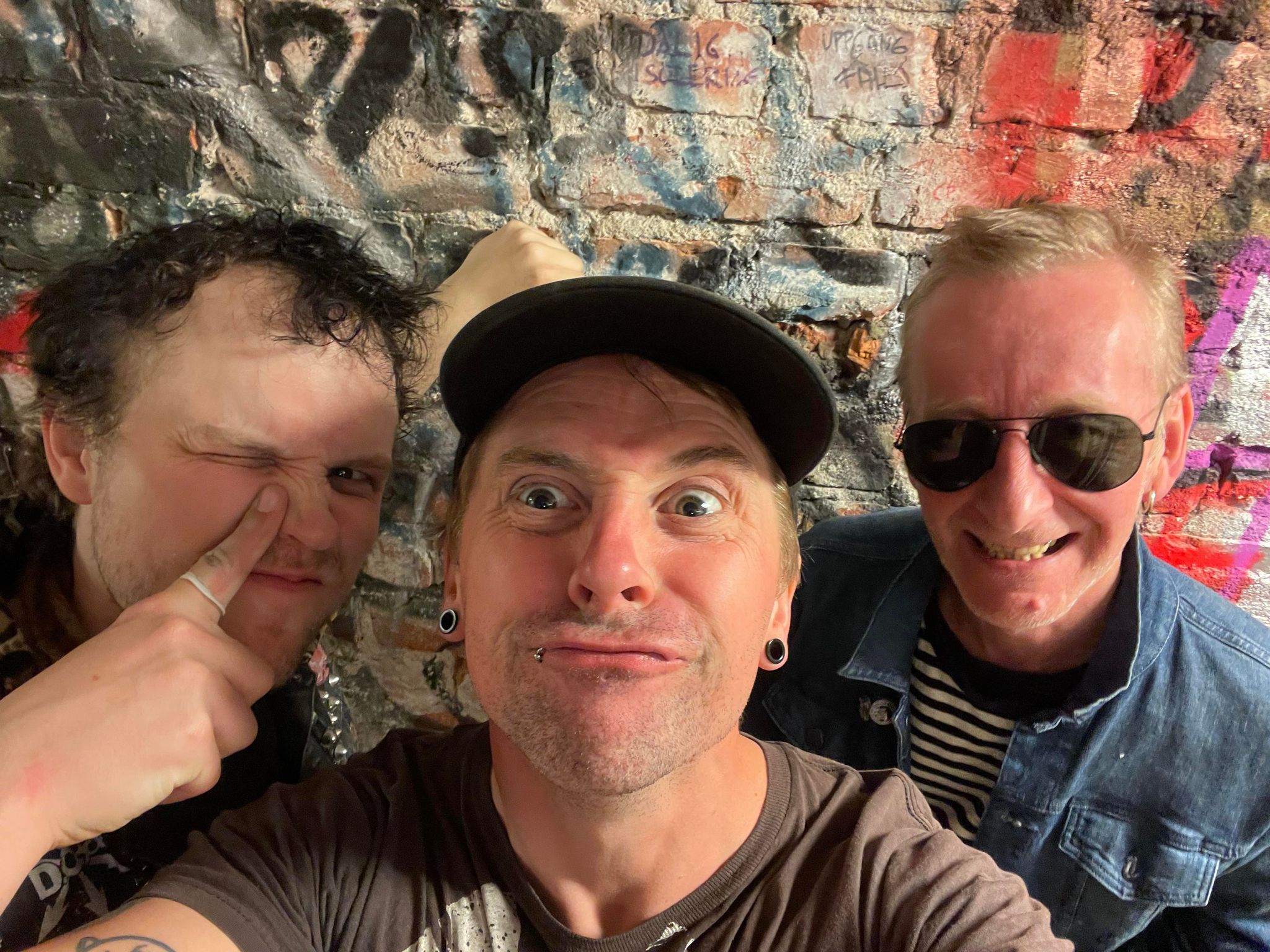 What´s the biggest difference when you plays live nowadays if you compare when you first started to play in a band?
There more venues these days! And the equipment has gotten so much better! 40 years ago there was a lack of venues, and most equipment sucked.
For Anders and Thomas, the last 17 years in bands has been much the same.
Old norweigan punk/hardcorebands which you really like?
Svart Framtid, Bannlyst, Siste Dagers Hælvete, K.Anfall, Kafka Prosess, Betong Hysteria, Kjøtt, ØBK, Oslo Beurs, Stroyers, 1984, De sjenerte, Hærverk, Hjertesvikt AS, Z-off, Kaare og Partiet… and that's just from the top of our heads!
What do you know about Sweden? What is typical Swedish?
Anders - Surströmming, igelkottar and D-beat
Kjetil - Asta kask, Christer Petterson and Oluf Palme... And Volvo! ...And Ebba Grön. Fläsk! Systembolaget!
Thomas - Trallpunk.
Have you ever been here? Any good bands from Sweden that you like?
We have all been to Sweden. It's not that far! Really! We like a lot of swedish punk bands, both old and new:
Ebba Grön, KSMB, Asta Kask, Stockholms Negrer, Attentat, Skäms, Moderat Likvidiation, Mob 47, P-nissarna, Sötlimpa, Puke, Bisex-B, Sixten Redlös, Bitch Boys, The Past, Missbrukarna, Trogsta Trask, DLK, Satanic Surfers, Borgerlig Begravning, Civil Olydnad, Troublemakers, Böset… Yeah, and Nationalteatern!
Your audience when you play live, which type of people comes, age?
Most people are in the age group 30-60, mostly punks.. Other than that there's usually a mix of different kinds of people.
Please tell me a funny thing which have happened during a livegig with your band?
A lot of funny things have happened during a livegig, but most of them are things that just the three of us find funny… inside jokes and all that.
One time, Thomas lost his drumstick 7 times during a gig. That was fun.
Is there any good bands in Norway today? New bands which is good? Old bands which is still good?
A lot of the bands we have been playing with are really good. We don't know if Beinkjør is back, but if they are, count them in! Dømt, Danger!Man, and Murder Maids are good newer bands. Backstreet Girls is an old favourite!
Which is the record that you always must have in the tourbus?
In our tourbus we have a rare, mint condition ABBA record used to maintain the mood from the concert to the afterparty!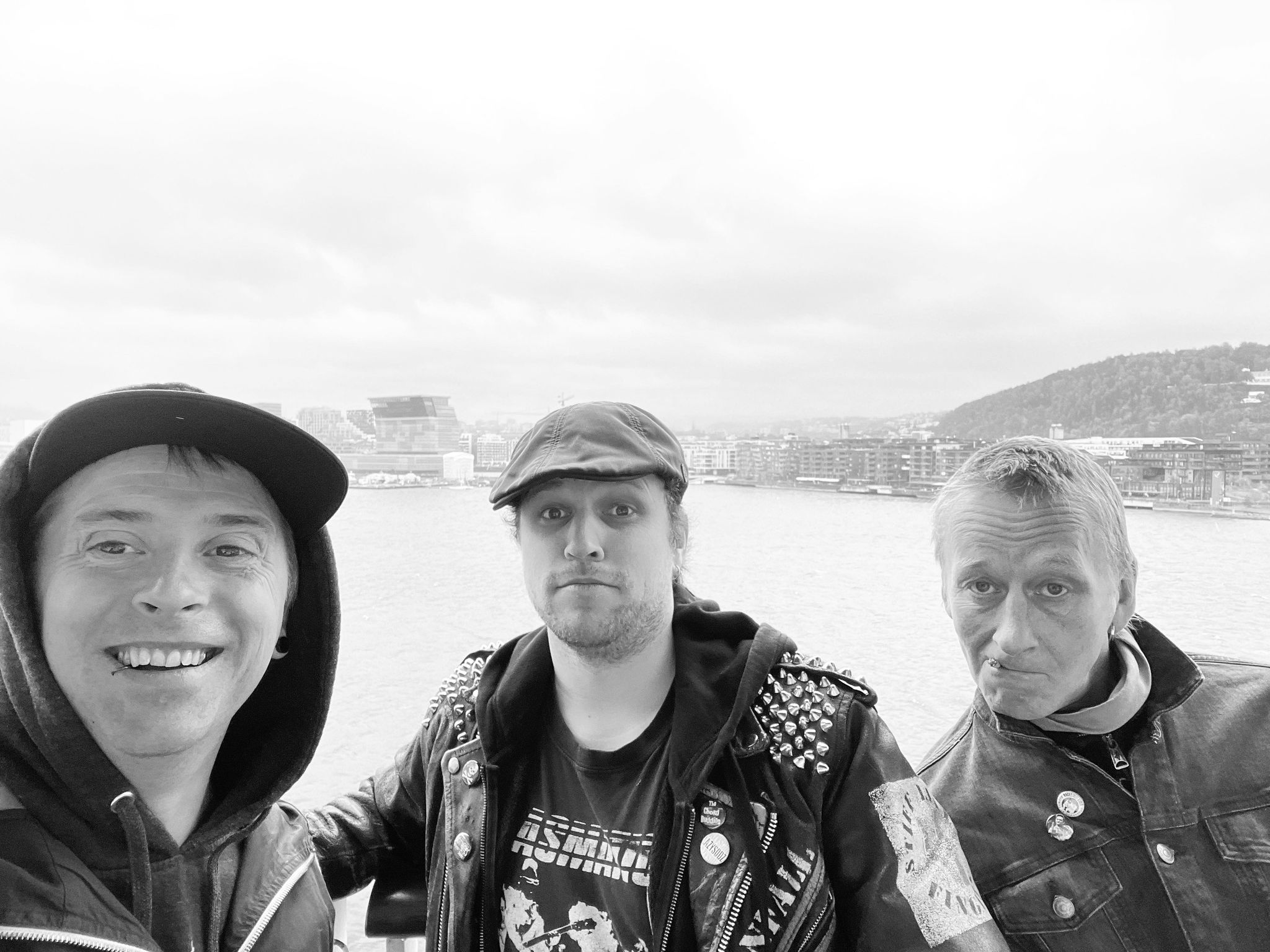 Do you buy much records, or is it only Spotify and those type of things to listen to music?
Kjetil: I'm happy with the records and cassettes that I've got. I don't need any more.
Anders: I buy a lot of CDs, records, cassettes… and sometimes listen to Youtube when I'm too lazy to put on a record
Thomas: I buy both records and cassettes, but also listen to digital releases a lot!
How is it to live in Norway overall, covid, racists and the attack with Breivik and on the gaybar?
In Norway everything is as shitty as it's ever been. We do see that these things are affecting society, but other than that we don't have much to say. We don't want to give them any more attention!
Do you care about reviews? Which is the most peculiar you ever had, with this band or any other band you have been to?
A really bad review might be funny! Hmmm, yeah, it would probably be nice to get a good review too… Kjetils old band Fuck-Ups got a good review in Maximum Rocknroll one time. That was awesome!
If you could choose five bands from the past and the history and nowadays and both dead and living bands to have a concert together with your band. Which five have you been chosen?
Anders: Svart Framtid! Bad Brains, GWAR. I would love to experience those live shows!
Kjetil: Stooges from '69, Big Balls and the great White Idiots
Thomas: Converge!
Futureplans for the band?
We got two new records out! The album "Blod, svette og utgåtte skosåler" and the EP "Her er vi igjen". We're probably gonna play more concerts, both in Norway and outside of Norway, and we're sure that we're gonna release more material in future
Wisdomword?
Thomas: Don't eat the yellow snow!
Anders: Turn off the phantom power!
Kjetil: You need to ask my dentist about that
Anything more to add to the interview?
No comment.
Pictures:
Madeleine Johansen och T.Lönstad