Last Line of the defense is a really good group which I really want to hear a fullength with. This german band really rocks hard. Check out this interview done in march-2009
History about the group?
-We started at 2004 and since 2005 we are on the road!
Please tell me a little about every member, age, family, work, interests and something bad about every one?
-Eloi, age 27, married soon, janitor , Alcohol, music, he farts to much!!!
Wallace, 28, not married, sometimes these sometimes that, Skateboarding, Music, Collecting Action Figures, Pot smoking, something bad? Pot smoking!!!
Dennis, age 27, not married but Father of a little daughter, Postman, Smoke weed too, collecting Action Figures too, music and a lot of women, He is a Angel(hahahahahahahahahahaha)!!!
Have it been changes in the line up through the years?
-Yes, in 2008 our Bassplayer Sven leave us. It was a great time with him, but our style of Music stands in difference through his style he wants to play.
To play punk in Germany, how is that?
-It works. ;-)
Why do you sing in english and not in german?
-We guess it is the best way to bring our music around the world. You know, we think punks in Indonesia, for example, don't understand the German language and so they don't wanna hear through our stuff.
What does punk mean to you, is it only a word or is it a lifestyle?
-For us it is a lifestyle and we live it since many years, but nowadays the people often think about so many things it is Punk . So we think that Punk is even only a word!
Which is the most political song you have done?
-Hate the state! You find it on our 6 track EP We are the street. It contains our meaning about our state we lived in.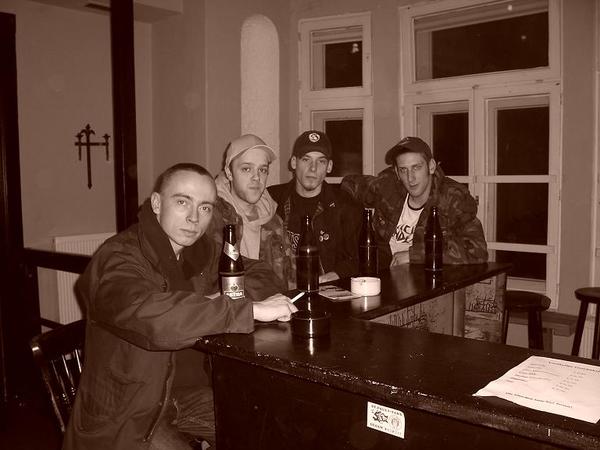 Doesn´t music and politics goes along hand in hand?
-Sometimes yes sometimes no.
Is there any good german punkband which is really political? Other good german bands?
-Oh we had lot,for example Loikaemie, Abwärts, Anticops, Punishable Act etc.
How is it to live in Germany nowadays? What's the best and what's the worst?
-It's ok, Hartz 4 lives on. the unemployed are happy...
Is it many differencies between rich and the poor?
-It's like in every europe state, the rich gets richer and the poor gets poorer
Football? Any favourites?
-Not really!
Your hometown, how is the musiclife there?
-It´s a small town but we have very good bands here like,
Metal Wich, Overdose, Irate Architekt etc.
What do you know about Sweden?
-A lot of sweet girls , hehe.. and good bands too.
Have you heard any good Swedish bands?
-Raised Fist, Victims, Hellacopters, Millencolin, Misconduct, Perkele etc.
Have you done anything else than We are the street and demo2008?If you have how can I get it?
-No thats all for the moment, but we work on new stuff.
You can order the demo at llod@gmx.net
New things like MY Space, facebook and those things, have it helped you a lot?
-Jo my space helps us to get in contact with other(little) bands from all over the world and to find shows.
You have been a lot outside Germany and played, where have you been and where was most fun?
-Yeah.the best was in east Germany,it was really funny. We played there two times on a D.I.Y. Festival
How does the average Last Line of defense-fan look like?
-HAHAHAHAH Drunk
Which people do you miss on your concerts?
-More women ;-)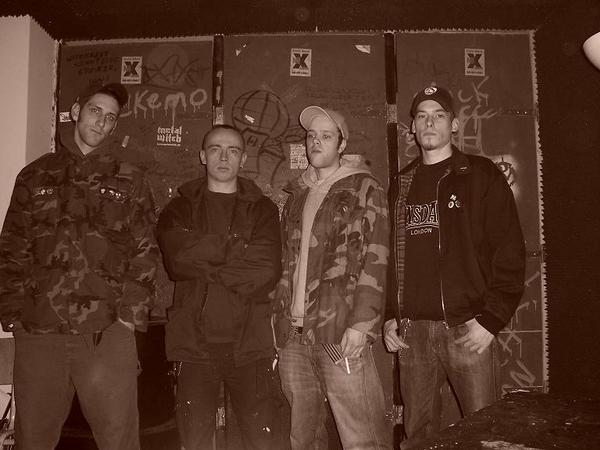 Which song is the fans favourite? And you own LLOD-favourite?
-Mm we think it's Hate the state and We are the street. For us it is hard to say, we like every song we have.
You haven't done any cover-songs?
-Yeah of course, Slapshot- No friend of mine, watch me bleed, blitz- Warriors, Discipline-Frontline skins, Madball- Pride, Iron Cross-crucified, Negative Approach- Tied Down, Tech 9- Last line of Defense
Where did the name came from?
-From Tech 9. we covered the song and thought this is a good band name for us.
Please rank your five favouriterecords? Five Favouriteconcerts? And five most important things in life?
5 Favourite Records:
1. Slapshot-Old tyme Hardcore
2. Bonecrusher-tomorow is to late
3. Minor threat- the hole stuff
4. Blood for Blood-Revenge on Society
5. Warzone- the hole stuff
5 Favourit concerts:
1. Sick of it all-Hamburg, Markthalle
2. Slapshot-Hamburg, Markthalle
3. Agent Orange-Hamburg, Hafenklang
4. Negative Approach-Hamburg, Hafenklang
5. Last line of Defense and Victims-Rote flora Hamburg
5 most important things in our lives:
1. Family and Friends
2. Fun on the road
3. Women
4. Beer
5. Last line of Defense
First, last and most expensive record ever bought?
-Eloi: Lokalmatadore/Klamydia ep, Bruisers-Cruisin for a bruisin
Most expensive Ac/Dc Back in Black
Dennis:I forget, the last- Payback (Italy)-Bring at Back...
Wallace: Have too much records, I dont know
Most embarrassing record in your collection?
-Eloi!: Goyko Schmidt-Kings of Uffta Uffta
Dennis: Audiohead
Wallace: Blink182
What about mp3 and downloading, where do you stand?
-It's ok
Is it good or bad for a band of your calibre?
-We guess its good because the people around the world have the chance to get our stuff.
How much does a band like LLOD sell of your CD´s?
-A lot of
Futureplans for the band?
-We wanna go on till we die!!!!!
For yourself as a human being?
-Make the world a peaceful Place!! Fuck
Wisdomword?
-Live for Nothing or die for something
Something to add?
-Come all to our shows, Buy our stuff and try to drink more then we do.
Cheers and Good night!!!!!