History?
-Last Action Zeros has been around since the beginning of this century. A few line up changes, but never the less we got it tuned and been putting out as many records as we can. We've played more shows that I can count and just been a punk rock band from Phoenix

Please tell me a little about every member, age, family, work, interests and
something bad about every one?
-Mike sings and plays guitar in the band. Him and Greg started Last Action Zeros just to piss off all those Pop Punk bands in our hometown. Mike is the type of person that goes and does whatever he wants but keeps his loyalty to the band. He's been down the lonely roads all fucked up on drugs and been to prison and shit… If you study our lyrics you'll see some of the shit Mike has been through.
Greg is a world class Bass Player, straight from New York, he has lived the life of a thousand men. He has been playing for countless amount of years, hes done the CBGBs thing, he's done the livin on the streets thing, Life isn't easy, but he stays loyal to ones who stay loyal to him and he's hard working mother fucker.
Paul is still trying to find his grounds, when he was first in the band, he vanished one day out of the blue and we've found him in Prison.. not a good way to impress your band when you have tours lined up.. But we waited and took a break til he got out and he served his time.. But if you meet Paul you would spend countless hours bull shitting and having a good time, he is up for whatever.
And Myself Bryan been around the world. I try to never let an opportunity pass me by. Played in bands out in Germany and England. Been around music my whole life and I feel if I didn't have music, I probably wouldn't have much.

Is there any other bands you´re being compared with?
-We always get compared to Rancid, Time Again and few others from Hellcat.. Just the way it is, we all have good taste in Music.

Do you care about reviews?
-We read every review out there and try to find any valid points to approve on. Its almost like a report card you take home from school to show your parents.

How is it play music like this in USA? Is it many interested
Some days are really good and some days you wonder why you are just playin to your merch girl. But never the less, we always do our best and and try to put on the best show because you never know who is hiding out in the shadows. And its good therapy!

How would you describe your music in three words?
-Loud… Fast… Punk

How is it to live in your homecountry?
-It has its ups and downs. I've lived in Düsseldorf for a few years and in Crawley for a few years. I've had the chance to see the difference in cultures and I must say the USA could take a few culture lessons from Europe!

What about the government?
-Governments are always going to be the same, who ever got the most money wins, right? The one thing we can be thankful for is that every 4 years we have a chance to choose our governments and hope for the best… but all in all politicians are crooks and liars and can not be trusted. Sometimes I think we're fucked.

Do you think that music and politics goes hand in hand?
-Music can go with anything, Music is a vehicle for many messages and a very effective one.


Best political band?
-Propagandhi, Good Riddance, Anti-Flag and Black Flag

Is there any good bands in your homecountry now?
-I'll talk about the bands in our Hometown, too many in the USA to talk about. Authority Zero is one of our brothers and they tear it up every time. We have tons of fun playing with them and hope to tour with them soon. Glass Heroes will keep you in check with classic Punk Rock, these guys are good fit with us when we hit the road! Chip Hanna, you got to love that brotha, he has an amazing song writing ability and his sounds are fucking amazing. One Bullet Left is a cross between Rancid and the Unseen, great fucking sounds. Big Vinny, classic garage punk with there.. we don't give a fuck about you. Which leads me to the Fuck You Ups.. Another band we have fun playing with, these guys rock out so fucking hard, it'll make you wanna bleed. There is a ton of bands in the Phoenix area to mention.. best place to find is usually AZPunk.com

What do you know about Sweden?
-I'm able to find it on the globe… haha I'm of Swedish decent, so growing up, I've tried to learn as much as I can, I've only regretted not traveling to Sweden when I was in Europe.

Have you heard any good swedish bands?
-I've poked around swedishpunk.com now and again and realized that Sweden has a ton of bands.. don't even know where to start.. But one of the First bands that pops in my head would be Millencolin, just cuz they blew up in the USA… a little on the poppy side for me.. but I would have to say No Cigar is good track from them.

What does punk mean to you, is it only a word or is it a lifestyle?
-Punk to us is everything, without Punk we wouldn't be here.

Please rank your five favourite records, five favourite concerts and five
most important things in life?
-Since I don't have the whole band here, this will be my point of view.
Life: 1. Family 2. Playing Music 3. Making Music 4. Helping the Punk Cause 5. Vacations
Concerts: 1. Rancid 2. Transplants 3. 4 days with Authority Zero and Good Riddance 4. Avail and J Church 5. Every show I've played ties for 5th
Records: 1: All the Give Em The Boots 2. Rancid-Life Wont Wait 3. Rancid-Let's Go 4. Lars-Viking 5. Op-Ivy-Energy

First, last and most expensive record ever bought?
-I just downloaded the Live Rancid show in Miami, Orlando and Albuquerque.. 30 bucks but over 70 tracks that are a must have!

Most embarrasing record in your collection?
-I'm proud of my record collection… nothing to hide or be shy about.

People who says that punk is dead?What shall we do with them?
-Haunt them in their sleep and terrorize their children.

Is Blue collar Biography and the new demo the only stuff you have done? If you have something more how can I get it??
-We have released a couple of EPs and an album called Red, White and Bruised. But chances are you wont find it anywhere.. its been out of print for some time now and I don't think I even have a copy in my collection.

Is it many interviews? Is it boring?
-Nope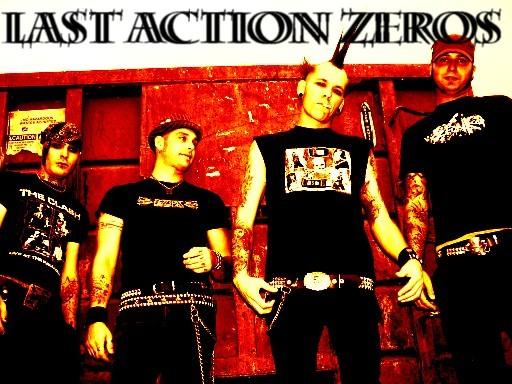 Which is the question you never get, please ask it and answer it?
-How come you are not signed? We never wanted to settle on the first deal that came our way, we always like the DIY aspect of what we do and hope that the right deal comes are way.

Is it any chance to see you in Sweden soon?
-We talk with our brothers Uncommon Men From Mars and the Strawberry Blondes all the time and we talk about this great European Tour… So maybe in the near future you will!!

Where is the best place to play?
-We've had fun in LA.. but at the same time its sucked as well.. We love our home town, so I would have to say house parties… they're the best… no restrictions or bullshit.

How is a good gig with you?
-A good gig with us.. you'll fucking love it, if we don't get out there soon enough.. come over and visit us.

The name where does it comes from?(yeah it´s a boring question but it´s
interesting)? ? And hwat does it means in english?
-It's a rip off of the movie "Last Action Hero" and we also like to say that there was squadron of fighter planes in WWII called Last Action Zero.

What shall we do about all rascists?
-Send them to the artic… they want an all white thing… its pretty white there.. right?

The best band in punkhistory?
-Clash for sure.

The most important punksong?
-To me… hmmm… A real specific question.. so I would say just about any punk song that is true to the heart… really so many to speak of.

Futureplans for the band?
-That demo that we sent to you is a sample of our next album and we're in the midst of releasing it.. Hopefully it will be out soon and then we Tour.. We like to keep our plans simple.

For yourself?
-Play music!!

Wisdomword?
-Keep the punk alive!!! Support it, live it, love it!

Something to add?
-Nope