Lapinpolthajat is a really good finnish group which plays hardcorepunk in the good old finnish way. I got a CD with 27 songs on and it was marvelous. Check them out and read about them here. December-2014
Please tell me a little bit history of the group?
-Jukkeli: Lapinpolthajat was formed in the late '90's in Rovaniemi, Finland. We were a 3-piece with me on drums, Tommo guitar & singing and Moguli on bass. We played a few local shows, made a demo and stopped to play as I and Tommo moved to South Finland. After a decade of silence we wanted to re-record the lost songs just for ourselves. It was so much fun, so we decided to release it on 7"EP with help from our friend Höhnie from Germany. Then we had to play a release gig… and asked to play more shows… it all happened really spontanic to continue! Line-up changed a bit as Moguli was living like 1000 kilometers away from us. So we took Häsperi on bass. Later on Tommos brother joined as 2nd guitarist. Now we have few more releases, played more gigs, toured in Brazil and have studio booked<![if !supportLineBreakNewLine]>
<![endif]>
Please tell me a little about every member in the group right now, age, family, work, interests and something bad about everyone?
-Tommo: I am 37, live alone (I have a girlfriend), work in a dormitory for autistic people, study to become a bachelor of social services, play in punk bands (Uhrit: bass, Lapinpolthajat: vocals, guitar), if I have spare time I help my father to build a house, go to gym or jogging, go to gigs, drive around with my motorbike (Royal Enfield Bullet 500 EFI). Bad about me: sometimes I drink too much and act like an total jerk. I think I have difficult and ambivalent personality, and I think I will never grow up to become an decent adult. I does not interest me at all.
Jukkeli: I am 41 living in Lempäälä, near Tampere. My other bands seem to come and go (Sotatila, ex-Riistetyt, ex-Turun Tauti...) I also run Kämäset Levyt –distro and label releasing punk & hardcore records. I also like to do other punk "jobs" like putting up gigs, drawing, partying or whatever… I'm married and I am addicted to beer and ice cream (separately).
Jukkeli: Antti has 30-years birthday in two days(!) he has also other active bands right now: The Heartburns, Useless Cunts. So he is busy with them but goes to work when it's possible. When he starts to laugh, there is no stop haha!
Jukkeli: Häsperi is now probably earning his money for the future – meaning drinking coctails and playing poker with his laptop somewhere in Indonesia. He also plays in Diskelmä, Generals and Surffiveikot at least. He is also 30 years young.
Lapinpolthajat what does it mean? The best bandname you know?
-Jukkeli: Probably one of the shittiest. But let's say it's an anti-war name from the history of Lappland.
Your influences are many but a lot of old finnish hardcore, am I right? Any favourites from then?
-Tommo: You are right... if one band has to be mentioned as a musical influence for Lapinpolthajat, I say Lama.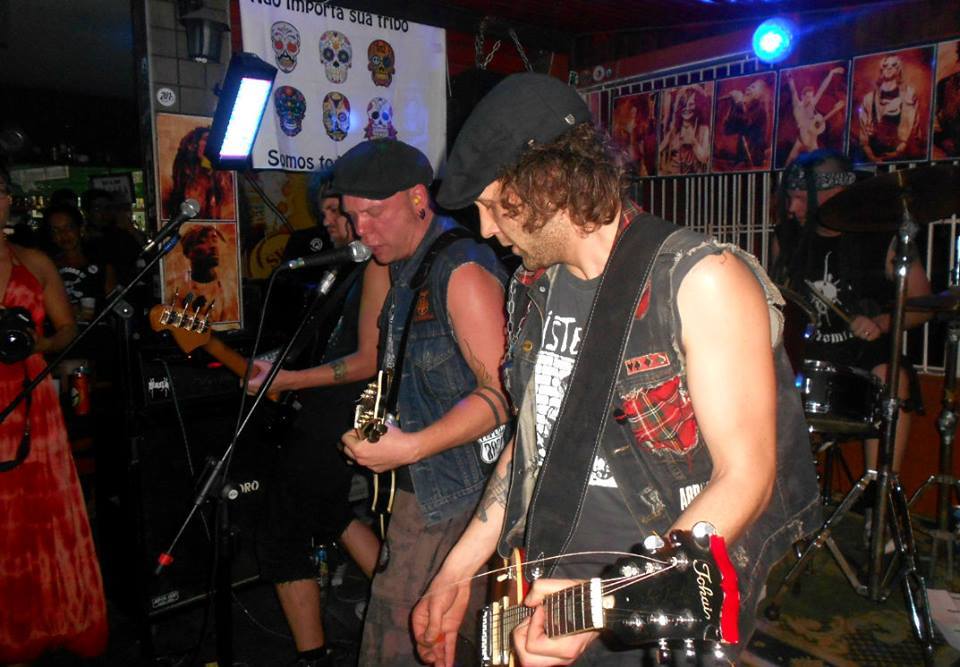 What´s the best thing with playing live? I can imagine with your fast music that it´s wild?
-Tommo: Hm. When on MDMA maybe? Hahaha! No, but seriously I think best thing about playing live gig´s is when it is good: when sound is good, energy is good, feeling is good... when it`s good, it`s good, right?
Jukkeli: I also like the fucked-up ones - even more!
And where is best to play?
-Tommo: Well, it has nothing to do with "where", my experience is that gig can be fantastic when there is shitty PA and shitty backline and only few people on the crowd, and gig can be a disaster when on a big stage, a big crowd and excellent PA & backline... it has everything to do with energy you are able to put in to a show and to the songs and also to get the feedback from the audience.
Jukkeli: normally it's the better the more far away from home you are.
How is it to play this sort of music in Finland?
-Tommo: It is good. We love it. Many nice people in the scene, interesting personalities, lots of gigs, lots of zines, no stupid fights among punks like in some other countries.
How would you describe your music in three words?
-Tommo: Punk. Joy. Virago.
What does punk mean to you, is it only a word or is it a lifestyle?
-Tommo: For me, punk is a perspective, a community, a culture and a lifestyle.
Jukkeli: pretty much the same. but there are also a lot of other things existing than punk in this world.
How do you see on downloading, mp3 and that stuff?
-Tommo: I think it is artificial to try to force the people to buy records if music can be downloaded or listened for free from internet. I hope some of them keep buying actual records, but I don´t worry too much about it, I´m not in a band to make money.
Jukkeli: Great way to find new interesting stuff. If I like it, I want the real deal. Works the best with the impossible-to-find stuff and for the poor people to enjoy the same stuff as rich.
How is it to live in Finland now? Politically?
-Tommo: Right now many people are unemployed and the economical situation is quite bad. Right wing parties are popular, especially Kokoomus is popular among the people. I don´t understand it, it is a party for the benefit of small economical elite, but people seem to think that by voting a beautiful people with prosperity they will become beautiful people with prosperity. Many people in Finland are quite narrow-minded and conservative and stupid in general. Fuck them. I don´t want to think about it too much about it, I become frustrated if I do.
Jukkeli: Now it's the cold war again. I guess we'll be in NATO soon, together with Sweden I suppose. Fear of Russia is never ending here. Right-wing movement is also rising – as is everywhere in Europe. As well as governments and big corporations trying their best to keep the people silent what's happening. Same shit everywhere…
Is there any good bands from Finland now? Is the punk scene big?? How is it in your hometown?
-Tommo: There are a lot of good bands coming from Finland, from punk bands I want to mention Kohti Tuhoa (my favourite, still haven´t seem them playing live), Useless Cunts, Heartburns, Kivesveto Go-Go, and Miettiin. Kouristus too, I want to see them on stage as soon as possible. From metal bands Speedtrap is GOD when playing live on stage, really! And I would like to see Hazard Wings play gigs more often, it is very psychedelic rock´n roll experience to see and hear them do their thing on stage. Best band I have seen in years! Punk scene is quite big here in Finland and here in Helsinki there is more gigs and events than I am able to go to.
Jukkeli: Tampere is great too! Tons of great gigs at Vastavirta and elsewhere too. Ok, let's choose some good ones from different styles… hardcore (Vivisektio, Maailmanloppu, Kohti Tuhoa, Ahneus, Bad Jesus Experience, Foreseen, Käpykaarti), punk rock '77 (Kaupungin Valot, Jätä Jämät, Pää Kii), Post Punk / goth (Kuudes Silmä, Silent Scream), Metal (Ranger, Speedtrap) plus tons of old bands still kicking asses.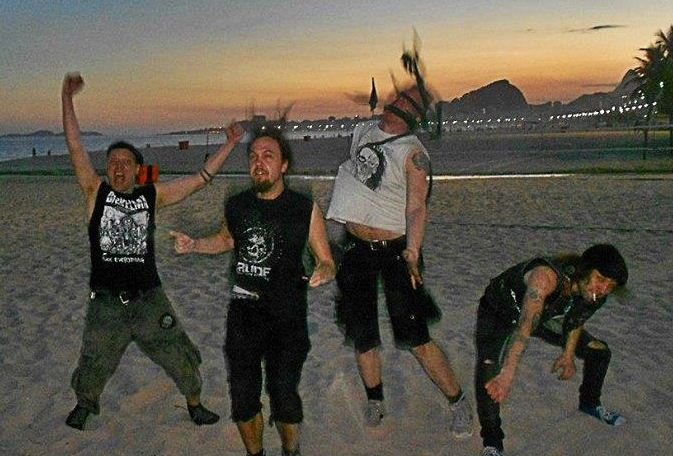 What do you know about Sweden?
-Tommo: I lived my first 5 years of my life in Luleå, Sweden. I have never played gigs in Sweden but we are coming over with Uhrit in few weeks to play 2 gigs (Luleå & Umeå). Sweden is beautiful country with good hockey players, beautiful ladies and good bands. As an country Sweden is a good neighbor and hopefully somewhat of a role model for Finland.
Jukkeli: Anti-Cimex, Snus, Kafe44, Folk Öl, Abba… didn't Santa Claus come from Sweden??? And sauna too!!! And Rajoitus singer selling booze on ferry to Finland!!!
Have you heard any good bands from Sweden?
-Tommo: Fru Dörr and Sista Försöket are both good, they played a gig in Hässäkkä-päivät last summer. Anti Cimex, Skitsystem, old classics. And Hellacopters and Entombed!
Jukkeli: Tommo you forgot Totalitär, I know you love them! Me too, many others too: Ebba Grön, Asta Kask, Mob47, Wolfpack, Herätys (but I think the singer is from Guatemala!), Burning Kitchen, Imperial Leather, Fy Fan… and more.
Your lyrics, who does them and what influences you?
-Tommo: I write most of the lyrics. I don´t take too many influences when writing lyrics. When the atmosphere is right I start to listen to the demo songs and then the lyrics and ideas just come and I write them down. Sometimes I go out to walk in the forest, it helps a bit. Sometimes I get lost in the forest. I like lyrics of Teemu Bergman (Pää Kii, Heartburns), Masa (Ydinperhe), Paula Vesala (PMMP) and Juice Leskinen was a real genius, may he rest in peace.
Jukkeli: Tommo makes good lyrics but they are often very difficult to translate well.
Is there any subject that you never will write anything about?
-Tommo: I think I have never written a love song... well, I wrote one about old guy who falls in love with a prostitute when I was in Elinvoima (a finnish rock band I was in years ago), but besides that, no love songs. I think I never will, it would feel cheesy to write some of that "oh you´re so sweet, your eyes are sweet, I want to make love to you" bullshit. That is not for me. I want ladies to want me because I am bad ass alpha male viking warrior, not because I write some sweet-ass hogwash with cream and cherry on top, hahaha!
Politic and music, does it goes hand in hand?
-In punk they do. Punk has, does and will speak out about things that are somewhat political: value of life, equality, human & animal rights, environmental issues etc. Punks tend to be interested and aware of the current situation in general and some of the matters raise strong feelings in them. It is not rare to meet a punk with a strong social conscience, and many of the punks I know are way too intelligent to handle their perceptions, ideas and feelings simply by ignoring them or by means of religion or consumerism. I think if all the people on the planet would be the way most punks are, human race would have hope to survive as a species for the next 1000 - 3000 years, but this is not the case.
Best political band/artist?
-Tommo: Aleksandr Andropov, who composed the music for National Anthem of Soviet Union, because he composed the music for National Anthem of Soviet Union. Have you seen the video on the youtube, this song with Swedish words? Ryska Nationalsången? I think Russians should change the lyrics of their National Anthem, the Swedish lyrics are way better than the original.
Jukkeli: Crass was probably the most influential band affecting the whole punk movement. But I would say that it's not enough to have the best one band/artist, but rather many together with a good ideas to make the change.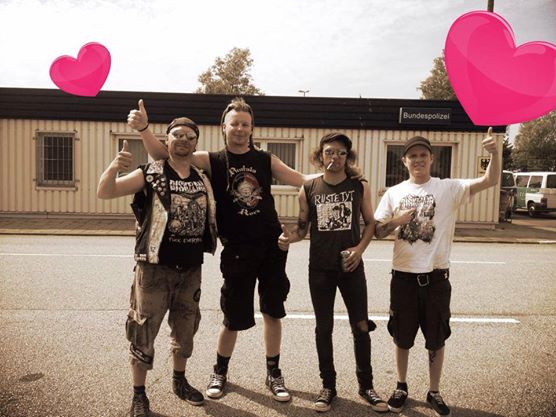 Do you think that music (lyrics and so on) can change anyones life, I mean people who listens to music?
-Tommo: Maybe it is possible, there has to be a reason for radical muslims to want to ban all the music that is played with instruments. Allahu akbar, don´t play a guitar!
Jukkeli: Yeah, little by little… everything starts from somewhere.
Have you thought of doing a tribute song to a football team or so? Are you interested of football, if you care which team?
-Tommo: I sure would like to write a tribute song for RoPs, the football team from our old hometown Rovaniemi. I am not a huge sports fan, but I sure support RoPs! Go RoPs!
Jukkeli: Is that why we have the studio booked, Tommo?
Have you done anything in other language than the finnish language?
-Tommo: Nope. Well, I used to be a member in a band called Grooves of Fury, but I did not write lyrics, just played bass and composed couple of songs.
Please tell me a funny thing which have happened during your career and under some gig?
-Tommo: This is not funny story, but it must be most severe thing that ever happened to us so far: it was first day of our tour in Brazil (spring 2104), Jeferson Pizoni (cheers mate, see you soon!) came to pick us up from the airport of Sao Paolo, and since there was no gig in that evening, we decided to go to a local bar near Jeferson´s apartment. We started to drink beer, and in couple of hours the refrigerator was empty and the owner went to get more beer with wheelbarrow. Everybody was drunk and having fun, when all of a sudden this little kid, maybe 11 - 12 years old, came to the bar armed with HUGE fucking revolver. He robbed the owner at gunpoint and then came to our table. Jeferson told him right then and there "I know you! I know where you live! Why are you robbing us?". Kid told Jeferson to shut the fuck up or he will shoot his brains out, then took Ad´s (local dude) phone from the table and run off. It was a rude awakening to the realities of Sao Paolo: there are gangs with guns, lots of poverty and lots of violence. Human life is cheap, people die over nothing. Jeferson contacted us few months ago and told us that the kid was found dead from some gutter in the area, he was shot dead. Maybe police did it, maybe some gangsters, who knows. Local folks at the time seemed to think that the kid should die for what he did, and he did not live very long after that.
How does your audience look like? Which people do you miss on your concerts?
-Tommo: They tend to look like human beings. Whoever likes our music and comes to our show is welcome if they are not violent assholes or racist bigots. I don´t care what kind of clothes people wear, more important is their mind and personality.
Jukkeli: XXL shirts sell fastest…
Please rank your five favorite records, five favorite concerts and five most important things in life?
-Tommo: 1. Saukki & Oravat, 2. W.A.S.P: Last Command, 3. Riistetyt: Riistetyt (compilation -96), 4. Lama: ...ja mikään ei muuttunut, 5. Bathory: Under the Sign of a Black Mark. Favourite concerts: Ministry @ Tuska Open Air (-03), Clown @ Puntala (-13), Hazard Wings (Lepakkomies -13), Sotatila @ Puntala (-11), Hellacopters (Tavastia -97). Five most important things in life: writing songs, loved ones, health, happiness, cats. Custom motorbikes are very cool also.
Jukkeli: These answers are changing too often, sorry…
Is it boring with interviews? Which is the most stupid question you ever have got??
-Tommo: Jukkeli may answer to this.
Jukkeli: No comments
Is there any new songs on its way? How do they sound?
-Tommo: Third, final album is on the way, I am writing songs but it seems to take time to write the lyrics and to get everything done.
Future plans for the band?
-Tommo: I hope we are able to release a good record next summer, then play gigs and hopefully do a tour somewhere in Asia or South-America. We´ll see.
Jukkeli: Hopefully something but not too much.
For yourself?
-Tommo: I try to finish the school as soon as possible, there is one small course I have to complete, one period of practical training that takes 10 weeks, and thesis I have to write, then it will be completed. I try to pay back the loan I took to buy the motorbike, and after that I think I will move to Tampere so I can live more near to my girlfriend.
Wisdomword?
-Tommo: Bear in mind you only live once and that our time here is very short. Be true to yourself and reach for the things that really make you happy: love, experiences, challenges. Also remember that the people you love might be gone tomorrow, treat them so that if this is the case you can let them go: treat them fairly and let them know you love them.
Something to add?
-Tommo: Cheers to our friends and fans! Hi mom!