I can hear Rage against the Machine., Nightwish, Clawfinger and hardcore in Laika Lost in Spaces music. How do they take this question and many else from me. Read down below and read the interview done in april 2015.
Please tell me a little bit history of the group?
-In late 2011 Konni and Änno came up with the idea of founding a band while eating burgers because they were both playing guitars for years but haven't had bands for a while. Nadine is Änno's girlfriend since they were teenagers and fortunately she's an awesome vocalist so she was in for the project. Arne and Konstantin knew each other from school an had a shitty hardcore band some years ago so it was pretty clear that there has to be someone in the band who does a little bit screaming and shouting. So the only missing link was a drummer, who we found with Jim who just moved to Berlin and was searching for a band. After half a year of rehearsing we recorded a demo CD and decided to name the project Laika Lost In Space. Then in the end of 2012 we recorded another Demo (Tape2) and played our first shows in Berlin and around. After we played most of the venues we like in Berlin we started to produce some diy videos and prepared for our first full studio album which was recorded end of 2013 and released in April 2014, called Frozen Doves Of Peace. A first (europe) tour and other shows followed.
Please tell me a little about every member in the group right now, age, family, work, interests and something bad about everyone? Have you been in any other bands before?
-To make it short:
Arne: almost 30 years old, born in Berlin,bike messenger and enthusiast has been in a band with Konni which never had a single release or show. Arne is always late and really bad with everything that is about money and stuff.
Püppi: 24 years old from Saxony works as a pre-school teacher and is very passionate about singing and laughing her ass off. She's been in a Punk band called Deer Brown Button Eyes. Wherever you are, no matter how cold it is, no matter how difficult, Püppi will always find a way to have her daily hair wash.
Änno: 25 years old, also from Saxony is a luthier in a pretty nice guitar shop in Berlin Kreuzberg. He's also been in a Punk Band called Duckshit. Good thing: he's always working and knows everything about guitars. Bad thing: he's always working and knows everything about guitars.
Konni: He's a 30 years old master of archeology who decided that old bones are boring and works as a driver for an organic bakery and does nightshifts in a house for problem kids. Except from the project with Arne he had a rock band called mal á la tête. Konni is confused. That is sometimes cool, sometimes not.
Jim: With 22 he's the band's youngster. Born in northern germany he moved to berlin to study geographies. He also produces his own electronic music and works as a DJ. He played in a stoner rock band called VaQuum. Jim is just awesome, that can be a pain in the ass.
I can hear rage against the Machine., Nightwish, Clawfinger and hardcore in your music I think? Am I right? Favorites from the past?
-Yes and no. We wouldn't say that these bands had any particularly influence. It's more what you hear and interpret when five different people with different backgrounds mix their taste of music together. We guess that you could ask 100 different people and everyone would hear different influences. That is what makes it so much fun.
Laika lost in space are you satisfied with the name?How did it came up? Which is the best bandname you know?
-Yeah, the name is great. Laika was the first mammal in space, sent by the Russians back in 1957. She was never meant to come back so she was lost in space which is kind of sad. We don't really remember how we came up with the name which means that the story behind it couldn't be too exiting. Basically we like bandnames that are kind of nerdy, like Battle of Wolf 359, John Locke can walk or Biff Tannen.
What´s the best thing with playing live?
-Playing live is just more fun than alone in the rehearsal, you're directly connected to the audience, if you have fun they have fun, too. You can travel around, meet new people, see places you would never have seen without the band and you get new impressions and influences.
And where is best to play? And the worst place?
-The best places to play are those where the people you meet there do things with passion. It does not depend on the amount of fans who show up or how much you get out of the night. It is always awesome to meet bookers who put a lot of effort in promoting bands even if nobody ever heard about them and club owners who built up a venue with love for the music and their guest and cook you something nice and provide you with a cosy place to sleep. And to meet people who are open to any kind of good music and dance around even if they never heard any of your songs before. You can find these places and people all over the world. Not that we've seen the whole world but this is what the DIY culture is all about. Passion and love. Not profit or reputation.
How is to play this sort of music in Germany right now?
-That is really hard to answer. We can not say how it is in Germany. Except from the things mentioned above. What we know is how it is in Berlin. Here we have a very viral club and live music scene. You can visit hundreds of clubs and see tons of bands each week. Therefore people are kind of fed up. They tend to stick to things they know, bands and venues and scenes. So if you do something that doesn't really fit into any specific genre it is really hard to convince people that this what you're doing is something worth giving a chance. And that might be likewise in every place where people are supplied with a viral music scene.
How would you describe your music in three words?
-Oddish – snappy – noisy.
What does punk mean to you, is it only a word or is it a lifestyle? I do know that you don´t play punk but it seems that you have some influences from there too
-As our friends in London based Djevara put it into words: Punk is not a sound.
How do you see on downloading, mp3 and that stuff?
-Actually we can not see anything bad in mp3s and stuff. Maybe the mass of available music in the internet reduces the people's esteem for the single piece of music but on the other hand it opens a lot of doors we wouldn't have if we'd still depend on a massive music industry. The world changes, live with it.
How is it to live in Germany now? Politically?
-Well, it must be kind of like it is in Sweden. We live in a rich middle european country so for us personally we don't have too much to worry about. We do not starve or freeze to death or get shot in the streets and we could consider ourselves lucky to live here. But on the other hand we do have our problems here and it would be a little too easy to call these problems first world problems. Everything is connected so our fortune situation is based on the misfortune of others.
Is there any good bands from Germany now? Is the musicscene big? How is it in Berlin?
-As mentioned above the scene in Berlin is very big. It's almost impossible to know every single band and of course there are a lot of awesome bands and musicians around but it would probably fill pages to mention all of them so let's better do not get this started.
What do you know about Sweden?
-We heard that the Swedish government did some weird genetic experiments back in the 1960. Since then poor nature lovers and hikers aren't safe anymore because genetical modified elks ambush them in the dark and drag them into the woods to skin them alive and eat their raw flesh.
Have you heard any good bands from Sweden?
-Yeah, there are a lot of great swedish bands. From big names in metal like At the Gates or Meshuggah over Punk rock bands we've listened to when we were teens like The Hives or Satanic Surfers to yet unknown bands that do interesting new stuff like Shirokuma or Tengil.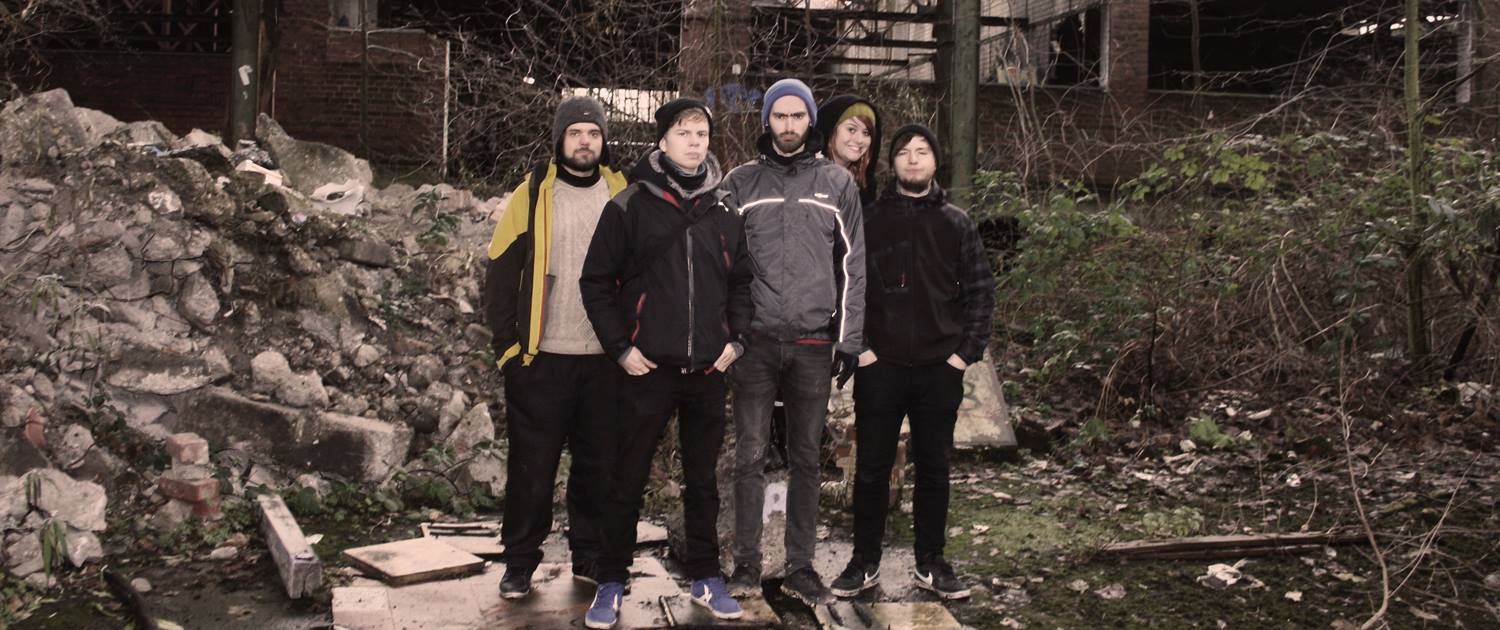 Your lyrics, who does them and what influences you?
-The process of lyric writing is like writing the music. It's always different and depends on who comes up with an idea first. So the influences vary from personal experiences to politics or sometimes just bad word plays.
Is there any subject that you never will write anything about?
-Theoretically it's possible to write about everything. It isn't that much about the subject itself but more about how to handle it. But probably you will never hear a blunt drinking song or some top ten shake your ass shit from us.
Politic and music, does it goes hand in hand?
-For us yes, definitely. But there is also music that has a right to exist without political demand. One thing to mention might be that here most bands that try really hard to convince everybody that they are not political are those bands that are at least grey zone or even more right wing shit. How is that in Sweden?
Best political band/artist?
-That really depends on how you define a band as political. But here are are few you should check out for political reasons. Catharsis, Djevara, Mutabor, Irie Révoltés, Feine Sahne Fischfilet, Saalschutz or good old Dead Kennedys.
Do you think that music(lyrics and so on) can change anyones life, I mean people who listens to music?
-Music can give you a Tinitus. And that can be really live changing...
How did you came up with the sound with the female voice which is beautiful and the angry male voice?
-See first question. And thank you.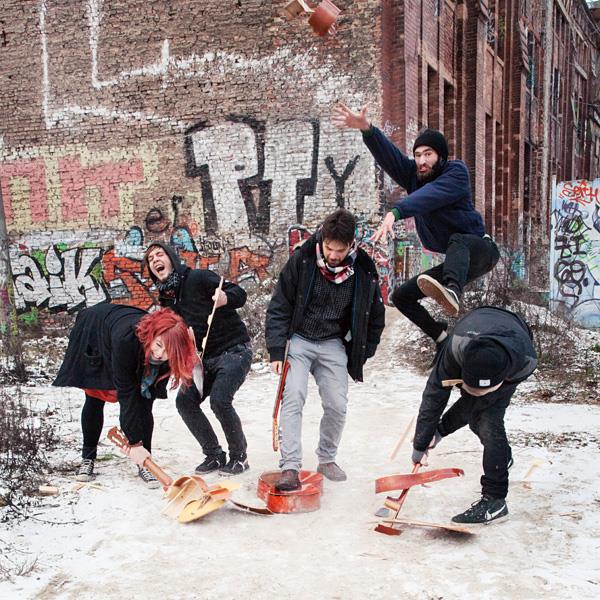 Is it important to get out physical records of your stuff? Why or why not?
-When you buy a record, especially vinyl you do not only buy the music itself but also a great artwork and the lyrics and all that what you wouldn't have if you'd only downloaded the album. So with that there's a possibility to be closer to the band because they had to think about the artwork, the colour of the vinyl and the typography on the lyric sheet. Maybe they folded the covers or hand-numbered them. And they like do that stuff, so buy your favourite band's records.
Please tell me a funny thing which have happened during your career and under some gig?
-Well, we went on tour with an other band, a two piece. After half of the tour these two guys split up and only one of the guys stayed with us as roadie. After the following show we went eating some burgers. Some of us wanted to go to a bar after that and some decided to go back to the place where we stayed, the new roady went to the toilet and we all left. Each of both groups thought he was with the other so nobody wondered where he was. After running around through the city in pouring rain searching us he came back to the flat, shirtless and wet. That was the first moment we realised that somebody was missing.
How does your audience look like? Which people do you miss on your concerts?
-The audience looks pretty mixed. Because we play mixed music at mixed shows so everything is super mixed up. What we miss are people in animal costumes.
Please rank your five favoriterecords, five favoriteconcerts and five most important things in life?Okey, we do not rank things but since we are five people now everyone has the chance to name one of these things. So in no particular order:
Records:
K: Beastie Boys – Ill communication
Ä: Enter Shikari – A flash flood of colour
P: Mutabor – Individuum
A: Refused – The shape of punk to come
J: Fall of Troy – In the unlikely Event
Concerts:
K: M.I.A. @ Huxley's, Berlin
Ä: Dritte Wahl @ Alter Gasometer, Zwickau
P: Mutabor @ Alter Gasometer, Zwickau
A: Converge, Oathbreaker , Birds in Row @ Bei Chez Heinz, Hannover
J: Enter Shikari @ Columbia Club, Berlin
Is it boring with interviews? Is it much interviews?
-Since this is our third or fourth interview it is still fun and a good way to reflect on ourselves, so thank you for the questions.
If you could choose five bands from the past and the history and nowadays and both dead and living bands to have a concert together with your band. Which five have you been chosed?
-One again, every member names one:
K: Dead Kennedys
Ä: System of a Down
P: Enter Shikari
A: Botch
J: Tool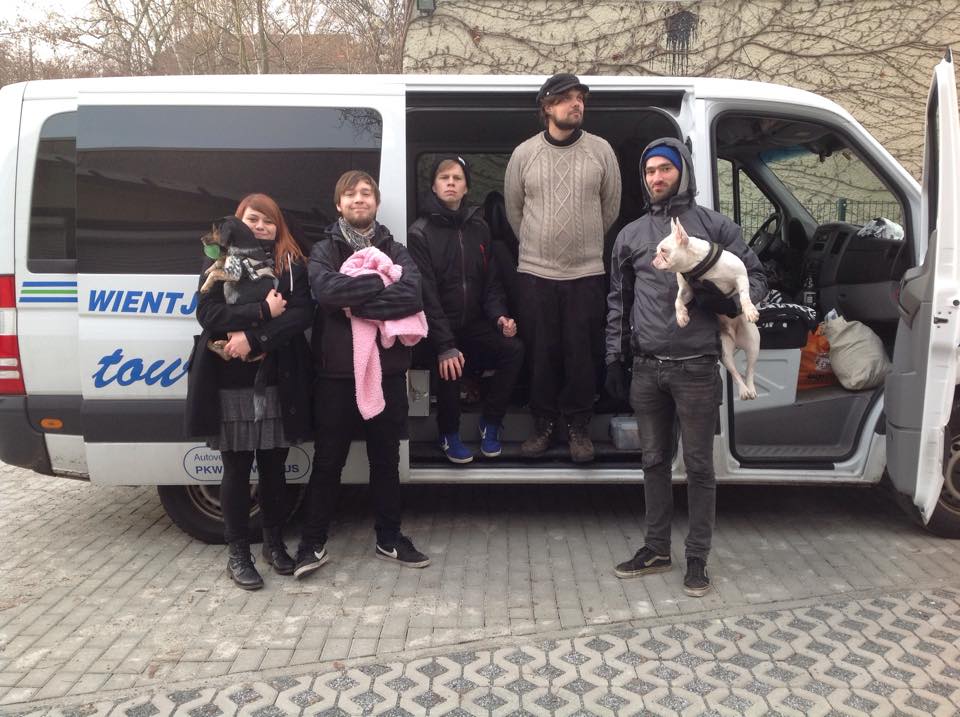 Is music a good way to get out frustration and become a nice person outside the music?
-It's a good way to canalize your emotions and deal with every-day problems. Better than punching people in their faces.
Which is the most odd question you ever have got in an interview?
-There are no odd questions, only odd answers.
Which is the question you want to have but you never get. Please ask it and answer it?
-If you were a unicorn, would you buy tooth paste with or without stripes?
We would train mixed martial arts to be prepared for the zombie apocalypse.
Futureplans for the band?
-Currently we are writing the second album. We already recorded the first two songs in northern Germany. We are going to have three more recording sessions in different locations. In the end all the songs are going to be released on one album, probably on a double 7". Also we are booking a tour around Europe for October and are going to play some small festivals in the summer.
Well, and training martial arts of course.
For yourself?
-Win Tsun, Karate, Taek Won Do, Judo, Krav Maga, character dance.
Wisdomword?
-Crew love is true love.
Something to add?
-Thanks for reading.
i.