Kvoteringen is a group with members from Millencollin, Meanwhile among other which started to play tough music. I think they sound a little like Anti-Cimex, but they don´t think so but anyway answers Larre from Millencollin and Jallo from Meanwhile on my questions about the group.
History?
-Larre: I and Jallo started Kvoteringen some years ago and we wanted to do some dirty old crustcore together and Raggar-Olle and Råttan was in it really soon. Simple, fast and cheap recordings spontaneous and only when we feel for it was the way we thought. We had a band before also which was I.R.D I Ren Desperation which we released a 7 with and there sang Johan (NINE) and Björsa
Please tell em a little about every member, family, interests and something bad about everyone?
-Larre: 1973, Millencolin, girlfriend, fishing.
Jallo: Like to be out in the mountains and to fish.
You´re in some other bands too…tell us?
-Larre: I play in Millencolin and Jallo have Meanwhile,
Krigshot, Ääritila & Totalitär.
The other two guys only play in Kvoteringen.
Why this sort of music…swedish old crustmusic?
-Larre: I and Jallo have been mates for a long time and we both likes this sort of music and have done it for a long time so we decided to start a band together. The idea was to do it as spontaneous as we can. Jallo is grown up with the shit. Jallo har varit polare ganska länge och gillar ju båda
den här musiken
Jallo: The only music I can manage.
I compare you with Anti-Cimex...other bands you have been compared to?
-Larre: It must be that some people think we have stains of Finnish rawpunk and Discharge.
Jallo: I don´t think it is much Cimex in our music , maybe some riff in some song.
But Cimex is a really good band, among the best that Sweden had.
What is the most peculiar you have been compared to?
-Larre: We haven´t had any peculiar reviews yet.
Jallo: Haven´t been any odd, it´s mostly so that they write that it's sounding as Scandinavian punk.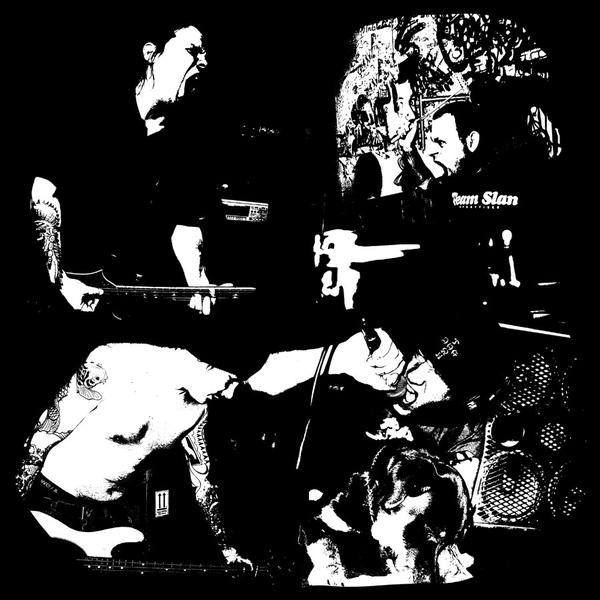 You have lyrics which seems to be important…is it important to have that when you play music like this?
-Larre: I and Jallo writes all lyrics and for us it feels important to write about those things we write about. It's hard to write about things you don´t give a damn about in some way. Those things interest me so it feels necessary and really clear
Jallo: I think the environmentmessage we have in Kvoteringen is important.
Politics and music does it goes hand in hand?
-Larre: I don´t think so and different bands/people writes about in different styles and way. Some people write about how the country is being controlled, politicians act, people being treated, how the community looks like and so on. I don´t look after "political" music but sometimes you hear bands/artists which writes really good political lyrics and sometimes is really bad as many other things.
Jallo: Why not, but in the same time there´s lot of music which is good without any politics in it.
Best political band?
-Larre: Totalitär is good. Mob.
Jallo: Early Discharge.
Larre: Jallo you fucking Discharge-punk.
Is there any other good bands in Sweden in the same style right now?
-Larre: I don´t give a damn about styles and mention some bands we like. Nitad, The Accidents, Skitkids.
Jallo: I agree with Larre, and then there is a band called Fy Fan! They´re good.
What is the most fun with playing in this band if you compare with Millencollin
-Larre. I don´t know, this feels more spontaneous and we only record and rehearse when we feel for it. It's a little more right on the angry spot. Discharge. I like as hell to play music and with these guys in the band so is it really fun.
Millen is a bigger thing which we have doing for a long time, but it's the same freedom for us too. We decide every decisions with Millen also.
Jallo: I assume that this questions is to Larre.
You have only done vinyl this far, wnot CD?
-Larre: The plan is january, a whole gang of songs plus our 7´s.
Jallo: Precisely.
Is vinyl so much cooler than CD?
-Larre: No, it doesn´t matter to me but vinyl looks a little bit cooler and it feels that it's more to hold I think.
Jallo: No,the most important is that it sounds.
Please rank your five favourite records, five favourite concerts and five most important things in life?
-Larre: I like among others Kris Kristofferson, Circle Jerks "Group Sex",
Discharge "Hear Nothing...", GBH "City Babies Attacked...", Poison Idea.
GBH/Cimex/Strebers in Fagersta hundred years ago was fun. Integrity
(1996) in Buffalo was an odd experience, Foo Fighters in Stockholm
some years ago was good. Mob on Debaser was really fun.
The most important things is your girlfriend, family, mates, trips to the nature and mates.
Jallo: I can´t write down everything but I like Discharge, Turbonegro and to be among the mountains.
First, alst and most expensive record in your collection?
-Jallo: Sham 69 was the first punkrecord, the latest I bought was something with Kent, the most expensive is maybe some punkrecord for about 400 swedish krona or something like that.
Larre: The first one was some old Rod Stewart record, I don´t remember was it was called. The latest was the new Mastodon, Gorilla Angreb and Kris
Kristofferson. The most expensive is more difficult...I haven´t really the check on what records are worth but I have some hard-to-find records now Victims EP with Cimex, No Security EP's, Sound Of
Disaster, SnobbSlakt and those things. The Really Fast compilations starts to be hard-to get now also.
The most embarrasing record in your collection?
-Jallo: No embarrassing what I know. Some shitrecords is there but embarrassing are they not.
Larre: I´m not ashamed of any of my records either. Shit I buy surely 75-100 records every year so it can be some shit of course but shall you find the good ones is some shit also come along.
Are you surprised over all these scandals which have been in the new government?
-Jallo: Not really, those things they´ve been accused for is things that usual people do. But that they´re politicians makes the things worser, and that´s right.
Larre: It´s piethrowing as ususal. It's really a sahme that it became this way
Do you think that punk will grow now when it´s a governemnt from the right, it's have been so back in history?
-Jallo: I don´t really know.
Which type of people comes to your concerts?
-Larre: We haven´t done any gigs yet with this band , we have thought that we had so little material. But now we have actually trying to get a set together
Jallo:We haven´t had any concert yet, but it will come.
A brazilian record company, how come?
-Larre: After our first recording I checked around on internet a little after what I thought was good companies. I felt that a southamerican or American would be good and we checked with Risstetyyt(Jallos mates) which have released some stuff there and they said that this guy was good. Renen on Terrötten seems to think it was really fun with us and released also our latest 7" "Vidrig Maskinell Framfart". He´s really good. We´re continuing to release our stuff there.
Jallo: It´s goes along well, simple and no fucking up.
Wasn´t there any swedish labels?
-Larre: I didn´t check out any swedish actually.
Jallo: Had been a little bit more difficult with a swedish due to the sound….or maybe not...
The name…where acme it from?
-Larre: I think that Jallo came out with that during some our fishing tours. I thought it sounded really good.
Jallo: It came from some of our Norrlandsstrips.
Why do you think that Swedish bands which sings in Swedish can be so accepted outside Sweden as they are?
-Larre: It´s a very cool phenomenia but I presume that Sweden and absolutely Finland(and actually Denmark) is really good on writing hard good punk with and without melodies and with lyrics that people think is interesting. We´re also fucking good on writing crust up here and it's really much interest for punk from here
Jallo: I agree.
To play punk is one thing, is it a lifestyle or is it only a word?
-Larre: It´s simple for me, to do what you like and don´t give a shit about what people thinks about it, keep your mind open and care about people and treat them well.
Jallo: It have influenced me to do some choices.
Have punk being destroyed by median and the fashionindustry?
-Larre: It depends how it´s used and which type of relation it is. You can say that punk isn´t really what it is what it was 15-20 years ago but then it was a lot of mediacarousel and fashiondito. I think there is many ways here, there´s a lot of good bands which is separated from this with media and fashion. And then there is the other side with a lot of artists which starts clothesdesign and shoedesign and so. It's up to everyone I assume.
Jallo: I don´t care. It's only to don´t give a shit about it if you don´t like it. .
Futureplans for the band and for yourself?
-Larre: We will record a gang of songs to a cd there we will include our singles. The plan is to release it in January or something like that. We release a split 7 with Australian Pisschrist any day now. Maybe we do some gigs.
Millen isn´t so much on the road now after one and a half year touring on our last record.
Jallo: It´s going to be a record with Totalitär and Ääritila, and a little bit later a Meanwhilerecord.
Wisdomword?
-Jallo: No, I cant come up with anything.
Larre: Unecpextyed Jallo...
Something to add?
-Larre: Thanks Peter for the interview! There´s some ex of our "7" so please come on if you want an ex. The split with Pisschrist is soon released and we will have it so you can buy it.
Contact us on: kvoteringen@bredband.net
Listen to us on http://www.myspace.com/kvoteringen
Jallo: Thanks Peter for the interview. It's good that you still doing this thing.