A really good and for me an unknown band gives me the kicks. K.T.P. is here and they really is a good band. Here Andy who plays the guitar answer my questions in December 2007.
History?
-Well its a long story but I'll make it as short as i can. Al and Brent started the band in late 2000 with another friend in their hometown of Yates Center, Kansas. A few years later their guitarist left to be a sailor and I was brought in to replace him on guitar. A few more years go by and we moved to our current town, Lawrence Ks. I ended up leaving for awhile to join a band in California so they brought in our long time friend Merritt to play guitar. I ended up coming back from California to rejoin KTP and thatís how this lineup came to be!

Please tell me a little about every member, age, interests, work, family and something really bad about every one?
-Well, I'm 23 my name is Andy. I play rhythm guitar and I'm short. Al is 23, he sings and plays bass, he's terrified of spiders. Brent is 23 and he plays drums. He's addicted to Nintendo. Merritt is 21 and he sings and plays lead guitar. He loves getting his ass licked.

This sort of punk in USA, how is it to play it?
-Punk Rock in the states is hit or miss. Some cities have great scenes, some have little or no scene. some kids really wanna get out and have fun with friends at shows... and some would rather sit in front of myspace all day.

K.T.P....what does it mean?
-Kings of the Plains

Zero Youth Records...is it a good label?
-Zero Youth is a fuckin awesome label. The Owner, Matt, is a great guy. He's signed some great bands here in the midwest and he gives 110% effort. Its a small outfit and all the bands are pretty tight. We've made a lot friends.

Any other good bands on that label?
-All of em! Brutally Frank is a great band, and they have a new EP coming out in December so check them out! Dead City Shakers are from Dallas Tx and their lead guitarist Gabe takes all of our money gambling... he's a son of a bitch.

Back to music, I think you sound a s a mix of Heartbreakers, Social Distortion and Hellacopters, what about that?
-That makes sense. We have a TON of influences and each one of us are into a lot of different things. So who knows what you're gonna hear!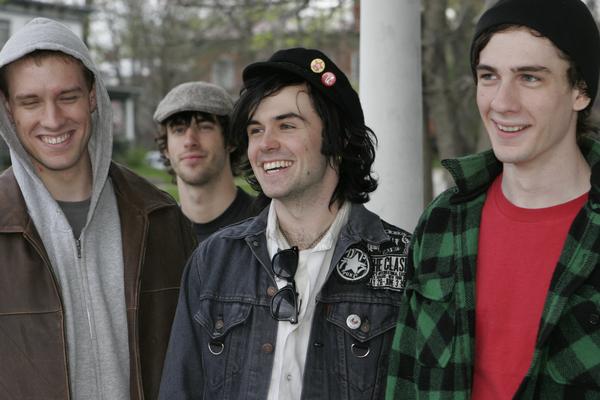 Which other bands are you being compared to?
-People compare to bands that sound nothing like we do all the time. Its kind of a running joke. We've been told we sound like Murphy's Law and Dropkick Murphys... which is nothing like us.

What does punk mean to you, is it only a word or is it a lifestyle?
-Punk rock can mean so many things to so many people. I can't really define it for anyone but us. Our life is all about friends, fun, music and being on the road. We work our asses off at shitty jobs all year just so we can have enough money to buy equipment and to tour and go broke doing it.

How would you describe your music in three words?
-Rad, really rad, and ultra fuckin rad!

How is the reviews you have got for the new CD?
-We've heard a lot of positive things about it. People seemed to really like it.

Do you care about reviews?
-Well thatís a tricky question. Of course we enjoy getting good reviews... who doesn't? People wouldn't send out their record if they didn't want to hear some positive feedback. If you get a bad review, so what? Its gonna happen. People are different and have different tastes and thatís just something you have to realize.

How is it to live in USA I mean politically?
-Well the world is in a crazy place right now. We're aware that the United States gets a bad rap from the rest of the world and I can definately see why. We aren't happy with the way our country is being ran right now... hopefully things can change. We'll be electing a new President soon so thatís good fuckin news right?

Is it right that USA always should put their nose into other countries wars and so on?
-I think the United States has over stepped its boundaries with a lot of things. I don't support the war in Iraq. Most Americans donít. We all have friends and family members that are overseas in Iraq and we just want them to be safe. Bottom line.

What is typical american? What is typical swedish?
-Thats way too hard of a question to answer! And I've only met one Swede in my life. His name was Johan. He was super cool.

What do you know about Sweden?
-Not a lot actually.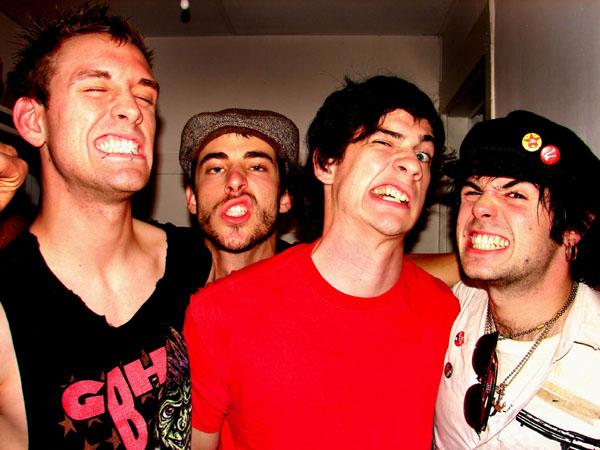 Any good bands from Sweden you like?
-I'm sure there are bands I like from Sweden and I just dont know they are from there.

Is there any good bands in USA right now?
-Alot of great bands, even more really really really bad bands. haha

Much interviews? Is it boring?
-We love doing interviews!

The question you want to have but you never get?
-Please ask it and answer it? How fucking awesome we are in bed. Answer: way fucking awesome.

Please rank your five favourite records, five favouriteconcerts and five most important things in life?
-Well, everybody in the band has different favourites so I can't really say... but i can tell you what we've been playing in the van a lot lately. Any Ramones record, Dead to Me- Cuban Ballerina, Lorretta Lynn- Van Lear Rose, Joe Strummer and Mesceleros- Streetcore, One Man Army- Rumours and Headlines... thereís so many more... we always have music playing.

First and last and most expensive record ever bought?
-The first record i ever bought was an Aerosmith Cd.. I forget which one. I just bought two records yesterday, it was the Leftover Crack/Citizen Fish split and a Lawrence Arms record.

Most embarrassing record in your collection?
-Tegan and Sarah- the con.... Iím the only one who likes them in the band. Iím a pussy.

If we talk about lyrics, is it important to sing about other things than love and so on?
-Politics and music what do you think about that? We write about alot of different things. Its so boring when a band sings about the same fucking thing over and over and over, record after record. We just write songs about what we're feeling at the time, thatís all.

New stuff like My space, Facebook and so on.... is it good or how do you see on these things?
-They are good to an extent. Its great to stay in touch with friends but i think a lot of people send WAY to much fucking time on the internet. get out and experience the real world!!

How do you see on Mp3 and downloading and so on? is it good or bad for smaller bands?
-Thatís such a hard question. I'm slit about it. On one hand, if somebody is finding my band online and downloading songs I'm glad we're getting the exposure and I'm greatful they like our music... but I can also see how it can be very frustrating for bands and labels losing money. I think the music industry is gonna go through some major changes in the way it does business in the next few years.

Which is the biggest band you have played with on a concert?
-We've been really lucky and have gotten to play with some really great bands. We've played with some of our favourites like Against Me!, the Street Dogs, UK Subs, the Suicide Machines...

And which band do you really like to support if itís possible?
-There are alot of bands we'd like to support on tour... way too many to pick one.

Futureplans for the band?
-Touring as much as possible in 2008, make new friends, new fans,... touring Europe would be fuckin cool.

For yourself?
-Same thing!

Wisdomword?
-I wish

Something more to add?
-Thanks! thats it!