There is no doubt that Krigsstigen has made one of the best debut eps in a long time. Here they answer a bunch of questions from me and I really hope they come up with more songs soon... because the others are played so much. June-2023
Hello to you! How did Krigsstigen come about?
Adrian: I was going to audition for the Wrong Band as a drummer and after about two rehearsals they dropped that they had another secret project called Krigsstigen. I thought it sounded a lot more interesting and that's the way it is.
Anders: We, (me, Jesse and Hanna) sat and brainstormed whether it would not be fun to make music in Swedish. We were all on and the creativity started flowing right away. Both Anton and Adrian were asked if they were interested in Wrong Band, but pretty soon Krigsstigen came up on the table and the song ideas that existed, and everyone was eager to invest in it.
How did you come into the wonderful world of punk? Parents, friends or what?
Anton: A friend's stepdad told me about bands like The Ramones, The Clash, Sex Pistols, etc. when I was around 10-11 years old. From there, the path - and the taste in music - was mapped out.
Anders: My brother introduced me to bands like Weezer and Blur, and after that it drifted more and more into punk.
Hanna: I found punk myself and started hanging out secretly at the record store after school in middle school. Still want to thank the guy who worked at the "hard section" in Mega Store at Stockholm Central for all the awesome music tips, but has never happened to meet him in adulthood unfortunately.
You are some of you in the Wrong Band as well, will there be a continuation of them too?
Hanna: There's more to come from Wrong Band, but Krigsstigen has taken off a hell of a lot right now, so it's important to keep up with everything!
You have listened a lot to trallpunk, I think, other punk styles you like?
Hanna: I basically listen to all kinds of punk, but my heart beats the hardest for skate from LA in the 90s.
Adrian: No, I actually just like trallpunk!
Jesse: Same for me, just trallpunk here.
Anders: I was pretty late on the ball regarding trall punk. Was for many years more into skate and American punk.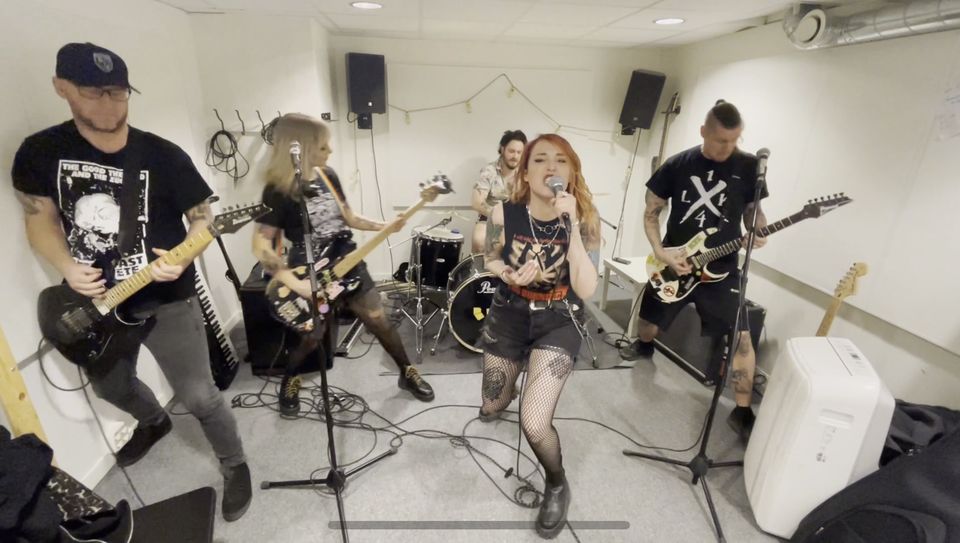 These four songs are among the best I've heard in a long time in the borderland between trallpunk and harder punk. Must be released on a record, right?
Adrian: Thank you! That they will be released on record feels completely obvious.
When you make songs, how does it work, is someone doing everything or is it something you jam out in the rehearsal room?
Anton: Usually one of the band or several of us presents a song idea/template to the rest of the band, which we then test together in the rehearsal room. Based on that, you can say that we test ourselves until we are satisfied with the song.
Adrian:... And everyone contributes in their own way to the song. There is no song in which not everyone has contributed.
Anton: Adrian is absolutely right, it's really a group process where we together shape the songs so that everyone is as happy as possible
The texts seem quite important to you, don't they? What is your most political song?
Jesse: Our most political song so far, I would say, is one we're working on right now called "Solidaritet." It goes without saying what it is about.
What do you think about living in Sweden today, politically with SD-KD-M etc? What is the worst thing about this government?
Jesse: I have long worried about the brown winds that have blown in over Sweden. What makes it extra unpleasant now is that SD has gained so much influence, not only because they grow when they have attracted followers from other parties, but that other parties are starting to ape to attract their followers back. And the fact that the right flank has now enlisted the help of the SD to get hold of the government, it's just disgusting. In the long run, it normalizes racism, something that most parties have previously (at least explicitly) kicked backwards at. It feels uncomfortably similar to what it looked like in the interwar period when the NSDAP emerged.
The song Stopp min kropp(Stop my body) is a sad song, is this something that is self-experienced and is it common?
Hanna: The first time a man groped me, there was an old man on the bus, I was 13 years old. Since then, nothing has changed. The sick thing is that I was involved in a sad event pretty soon after "Stopp min kropp" came out. I don't want to go into details, but the song is highly topical for me.
Jesse: Unfortunately, incredibly common. Just as common now as when I was younger, but now I find it easier to deal with it. Probably, unfortunately, because you have become numb. It makes me incredibly sad to think about what you have been through as a young person when you did not have the same strength to say no and I really hope that there can be change so that no more people will have to experience it.
What does the word punk mean to you, is it just a word, music style or lifestyle?
Adrian: For me, it's music. It's a lifestyle, but it's not a lifestyle I live by directly, there's something called "punk stamp" which is something you get when you don't play "rock". There is not a huge difference really between punk and rock, either it is easy or difficult.
Jesse: Of course it's a style of music, but I also see it as a lifestyle, or rather a philosophy of life. But it's not important for me to hold a label, like in this case punks, people will still call you whatever they want.
Anton: For me, it's a mix of everything, as Jesse says, a philosophy of life. I see it as something you can use based on how it feels best yourself.
Anders: For me, it's also more music than a lifestyle.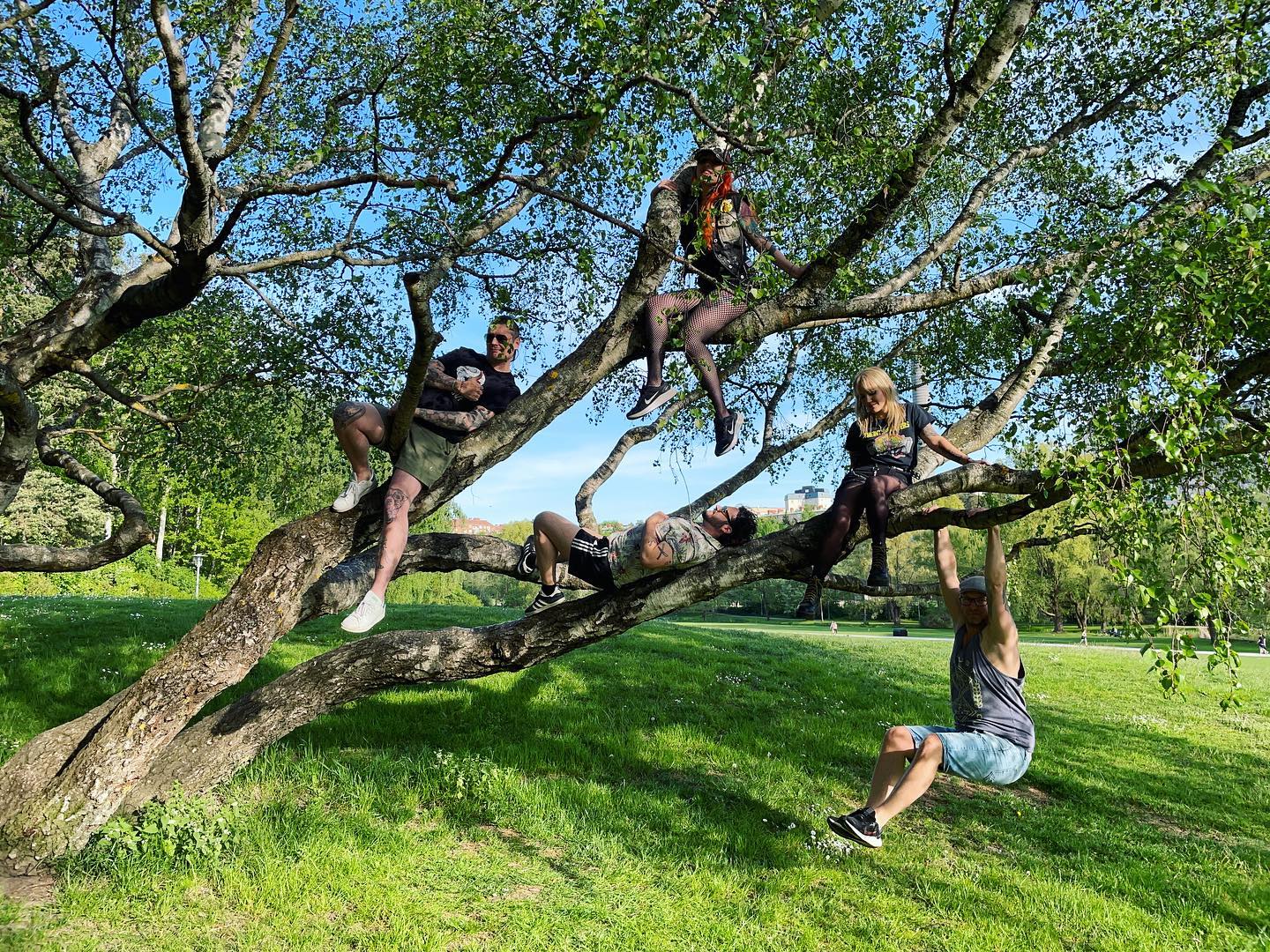 Actually, this is only digital? Should I feel privileged that I got an ex?
Hanna: We were just going to release it digitally, but then we printed some CDs for reviewers like you and then we asked if people wanted. They wanted to, so we printed another batch that sold out immediately. Now we have a waiting list. Unexpected and very funny!
Do you think it is important to get your disc out in physical format?
Adrian: I think it's important in the beginning when you need to get a band cash in before it starts rolling on with gigs and merch. Then maybe you don't have to let go of everything physically. Maybe some Limited edition LP or similar.
Anders: It's always fun to be able to hold the finished result in your hand. I think it would have been a blast with a Krigsstigen cassette.
Do you buy records yourself or is it only Spotify that applies to you?
Hanna: I buy vinyls and merch with bands I like and want to support. No one earns a shit on Spotify so it's the only way to support the bands directly.
Anders: I like to buy vinyl and have also bought many of my childhood favorite albums that I had on CD in vinyl format just for nostalgia's sake.
If you had the chance to choose five bands (both living and dead) to have a concert with you, what five would the dream bands be?
Hanna: Then we choose one each! I take NOFX because I want to party with them.
Anton: The Ramones.
Jesse: Mimikry! Or DLK.
Adrian: Carl Michael Bellman.
Anders: Bad Religion!
When you play outside, do you only draw young audiences or do the old guys like me come along (maybe good that the old guys do not come considering Stopp min kropp ;.)?
Hanna: We haven't played out yet, but we see in the statistics that the majority of those listening are from 25 years and up.
Living in Sweden, what is best and what is worst?
Anton: Based on what you see happening in the outside world, you become grateful that we have peace and great opportunities to do what you want.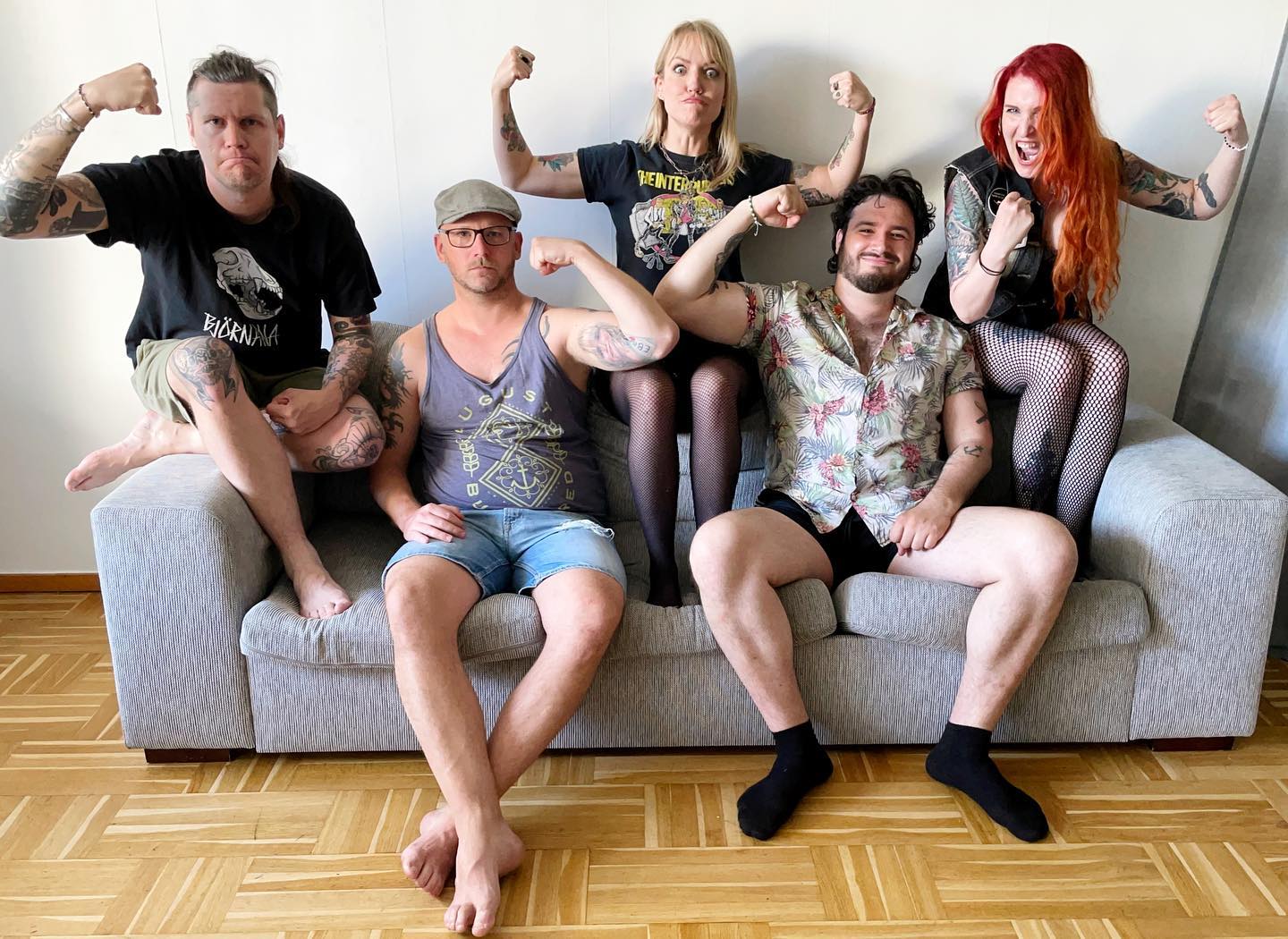 Do you have any young new bands to recommend otherwise? Any old bands that you like a lot?
Anton: Borgerlig Begravning.
Hanna: Devil's Ivy is awesome.
Adrian: Björnarna and DLK!
Anders: The Gävleband Fruktansvärld!
Playing music, is it a good way to get out frustration or what do you say?
Anton: Yes, but it's a good way to get all kinds of emotions out.
Adrian: Absolutely! I hadn't played music in 2-3 years and I really felt like I was getting something out of my body that wouldn't be there when I started playing again. Some kind of frustration or something missing that is now in place.
Anders: I don't necessarily feel that much frustration in the playing. It's more of a joy and a lot of positive energy coming out... You are a bit like a calf on pasture.
It is Mart who recorded you and Ronnie Björnström who mixed... A perfect combo or?
Hanna: Absolutely, both are fantastic! We named our EP after what Martin said to us at the recording, "Great, but one more take, you can do better". That's the feeling after our first EP - now we just want to record new music and make it even better.
Anders: Being with Mart was very relaxing. The whole recording time felt incredibly calm. No stress and everyone had the opportunity to record until they were happy with the result. Then to mix with Ronnie who has the CV he has was magical.
You sing in Swedish, you will never sing in English, will you?
Adrian: No. Anders: If we want to sing in English, we can go with Wrong Band.
Do you do any covers when you play live? If so, which ones?
Hanna: Nothing has been decided, although we promised a friend and booker to do some covers at his place in Karlstad. But our original setlist consists of Krigsstigensongs.
Krigsstigen is a really good band name, were you surprised that no one else had named a band to it before?
Jesse: Everyone else we tested was busy so it was nice that something was free, haha!
Do you have anything to say to other young bands who want to record an album etc, something they should think about?
Hanna: My best tip is to rehearse to click before, it makes everything a hundred times easier on the day of shooting. If you are unaccustomed to clicks, you will not do well. You do not need to have clicks live, but when recording - absolutely.
Anton: And rehearse a lot before and record yourself and listen before. To avoid ambiguities once you are in the studio.
Anders: Except in the studio, I think you have to allow yourself not to be so picky in the beginning, but take many small gigs and play together with other bands of the same size. Partly to get the experience, but also to make friends in other bands. It becomes like a network, and you make new contacts.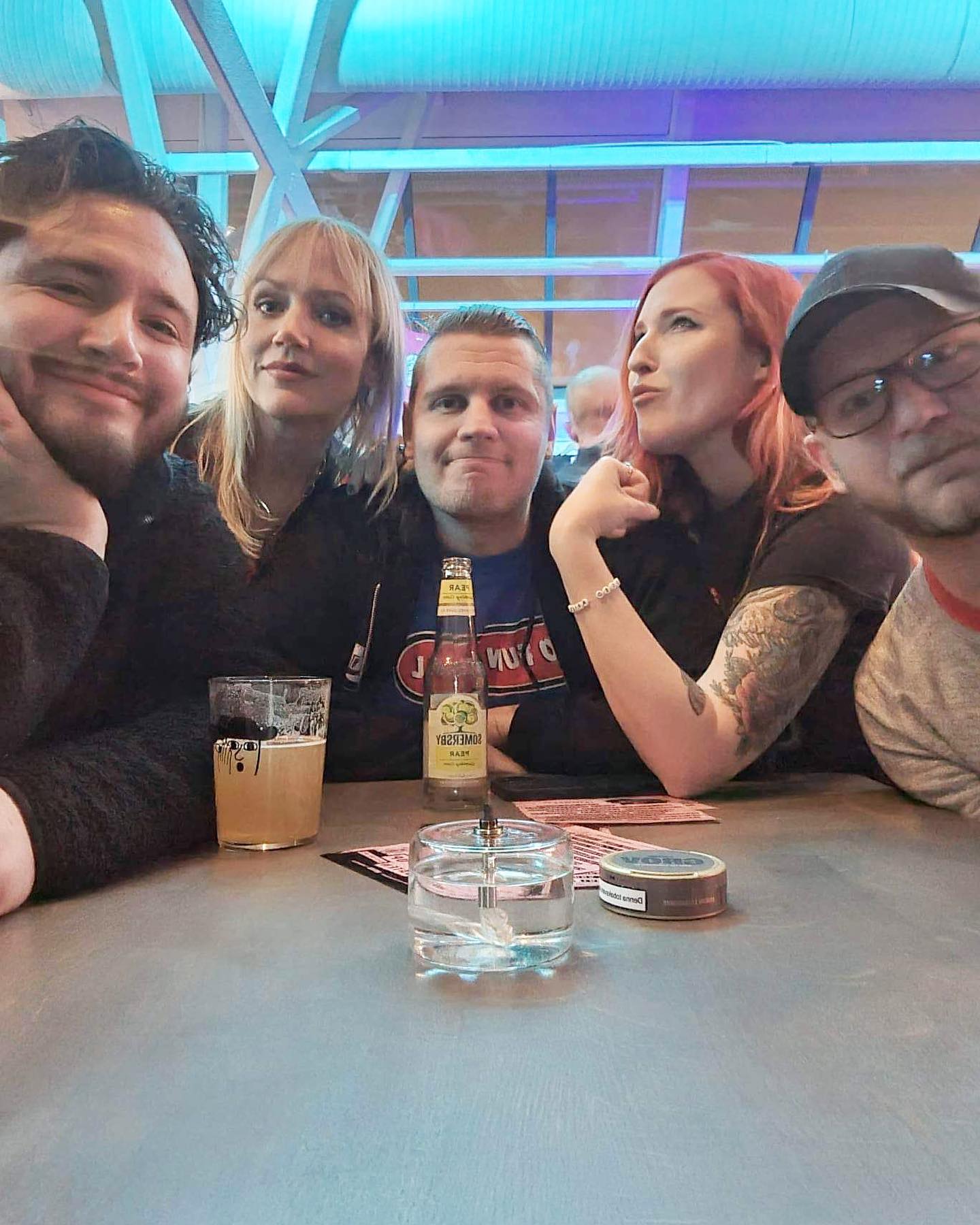 Five favorite records right now?
Hanna: I think Fruktansvärld's and Baboon show's latest albums were great. Otherwise, it's the same old usual records, Out come the wolves with Rancid, Stranger than fiction with Bad Religion and any of the Interrupters.
Anton; ; Björnarnas "Det sämsta" and their latest "Historierevisionism. Lastkaj 14 "Becksvart", Bad Religion "alla skivor" "all records" so there smoke my buffer of five favorites.
Anders: Risk of copy on Anton and Hanna but I say Björnarna - Historierevisionism, Fruktansvärlds nya, No Fun At All - Out of bounds (a constant favorite), Bad Religion - The empire strikes first and then I want to strike a blow for the Norwegian band Oslo Ess, (all their records are gold) but especially the debut Uleste boker og ututge sko.
What was the first punk record you got?
Hanna: Dookie, Green day.
Anton: Life on a plate, Millencolin
Jesse: It was probably Dookie for me too.
Adrian: No idea, the only one I can think of is "Tomat" with DLK. I'm guessing at that one.
Anders: Dookie, Green Day.
Future plans for the band?
Anders: Play, play, play.
For yourself? H
anna: Buy a new bass.
Anders: I feel that in this band I want to try to challenge myself in my songwriting. I have always found it easy to come up with riffs and ideas, and in Wrong Band I was the only guitarist and therefore always had to think that the guitar would sound bigger than it really is, but in Krigsstigen I have a fantastic support in Anton with whom I can bounce both melodies and chord thoughts. Then whether it will be good or not, it turns out.
Words of wisdom?
Anton: You can do better 😉
Hanna: Haha! Good answer Anton!
Something to add Anders:
No...
hahah! bra svar anton!
<![if !supportAnnotations]>
<![endif]>