Kränkt & Sänkt is a relatively new band from Gothenburg and their punk appeals to me a lot. Got two records from the group and you should clearly have to check them out. February 2019
A little story about the group?
Putte: When I moved to Gothenburg in 2012, I posted a contact person on Bandfinder, and shortly thereafter I got in touch with three people, one of whom is our current and also original drummer Grinis. Together we formed Hate Your Self. At first, I thought to combine singing and bass, but nothing went wrong when my vocal were as fragile as autumn leaves. We changed the repository from the mold bunker at Redbergsplatsen to a sweaty /Axe smelling room at Lindholmen, and that was where we met our vocalist Christian, aka Direktörn. He fit in right away. From there we combined the majority to our only EP, "Please buy this record, we could really use the money" (available on Spotify) under the name Bitter. After that repository, we moved to Sensus, more centrally located at Götaälv Bridge, and there left two of the first members for various reasons. There and then, Kränkt & Sänkt was formed, in which we had the ambition to run Beat Butchers punk in Swedisha. And after that Gobben joined on "Dansar du för nachos" and Kim on "Trött på trall" och allt föll på plats. The chemistry here is odd, but damn beautiful.

Tell us a little about each member, age, job, family, band before and band on the side of Kränkt & Sänkt?
Ch: Christian, also unknown as Director, 33 years. Works at Volvo here in Gothenburg, firmly in offices and with his own company. Pure random and pure luck that it was possible to do so, but therefor the nickname. Wife and bonus children with one more on the way, live here in the Gothenburg archipelago (Hisingen). Has previously participated in starting Baruk Khazad, melodic death metal from Luleå, and has a semi-live project that has been going on and off for 20 years called A-Lagers (our "good" discs are on Spotify, our inferiors have Grinis reviewed as " , I have still been able to get through the whole Onkel Kånkel records, but these are not going at all").
Putte: In addition to playing in Hate Your Self, Bitter and the Rammstein cover band Ramma Sten, and that I am slightly retired and boring, I intend to be so boring and not share any other private information. For the simple reason that it does not concern anyone other than my family and friends.
Gobben, 32 years, great at pretending to play bass. Played in a band when I was 12 called Hardboiled, then it became a break until 2 years ago when I was asked to play with these boys.
Grinis, born 86, married, worker and ninja in the spare time, has lined up with Yellow Melon, Fade Out and Bitter. The last band together with Direktör´n and Redaktör´n.
Kim: 32 years. Started playing guitar about 4 years ago and a year ago I started to play with K&S through Gobben who asked if I wanted to test. And I do not regret it!

I think I hear both KSMB, trallpunk and tougher punk, I hear right? Was it better back in time?
Ch: Much was better before, but much was also much worse. I personally come from having grown up with the second wave of trallpunk in the early nineties, but also Red Hot Chili Peppers from very early and much death metal and grindcore from the age of 20. But since I never learned to play the guitar properly, it became punk that won when I started using instruments in a band.
Putte: The only thing I search with songwriting is sadness with a lot of energy. References where Bad Religion - Better Off Dead, SNFU - Painful Reminder, AFI - God Called In Sick Today, Hot Water Music - I Was On A Mountain, From Ashes Rise - On The Fray, Victims - Your Division and Twin Pigs - Heart Emoji.
Ch: A good example of that it was quite similar before and neither better nor worse is that if you replace a few names only, then you can get lots of KSMB songs to seem like they are written today. De Lyckliga Kompisarna - Le som en fotomodell is also terrible as a reminder that we have not moved from the spot as a society in almost 30 years.

Kränkt & Sänkt, What is the best thing about playing live?
Putte: The energy that explodes within one. Already after the first chord, you live, I think, out a hidden side of yourself that is bursting with passion. Live music brings out the best of a man. Lastkaj 14 describes it well in Overkligheten.
Ch: Even if the audience is involved. We have had a gig where we might not really fit in the context so then I sat down on the stage to show those who were there how much more sad it is if it is without energy. Playing live and going to a concert is like being in a relationship, you must both give and take. We have to set the bar and then if it is not matched from the outside, whether it is just a couple of fools or full hall, then we become more boring too.
Kim: The adrenaline rush you get is sick. Then it is with the band hanging on to all the nice people you get to meet.
Ch: Yes, yes. To hang out with each other too. It is actually one of the best things you can do, of course, so you might have to mention that.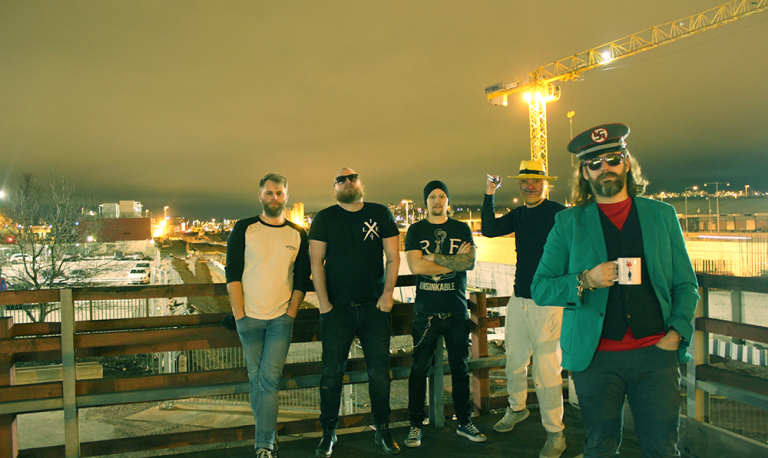 Where is best to play, where is the worst?
Putte: The best place so far for us I would say be the Southside Pub in Stockholm. Intimate local and easy people to deal with. Had a topgig there with Käftsmäll and ApanJapan. We haven't experienced the worst place yet, but I've heard that Medusa Bar in Stockholm is a nightmare.
Ch: It was a bit odd to play in front of a pair of shuffleboard tables on a very small scene in Gävle, but on the other hand we had to borrow stuff from Krymplings to play on, so as Putte says so we probably haven't experienced our worst yet. We are happy wherever we may bring our noise.
Kim: The best place was Southside, was full race together with ApanJapan and Jaw. Really nice guys and awesome bands! Didn't really have the worst place yet.
How is it to play this kind of punk in Sweden today?
Ch: It's probably pretty good, it lives and thrives. You usually say that the only thing Reagan did well was that he created an environment where a lot of punk bands were formed, and with SD, Trump and a very strong right wing on the way in, it is a bit the same now. New bands are formed and old bands are reunited or restarted in new constellations.
How would you describe your music with three words ?
Ch: Angry but happy.

What does punk mean to you, is it just a word or is it a lifestyle?
Putte: Punk for me is about including people, being able to see beyond themselves. There is no one who wins in the long run to be a racist, sexist pig who goes over corpses.
Ch: It's a bit like the Phantom(Fantomen), kind to the kind and hard against those who think they are the hard ones. It is an attitude of wanting to hit up but never down. It can be punk to stand in jeans vest and drink folk beer as a party in a staircase, but it is not punk to drink until you puke and plays really high music so that you frighten seniors. Make revolt where it matters. The person who gets to dry up after you piss on the floor of the school, throws beercans everywhere in the city or goes in and pays fine with only crowns is probably not the one you were angry with from the beginning but someone who just wants to make a living for a decent life and that may take much more shit than it deserves. Then it is of course damn fun sometimes to just be all in if the place allows it, but under forms where no innocent is affected.

How do you see on download, mp3 and the like?
Putte: The song library I sit on had not been possible if it had not been for all obscure torrent sites, where so very good punk music from different countries exist. It was at Kazaa, for example, that I found Japan's counterpart to Misfits: Balzac. The album Deep - Teenagers from Outer Space is absolutely brilliant. Downloading is a great tool for spreading. For my part you can download our music how much you want.
Kim: I just play digital music myself. So I like it. But understand if you collect vinyl / cd. The music is the best!
Ch: Same here, the video store in town at home sold records as well, but it was not a particularly wide range. A little Sator, AC / DC and maybe some tralpunkrecords if you were lucky. The Internet changed everything, and one must try to remember to buy records and merch now that one can actually afford. Especially of smaller bands then. But it had been so terribly many bands I had never heard of without Napster.
How do you think it is to live in Sweden today, politically? Now like this after the election, SD etc?
Putte: For a white man with a permanent job? It may not be more privileged than that.
Ch: Personally, I can't lose no matter who wins in the elections, but because I also care about my fellow human beings, I hope of course that the right wing ends blow so hard. Can we help to annoy the shit from any right wing guy in the meantime it is just a bonus.
Are there any bands in Sweden today? From your hometown?
Putte: Best band from my hometown: Fan Ta Er. From Sweden in general, I am constantly impressed by Fredag den 13, Victims and Twin Pigs. Ch: Mart Hällgren lived in Avesta for a while I think, otherwise we have Greven & James who are not particularly big but terribly good. One of the members of Järncell went with me at the gymnasium during the year and although the band is from Linköping and has not released anything, it was one of the most amazing bands I've seen live for a long time. So good bands, there is absolutely within most genres.
Gobben: From Gbg, Trubbel is really fucking good.
Kim: It´s a lot of bands from here. To name a few: Trubbel, Fredag den 13e, Highrider, Kaliber...
Do you play anything outside Sweden?
Putte: So far we haven't come yet. We have a little over a dozen gig in Sweden since January 2016 and hope to get to other parts of the Nordic countries anyway. Norway would work great.
Ch: I happened to fall into a big Oi concert in Germany a few years ago and felt that "here ... Here I also want to play". We will see if it is possible to solve purely language-wise.
Other good bands from abroad?
Putte: Tragedy, Pears, Frank Carter & The Rattlesnakes, Cocaine Piss, Night Birds, OFF!, The Shell Corporation. Descendents, War On Women, Skeletonwitch, Anaal Nathraak, Eyehategod, Pigdestroyer, Nails. ...And You Will Know Us By The Trail Of The Dead, Exodus, The Bronx. Envy, Mastodon. Sick Of It All, Leftöver Crack, J Mascis, Converge, Beatsteaks, Dag Nasty, Vista Chino, Chris Wollard & The Ship Thieves, Heartsounds. Such Gold, Elliott Smith (RIP), The Album Leaf, Mogwai. The Get Up Kids, with others.
Ch: There is so much that is good in so many different genres so it is not even possible to list ... Some that are terribly good and which I recently discovered are, for example, two bands from Norway, Major Parkinson and Katzenjammer. Also That Handsome Devil. However, I do not know which genre to put them in.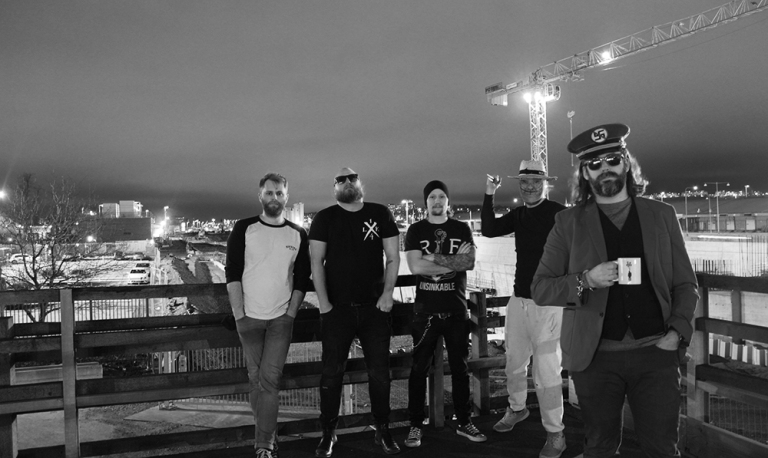 Your lyrics, what are you influenced by? Never in a language other than Swedish? A lot of texts about racism and Nazism etc? Important questions….

Ch: It really started with Putte starting to make terribly many demos at his home, which he put up and shared with the rest of the band. These files were named various different strange things, I think August was the first because it was recorded in August, and I began to see it as a challenge to keep the titles as much as possible and it felt like Putte started to see it as a challenge to write as difficult titles as possible. So besides the songs we have written together where it may be something I come in and are angruy onfor the moment, eg. Jesus var från Ludvika, so it is so the process goes on. But the longer we played the angrier I have become and after the last record it feels a bit like the light humor we tried to have in the beginning has disappeared almost completely, so to the next we have to start getting a little more unserious again. You should not take yourself too seriously, even if you are angry. In previous bands I have mostly written in English so it is still fun to write in Swedish, it becomes a completely different tune in the language itself, but it might swing back again. Sometimes it's nice to just be able to shout out nonsense that doesn't matter.

Is there anything you will never write about?

Ch: I don't know. Boring things. Things that don't touch at all. But on the other hand it can be so incredibly beige that it becomes outrageous in how little it upsets so one should never say never. I have a song in the luggage about the Assistant Force, so it is not much that is off the table so to speak.

Politics and music, does it always belong together? Why or why not?

Ch: Absolutely. Everything is politics. Music, humor, art ... Everything is politics in some form sooner or later. Then perhaps not everything is so far political but everywhere where something provokes a thought of someone and where two people can have different opinions, sooner or later it will arise politics.

Best political band / artist? Is there any band that is not political but that you like anyway ...?

Putte: Damn, what difficult question. Either Dead Kennedy, Propagandhi, or Against Me. I love DK's Police Truck, so may say Dead Kennys as the best political band. When it's more about laziness I choose Dwarves every day of the week.

Ch: Dead Kennedy's political and then I am childishly fond of The Kristet Utseende which can be unexpectedly a lot of politics even if one reads a little. Maybe not songs like Duschring, but much else. Completely unpolitic, it's all from Sack Trick, a music collective from London, to AC / DC via Jojje Wadenius about.

Do you think music can change someone's life, then I mean texts etc?

Ch: Absolutely. I think most people can recognize themselves in listening to something and getting the experience that "this is for me! This is me, "and only the feeling of not being entirely alone can do a lot for people.

Your cover is really cool on your CD, who has done it. Is it important to have a cover so you understand what type of music you play? Which is your favorite cover all the time? ... Trött på trallis a brilliant title, who came on with the name?

Ch: We sat and choked in a chat group when we were a little bored for a couple of days. After our first three records that were based on angry pieces, we wanted something new, and we sent a couple of hundred different name suggestions back and forth. Mine is often short and written in alliteration. After a while, the name suggestions and suggestions for cover started coming up at the same time, and Trött på trall(Tired of Trall) with someone covered on a trolley was the one we came back to most times when we got tired of the other proposals. Maybe because we just got angry and gone more from the ludicrous elements at the beginning, even though we probably didn't get tired of trallpunk really.

Putte: Thank you! I am the one who did it, and I am lying there and is tired of a trolley deck. The nicest album cover in my opinion is the Special Edition version of Mastodon - Leviathan. Clock illustration of the Moby Dick-inspired excitement in the lyrics.

Ch: My favorite cover is probably an old dance band cover from the 70's. It should not be so damn nice even though, the most important thing is that you have fun.

Is it important to get physical records? Vinyl or CD or both? Is there any good record store in your hometown left?

Putte: Being constantly digital would be immensely sad in the long run. Keeping a physical copy of what you have done is awesome. The fact that someone also buys what you have done is a sickly cool feeling, which we are very humble about. Thus, we want to deliver good quality despite our small DIY funds. Cassette production is therefore absolutely fantastic. Best record store: Linné Skivbörs at Andra Lång in Gbg.


Please tell me something really fun that happened in your career on stage or behind stage etc?

Ch: I still think the most fun was how we more or less shanghaid Gobben to the band in true Gothenburg spirit. We got tired of trying different bassists who didn't fit so we thought it should be easier to learn a good guy to play bass than a good bassist to become a good guy. Said and done we took the nicest guy in Grinis buddyhut and on the drunk, we forced him to come and play for us 6 weeks before our first gig. Then he had never played bass before but only drums and a little bit of guitar 20 years earlier. We others are still laughing at how nervous he was in the beginning, but are nevertheless mighty impressed that he managed it and over how much he developed in this short time. There was little the same recruitment process with Kim, but at least he had a guitar that he could play on before. Then we, like all other bands, have had our Spiñal Tap moments where we all thought we heard Putte though he wasn't docked and Grinis got to borrow Mart Hällgrens drum kit when we played before Krymplings and managed to spill beer at most of it and that someone tried to buy my green jacket from my wife during a gig when he assumed she hated it as much as he wanted it.

How does your audience look? Which type of people comes? Are you missing some types of people?

Ch: We still have a right ok spread, from young to old, which is still more than I was hoping for. Even some who are not men of our own age will come and look, and that is a sign that punk is still alive. It is not only our friends but people who actually want to be on punkgigs as well.

Please rank five favorite records, five favorite concerts?

Putte: Skivor: From Ashes Rise - Nightmares, Victims - Divide And Conquer, No Fun At All - Vision, Red Hot Chili Peppers - Blood Sugar Sex Magik and Bad Religion - Against The Grain. Concerts: Bad Religion, West Coast Riot 2008, Venerea, Göteborg 2017, Against Me, Pustervik 2015, Hot Water Music, West Coast Riot 2010, The Get Up Kids, West Coast Riot 2010.
Ch: Records; Red Hot Chili Peppers - Blood Sugar Sex Magic, DLK - Le som en fotomodell, Dead Kennedys - Fresh Fruit for Rotting Vegetables och Frankenchrist. And then I want AC/DC and Cannibal Corpse on this list, but they have one / two really good songs on every records that is filthy good and the rest are most fillers, so it is difficult to find a disc that is "best", so therefore I throw in the least punky disc that has been made purely music-wise , Marcy Playground - Marcy Playground. Straight through good.

Gigs: Gogol Bordello, Pustervik 2018, Electric Eel Shock, Wacken 2006, Johan Johansson, Peace & Love 200 (sometime), Roskilde 2001 had both Rammstein and RHCP so get single a coin, and then I cheat and throw in Beat Butcher's 30 years on The Munich brewery to bring in almost all Swedish favorite bands from the past during an evening.

Is it boring with interviews ??

Ch: This is our first in fact, so we still haven't got tired.

If you could choose five bands from the story, dead and alive to have a concert together with your band, which are the dream bands then?

Putte: The Germs, Dead Kennedy (Jello Biafra era), Black Flag (Keith Morris era), Shock Nagasaki and Big Black.

Is music a great way to get frustrated and become a nicer person? Are you angrier today than you were young punks?

Putte: I'm convinced of that. A great example of this is 924 Gilman Street, California. Among all those who joined the community, many avoided a life as frustrated, bullying youth. (Tip: see the documentary Turn It Around!) And yes, I'm more angry today than before.

Ch: As a child in a small village in the country in Dalarna, you didn't have much to worry about. Only that you were fooled into thinking that Just D was good because there was nothing else that was not Kent or Björn Rosenström being played. Then I didn't feel any other punks, so I "bloomed out" quite late purely in style and in my anger I would probably say.

Kim: I get out of my frustration through the music. Is a bit like yoga, though much faster and harder. So definitely it helps to become a nicer person.


What is the weirdest question you got in an interview?

Putte: This is our first band interview, so there is nothing to tell, but in a job context, a manager received a job interview question, "How would you rate my tie?"

What is the question you never get, ask it and answer it?

Ch: As said, besides the questions we got here, it's pretty open.

Future plans for the band?

Putte: There are enough demos to keep our annual release routine, so it might be something new. The funniest thing would be to come out and play more. Festivals would be sick fun. We are good and work hard and hope it generates more in the future.

For yourself?
Putte: Get my shit together.
Ch: Get Puttes shit together.

Words of wisdom?

C: "Det är bättre att göra bort sig än att göra på sig." - A. Lundstedt

Putte: "It's just a ride" - Bill Hicks

Anything to add?

Ch: It was nice to be asked, thank you very much. Remember that it costs nothing to be nice to others, if someone is unpleasant to you so just laugh because it usually tease the shit from them, and always come, always remember that the Sweden Democrats can go to hell.

It was pretty much so say if it is something we should shorten down. <![if !vml]>

<![endif]>Have a nice evening!