Köttgrottorna have held for a while with theircheerful punk music. Mongo has been playing music for many years and here he has taken the time to answer a bunch of questions from me. They released their first album in many years called Total Galen. March-2013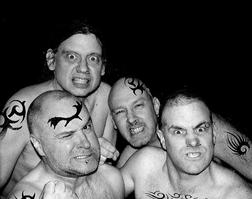 You've been doing this a bunch of years now ... how is it to play with Köttgrottorna today and if you compare when you started?
S: It's as much fun to play and write music, rehearsal is boring.
You've been in a lot of bands, it has always been a punk band?
S: No, I'm now playing in a cover band with Janne. I've also been playing the blues since I work as a music teacher in the secondary school.
What does punk mean to you, it's just a word or is it a lifestyle?
S: An attitude, an underground movement "against the" establishment. A "DO IT YOURSELF" setting.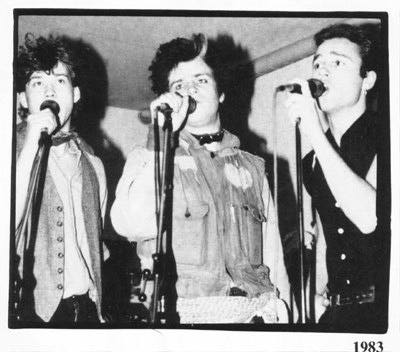 Had you been a different person if you have not grown up with punk?
S:I do not believe, but probably it is.
Can you be a punk at the age of 51 and how it manifests itself? (I'm a year younger than you and I have no problem with calling me a punk)?
S:I call myself a punk, but no one takes me seriously.
When you came how did people receive the name Köttgrottorna?
S:It was received with a smile. People think that it is a stupid name, but you remember it!. I would not rename a band to it today.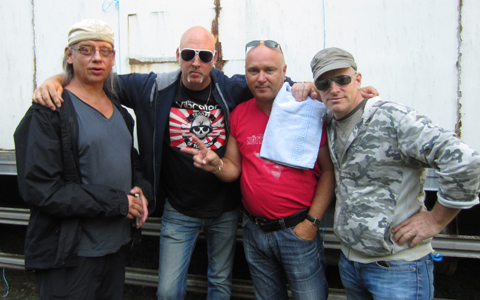 Have you had problems sometime with the name and not get gigs because of your name or something?
S:I do not know, probably. We have probably both advantage and disadvantage of the name.
What kind of people come to your concerts?
S:Old punks, their children. New inquisitive and other random people.
What kind of people do you miss the ea concerts?
S:Do not know, no types, but they want you it will get very crowded at all gigs.
What would you call your music, or if you want to describe it in three words?
S:: In the past, we said punkinspired maskeradpop, then Soft Metal, Now punk rock with an emphasis on rock.
Do you think there are some good bands in Sweden today?
S:There are great bands everywhere in all genres.
How did you feel when a lot of bands had your songs on a tribute album?
S:It is honourful you get moved.
You mix the right healthy between humor and seriousness, I think, but I always find one there is a seriousness in your lyrics, it is important to get a good twist in the lyrics so people embrace them?
S: The lyrics are not conceived for people to like them, the texts should be fine in itself, but it's hard to write good lyrics. I'm better at textideas than the actual craft.
Which of your lyrics are you most pleased with?
S: "Älska mig is good but many others in different ways, some are funny second thought-provoking. "Lunnefåglarné" is a fun idea. One time I wrote a text which itself was a criminal case, a puzzle mysteries, the text was not a good song, so it was flushed.
The new material, it took a long time to write?
S: Not the music but the lyrics dragged on. Writing does not take that long but you have to take the time.
Politics and music does it belong together, do you think?
S: Music is linked to everything. Music is all around us all the time. Music can express so much, even social criticism.
Best political artist / band?
S: The Clash maybe.
What do all of the band when they are not playing in the band, what are their jobs, etc?
S: I am a teacher and Happy, Janne is afterschool teacher, Guld Lars is a postman.
What is the funniest thing which have happened in your career, in the audience or on stage? Tell us some funny incident?
S: We would sneak up on stage in the dark again and surprise the audience. As happened to someone lit the lamps and it was a fiasco. It is usual to cool intros go wrong. Janne has fallen over the drum kit and roll it, we hid ourselves under the cymbals when the crowd stormed the stage.
Do you play only in Sweden, I think of bands like Troublemakers / Asta Kask hit pretty good in Germany / Japan etc?
S: We have not tried to play outside Sweden, only Norway and Åland.
How do you think it is to live in Sweden?
S: Safe and quiet.
I know you have been asked before, but how did you get the nickname Mongo? Known as you at all or is it just in music circles?
S: Guld-Lars call me Mongo, but not many others. I have lived in Africa. It began as an irritant from Happy and another guy.
What song are the people most want to hear?
S: Jag kan inte suga mig själv, Älska mig, and soon Bolla with Zlatan.
Which song will you play?
S: Grusgrop.
First, last and most expensive record you bought?
S: First: Jackson 5, Most Expensive:I've never paid more than normal, Latest: Maybe Coldplay but I have Spotify on your mobile.
I suppose you have produced a few songs exclusively online, collections, etc. Can not you bring everything you have done in a box, or all of these odd on a compilationCD?
S: Have had the thought, we'll see.
What do you think otherwise about mp3 and downloading?
S: Good!
Future plans for the band?
S: Gigs and a secret song to be recorded.
For yourself?
S: I'm currently using a Hamlet Set (musical) with learning disabilities.
Words of Wisdom?
S: Do it!
Something to add?
S: Just do it!