Kontrovers is a hard band which really seems to like answering questions it feels like, Here have some in the group take their time to answer my questions sin the benning of march 2004.
History
-Mattias: In 1996 the thoughts was that Zigge and I should start a coverband and play only good old punkhits. W went down to the rehearsal room and it went crustpunk at once. Some covers we didn´t talk about. Some month after we have get this band together we were named in a some creative way with a Dis-name…we recorded a demo on a cassetteporta(the demo was named Krigets Offer, because the warthing was the most clear thing for us). I & Simon was singing but we was very tired of that. The old fox Stefan , have been in many localbands as a drummer, he took over the vocals and it went out and we saw that he have a wonderful voice. Zigge quit and Fredrik began. Rodrigo (Putrid Filth Conspiracy) he wanted to release a single with us. He recorded us in his studio. And that was "Skendemokrait". We got really good reviews everywhere and we really felt good. After a while we released a split / with Japanese Beyond Description on the label Crust as Fuck records. It mus have been year 2000 I think. And after 2 years on we released our first album "Kontrovers"(Putrid filth conspiracy). Carin replaced Stefen during some gigs and when Stefan came back it was obvious that we wanted both Stefan and Carin on vocals. Since the start of the band we have only done gigs in Denmark and Sweden. , now we went down to Europé. After two smaller tours to Europe and some gigs in Sweden we went into studio in the spring 2003 and recorded our second album "När Spelreglerna Ändras". And that release was released by Putrid Filth Conspiracy. Now we have a new split 7 with "Mass Separation" from Malaysia out(Instigate Records). Our songs on that split is really old, they were recorded in the same recording as the split with Beyond Desripction.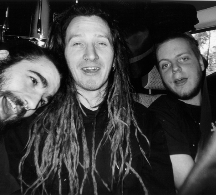 Please tell me a little about every member, age, family, interests, band before or on the side and something terrible about every member?
-Mattias: 27, lives alone in Lund, he works on a youth recruation centre and he likes to make things whole again., everything from electric things to food. The biggest interest is horrormovies. It´s no bands worth to mention beside Kontrovers except Rektum Raiders. Once I start a fire in a container just to get mates, I was 9 back then but anyway. 14 years later I got penalty because I was peeing outside.
Simon: 28, lives with a girl and sometimes a dog in Malmö, he study to be a comicwriter. He likes chips, death metal and more chips. He have played in for example Don´t bail, Rektum raiders and Intensity. Simon can eat much snack without going up in weight.
Jonas: 22, lives in Stockholm. The family is, Mummy, daddy, Hanna, slaveowner Annabella and the dog under me and his mother-in-law which gives him wine now and then. Skitkids, Hetsapan & Skitkul is band he´s playing in. One time when Jonas woked up after a gig in Berling, it was really wet under him. It was many people who saw him do it…Jonas denied everything in the morning. Today he have stopped living with a lie and he knows how it was. . : mamma, pappa, Hanna, slavägaren Annabella och hunden under mig, plus svärmor som
Carin: The age isn´t so important but she´s 29 and proud, she lives with a lot of people in Malmö , earlier band is Dixnöf: Interests punk as a minority and relations-have been driving the icecreamcar.
Fredrik: 29, lives with a lot of people in Malmö, has no job right now, many bands beside Kontrovers. Fredrik interested of food and drinks I think- I don´t really know. He likes to use the expression Hitlerlegs and hockeybench. Fredrik is a pastry chef.
Stefan: 25, is out in the world and travelling, Stefans other band is called Skitkids. I don´t know Stefan interests but I can think that it´s music which interest him, Staffanstorp and metal. He comes from Staffanstorp. Absurdum, Anorectix, Snifter, yeah, the bands are many there. Stefan have been peeing in many more places than in the WC-chair.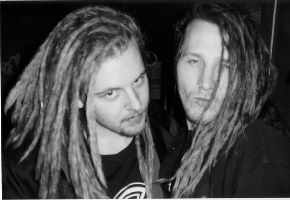 To play this sort of music in Sweden , how is it?
-Mattias: It´s good, the music is well taken. But it´s more appreciation abroad , do you play crust/hardcorepunk and comes from Sweden so does people often like it directly. As if we had played trall(Swedish melidocore) and come from Köping or something like that. It´s really fun to play in Sweden but it´s actually more fun to play outside Sweden, the scene is much bigger in Europé and much more gigplaces to come to.
Skitsystem is here but are they any other good bands in the same style in Sweden?
-Mattias: In the same style there is many bands I think. It comes trends all the time and it´s easy to be affected. Right now is the trend "everything is shit" and "Now I will take my life" and that I don´t like at all. I want some more peptalking things!
Jonas: Sunday morning Einsteins I like and then sounds all bands like Skitsystem and they´re good the most of them.
Other good bands?
-Mattias: I´m imoderate found of Pink Floyd. Don´t I listen to a record with Pink Floyd or some solorecord from the members of Pink Floyd so listen I to the following bands(namedropping)Stooges, Discharge, Nina Hagen, Bo Hansson, State of fear, From ashes rise, Pixies, Killing Joke, Supertramp, Infected mushroom, Bloodbath, Opeth, Balance, Spazzer, Rocky and the Sweden, Ebba Grön, Blue for two, Kort Prosess, Marillion, Strike Anywhere, Hansson the wolfe united, Bread and water , R.E.M.. & World burns to death. These are the things which goes most in my house right now anyway.
The musiclife in Lund, how is it? Good bands and is there any places there to play?
-Mattias: The place I work at is named Hemgården, and there is it some good bands which is in the cellar. It have come foreward a lot of bands from Hemgården. Kontrovers started their career their once also. Except Hemgården there is a place called Mejeriet in Lund and there is it some good bands. Gigplaces for punkbands? Only Mejeriet and Hemgården. The punkscene in Lund is almost dead. Malmös ecene is much better. The local diy Punk Art Riot have a lot of gigs there. So Malmö is living good.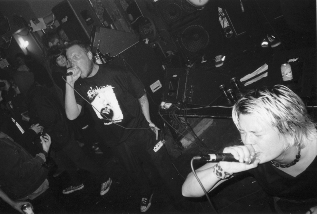 Is it many people who have complained on the song Punkhierarki(Punkhierarchy)?
-Mattias: Not as I know. Should someone think something bad about the song then I don´t think that the person would say something because it should be the same thing as say that it was a punkhierarchy and then they have digged their own grave. I don´t know what I mean. It´s surely many people who feels hit but I don´t think there´s none who wants to tell that.
But you get in much important in your short lyrics, is it important to have a lyrics which touches?
-Mattias: I´m not the one who writes the most lyrics. In all interviews so comes the music vs the lyrics up. Sometimes so can you feel an anger, sometimes happiness and sometimes you don´t feel anything. Sometimes it can be expressed with music, sometimes with lyrics. Do you have something important to say so it it really good with a lyric which makes you think a little. Don´t you have anything to say , it´s better to sing about nothing or maybe play instrumental. Don´t a lyrics comes from the heart I think you can hear that.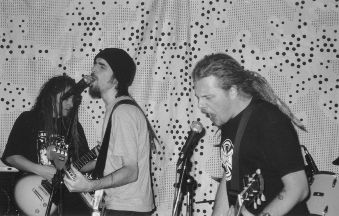 How is a good concert with you, how do you feel after a concert when it have been good What is differential for your bands concert?
-Mattias:After a good concert you feel as good as you can. After a bad one you don´t feel so good. What´s the most differential for us. I hope it´s really tight. I don´t think we move so much at stage. Our gigs seems to be very different the last time and it depends of course of the fact how we´re feeling right then. The most differential for our last gigs have been that Carin have hurt her leg really serious so she have been sitting down the last gigs
If you could choose five bands to play with, which five bands would you choose?
-Jonas: Poison idea, Kiss, Lädernunnan, ACDC, Don´t bail
Mattias: Svart Snö, Neurosis, God Machine, Minor Threat, Dschinghis Khan
Which are your five favoruiterecords, five best concerts and five most important things in life?
-Jonas: ACDC- High voltage, ACCEPT-Metal masters, SDS-Scum system kill, Paintbox - Earth ball sports tournament, Christer Sjögren - everything. Concerts – Ac/dc´s first, Jimi Hendrix woodstock, Beatleseverything with them , Danzig - sthlm - Lou reed - sometime. Music, chicks, beer, motorcycle and football
Mattias:records - Roger Waters - Pros and cons of hitch hiking, Discharge - why, Def Leppard - Hysteria, Svart Snö - Nemesis Divina, Pixies - come on pilgrim/surfer rosa
Concerts - shit it´s difficult, I take the oens I have been to - Pink Flyod, Tool, Consume, Lamb, AFI
...in life – good food, folkbeer, asiatic horror, sunshine, skating.
First, latest and most expensive record ever bought?
-Jonas: Some Simpsons cd singing the blues or Michael Jackson Bad, hte latest records was a bunch of unrecorded records on Siba for 69 kronas, the most expensive is a fucking 7 with Uuutus for 80 kronas which I was cheated on when I have my first punktime, I have listened to it once.
Mattias: The first was Nationalteatern 'Barn av vår tid', the latest was today, Miranda Sex Garden 'Fairytales Of Slavery'. The most expensive? hmm... Godspeed maybe about 220,- kronas, I never buy expensive records. .
Where do you stand when we´re talking about mp´3, are you downloading yourself?
-Jonas: Yes I do. My girlfriend have precisely got an old computer and free music is so much better that to put out a lot of money for it. It´s obvious. But then I buy some punkrecord sometimes when I really like the band. .
Mattias: I download as much as I can but do I found something I really like I buy it. The best thing with this is that you never have to buy something you don´t know how it sounds and the worst is that you find so much good music that you feel forced to buy.
Is it the record labels own fault that it have been like this?
-Jonas:Yeah, the fucking pigs makes culture to business and then they have given is shit like Öpontare, Ultima Thule and other fucking shitthings which they have forced us to listen to everywhere. But I don´t think this will do so the record labels fall anyway. It was the same talking when the cassettebands came. And they haven´t been bankrupt of this.
Mattias: Is not poor people who get hurt. It makes them do some tougher recordcovers also. Have a band the most boring cover so don´t you miss anything when you don´t buy the record, but is it a big booklet and a lot of nice things in it , of course do you want it in your hand.
How is it look like in five years?
-Jonas:Britney Spears is in the charts and she´s modelling also, Mette Marit have got another child , a little angel and Arnold gives out his memories on speakcassettes.
Mattias: Hahaha, Jonas have right I think. I think the mp3 business have been devolped. More onlineshopping, maybe so that you buy licenses from record companies which gives you the right to download and listen to, burn out and so on with their music
What do you do in about five years?
-Jonas: Maybe I have children and plays punk and listens to Motörhead. I have no idea. When I was 14 I wanted a big ironcross on my arm and move to Uppsala. I will surely come up with something.
Mattias: I hope I do something I like and enjoy doing. Maybe have I quit playing but then I hope there was a fucking ood reason to that, that my arms is gone or some other scenario. Maybe I have children. Maybe I am in Africa but I don´t hope so.
How do you like to live in Sweden, what is best and what is worst?
-Jonas:I´m enjoy and not enjoying it in the same time. Best is the summer and worst is the winter. It´s easy to fix different stuff but when I was living in Barcelona you didn´t have to think about money to all bills and that did that you could do whatever you wanted to do and that did that you could raise your lifequality. But best is surely my band here. The most gigs there is shit
Mattias: The worst thing is the cold, the best is the safety. I like Sweden, hadn´t I been so nerdy I had moved abroad for a while. It have been good with some distance to things. But I´m a coward, I even don´t dare to go out and shop when it´s dark. .
Where do you stand politically, or you don´t give a damn about party politics?
-Mattias: 'We' is really difficult to go from because we´re 6 different individuals, with 6 different opionions. I´m politically interested but not active. I´m active if you mean that I´m doing choices in my normal life, I think about what I buy/not buy/. I´m personally believe and hope and think about a community which isn´t govern by the market. I think on a collective thinking with the individuals in the center. The marketpower must be disarmed the political power. I don´t belive in party politics. I don´t vote on the things I really believe in, I put my vote on things that I don´t dislike too much
Can you imagine to be on a record for some certain things, for animal rights, some political or to some footballclub or similar?
-Mattias: Wow….this was a difficult question. We have been on some compilations which have had a theme where the money goes to good things. So yes on that question. But it depends of course on what they´re doing. Footballclub????hahaha, it have been fun…really sick had it been.
Is it many interview? Is it boring?
-Mattias: Yeah, there´s some interviews. The most boring is that it´s often the same questions. It´s fun to see that people likes us and appreciate us but it´s really boring to write the same things again and again. To copy old answers wouldn´t the writer or the reader appreciate.. Interviews when you meet the interviewer is better. Then it´s all ready when you have been answering. .
Which is the question you never get, please ask it and answer it?
-Setting? Answer: Matte guitar, Carin vocals, Simon bass, Fredde guitar, Stefan vocals and me (Jonas) drums
Mattias:Which gang do you want to be in?:Answer:: Hook and the daggers
What do you think about internet, how important is it for a band in your position?
-Mattias: Internet it´s a really good channel to bullshit and drag somebody´s name in the mud, it´s also a really cheap alternative to stamps and letterwriting. Internet makes many things easier. But in the sameway it´s a lot of things which gets compliacted. No I don´t think it´s so important to bands. But it can helps many bands in the beginning.
Do you have any favouritesites on the net?
-Mattias: The only thing I check on the web is buzz.bazooka.se & imdb.com
I´m really boring on internet. I cannot sit and talk with people or do something important. I´m mostly download things.
What does punk mean to you, is it only a word or is it a lifestyle?
-Jonas: It´s a lifestyle. More alternative human being than me you must look after. No but for me is it to develop which way you want, to be free from norms(as much as possible) and a fucking party.
Mattias: Of course it´s a lifestyle. Punk in form of music, attitude and attributes means a whole lot. It´s really nice that you can say that´s punk to everything you must repudiate.
Futureplans for the band?
-Mattias: Jonas isn´t in the band anymore so therefore we must look after a drummer. I hope it will go fast so we can do gigs again. Really short plan but the only thing I want right now…,..
And for yourself?
-Mattias: Yeah, it´s varies from day to day. Right now I feel really empty and I cannot come up with anything. Tomorrow I surely want to build a house in Spain, and yesterday I wanted to be an electrician. All I know is that I want to do music in some way rest of my life.
Wisdomword?
-Jonas: When an human being is dying is a tragedy but when hundreds is dying it´s only statistic, Stalins last before Beria and a gang of old russian foxes 1953)
Mattias: The hen is having egges. The pig have sausages. (Hedda, 5 years, from some funny book about children)
Something to add?
-Jonas: The shitqueer stands on TV now and sings opera, really fun.
Mattias: Thanks for the interview, it was fun. Now I must look at Så ska det låta..