Kontakta har ett riktigt bra namn eftersom det betyder Contact när man översätter till engelska och det är riktigt roligt tycker jag ... dålig humor. Riktigt bra hardcore spelar de ändå och denna intervju gjordes i april 2020.
Berätta för mig lite historien om gruppen?
(Ben) Vi började runt augusti 2016. Bandet jag var i med Edd hade slutat ungefär ett år innan och jag letade efter att få något nytt att göra. Jag hade känt Rich från att ha varit på några samma spelningar och hade hört att bandet han var i nyligen hade slutat. Jag har känt Luke länge från den lokala punkscenen i Southampton. Lyckligtvis var alla ute efter att startaa ett nytt band.
Berätta lite om varje medlem i gruppen just nu, ålder, familj, arbete, intressen och något dåligt om alla? Tidigare band? Andra band på sidan?
(Ben) Vi har fått Edd på trummor, 40, han bor med sin flickvän och har två små barn. Han driver ett café, är ett stort sci-fi-fan, Star Wars, Star Trek, älskar Formel 1-motorsport. Hans Jägermeister-konsumtion galen! Ibland berättar han oavsiktligt om handlingen och hur det slutar på i en film/tv-show innan du har sett den. Han brukade spela i grungeband SHG (sex Hungry Grannies) och Chemical Threat.
Luke på sång, 34, han bor med sin flickvän och katter. Arbetar som egenföretagare som snickare. Han är en mycket skicklig i kampsportkonst i en hel del olika stilar, han är inne i sci-fi och Marvel / DC-filmer / show och fotboll (Eastleigh och St. Pauli). Det är egentligen inte en dålig sak, men Luke berättar alltid rakt på, inga känslor sparas. Åtminstone vet du var du står, det finns noll skitsnack med Luke. Han sjunger för närvarande för Liberty och var tidigare med i Social Parasites.
Ben på gitarr, 39, jag bor med min flickvän, tonårs styvson och 2 katter. Jag arbetar som egenföretagare med interiörmålning och trädgårdsunderhåll. Titta på sci-filmer och show, MotoGP-racing, lyssnar på poddsändningar om rymden och forntida civilisationer/megaliter.
Jag är en mardröm när vi arbetar med nya låtar eftersom jag ofta skriver om riff/eller delar av låtar, det driver Edd och Rich till vansinne! Brukade att spela i Chemical Threat och har spelat en kort tid i Haywire.
(Rich) Jag låtsas att spela Bas, 39, jag bor med min flickvän och hund, jag läser av vattenmätare som jobb, det är en skitlön men jag är ute hela dagen och ingen stör mig. Mina passioner är pubar, vänner, fotboll och The Simpsons. Jag är sent till allt. Tidigare band är Red Carpet Robots och Second hand Citizens. Jag har försökt starta ett 90-talets emo / post hardcore-band på sistone men ingen annan gillar den där skiten och min flickvän vill inte vara i ett band med mig!
Jag kan höra mycket olika influenser men mest hardcore / anarchopunk från 80-talet? Favoriter från förr?
(Ben) Personliga favoriter för mig är Totalitar, Doom, Crucifix, Battle of Disarm, Discharge, Varukers.
(Rich) Mitt favoritband är Propagandhi, jag har en väldigt varierad smak i de flesta punkter av genrer, men jag älskar en hel del amerikansk hardcore. Luke är inne på Conflikt, Crass och alla arga anarkoband, och Ed tror jag älskar allt tungt med ett bra trumbeat!
Kontakta är ni nöjda med namnet? Hur kom det upp? Ni var inte rädda att något annat band skulle het så här? Vilket är det bästa bandnamnet du vet? Du vet att det betyder kontakt på svenska så det fickv mig lite förvirrad?
(Ben) Jag tycker att namnet är ganska bra för oss. När vi startade bandet var det svårt att komma på något på engelska som inte redan hade använts.
Jag är ett stort fan av svensk punk, så tänkte att det kan vara coolt att prova ett svenskt ord. Jag letade efter ett enhetsnamn, tänkte på Contact och översatte det till svenska. Det såg ut och lät ganska bra, och de andra killarna gillade det. Kollade på skivor och det fanns bara ett elektronikband från 90-talet som hade använt det, så vi tog det.
Rich's kompis har ett band som heter Fun Crusher.
Vad är det bästa med att spela live?
(Ben) Adrenalinflödet med att spela en bra spelning och se människor njuta av det.
(Rich) Jag älskar bara att spela snabb arg musik och ha ett bra skrik, det är nästan som en terapisession, som sagt, jag älskar att öva också, det är ett bra sätt att glömma arbete och koncentrera sig på något aeget, jag saknar verkligen det nu är vi i karantän på grund av viruset.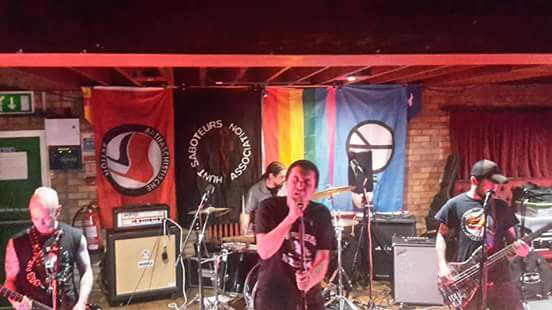 Och var är bäst att spela? Och det värsta stället?
(Ben) Genua var fantastisk, en cool plats och trevliga människor. Shooting Star Pub i Southampton är värst. Ljudet är skit och vi spelar alltid skit. Stor pub att dricka i, inte så kul att spela musik i.
(Rich) Ja, jag har aldrig spelat någonstans utanför England före så att spela en liten dagsfest för ett djurfest i Genua var lysande. Vår första riktiga spelning var med Subhumans i vår hemstad, det var en fantastisk kväll. Ben har rätt, vi har spelat på Shooting Star Pub i Southampton ungefär tre gånger och vi spelar alltid jävligt dåligt, jag vet inte om det beror på att vi är för fulla, inte berusade nog, eller fan vet, det är pinsamt!
Hur är det att spela den här typen av musik i England just nu? Vilka typer av band har ni konserter tillsammans med?
(Rich) Den här typen av musik är inte särskilt populär i Storbritannien, de medelstora arenorna bokar bara stora namn, så att det kan vara som förband där. Platser som London kan ha fem eller merband som oss (men bättre) som kommer att dra en stor publik, jag tror att många kommer att resa till dessa. I Southampton är de bästa spelningarna DIY, med kanske 30-60 personer. Vi gjorde en julspelning i de lokala replokalerna för 40 personer, det var för Refugee Community Kitchen och var en helt fantastisk kväll. Abrazos och Werecats spelade också.
Hur skulle ni beskriva er musik i tre ord?
(Ben) Löst, tätt, högt.
Vad betyder punk för er, är det bara ett ord eller är det en livsstil?
(Ben) Mer av en livsstil och ett tankesätt. Att tänka själv, ifrågasätta saker och försöka göra bra val i livet. Inga gudar, inga mästare.
(Rich) För mig är det en moralisk ställning, punk betyder att slåss mot myndighet och ta hand om ditt samhälle. Jag klassar inte posers som bara är ute efter imagen och inte bryr sig politiskt som punkare.
Vilken låt eller album eller grupp var det som tog dig till punk/hardcore?
(Ben) Jag tror att det var när jag hörde låten No Reason av Snuff på ett BMX-videoljudspår när jag var cirka 15.
(Rich) En kompis i skolan som heter Jim (som blev trummisen i Ska-bandet Lightyear) spelade in ett band, det hade Bad Religion - Generator på ena sidan och Propagandhi - How to Clean Everything på den andra. Jag tror att han tyckte synd om mig eftersom jag hade en skitfrisyr och lyssnade på Oasis.
Vad ska en ung kille göra idag för att chockera sina föräldrar som vi gjorde när vi var små? De har redan sett allt ;-)?
(Ben) Kanske ett riktig uppror skulle vara att lyssna på Coldplay och välja en karriär som snut? Jag vet att jag skulle bli allvarlig förbannad om min styvson gjorde det!
(Rich) Jag tror att chockvärdet har gjorts tidigare, men barn i dag växer allvarligt upp mer än sina föräldrar. Att göra uppror nuförtiden är att slå tillbaka på de skitsystem som de ser sina föräldrar upprätthålla. Titta bara på Extinction Rebelion - jag tror att de kommer att göra uppror genom att ta en moralisk ståndpunkt och fixa denna trasiga värld. Svik mig inte nu ungdomar!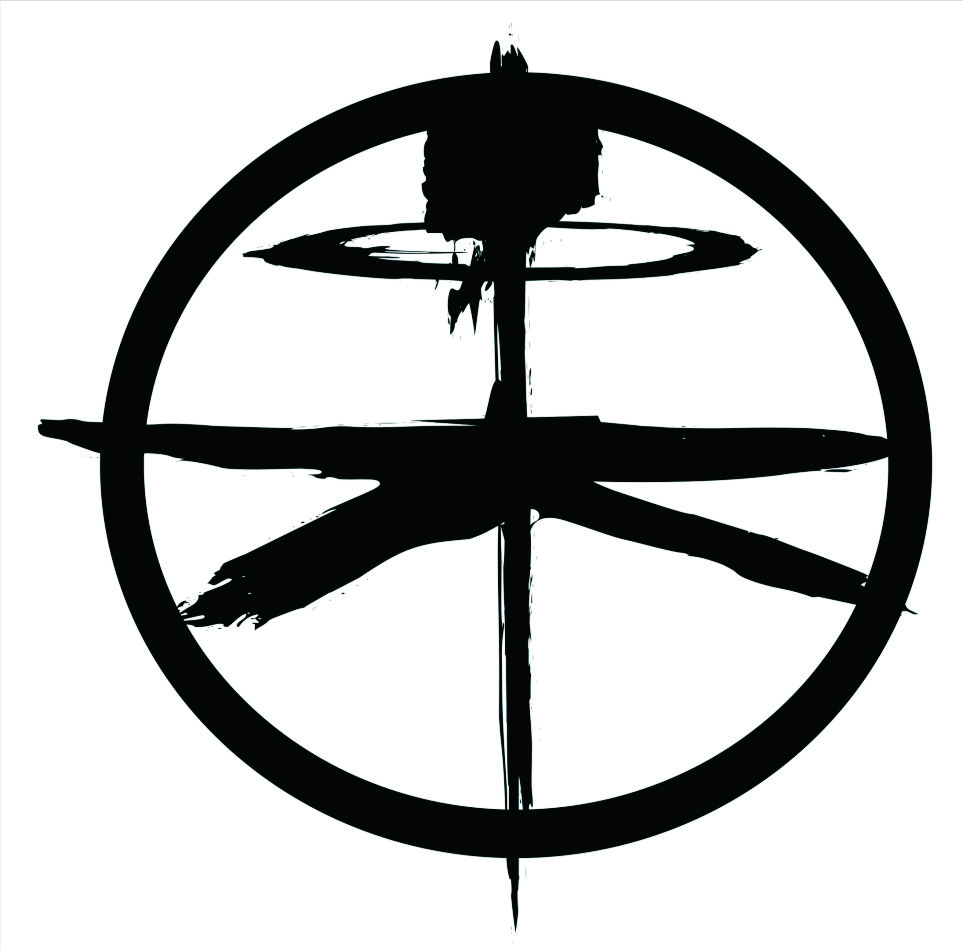 Hur är det att bo i England just nu? Politiskt? Fascister? Brexit?
(Ben) Det är inte bra. Vi har en konservativ regering som nyligen har röstats tillbaka till makten, leds av en okunnig, tanklös, mop top, idiot. Som vanligt gör de sitt bästa för att göra sönder och sälja vad som finns kvar av NHS. Att göra livet till ett helvete för funktionshindrade och arbetslösa genom att hitta någon anledning att minska eller stoppa deras fördelar. Universal Credit-systemet är en råttfälla som sätter människor djupare i fattigdom. Den hemlösa befolkningen växer, fler och fler människor måste använda matbanker för att överleva. Det fortsätter och fortsätter, och Brexit kommer definitivt att göra saker mycket värre. Naturligtvis använder de fascistiska idioterna allt detta som en ursäkt för att försöka uppmana hat och vända människor mot varandra istället för att rikta ilskan mot de som är fel: den otåliga, inkompetenta regeringen och deras kompisar som driver de stora företagen och som älskar att undvika att betala skatt.
(Rich) Ja, fascism är ett allvarligt hot, det händer överallt? ... Jag har inte varit så aktiv som jag brukade vara, men i år var jag tvungen att sluta gå på fotboll efter att vi hörde rasistisk sång - 2 av oss gick in och bråkade med cirka 50 dumma tonåringar ... Det som kom ut av det med en blodig näsa men jag var ganska nöjd med att vi hade gjort en utmaning. Klubben gjorde inte någonting åt det som verkligen gjorde mig förbannad och det visar hur normaliserat det är nu. Jag tänker dock att de flesta av ungdomarna är mycket mer pålästa, så det finns hopp för framtiden. Under denna Covid-19-nedstängning har längst till höger till synes ha dragit sig tillbaka under sin sten, det är arbetarklassens människor som organiserar sig i sina samhällen och gör de jobb som håller samhället igång och hjälper resten av oss att leva. Uppenbarligen sa en undersökning att endast 9% av människorna vill att saker ska återgå till det normala. förhoppningsvis har denna pandemi visat människor där de verkliga svaren på deras problem ligger, och det handlar inte om att skylla på invandrare, det handlar om att stödja varandra.
Finns det några bra band från England just nu? Är punkscenen/ metallcenen/hardcorescenen stor? Hur är det i Southampton?
(Ben) Armored Flu Unit, Abrazos, Hack Job är fantastiska band från Southampton och omgivande områden. Det finns ingen tvekan om att det finns många fler som jag inte vet om, punkscenen på sydkusten har blivit större och mer produktiv igen de senaste åren, det är fantastiskt att vara en del av det.
Vad vet du om Sverige? Har ni varit här någon gång?
(Ben) Jag är ledsen men jag vet inte så mycket om Sverige, annat än att det producerar någon av världens största d-beat-punk! Jag har aldrig varit där men hoppas att en dag komma dit.
(Rich) Jag åkte till Köpenhamn en gång och såg Sverige i fjärran! Jag hade också en snöbollskamp med en busslast med äldre svenska turister vilket var kul, jag tror att de var lika berusade som jag var!
Har ni hört några bra svenska band?
(Ben) Totalitär, Mob 47, Asocial, Anti Cimex, Expolator, Institution, Wolfbrigade
Era texter, vem gör dem och vad påverkar er?
(Ben) Luke skriver alla texterna så jag kan inte tala för honom om vad hans påverkan är. Det jag vet är att han är en mycket arg kille som hatar orättvisa mot djur och människor.
(Rich) Ja Luke har hållit på med djurrättigheter i åratal så mycket av det kommer från det.
Finns det något ämne som ni aldrig kommer att skriva något om?
(Ben) Den frågan skulle till Luke att besvara.
(Rich) Jag kan inte se honom någonsin skriva en kärlekssång!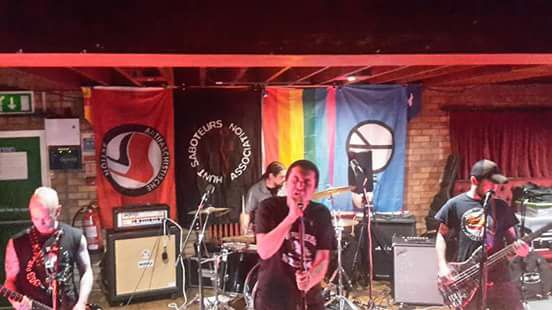 Politik och musik, går det hand i hand? Vilken är er mest politiska låt? Är det viktigt att få fram era åsikter i musiken?
(Ben) Jag tycker att det inte nödvändigtvis att de behöver gå bra tillsammans. En känslomässig eller berättelsebaserad låt kan ha politisk mening/protest på sitt sätt. Genom konstnärernas reaktion på en händelse eller hur samhället / världen har fått dem att känna. När det gäller snabb och rå punkmusik, för mig personligen, går denna musikstil och politik hand i hand som en röst av protest.
(Rich) Ja, de behöver inte vara tillsammans, jag gillar massor av saker som inte är politiska, men de band som verkligen är viktiga för mig är politiska. Alla våra låtar är politiska, jag antar att det är vårt sätt att hantera hur saker är. Vi spelade in vår låt Tory Cunt som en digital utgåva i slutet av förra valet, och vår vän Iain från Armored Flu Unit gjorde en video till den ... Vi var väl medvetna om att det aldrig skulle göra någon skillnad i de stora tingen med saker, men det var vårt sätt att känna att vi kunde göra något, hur litet som helst, för att visa vår ilska i musik. Naturligtvis kom Tories (det konservativa partiet) in igen ändå.
Bästa politiska band/artist?
(Ben) Doom.
(Rich) Propagandhi, Conflict.
Tror du att musik (texter och så vidare) kan förändra någons liv, jag menar människor som lyssnar på musik?
(Ben) Jag tror det, om en person hör rätt låt vid rätt tidpunkt i sitt liv, kan det få en djup inverkan.
(Rich) Ja absolut, eller en samling låtar, när jag var 20 hade jag aldrig ens tänkt på vad jag ätit, och jag kände inte några andra punkare eller anarkister,Ppropagandhi fick mig att tänka på saker annorlunda, och jag har varit vegan i 20 år som en konsekvens!
Alla tiders favoritomslag? Vem gör era omslag? Och har ni några bra skivbutiker i er hemstad?
(Ben) Totalitär / Disclose split. En serietidningskonstnär baserad i New York som heter Soussherpa gjorde omslaget för vår ep. Vi gav honom konceptet och blev som bortblåsta av det han kom med. Tyvärr tror jag inte att det finns några anständiga skivbutiker kvar i Southampton.
(Rich) Ja, det finns mindre skivbutiker, det finns en i Southampton men det är mer för Indie-fans och hipsters. Det spelar ingen roll för adet finns vanligtvis distron som är på spelningar där du kan hitta det du behöver, jag älskar det faktum att människor tar lådor med skivor till en spelning med tanke på att de kanske bara säljer några, de gör det för kärlek till punken. Fan vad jag ska shoppa haha.
Är det viktigt att få ut fysiska skivor? Varför eller varför inte? Vinyl, CD, kassett, vad föredrar ni om ni skulle kunna välja vad som helst?
(Ben) Det är väldigt viktigt för oss. Nedladdningar, Spotify, Mp3 osv är bra, men fortfarande kan ingenting slå när den fysiska skivan av ett bands verk. Du känner mer en koppling till bandet. Lyssna på musiken, ta in konstverk, läsa texterna, det är som en ritual. Vinyl, kassett, CD, Digitalt, de är alla bra format. Jag tycker dock att vinyl är den coolaste. Vad händer om du bara behåller din musiksamling digitalt och av någon anledning dör datorn och din säkerhetskopierade hårddisk är skadad? DAllt har försvunnit!
(Rich) Medan jag håller med om allt som Ben säger, finns det en stor del av mig som bara tycker att vi bara ska släppa saker digitalt så att vi minskar vad som en dag kommer att bli slöseri, jag gillar att få skivor och sätta cd-skivor i mitt arbetes skåpbil, men jag kan inte hjälpa men tycker att det är lite onödigt för att tillfredsställa vår önskan av att äga saker ... kanske är det bara jag dock.
Berätta en rolig sak som har hänt under er karriär och under någon spelning?
(Ben) Rich fick ett snyggt gammalt Peavey-bashuvud. Testade det på repet veckan innan en spelning, fungerade bra, lät fantastiskt. Vi dök upp för att spela en lokal spelning med ett par metallband som hade allt denna flashutrustning. Elektroniska triggertrummor, en gitarr utan headstock osv., Hur som helst, vi fortsätter med soundcheck, Rich slår på det här skitbashuvudet och POP !!! ……………. Den gamla saken var så sönder att den lyckades ta ut alla strömkretsar på scenen. Den stackars ljudkillen fick nästan en hjärtattack! Det tog honom 30 minuter att få igång kraften igen och vi tror att han tappade alla sina ljudförinställningar från de andra bandets soundcheck. För oss spelar det ingen roll, en soundcheck är trevlig, men vi är lika glada att bara ansluta oss och spela, men metallband tenderar att gilla sitt ljud lite mer professionellt. Han fick Rich att svära på att fördöma förstärkaren som en dödsfälla och aldrig slå på den igen. De andra banden tyckte att vi var fullständiga idioter men var tillräckligt coola (eller tyckte tillräckligt synd om oss) för att låta Rich ha en av deras basar. Jag kommer aldrig att glömma utseendet på ljudkillen när den förstärkaren gick sönder, helt ovärderligt!
(Rich) Ja det var sjukt, jag provade förstärkaren på övningen, jag trodde att det bara var fläkten som gick sönder när det höll på att värmas upp, så jag snurrade bara med fingret mellan varje låt, haha. Jag har faktiskt köpt min första ordentliga basförstärkaren nyss, efter cirka 15 års lån från folk på spelningar!
Hur ser er publik ut? Vilka människor saknar ni på era konserter? Vilket är det största bandet ni någonsin har spelat tillsammans med?
(Ben) Det är en blandning av människor. Vissa lite äldre, andra yngre. Huvudsakligen punkare, men inte alltid. Det skulle vara trevligt att se några fler ungdomar på spelningar och i scenen har de mer energi! Vi har spelat med Anti-System. Fantastiskt band, fantastiska människor.
(Rich) Det verkar som att många människor på våra spelningar tappar håret! Vi har spelat med Subhumans också och Sham 69, men jag föredrar att spela med band mer vår stil som Armored Flu Unit eller Active Slaughter.
Vänligen ranka dina fem favoritskivor, fem favoritkonserter och fem viktigaste sakerna i livet?
(Ben) Totalitar – Sin Egen Motstandare, Discharge – WHY?, Varukers – Another Religion, Another War, Framtid – Defeat of Civilization, Black Flag – First Four Years
Live : Violent Arrest, Discharge, Anti-System, Armoured Flu Unit, Clutch
Family, Health, Animals, Friends, Music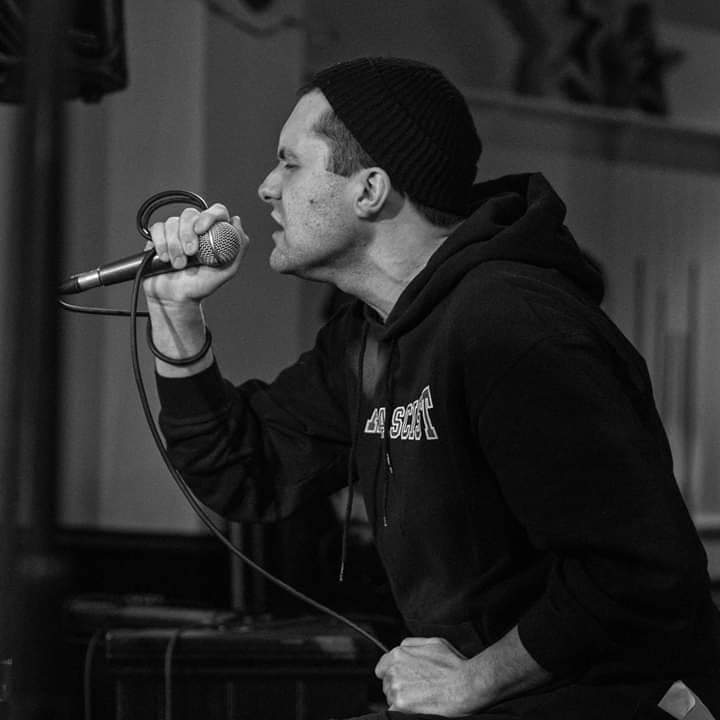 Första, sista och dyraste skivan som du någonsin har köpt?
(Ben) Den första var en Punk o rama-samling, tror jag. Senaste var Asocial - För alltid Underground. Jag har inte råd med dyra skivor!
(Rich) Min första skiva var 7 "Bart Simpson - Do The Bart Man. Min sista var Jodie Faster - Blame Yourself.
Är det tråkigt med intervjuer? Är det mycket intervjuer?
(Ben) Jag gillar att göra intervjuer och jag tror att vi har gjort par sedan vi började.
(Rich) Det är trevligt att folk vill höra från oss, men det finns något med intervjuer som är begränsande, du kan verkligen inte få svaren över i ett kort svar, särskilt med frågor om politik, jag kunde prata och klaga i timmar om det!
Bryr ni er om recensioner? Vilket är det märkligaste ni någonsin har haft, med det här bandet eller något annat band ni har varit i?
(Ben) Det är alltid coolt att få en bra recension, och du kan lära dig saker från en dålig recension. Det är bäst att komma ihåg att det bara är en persons åsikt. Alla har en synpunkt och kan höra olika saker i musiken. Jag har mycket respekt för alla som gör musikzines, bloggar, podcasts, radioprogram osv. Det är en enormt viktig del av scenen som ger band exponering och lyssnarna chansen att hitta ny musik efter deras smak.
Någon sa i en recension att de tyckte att våra texter om djurförsök var kliché och 30 år inaktuella på grund av att lagarna ändrades för att stoppa det. Jag håller inte med om det här. Det kan ha blivit lite bättre med åren och det finns mer medvetenhet i frågan. Men djurmissbruk begås fortfarande av företag i strävan efter vinst, och det är fortfarande motbjudande.
(Rich) Ja, nästan varje recension som vi har haft för den senaste skivan har varit superpositiv, så jag skulle ljuga om jag sa att jag inte blev förvånad och riktigt glad över det! Det är så trevligt med bra recensioner att de kommer från platser som MMR att du alltid läste när du växte och sedan höra att människor i olika delar av världen hör vad du gör, det är verkligen ödmjukt!
Vilka band jämför folk er med, är det tråkigt att folk jämför er med andra band eller är det förståeligt?
(Ben) Vi har jämförts med några olika band, som sagt kan alla höra olika saker i musik. Personligen har jag inget emot om folk jämför oss med andra band, det ger en referensram för personer som inte har hört oss tidigare.
(Rich) Återigen, det är så ödmjukt att bli jämförda med band vi ser upp till, även om jag ibland inte riktigt får till referensen, vi har jämförts med Poison Idea, Conflict, Oi Polloi och Doom ... för att bara nämnas i samma mening som dessa band är något jag aldrig kunde ha drömt om. ... så det kanske är lite självöverskådligt, men om jag är ärlig gör det mig verkligen glad , jag visar min partner, som "Kolla ... de säger att vi låter som Conflict, hur coolt är inte det? " och hon är som "Ja, det är väldigt trevligt för dig" Ha.
Om du kan välja fem band från förr och historiska band och nutida band och både döda och levande band att ha en konsert tillsammans med ert band. Vilka fem hade ni valt?
(Ben) Totalitär, Crucifix, Battle of Disarm, Asocial, Motorhead
Är musik ett bra sätt att få frustration och bli en trevligare person utanför musiken?
(Ben) Absolut. Det håller mig nästan förnuftig.
(Rich) Är inte säker på att det gör oss till trevligare människor, men 100% blåser det ut spindelnät och fungerar som en tryckutlösningsventil.
Vilken är den konstigaste frågan ni någonsin har fått i en intervju?
(Ben) Jag minns att jag i en gammal Chemical Threat-intervju fick någon konstig fråga om insektporr! ?? Jag hade inget svar. Är det ens en sak? Mental!
(Rich) Jag kan föreställa mig att de hörde ett ryktet om att Ed var inne på det. Några av dessa gräshoppor är ganska sexiga.
Vilken är frågan ni vill ha men ni aldrig får. Fråga den och svara på den?
(Ben) Vad har varit det pinsamt ögonblicket när jag spelat live?
På Shooting Star pub när vi är support till Grand Collapse. Vi har spelat en bra spelning tills två låtar från slutet. Då bestämde sig en av killarna som hade spelningen att Richs basljud inte var tillräckligt högt, så han höjde upp det. Vad vi inte visste förrän vi började nästa låt var att han hade vridit upp det så jävligt högt att ingen av oss kunde höra vad den andra spelade. Naturligtvis gick nästa låt till fullständig skit. Vi slutade spela och började ha en stor offentlig snackmatch som skyllde på varandra för att ha gjort fel. Detta fortsatte lite tills Luke sa "Fuck this, that's your lot" i mikrofonen och gick av scenen. Jag skulle vilja tillägga att allt detta filmades. Vi fortsatte sedan att argumentera i trädgården på baksidan av puben medan många människor var där ute efter vår spelning. Vi såg ut som kompletta idioter, men i efterhand, varför väntade idioten tills 2 låtar från slutet för att bestämma basen inte var hög nog! Så sedan dess rör ingen förstärkarna bortsett från personen som spelar på den. Jävla helvete det var en skit spelning.
(Rich) Ja det var ett otroligt ögonblick, i ungefär en timme efteråt ville jag inte vara med i ett band längre! Vi kom överens om ganska snabbt att aldrig spela på Star igen, det blir alltid fel när vi spelar där! Senare den kvällen kastade något rövhål en drink över vår kvinnliga vän som firade sin födelsedag, helvetet bröt lös, det fanns en kille utan skjorta som svängde en biljardkö runt, det var tydligen hans första natt ute från fängelset. Lyckligtvis kastades han ut innan Luke tog tag i honom, Luke är som en svart bälteninja, killen hade verkligen ångrat sina handlingar. hahaha.
Framtidsplaner för bandet?
(Ben) Vi skriver för närvarande låtar till nästa EP. Förhoppningsvis kommer den att vara ute senare i år eller någon gång nästa år.
(Rich) Ja, och vi har några fantastiska äldre låtar som jag fortfarande älskar att spela in, kanske som enstaka digitala utgåvor
För dig själv?
(Ben) Att försöka vara positiv i livet och fortsätta att skapa / spela musik.
Visdomsord?
(Ben) Ta alltid mer än ett gitarrplektrum med dig till en spelning (kollar på Rich) 😊
(Rich) Det är ok, jag har 3 nu!
Något att tillägga?
- (Ben) Stort tack för intervjun Peter och massiv respekt för allt ditt arbete på den långt gångna Skrutt Zine. Recension och intervjudatabasen är otrolig. Det är en fantastisk resurs för musikfans.
Och en sista. Gillar ni fotboll? Om ni svarar på den här frågan. Hur är det möjligt att spela 2-2 mot mitt lag Arsenal borta när ni tappar in 0-9 hemma mot Leicester? Jag har tatuerat ett svenskt lag och Arsenal på min arm och båda är skit .... varför bryr vi oss om fotboll tror du?
(Ben) Det här för Rich
(Rich) Ha ha, ja faktiskt är vi inte Southampton FC-fans. Luke och jag brukade gå och titta på det mindre lokala teamet Eastliegh FC (det känns mindre som att fuska för mitt barndomslag Derby County), men vi har slutat gå för närvarande efter det evenemang som jag nämnde tidigare. Vi försöker också gå på St Pauli-matcher, vi har en St Pauli-supportergrupp i Southampton, Luke åker till cirka två matcher om året i Hamburg och jag går på en per säsong om jag kan, men min lever tackar inte mig. Den kvällen när Southampton blev slagna med 9-0 repade vi runt hörnet från stadion ... vid halvtid lämnade massor av människor stadion och såg ledsna ut så vi kollade upps tällningen, det var jävligt roligt. Jag är rädd att jag inte kan berätta varför Arsenal är skit men hahaha!
Kontakta have a really good name because it´s in translation to english Contact and that´s really fun I think…bad humour. Really good hardcore they play anyway and this interview is done in april 2020.
Please tell me a little bit history of the group?
(Ben) We started around August 2016. The band I was in with Edd had come to an end about a year before and I was looking to get something new going. I'd known Rich just from being at a few of the same gigs and had heard that the band he was in had recently finished. I've known Luke for a long time from the local punk scene in Southampton. Luckily everyone was up for doing a new band.
Please tell me a little about every member in the group right now, age, family, work, interests and something bad about everyone? Earlier bands? Other bands on the side?
(Ben) We've got Edd on Drums, 40, he lives with his girlfriend and has 2 young kids. He runs a café, is a big sci-fi fan, Star Wars, Star Trek, loves Formula one motor racing. His Jagermeister consumption is mind blowing! Sometimes by accident he tells you the plot and ending to a film / tv show before you've seen it. He used to play in grunge band SHG (sex hungry grannies) and Chemical Threat.
Luke on Vocals, 34, he lives with his girlfriend and cats. Works self-employed as carpenter. He is a highly skilled martial artist in quite a few different styles, he's into sci-fi and Marvel / DC films / shows and football (Eastleigh and St. Pauli). It's not a bad thing really, but Luke always tells it straight, no feelings spared. At least you know where you stand, there's zero bullshit with Luke. He currently sings for Liberty and was previously in Social Parasites.
Ben on Guitar, 39, I live with my girlfriend, teenage stepson and 2 cats. I work self employed doing interior painting and garden maintenance. Watching sci films and shows, MotoGP racing, listening to podcasts about space and ancient civilizations / megaliths.
I'm a nightmare when we're working on new songs because I often re-write riffs / or parts of songs, it drives Edd and Rich nuts! Used to play in Chemical Threat and have played briefly in Haywire.
(Rich) I pretend to play Bass, 39, I live with my girlfriend and dog, I read water meters for a living, it's shit pay but im outside all day and no one bothers me. My passions are pubs, friends, football, and The Simpsons. Im late for everything. Previous bands are Red Carpet Robots and Second-Hand Citizens. I've been trying to start a 90's emo/post hardcore band lately but nobody else likes that shit and my girlfiend doesnt want to be in a band with me!
I can hear much different influences but mostly hardcore/anarchopunk from the 80´s? Favorites from the past?
(Ben) Personal favourites for me are Totalitar, Doom, Crucifix, Battle of Disarm, Discharge, Varukers.
(Rich) My favourite band is Propagandhi, I have quite a diverse taste throughout most genre's of punk though, I love a lot of old school american hardcore. Luke is well into Conflict, Crass, and all the angry anarcho bands, where as Ed i think loves anything heavy with a good drum beat!
Kontakta are you satisfied with the name? How did it came up? You weren't afraid that some other band would be named like this? Which is the best bandname you know? You know that it means Contact in Swedish so it got me a little bit confused?
(Ben) I think the name is pretty good for us. When we were starting the band, it was tough to come up with something in English that hadn't already been used.
I'm a big fan of Swedish punk, so thought it might be cool to try a Swedish word. I was looking for a one-word name, thought of Contact and translated it to Swedish. It looked and sounded pretty good, and the other guys liked it. Checked on discogs and there was only an electronica band from the 90's that had used it, so we went with it.
Rich's mate has a band called Fun Crusher.
What´s the best thing with playing live?
(Ben) The adrenaline rush of playing a good set and seeing people enjoy it.
(Rich) I just love to get to play fast angry music, and have a good scream, its almost like a therapy session, that said, i love practising as well, it's a good way to forget about work and concentrate on something of our own, im really missing it now we are in lockdown due to the virus.
And where is best to play? And the worst place?
(Ben) Genoa was awesome, such a cool place and nice people. The Shooting Star pub in Southampton is the worst. The sound is shit and we always play shit. Great pub to drink in, not much fun to play music in.
(Rich) Yea, i'd never played anywhere outside of England befoer so playing a small day festival for an animal sanctury in Genoa was fucking brilliant. Our first proper gig was with Subhumans in our home town, that was a great night. Ben is right, we've played the Shooting Star pub in Southampton about 3 times and we alsways play fucking shit, I dont know if it's because we are too drunk, not drunk enough, or fuck knows, its embarrasing!
How is to play this sort of music in England right now? Which types of bands do you have concerts together with?
(Rich) This kind of music isn't particularly popular in the UK, the medium sized venues will only book big names, so now and again there may be a support slot up for grabs. Places like London can put on 5 or so bands like us (but better) that will draw a great crowd, I think a lot of people will travel to those. In Southampton the best gigs are DIY, with maybe 30-60 people. We put on a Christmas gig at the local practice rooms for 40 people capacity, it was a benefit for Refugee Community Kitchen and was an absolutely Great night. Abrazos, and Werecats also played.
How would you describe your music in three words?
(Ben) Loose, tight, loud.
What does punk mean to you, is it only a word or is it a lifestyle?
(Ben) More of a lifestyle and a mindset. To think for myself, question things, and try and make good choices in life. No Gods, No Masters.
(Rich) for me its a moral position, punk means fighting authority and looking after your community. i dont class posers who are all about the image and don't do politics as punks.
Which song/album or group was it who took you into punk/hardcore?
(Ben) I think it was hearing the song No Reason by Snuff on a BMX video soundtrack when I was about 15.
(Rich) A mate at school called Jim (who went on to be the drummer in Ska band Lightyear) made me a tape, it had Bad Religion - Generator on one side and Propagandhi - How to Clean Everything on the other. I think he felt sorry for me because i had a shit haircut and listened to Oasis.
What shall a young guy do today to shock their parents as the way we did when we were young? They have already seen everything ;-)?
(Ben) Maybe a true act of rebellion would be to listen to Coldplay and choose a career as a copper? I know I'd be seriously pissed off if my stepson did that!
(Rich) I think the shock value has all been done before, But Kids these days are growing up seriously more switched on than their parents, To rebel these days is to kick back at the shit systems they see their parents maintaining. Just look at Extinction Rebelion - I think they will rebel by taking a moral standpoint and fixing this broken world. Dont let me down Kiddoes!
How is it to live in England right now? Politically? Fascists? Brexit?
(Ben) It's not good. We have a conservative government that has recently been voted back into power, headed by an ignorant, clueless, mop top, toff moron. As usual they are doing their best to break apart and sell off what's left of the NHS. Making life hell for disabled and unemployed people by finding any reason to cut or stop their benefits. The Universal Credit system is a clusterfuck putting people deeper into poverty. The homeless population is growing, more and more people are having to use food banks to survive. It goes on and on, and Brexit will definitely make things a lot worse. Of course, the fascist idiots use all this as an excuse to try and incite hatred and turn people against one another instead of directing the anger towards the ones at fault: the uncaring, incompetent government and their mates who run the big corporations and who love to dodge paying tax.
(Rich) Yea, fascism is a serious threat it's happening everywhere right?… I've not been as active as I used to be, but this year I even had to stop going to football after we heard racist chanting - 2 of us went in and kicked off with about 50 stupid teenagers… I came out of it with a bloody nose but i was quite pleased we'd made a challenge. The club did not do anything about it which really pissed me off and it shows how normalised it is now. I'm thinking that most of the youth are a lot more switched on though, so there is hope for the future. During this Covid-19 lockdown the far right has seemingly retreated under its stone, its the working class people who are organising in their communities, and doing the jobs that keep society going and help the rest of us stay alive. Apparently a survey said only 9% of people want things to return to normal. hopefully this pandemic has shown people where the real answers to their problems lie, and its not about blaming immigrants, its about supporting each other.
Is there any good bands from England right now? Is the punkscene/metalscene/hardcorescene big? How is it in Southampton?
(Ben) Armoured Flu Unit, Abrazos, Hack Job are awesome bands from Southampton and surrounding areas. No doubt there are many more that I don't know about, the South Coast punk scene has gotten bigger and more productive again in the last few years, it's great to be a part of it.
What do you know about Sweden? Have you been here sometime?
(Ben) I'm sorry but I don't know much about Sweden, other than it produces some of the greatest d-beat punk in the world! I have never been but hope to one day.
(Rich) I went to Copenhagan once and saw Sweden in the distance! I also had a snowball fight with a coach load of elderly swedish tourists which was fun, i think they were as drunk as i was!
Have you heard any good bands from Sweden?
(Ben) Totalitar, Mob 47, Asocial, Anti Cimex, Expolator, Institution, Wolfbrigade
Your lyrics, who does them and what influences you?
(Ben) Luke writes all the lyrics so I can't speak for him on what his influences are. What I do know is that he is a very angry guy that hates injustice against animals and people.
(Rich) Yea Luke has been into animal rights stuff for years so a lot of it comes from that.
Is there any subject that you never will write anything about?
(Ben) That question would be for Luke to answer.
(Rich) I can´t see him ever writing a love song!
Politic and music, does it goes hand in hand? Which is your most political song? Is it important to get out your opinions in music?
(Ben) I think they don't necessarily have to go together. An emotional or story-based song can have political meaning / protest in its own way. Through the artists reaction to an event, or the way society / the world has made them feel. When it comes to fast and raw punk music, for me personally, this music style and politics go hand in hand as a voice of protest.
(Rich) Yeah, they totally don't have to go together, i like loads of stuff that isn't political, but the bands that are really important to me are political. All of our songs are political, i guess its our way of coping with the way things are. We recorded our song Tory Cunt as a one off digital release in the run up to the last elections, and our friend Iain from Armoured Flu Unit made a video for it…. we were well aware that it was never going to make any difference in the grand scheme of things, but it was our way of feeling like we could do something, however small, to put our anger into music. Needless to say the Tories (Conservative party) got in again anyway.
Best political band/artist?
(Ben) Doom.
(Rich) Propagandhi, Conflict.
Do you think that music(lyrics and so on) can change anyones life, I mean people who listens to music?
(Ben) I think so, if a person hears the right song at the right time in their life, it can have a profound impact.
(Rich) Yea absolutely, or a collection of songs, back when i was 20 i'd never even thought about what i was eating, and i didnt know any other punks or anarchists, propagandhi made me think about stuff differently, and ive been vegan for 20 years as a consequence!
Your favorite recordcover alltime? Who does your recordcovers? And do you have any good recordstores in your hometown?
(Ben) Totalitar / Disclose split. A comic book artist based in New York called Soussherpa did the cover art for the ep. We gave him the concept and were blown away by what he came up with. Sadly, I don't think there are any decent record stores left in Southampton anymore.
(Rich) Yea theres fuck all record stores, there is one in Southampton but its more for Indie fans and hipsters, It doesnt matter though because Theres usually distro's at the gigs where you can pick up what you need, I love that fact that people will take boxes of records along to a gig knowing that they might only sell a few, they do it for the love of punk. Fuck going shopping haha.
Is it important to get out physical records of your stuff? Why or why not? Vinyl, CD, cassette, what do you prefer if you could choose whatever ?
(Ben) It's very important to us. Downloads, Spotify, Mp3s etc are good, but still nothing can beat having the physical release of a bands work. You feel more of a connection to the band. Listening to the music, taking in the artwork, reading the lyrics, it's like a ritual. Vinyl, cassette, CD, Digital, they're all good formats. I think vinyl looks the coolest though. Also, what happens if you only keep your music collection digitally, for some reason your computer dies, and your back up hard drive is corrupted? You've got fuck all to listen too!
(Rich) Whilst i agree with everything Ben says, there is a big part of me that just thinks we should only release stuff digitally so we cut down on what will one day become waste, I like getting records, and putting cd's in my work van, but i cant help but think its all a bit unnecessary to satisfy our desire to own things…. maybe thats just me though.
Please tell me a funny thing which have happened during your career and under some gig?
(Ben) Rich got given a knackered looking old Peavey bass head. Tested it at practice the week before a gig, worked fine, sounded awesome. We turned up to play a local gig with a couple of metal bands who had all this flash gear. Electronic trigger drums, a guitar with no headstock etc, each to their own I guess. Anyway, we go on to sound check, Rich turns this piece of shit bass head on, and POP!!!……………. The old thing was so fucked that it managed to trip out all the power circuits on the stage. The poor sound guy nearly had a heart attack! It took him 30mins to get the power going again and we think he lost all his sound pre-sets from the other bands soundchecks. To us it doesn't matter, a sound check is nice, but we're equally happy to just plug in and thrash, but metal bands tend to like their sound a bit more professional. He made Rich swear to condemn the amp as a death trap and never turn it on again. The other bands thought we were complete morons but were cool enough (or took pity enough) to let Rich run through one of their bass heads. I'll never forget the look on the sound guys face when that amp blew, absolutely priceless!
(Rich) yea that was fucked, i tried the amp out at practice, i thought it was just the fan that was knackered as it kept over heating, so i was just spinning it around with my finger in between each song, haha. i've actually bought my first proper Bass amp head recently, after about 15 years of borrowing from people at gigs!
How does your audience look like? Which people do you miss on your concerts? Which is the biggest band you ever have played together with?
(Ben) It's a mixture of people. Some a bit older, some younger. Mainly punks, but not always. It would be good to see some more young people at gigs and in the scene, they've got more energy! We've played with Anti-System. Killer band, great people.
(Rich) It seems a lot of people at our gigs are losing their hair! We've played with Subhumans as well, and Sham 69, but i prefer playing with bands more our style like Armoured Flu Unit or Active Slaughter.
Please rank your five favoriterecords, five favoriteconcerts and five most important things in life?
(Ben) Totalitar – Sin Egen Motstandare, Discharge – WHY?, Varukers – Another Religion, Another War, Framtid – Defeat of Civilization, Black Flag – First Four Years
Live : Violent Arrest, Discharge, Anti-System, Armoured Flu Unit, Clutch
Family, Health, Animals, Friends, Music
First, last and most expensive record ever bought?
(Ben) The first was a Punk o rama compilation, I think. Last was Asocial – För alltid Underground. I can't afford expensive records!
(Rich) My first record was the 7" Bart Simpson - Do The Bart Man. My last one was Jodie Faster - Blame Yourself.
Is it boring with interviews? Is it much interviews?
(Ben) I like doing interviews and I think we've done couple since we started.
(Rich) its nice that people might want to hear from us, but theres something about interviews that are limiting, you cant really get the answers across in a short answer, especially with questions about politics, i could moan for hours about that!
Do you care about reviews? Which is the most peculiar you ever had, with this band or any other band you have been to?
(Ben) It's always cool to get a good review, and you can learn things from a bad review. It's best to remember that it's just one persons' opinion. Everyone has a different view point and can hear different things in the music. I have a lot of respect for anyone who does music zines, blogs, podcasts, radio shows etc. It's a massively important part of the scene, giving bands exposure, and listeners the chance to find new music to their taste.
Someone said in a review that they thought that our lyrics about animal testing were cliched and 30 years out of date due to the laws being changed to stop it. I don't agree with this. Things may have gotten slightly better over the years, and there is more awareness of the issue. But animal abuse is still perpetrated by corporations in the pursuit of profit, and it's still disgusting.
(Rich) Yea pretty much every review we've had for the last release has been super positive, so i'd by lying if i said i wasn't surprised and really happy about it! its so nice for good reviews to come from places such as MMR that you've always looked too growing up, and then to hear that people in different parts of the world are getting what you do, its really humbling!
Which bands do people compare you to, is it boring that people compare you to other bands or is it understandable?
(Ben) We've been compared to a few different bands, as I said, everyone can hear different things in music. Personally, I don't mind if people compare us to other bands, it gives a frame of reference for people that haven't heard us before.
(Rich) Again, its so humbling to be compared to bands that we look up too, although sometimes i don't really get the reference, we've been compared to Poison Idea, Conflict, Oi Polloi, and Doom… just to be mentioned in the same sentence as those bands is something i could never have dreamed of. .. so perhaps its a bit self indulgent, but if i'm honest it really makes me smile, im showing my partner, like "Look.. they say we sound like Conflict, how cool is that? !" and shes like, "yes, thats very nice for you" ha.
If you could choose five bands from the past and the history and nowadays and both dead and living bands to have a concert together with your band. Which five have you been chosen?
(Ben) Totalitär, Crucifix, Battle of Disarm, Asocial, Motorhead
Is music a good way to get out frustration and become a nicer person outside the music?
(Ben) Absolutely. It just about keeps me sane.
(Rich) not sure it keeps us nice people, but 100% it blows out the cobwebs and acts as a pressure release valve.
Which is the most odd question you ever have got in an interview?
(Ben) I remember in an old Chemical Threat interview they asked some weird question about insect porn!?? I had no answer. Is that even a thing? Mental!
(Rich) I imagine they heard a rumor that Ed was into it. some of those locusts are pretty sexy.
Which is the question you want to have but you never get. Please ask it and answer it?
(Ben) What has been the most embarrassing moment when playing live?
At the Shooting Star pub supporting Grand Collapse. We'd played a good set up until 2 songs from the end. Then one of the guys running the gig decided that Rich's bass sound wasn't loud enough, so he turned it up. What we didn't know until we started the next song was that he'd turned it up so fucking loud that none of us could hear what the other was playing. Obviously, the next song went to complete shit. We stopped playing and started having a big public slanging match blaming each other for fucking up. This went on for a bit until Luke said 'Fuck this, that's your lot' into the mic, and walked off. I'd like to add that this was all being filmed for posterity. We then carried on arguing in the garden at the back of the pub while a lot of people were out there after our set. We looked like complete twats, but in hindsight, why did the prick wait until 2 songs from the end to decide the bass wasn't fucking loud enough! So since then, no one touches the amps apart from the person playing through it. Fucking hell that was a shit gig.
(Rich) Yea that was an excruciating moment, for about an hour afterwards i didnt want to be in a band anymore! We agreed pretty quickly to never play the Star again, we always fuck up when we play there! Later on that night some arsehole threw a drink over our female friend who was celebrating her birthday, all hell broke loose, there was a guy with his shirt off swinging a pool cue around, it was apparently his first night out of prison. Luckily he got thrown out before Luke got hold of him, Luke is like a black belt ninja, the guy would have really regretted his actions. hahaha.
Futureplans for the band?
(Ben) We're currently writing songs for the next EP. Hopefully it'll be out late this year or sometime next year.
(Rich) yea, and we got a few great older songs that i'd still love to record, maybe as one off digital releases
For yourself?
(Ben) To try and be positive in life and keep to making / playing music.
Wisdomword?
(Ben) Always take more than one guitar pick with you to a gig (looks at Rich) 😊
(Rich) Its ok, I have 3 now!
Something to add?
-(Ben) Big thanks for the interview Peter and massive respect to all your work on the long running Skrutt Zine. The review and interview database are incredible. It's an awesome resource for music fans.
And a last one. Do you like football? If you do answer this question. How is it possible to play 2-2 against my team Arsenal away when you lose 0-9 at home to Leicester? I have tattooed one Swedish team and Arsenal on my arm and both is shit….why do we bother about football you think?
(Ben) This ones for rich
(Rich) Ha ha, well actually non of us are Southampton FC fans. Luke and me used to go and watch the smaller local team Eastliegh FC (it feels less like cheating on me childhood team Derby County), but we've stopped going for the time being after the event I mentioned earlier. We also try to go to St Pauli games, we have a St Pauli supporters group in Southampton, Luke gets to about two games a year in Hamburg and I go to one per season if I can, but my liver does not thank me. That night when Southampton got beaten 9-0 we were practicing around the corner from the stadium.. at half time loads of people were leaving the stadium looking sad so we looked up the score, it was fucking hilarious. Im afraid I can't tell you why Arsenal are Shit though hahaha!