Konsumenterna come from my old neighbouring town of Trollhättan. Mars started well with me getting their record Svennelivet. Interview of course....March-2023
Tell us a little bit about you, when you started playing , age and do you have any other bands besides Konsumenterna?
-We are Albin Granbom, 23. Baker and drummer.
Emil Nordström, 24. Studying to be a technical tester and Guitarist.
Eric Sjöqvist, 24. Music and history teacher student and bassist. When we started, is complicated.. We started playing together in 2015, but in the band Headstag. "Konsumenterna" came about under the name TRE maybe in 2018 to relieve some songs in Swedish that started to build up, it's a bit fuzzy.
How did come you got into the wonderful world of punk? Parents, friends or what?
-Drummer Albin came in through peer pressure from the other band members. Emil's parents got the punk from the family and Eric had a very inspiring music teacher in middle school.
The advantage and disadvantage of being such a young band?
-Establishment is a challenge, then it is also difficult when you have such different paths forward in life, not everyone has landed in life. We don't really know if we got any "advantage" in those ways. We've been playing for a long time and are getting a little older now, the main advantage has probably been when more established bands have "taken us under the wings" when we've been standing like sheeps. There we can mention Dafy and the Rafters who helped us in Prague <3
You've listened a lot to trallpunk, I think, other punk styles you like?
-Very little trallpunk believe it or not, we're much more into skatepunk and skapunk like Operation Ivy all three
You come from Trollhättan right?, I come from Uddevalla? Are there any old Trollhättan bands that you like or have you heard them?
-They themselves claim that they do not come from Trollhättan, but we think they are wrong. Gubbjävlers and Giftigt Avfall.
When you do songs, how does it work, is it someone who does everything or is it something you jam out in the rehearsal room?
-It´s mixed. Sometimes they're someone who's got the feeling at home and comes up with a whole song that's then worked by everyone, or you get the question "can't we make a song like this?" and then they snowball from there. No song is the work of a single person, everything is us.
The lyrics seem quite important to you? What is your most political song?
-Uhhh.. Our lawyer has asked us not to answer that question for legal reasons. (Unreleased song)
What do you think about living in Sweden today, politically with SD-KD-M etc?
-Always nice when capital cooperates with the Nazis, did great in the Weimar Republic, just ask Hindenburg. For the first time, Trollhättan is not controlled by the Social Democrats, they are marked with all municipally managed businesses and buildings sold off, and not on electricity or gasoline.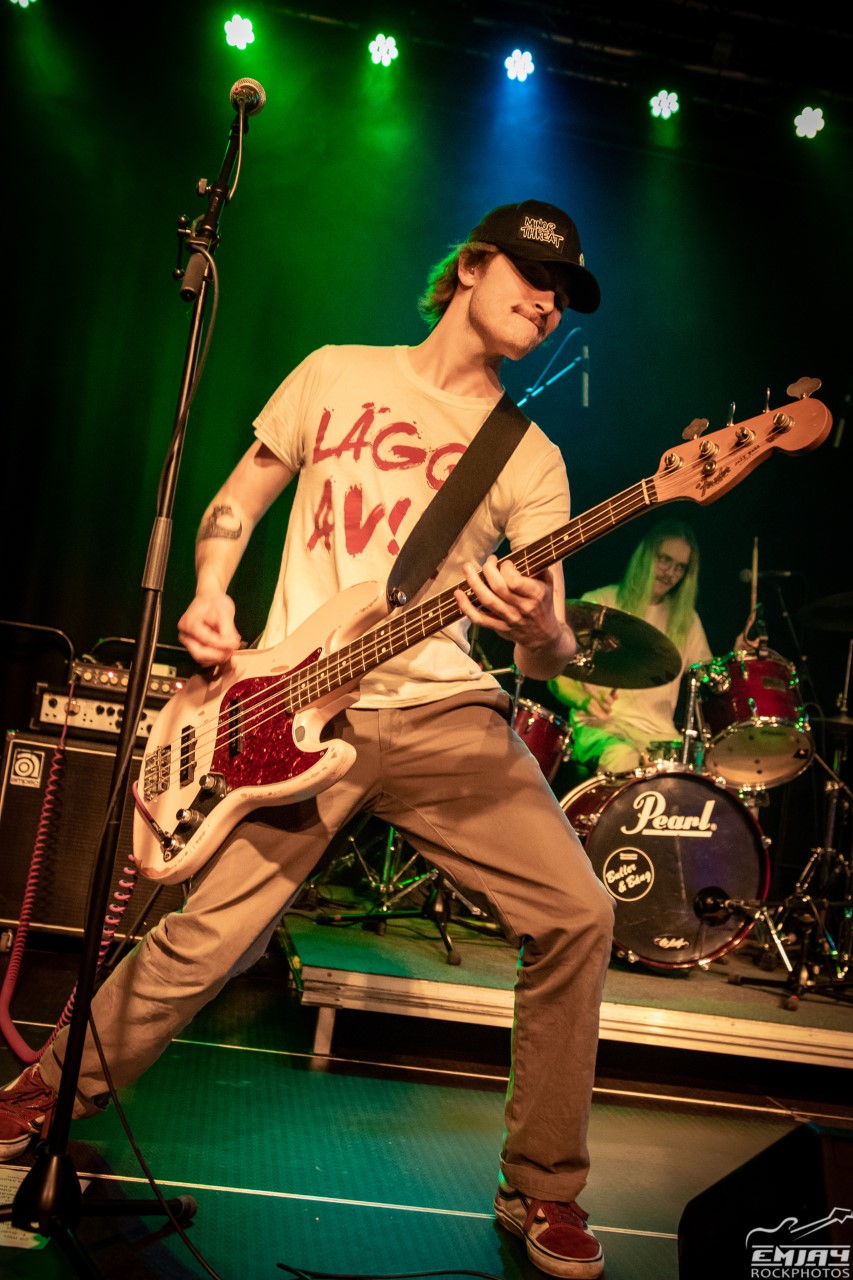 I've noticed through all the years in punk that when it's right-wing governments, there are more and more punk bands? Is punk a good way to express their contempt for them?
-One of several ways, we're not ruling anything out here.
What does the word punk mean to you , is it just a word, style of music or lifestyle?
-Both of them.
How did you get in touch with Grönpeppar records?
-We were looking for the opportunity to print our split "Gräv en till" with Borgerlig Begravning and sent a message to Sockiplast if they could print vinyls. There we were then transported to Grönpepper who were impressed by our music. "Really good, Fucking good song" - Martin.
Is it important to get your record out in physical format do you think?
-Yes and no, it's always fun, but we know there's not a huge future for the medium.
Do you buy records yourself or is it only Spotify that applies to you? Are there any good record stores in Trollhättan?
-Vinylskrubben is located in Trollhättan and sells our records hihi. Two out of three buy records every now and then, mainly vinyl.
If you had the chance to choose five bands (both living and dead) to have a concert with you, what five would the dream bands be then?
-We started from what had become the sickest concert, not personal favorite bands.
Operation Ivy
Dead Kennedys
The Chats
Descendents
Fugazi
When you play live, do you just draw young audiences or do old men like me come along?
-Depends on where we are, lately there have been more and more young people, which is fucking fun. The last gig in Gothenburg was practically packed with only young people.
To live and live in Trollhättan, what is it like?
-Divided opinion in the band.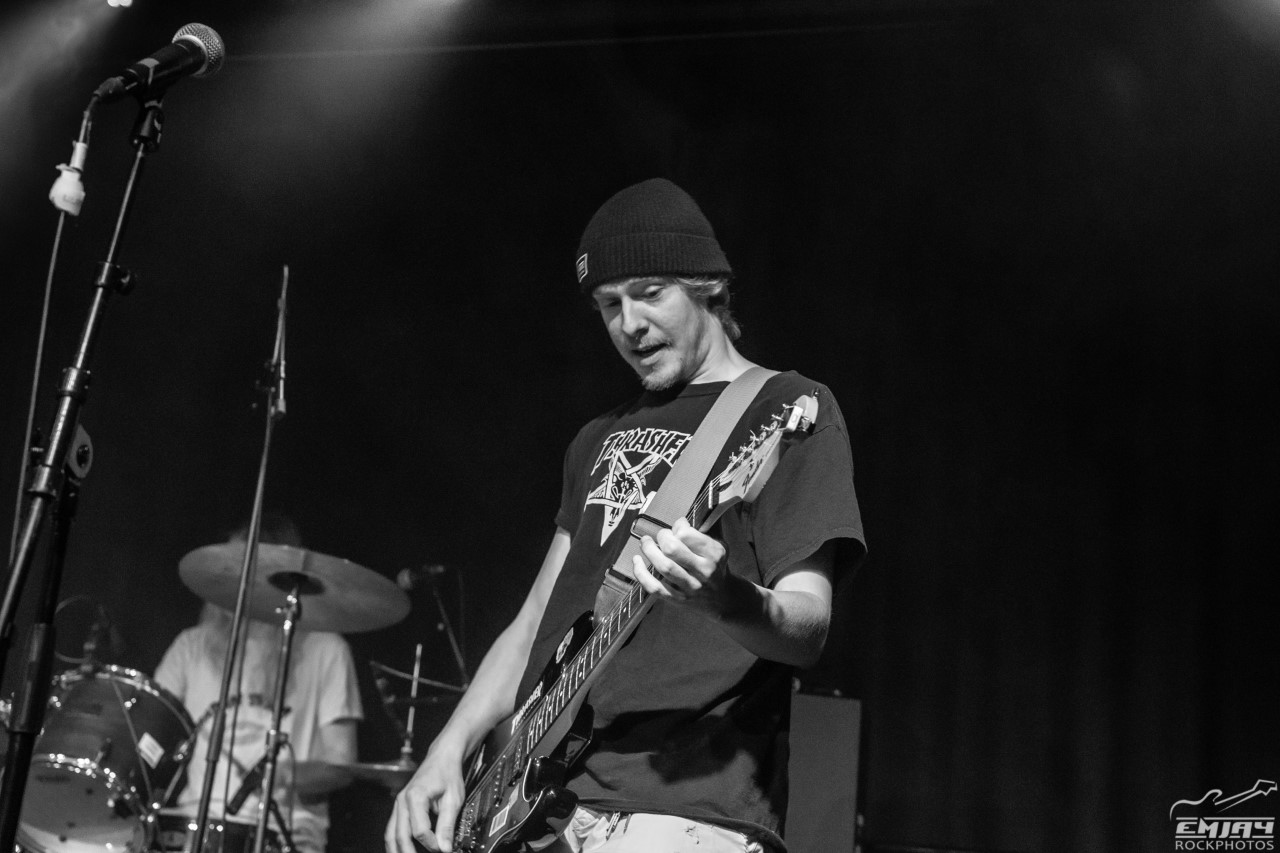 Do you have any young new bands to recommend otherwise? Any old bands that you guys like a lot?
-Divided opinion in the tape about what "young bands" mean. We can list several bands we recommend:
Småjävlafötter
Lost Wisdom
Madam Skam
Microlaxx
Attityd boys
Koma Asociala
Older (more not so known) band as (Eric) like:
Human Investment
Atrocity Solution
No Cash
More older bands that we like:
Violent femmes
Operation Ivy
Green Day
Minor Threat
Dead Kennedys
The Chats
Descendents
Fugazi
Playing music, is it a good way to get frustration out or what do you say?
-Hell yes!
Tell us a little about the following songs and lyrics
a)Mamma jag vill gå med i en sekt
"Can't we make a song like this?" "Ok" Then a chorus text is found on at the same time as the chorus riff is tried there and then. The song is about people who live at home and are radicalized on internet forums to become incels and Sweden Democrats type. Drinking juice refers to the mass suicide in Jones Town where a sect drank cyanide in lemonade.
b) Äganderätts marionette
The song initially had a completely different meaning, but it stood out in a bad way because of those. The new text reflects much more on consumers and their ideology. The bass solo didn't exist from the start either but came from throwing in the intro diff and then going up an octave felt way too cheap.
c) Miljömord
A critique of the idea that we can buy ecologically and drive electric cars to save the world, a fundamental critique of liberal ideology's obsession with individualism and its impact on systems. Systematic change is needed. The text is reasonably exaggerated with "less people, less emissions," but by the logic of liberal individualism, it's more of a solution than electric cars.
You sing in Swedish, never in English?
-In the other band Headstag it's kind of english only, a few covers in English everything falls in sometimes.
Do you play any covers when playing out? If so, which ones?
- Fjärilslarvens låt - James och Karin
Maxwell murder - Rancid
Varför lever du - KSMB
Surely it was a good thing that you changed your name from TRE to Consumers? Are you yourselves satisfied with the name change?
-TRE came from the fact that we were three in the band, with rehearsal room at N3 in Trestad. We counted in on one, two, three and all. But there were a lot of bands that had the same name so we ended up under more pressure to switch to something more original and memorable. Konsumenterna came after Eric went to Hemköp and the thought occurred to him that it was a good fit considering several of the songs. The name change was a bit of a headache as we already had some merch with TRE and ordered records with artwork that now needed to be changed.
Do you have anything to say to other young bands that want to record a record etc, something they should think about?
-Be good at rehearsals, but have a hell of a lot of fun, that energy you notice.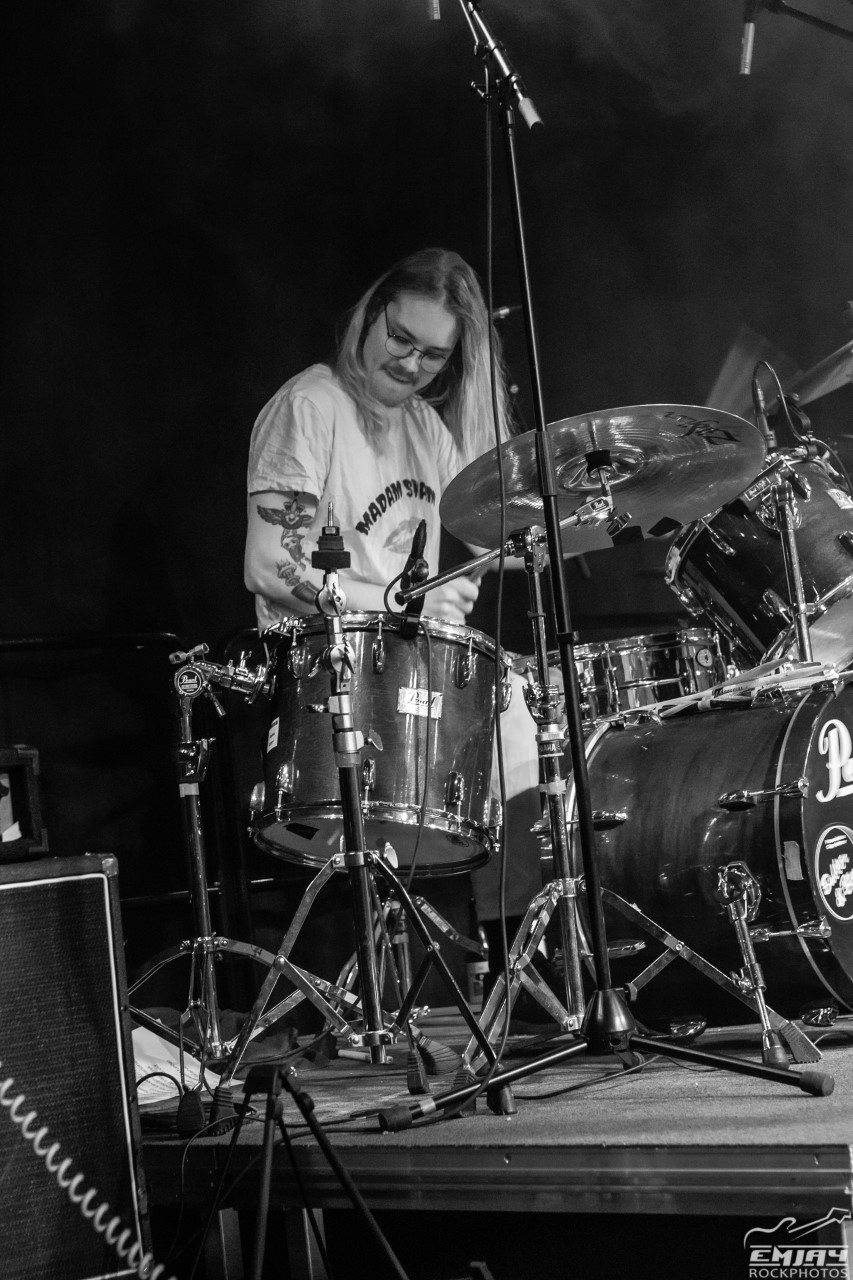 Five favorite records right now?
-Difficult..
Emil: Operation ivy: Energy. Nirvana: Bleach. Arctic monkeys: Whatever people say i am, thats what im not. Idles: Brutalism. Gorillas: Plastic beach.
Albin: Arctic monkeys: Tranqulity bass hotel and casino. Velvet Underground: Andy Warhol. Operation ivy: Energy. Gubbjävlers: Analysera varenda jävel. Queens of the stone age: Era vulgaris
Eric: Operation ivy: Energy. No Cash: Run your pockets. Ramshackle glory: Live the dream. Days n Daze: Show me the blueprints. Green Day: Dookie.
Which was the first punk record you acquired?
-Eric: Rancid: Life won't wait
Emil: Green day: Dookie
Albin: Giftigt Avfall-Punkoffensiv
Future plans for the band
–Play as much as possible!
For yourself?
-Albin: Start a punk club
Emil: Survive.
Eric: Get done with his investigation.
Words of wisdom?
-Don't invest in cryptocurrencies, they are pump-n-dumps.
Anything to add?
If you want to book a band, contact us! konsumenternapunk@gmail.com or Dm to
https://www.instagram.com/konsumenternapunk/ or https://www.facebook.com/Konsumenternapunk