Kongressen was one of the bands that responded to my call to be interviewed by Skrutt. Here comes the interview that was done in late July-2018

A little story about the group?
-In the summer of 2016 we talked about trying to start a trallpunkband with Swedish texts. It took a while, but in 2017 we formed Kongressen and tried to play some songs, it worked well so we continued to make new songs that we later recorded in Boomstick Records. Now this year we were signed by No Bullshit Live and
Records that released our debut album "upa för att glömma, knarka för att fly!" Digitally on the largest platforms Spotify, iTunes, etc.

Tell us a little about each member, age, job, family, band before and band on the side?
-Peter: Song and guitar works as a preschool teacher since 20 years ago. Previous band Ramoniacs and BreakOut, current band (except Kongressen) Kaj i Rännstenen
Anders: Song and guitar works in the manufacturing industry in the same workplace as Jonas. Has played earlier in Refresh and BreakOut.
Rosen Song and bass Works as a forging worker in the heavy industry.
Previous bands are Total Kaos, Bombfors, Barbaras Grannar Breakout and Ursinne.
Jonas Song and drums Works in the manufacturing industry in the same workplace as Anders
Played earlier in Ramoniacs and current bands besides Kongressen, Jonas plays in Offside.

I can hear a lot of old trallpunk but also a bit tougher things, I hear right? Was it better beforer?
-Our goal when we started was to be playing trallpunk, but all songs do not allow you to be printed in just one style and is one song good so is it, so it's the most important one.
That it was better sooner is an argument SD says so we do not agree! ;) Much of the trallpunk in the 90's is still great, but it's definitely not only the old one, but also a great new trallpunk, such as Lastkaj 14 and Skrammel. Trallpunk lives / Punks alive.

Kongressen, are you satisfied with the name? How do you get such a name! If the best band name had not been taken, if you could chosen that name, which would you have chosen? I mean which is the best band name?
-We are pleased with the name, it feels simple and stylish, it comes out quite a lot and people remember it. We wanted a name that brought our thoughts to the left to the 70s, we tried different names and eventually we agreed on Congress. The second best band name after Kongressen has to be Vänsternäven, it is a wonderful name for a good group as well.

What's the best thing about playing live?
-The audience becomes part of the gig, one gets and gives energy from each other, the band and the audience. It's never the same feeling of a live recording like being there in the place.

Where is the best to play, where is the worst?
-The best places to play are where you get close to the crowd, a low scene and no fence. Worst is the opposite, high scene and fence that makes the audience get farther away. Good co-operation is also very nice to have, but it is often said and so on. There is Hillstreet 1 in Lindesberg which is the best place we have played in terms of sound and co-operation, absolutely superb!

How is it to play this kind of punk in Sweden today?
-Unfortunately, it's a very limited audience who listens and plays, but we think it's about punk overall, it's not the most popular music genre. But it does not matter, then it's all the more important for those who really think it's good. And the most important thing is that you think it's fun to play yourself.

How would you describe your music in three words ?
-Intensively, trall and socially critical texts.

What does punk mean to you, is it just a word or is it a lifestyle?
-The most important punk stand for us is that everybody regardless of sex, sexual orientation, appearance, ethnic origin and so forth are welcome. Nobody who wants to be punk and listen to punk should be ruled out. We believe that many who are out of communities in different ways and who find the punk feel welcome. That's why we do not like when it's discussed (which sometimes does) in punk if you listen to the "right" kind of punk or if you dress properly to be named a punk."Gabba, gabba, we accept you, we accept you, one of us" - Pinhead av Ramones

How do you look at download, mp3 and the like?
-For our part, we're just happy the more people listening to our music, it does not matter how they listen. We will never earn any money to talk about from the music, but it's just fun the more it's spread.

How do you think it's to live in Sweden today, politically? SD etc? Will it be more important than ever to vote this fall?
-It is always important to vote, everyone who has the right to vote should do that. We find it hard to find the blue-brown currents that are now and only increase, where people are suspicious and painted out like lazy, liar and terrorists. The weakest in society are used against each other in the debate, pensioners against asylum seekers, for example. Vote with your heart.


Are there any good bands in Sweden today? In your home town?
-Some bands we have a little closer cooperation with and which we played / will play with are Skrammel, Analrevolt and (d)juret. And so we were support to Lastkaj 14 on two gigs too, it was very fun :)
There are many good bands from Karlskoga to name a few other good bands, such as Bombfors, Von Bøøm, Kaj i Rännsten and Barbaras Grannar and others.

Do you play anything outside Sweden?
-It would be fun, but we have not done that yet.
We would not like to say no to a gig in Christiania.

Other good bands from abroad?
-We do not just listen to Swedish punk.
Other good bands abroad are, for example, System of a Down, Rise Against, and Bad Religion to name a few.

Your lyrics? What influences you? Never in a language other than Swedish? Is your album title Supa för att glömma, knarka för att fly... does it have any deeper meaning?
-Many texts are about highlighting the mistakes and injustices we see in everyday life. We only sing in Swedish, it feels more genuine then, just with the lyrics we have in any case because it's mostly about Swedish society.
Supa för att glömma, knarka för att fly is a bit long and not so catchy title. But we like when an album title is taken from a song and not a song title and ""Supa för att glömma, Knarka för att fly" We sing in our song ADHD -barn (our most played song on Spotify)

Is there anything you will never write about?
-It would be about the Swedish Democrats, if not, now we were kidding. No, we have no restrictions on what texts we write, we write what we want.

Politics and music, does it always belong to each other?
-No. There is good music with texts that deal with other and even nonsense texts. We do not know if we will make somebody such a song, but it must not be political texts to make it good.

Do you think music can change someone's life, then I mean lyrics etc?
-Yes I think so and hope so. Maybe not in big but small. If you really get stuck for one song it can accompany one through life and text lines can pop up in your head in different situations and it helps or strengthens one. Just like any other culture, you can do it, books, movies, poetry, art and more.
Best political band/artist?
-Asta Kask of course, especially the records that came in the 2000s.
Even the band Kardinal Synd has made many awesome songs with a political agenda.

Is it important to have a cover on a record so that you understand what kind of music you play? Which is your favorite cover all the time?
-No the cover feels secondary but Onkel Kånkels
cover for "Gammaldags Jul" is really a good one.


Is it important to get out physical discs? Vinyl or CD or both? Is there any good record store in your vicinity?
-We do not think it's important. It feels like vinyl collections have become snobbish, it should be special and exclusive, editions with limited editions and the like. Then you'll sit there and browse their exclusive editions and brag for their fellow companions how cool they are because they've managed to collect them. It feels contrary to the punk grounds. We love Spotify, it's both convenient and easily accessible. Then some think that the sound is much worse digital than on vinyl, but we do not get it because we play Punk and music is still the best live.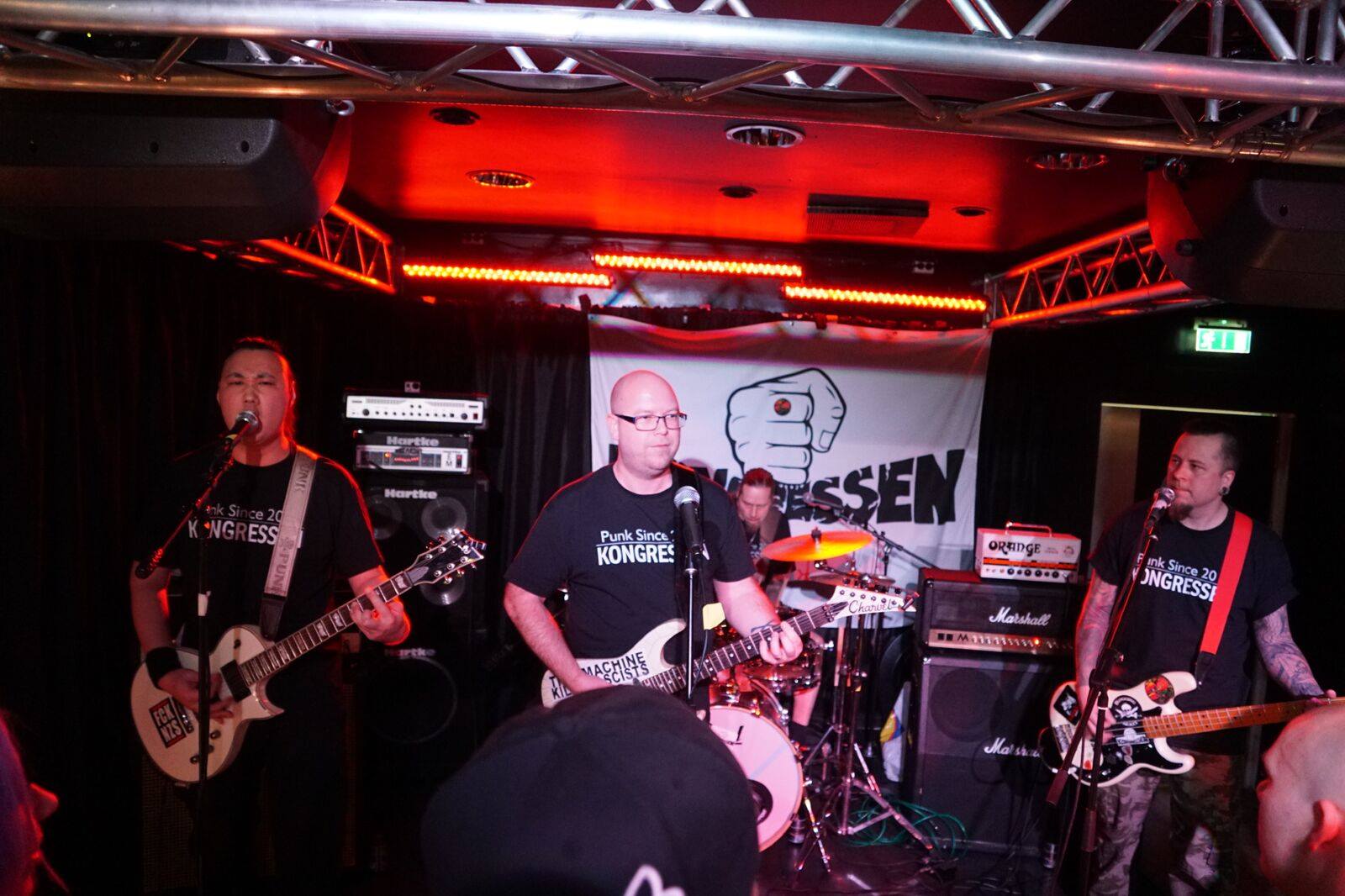 Please tell me something really fun that happened during your career on stage or behind stage etc?
-When we were supporting Lastkaj 14 here in our hometown Karlskoga (it was just our second gig ever) we gave Kongressen t-shirts to all in Lastkaj. When they was going to play, they'd put on all the sweaters, and they also played with our Kongressen backdrop, so if you only saw them without hearing them before, you could easily believe that it was Kongressen and not us.

How is your audience looking like? What people comes to your gigs? Do you miss any kind of people?
-We do not have any devoted fanbase unfortunately, but a sound engineer in one place in Gothenburg once said we sounded good, and that said Anders mother too. We would like more people to understand how many good punk bands there are today.
So the Punk scene became a little bigger than it is today.

Please rank five favorite records, five favorite concerts?
-Rise Aginst Fryshuset 2015
Exploited Motala 96
Ramones in Bergslagshallen i Karlskoga 1990
Gatans Lag Closeup boat 2018
Doktor Kosmos Arvika festival 2008

Is it boring with interviews?
-It's just boring if the questions are boring;)

If you could choose five bands from history, dead and alive to have a concert with your band, what are the dreambands then?
-Ramones
Lastkaj 14
Fear Factory
Räserbajs
Rise Against

Is music a great way to get frustration and become a nicer person? Are you angrier today than you were as young punks?
- (Anders)
Music is a very good tool for cleansing the soul and getting rid of its frustrations over all the crap you hear and see everywhere.
(Peter) is a very happy and positive person and has always been. But I get frustrated when I see injustice and oppression. Then it's good to be able to scream out the frustration in the music.

What is the strangest question you received in an interview?
-No question is too strange because we are open minded.

Which is the question you never get, ask it and answer it?
-Pass

Future plans for the band?
-We think it's fun to play live as mcuh we can and do so many live shows as possible. Then it would be fun to release a disc more.

For yourself?
-To have fun together with friends

Words of wisdom?
-We listen and learn from you others instead.

Something to add?
-We would like to thank you for the eminent interview which have taking 2 days and 5 nights to complete, but it was worth it.