Kombatants is a Swedish street punk group and I think it sounds really good about their songs. So why not ask them some questions and this was done in February 2015th
A little story about how you were formed and bands before etc?
-We are a mix of folk and play / have played in many different bands; John is active in Heroes (a politically incorrect rock band), but has also played with lesser known bands like Concrete Warriors (oi) Conviction (heavy metal) and Kekkonen Heroes (punk). Freddie has played in many different bands over the years, ranging from metal to ballads, some bands have been with John and Robert. Currently, he also plays with Heidrun.
Tell us a little about every member right now, age, family, interests, work and something bad about every one?
-Johan Is about 45 years old and lives with his partner and three children. He is very fond of soccer (Elfsborg and West Ham U) and have the tattoo as both interest and job since 15 years. Johan likes beer a LOT (preferably a cold pint) and are easy to be drunk than he should ;-) Pierre 27 years, residing in Varberg. Lives alone with two children. Tobbe 42, lives in Borås, is living and working as a painter. Like football in general o Liverpool in particular! Love beer -Very much- happy in the company of good friends or at worst guys in the band. Freddie 20+, living and working in Borås area. Living a normal regular lifestyle with partner, children and detached, but likes to be able to go and play rock'n' roll, play, listen to music and partying. Robert is 27 and lives with dog bit off Borås. Love Elfsborg and Redbull and cola.
I understand that you are skinheads and that it is your lifestyle, but how do you see it .. are you punks well or how do think about punks?
-In Sweden I do not think there is much difference between punks / skins besides the upholstery, possibly the punks are a little more political. We listen well usually on the same band and many skins have been well punks also i can believe. In England, however, I think there was a big difference when oi-music came when many of punks came from the middle class / working class universities and found it hard to punk to themselves, come o as a "rescue". Way's music from them their ranks with bands like Cockney Rejects, Sham 69 and others with texts that dealt with everyday life ... no wonder it was a success.
What is a skinhead lifestyle if you say so, what distinguishes the most?
-The clothes and a big dash of beer / football / girls. Naturally, it is a working thing.
What do you like most skinheads in the 60's or 80's skins?
-We think it was easier and more enjoyable of 60 / 70s when everything was new and you did not have the political stamp of being a skinhead. Unfortunately, none of us who were there when ;-) Two of us in the band grew up as a teenage skins in the early 80s with little indiscretions in punk and biker world (although some heavy metal as well, but we keep quiet about HAHAHA). The younger half of the band grew up with Psycho-billy and Viking rock / metal. Since we were not in the 60's we like of course the slightly tougher 80s style with Oi! o gigs instead of Ska and dancing at clubs.
If you are inside the reggae something that the original skins where?
-Both Yes and no. Some of us are listening a lot to ska, mostly 1st or 2nd wave, with bands / artists like Roy Ellis, Madness and the Specials. If / when these influences show up in our music depends mostly on us to do what we want and likes to violate the standards are not that we absolutely must play properly.
If we go to your texts now so do you have a part of football violence, for example? What is your relationship to it?
-Does it happens so does it o happens ... you are not supposed to run away if you stand for something, whatever it applies.
Favourite?
-ELFSBORG. English teams, we are not as agreed;-)
You also have a song about Bratz, they are an object of hate and there are many around where you live?
-Bratz / Chop / arsehole / mother's boy, dear child has many names ... you get easily angry at people flying around on the prawn sandwiches and have it too easy in life, Jante maybe ...
How do you think it is to live in Sweden today? Politically, etc?
-As a bands we do not care ABOUT POLITICS!!!
Politics and music., Does it work?
-In the skinhead scene do not we go together when skinheads really do not care about politics (even if after 80th century revival became very politically with the band Skrewdriver, Oppressed and others, then became the whole skinhead culture moves over a comb and got right in medias eyes), it is mostly about everyday things like football, drinking, fighting and girls. Music is otherwise a strong way to get opinions and perceptions from right to left, easy for everyone to absorb.
Best political band / artist?
-Hoola Bandoola Band, Ebba grön, Pete Seeger, Billy Bragg, Skrewdriver Others It's hard to find nonpolitical band from "the old days" when you think!
What did you get your name from, I thought you were French?
-We needed something acrid name that works in both Swedish and Foreign. Combatants with K sounded funny and a little own and that the word can be broken down into Kombat ants ie Ants Firm which is great considering that we are football mad.
You have influences from a lot of different directions, I hear the early 77-point, early oi and AC / DC? Am I right?
-It´s right to 100 %. We especially like the naked raw power of early punk / oi; Cockney Rejects, 4-skins, Sham 69 others. Do well that most bands sound a bit like with everything for the few who dare to stand out musically. We also try to have your own style of music that stands out in the crowd. And you will find some Ska-backbeat and Hardcore Guitars in our songs. Furthermore adds Freddie good comfortable metal solos!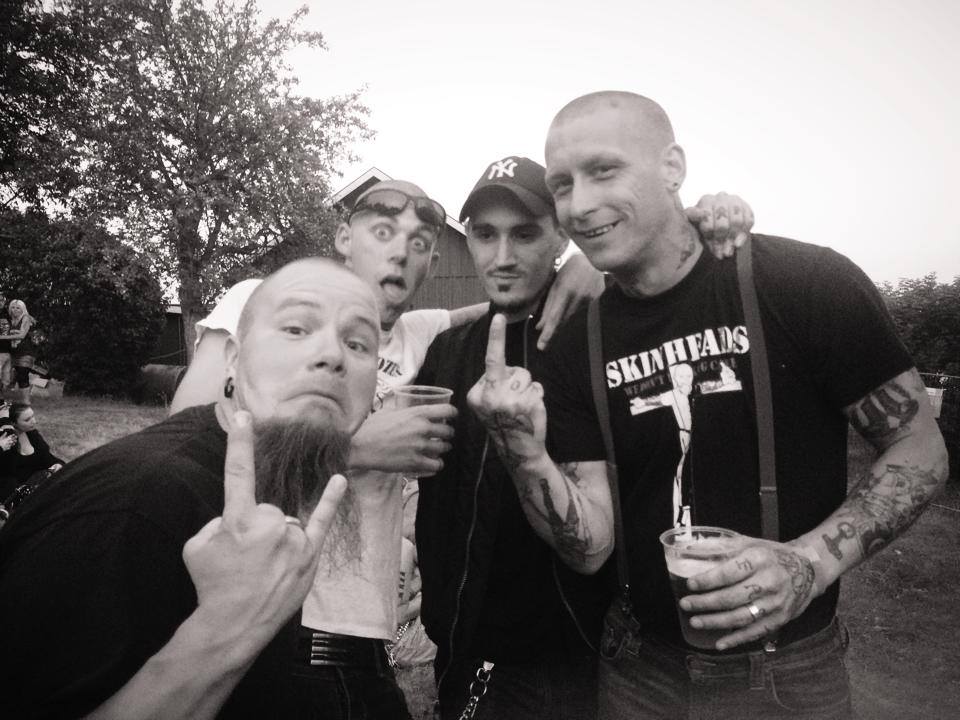 Is there any good bands in Sweden today?
-Vallgatan From Jönköping plays lovely oldschool punk / oi, Frusen Tid not yet released eachother record runs lovely melodic punk, Agent Bulldog and Battle Scarred who hardly needs presentation, Gatans Lag, which unfortunately is a little too political, but with a beautiful sound.
In the world?
-Right now I think we think Hooligan UK and Citizen Keyne is the bestt! Baker's Dozen, London Diehards o Superyob it's pretty good momentum really is!
Back to the lyrics again, is there any topic you could never write about?
-We would surely be able to write about anything and already writing much about the world from the little working man's point of view. We try however to keep us away from politics when oi / skinhead scene is already so infested with the left / right mindset. Is there anyone who takes offense at some of our lyrics, it's entirely up to them. Would sit and be afraid of what people will think of her lyrics / music so you might as well stop playing in bands or listen to music at all!
Who does the lyrics?
-Pierre has until now been responsible for most of the texts and ideas that we then together have formed.
You have done a split with Baker's Dozen, how did it happen?
-We did a couple of gigs with BD and became good friends and when the question came up so there was no doubt.
Something new material in the pipeline?
-We will in the spring release a 7 "with four Swedish songs in a limited edition of Shout Proud Rec and also start recording a new album in English (unsignd). Since our bassist Robert will operate shaft in February and be away from the live scene a few months, we have chosen to take it easy with gambling until he is fit for fight. We therefore have no booked on the calendar until May and then follow a bunch of gigs in Sweden and Germany, and so we are hoping for more gigs in the fall.
Is it important to get out physical discs or do you think it would have been enough digital release?
-No, It does not matter but personally I prefer physical records when you know the performers also receive a small piece of the pie. Secondly, it is more fun to have a record on top of the wall, than a digital disc on the idiot box.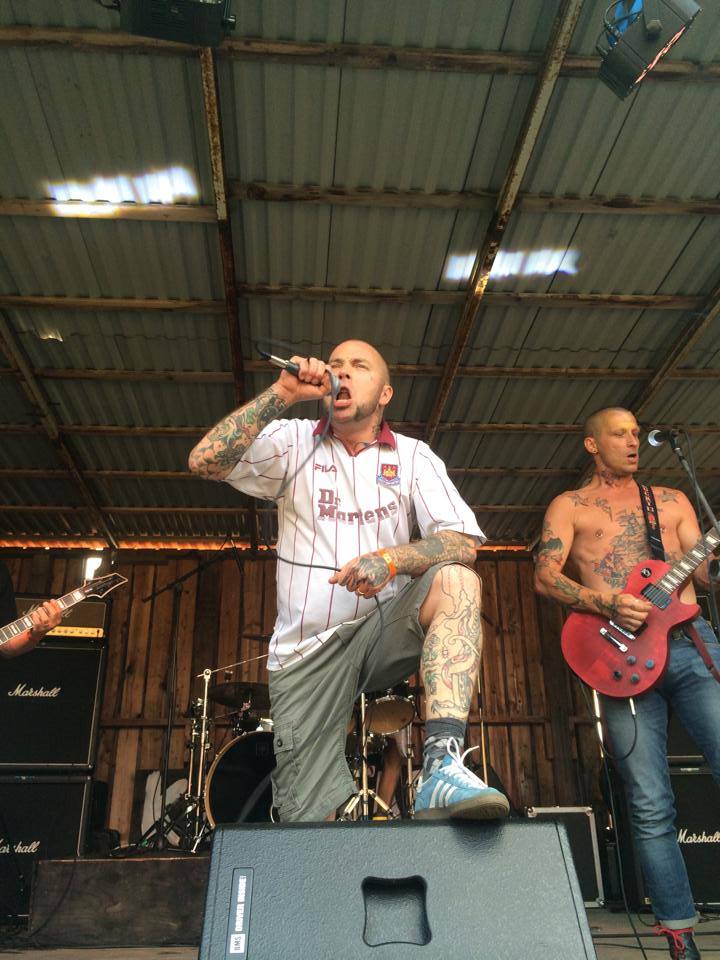 If you could choose five bands from history and from now, living and dead to have a big concert with you, which five would you have played with?
-Led Zeppelin, The Clash and the Sex Pistols (Johan's choice). King Kurt, Stomper 98, 4-skins. (Pierre) Must say Skrewdriver, (Tobbe) Fucking Tobbe to get ahead ... (Freddie)
What is the biggest band you have played with?
-Franky Flame/Super Yob.
Five favorite records, five favorite concerts and five most important things in life?
-Johan: The Who - Quadrophenia or The Clash - London Calling. Pogues in Halden, Norway or the Anti Nowhere Legue live on Kuggnäsfestivalen or why not The Wall at Ullevi. The kids and work. Tobbe: Saxon - Wheels of Steel, Accept - Restless and Wild, Skrewdriver - All screwed up & Blood and Honour, Sex Pistols - Never Mind the Bollocks. Freddie: Fucking hard to choose favorite records ... throw up the cliché that it depends on the mood. There must be some of the concerts when I've played.;-) Family, Music, Good friends and partying. However, yesterday the last three hand in hand.
First, last and most expensive record ever bought?
-Johan: Exploited - Troops of Tomorrow (82) was probably my first album. Recent were new Pink Floyd - The Endless River and the most expensive was enough Pogues box - just look them straight in the eye ... Tobbe: Do not remember my first, but think it was the Smurfs. Last was the Citizen Keyne - White Collar Hooligan o it / them most expensive was a box with AC / DC's first 5 records. Freddie: AC / DC - Razors Edge was my first - on cassette ... The latest was probably a political incorrect ... Haha.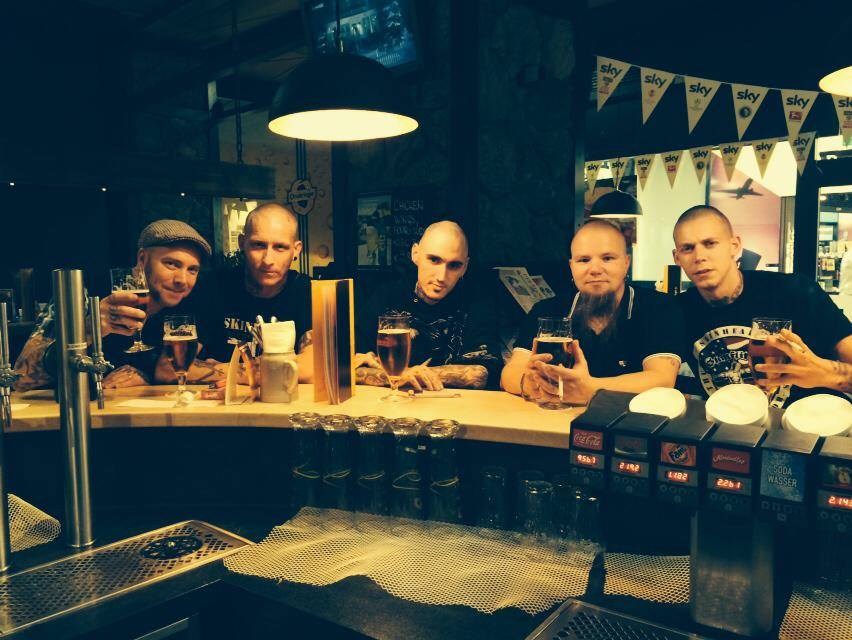 Is it many interviews? Is it boring?
-Not so wellknown we are not that we are complaining;-) haha
Strangest question you got?
-This!
Which is the question you never get, please ask it and answer it?
-Do you want to play at Ullevi or Friends ... hahaha Do you want to go for a bold European tour? -Yes !!!
Future plans for the band?
-As long as we have fun, we will keep on ...
For yourself?
-Continue astound the world with Kombatants. (Tobbe) try not to break your neck in the hamster wheel and play music. (Freddie)
Words of wisdom?
-Give NEVER up!
Something to add?
-Support the ones that support you! Go to gigs, buy albums!