Ivo from the swiss group Knuppel Rupels have answered a lot of questions about music and the band in November 2007.

History?
-First of all Knüppel Rüpels were formed in springtime 2006. The line-up was since that always the same with Alice-Bass, Waegi-Drums/Vox, Ivo-Guitar/Vox. Previous, Waegi and me played in another non-named band, but this was too disappointed so that we started a new musical venture. With a couple of gigs together with Klasse Kriminale, Wien..s No.1 (…) could we make a name for oneself. We also gave an ascent to the local scene during the term of the Band. After our Demo, we finished the work on our EP "Unser Zusammenhalt" which is available now.

Please tell me a little about every member, age, interests, work, family and something really bad about every one?
-Ivo- guitar, vocals: Age 20, love to going to football, pubs or concerts
Alice- bass: Age 19, prefers concerts also football and going out
Waegi- drums, vocals: Age 23, football, beer, Rock ..n.. Roll – the Way of Life
Bloody similar, isn't it?

Streetpunk in Switzerland, how is it to play it?
-Streetpunk, Oi!, or Working-class Rock ..n.. Roll describe our music better then just the only one. Many Bands argue, they playing Streetpunk, even if they looking like Emo-kids (Better retarded then emo) or some dumb-asses. On the other hand, there are also really fine bands, which give the term Streetpunk in Switzerland their accuracy.

Is it important to show your "hate" against racism when you..re a skinhead?
-I think, it's very important to show the red card to Racism even if politics a really minor matter is. It's also very sad, when I look into the news-paper/mass-media and I see that fascists gonna constitute as skinheads. It gives a wrong illustration about THE Skinhead. So, LOVE FOOTBALL, HATE RACISM!

You like football, which team(Me myself love the team GAIS from Gothenburg, and it..s really sad day today because the other team from Gothenburg IFK won the title yesterday)?
-Yes, of course, it's the most beautiful matter, sometimes the main thing. Oh that's very sad for you, sincere condolences, but so that I know that GAIS-Supporters never let the club walk alone. I, for one love the teams FC Winterthur (2nd leauge) and FC Zürich (1st League). I also have very much sympathy to the club of Kreuzlingen FC and their Whisky-kop. One day, we played with our band on the 10th anniversary of their kop, and that was a strong rush, I remember.

Do you have hooligan problems in Switzerland?
-The Swiss Football Organization and the state have problems with this case. There are many discussions about the forthcoming EM like police support from France or to integrate a new law against hooliganism. And really, I'm annoyed about that law, it criminalize also ultra/fanatic supporters. Let's put it this way, come hell or high water.

Back to music, you write both in english and in german why?
-Yes, that's right. On the beginning of the band we only wrote German songs. We thought it's gonna be an alternation to the other songs, and so it is.

You have really long songs many times, how come? Punkrock songs is often more short?
-Oh I can tell you, that's also very angular. First as we prepared the songs for recording in the studio, we remarked that the songs don't gonna be short one's. But for a 6-Song-EP-Compact-Disc is it peachy with a runtime of 25 minutes, isn't it. So, order it…

What does punk mean to you, is it only a word or is it a lifestyle?
-Less punk, more Oi! But I think punk is a "lifestyle" or specified a youth- and subculture typically with non-conformistic or rebellion behaviour. We know many people or mates of us, which do it that way.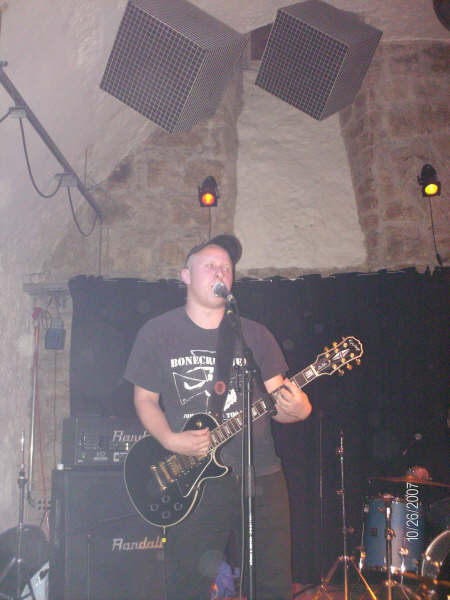 How would you describe your music in three words?
-Asskicking, naturalistic and aggressive !

How is the reviews you have got for the new CD?
-We only saw one review from an austrian zine and that was really good.

Do you care about reviews?
-It's good to read a opinion from another sight, but it's also always subjective, so we don´t rack one´s brains about reviews.

How is it to live in Switzerland, I mean politically?
-Oh that's a question! On the face of it, the Swiss are neutrally even though we always have a finger in the pie. That's a very different beast. So, when you comparing it to other countries, we have a good living standard.

Many people mix Sweden and Switzerland? Which are the similarities do you think between the countries except the name?
-Ah do they? The similarities between the countries are that they both have an own language and in both will be played football. What a cognition!

What is typical swiss? What is typical swedish?
-Typical swiss is the money or the alps, typical Swedish are the fjords and the IKEA

What do you know about Sweden?
-Wow, that mutated to be a good quizshow! So I know that Stockholm is the capital of the country, Umea has a big hardcore scene, there is much water around the country and it's a mild climat even though so north.

Any good bands from Sweden you like?
-When I hear Sweden and music, I think firsthand on Perkele from Göteborg, and that's a fucking good band, we also influenced of them. Other good bands from Sweden are Voice of a Generation (rip), the Bones, Ticking Bombs and so on.

Is there any good bands in Switzerland right now?
-Yes, there are many good bands in Switzerland. But in our genre, it could be more..

Much interviews? Is it boring?
-No no, it is interested what you've asked except my knowledge about Sverige.

The question you want to have but you never get? Please ask it and answer it?
-None – you've good questions till now

Please rank your five favourite records, five favourite concerts and five most important things in life?
-Records: Bonecrusher – Fractured Digipack
(currently) Bonecrusher – Tomorrow is too late LP
Krawallbrüder – In Dubio pro Reo LP
Toxpack – Cultus interruptus LP
The Analogs – Poza Prawem LP

Concerts:
Punk & Disorderly Festival
Festival with 999, UK Subs, the Kids, Vibrators and so on
The Adicts, The Business was also very good clubshows I remember

Things: Friends, Music, Football, Alcohol …

First and last and most expensive record ever bought?
-I don..t know the most and first record I bought, but last was a Sampler called Tales from the streets 3.

Most embarrassing record in your collection?
-Blindly – no idea, must have a look in old cases. But there are many embarrassing cd..s there.

Huser records , is it a good label, what have they released more?
-Huser records is a very nice label, but we only used it for the recording, the rest of all we do in direct selling. It's comical but the label doesn't agitate in this kind of Punk/Hardcore music. But they gave there best and it was a good collaboration.

New stuff like My space, Facebook and so on.... is it good or how do you see on these things?
-I don't know Facebook but Myspace is a very nice and small stage to have contacts with other bands or friends. And you can give a small Input of your band, that's cool!

How do you see on Mp3 and downloading and so on? is it good or bad for smaller bands?
-I think it's good for smaller non-famous bands to spread their sounds out in the world. But it needs limits – it's the most amazing thing when you play concerts and can buy your cd..s there.

Which is the biggest band you have played with on a concert?
-That was with Klasse Kriminale in Zürich 2006.

And which band do you really like to support if it's possible?
-Oh there are too much bands, we would like to support.

Futureplans for the band?
-Firsthand we do some promo of the new EP, after that follows concerts and maybe we looking forward to recording LP, but that takes their time..

For yourself?
-It goes on – stay out in the streets with my friends

Wisdomword?
-The worldly wisdom is the way itself! So, don't piss down my back and tell me it's raining!

Something more to add?
-Special thank to our families, friends and supporters of the Band Knüppel Rüpels. We know how you are!

Visit us @
http://www.myspace.com/knuppelrupels
http://www.knueppelruepels.ch.vu

Thanks, Cheers and Beers to Sweden!

- - - END - - -

questions & annotations?

Cherrs from Switzerland,
Ivo and Knüppel Rüpels