Sure you can say that Knogjärn sounds like LOK if you want to make it easy for themselves. Is not that simple, but it's more so that they have approximately the same influences, I can imagine. I wanted to at least have a chat with the band and here comes the ... .oktober-2015
A little history about the group?
-Knogjärn springs from another band called Inspite and played the same music but with English subtitles. We started playing together for about 5-6 years ago, however, lirade not John on drums in Inspite from the start, it was Christoffer Majgren. But he quit in 2011. Then we had a hell of a tour that managed to get hold of Johan. The name change we did after we released a song in Swedish called precisely "Knogjärn" and felt that we wanted to continue with swedish lyrics, and then felt "Inspite "not so fresh. So in the beginning of 2015 Knogjärn was borned".
Tell me a little about every member, age, work, family, bands before and bands next?
-Kim Eriksson - Song: Like coffee, meat and beer and has a beard.
Rasmus Sörbom - Bass: Like beer, coffee, snuff and meat and also has a beard.
Mark Hurtig - Guitar: Like meat, beer and coffee and has a beard sometimes.
Johan - Drums: Like snuff, coffee, meat and beer and have a little better beard than all others.
<![if !supportLineBreakNewLine]>
<![endif]>
I can hear very hard rock but I think I hear both influences of hardcore and punk, too, I hear right ?? Was it better before?
-Yeah, That's right, everyone in the band likes music with a lot of energy, weight and speed, then if it is Punk, Hardcore, Metal and Hardcore are not so important. We listen to everything.
Knogjärns, are you satisfied with the name. You ought to be there considering how you sound! If not the best band name had been busy positioned operator name had you chosen then? I mean what is the best band name? Why was it that name?
-Yes, We are pretty damn happy with the name! What we should be called otherwise was a difficult question, perhaps "Threat of violence(Hot om Våld)" haha ​​... or "Shovel(SKyffel)"
We wanted an appealing name, one should understand that it is not dance, we are doingt.
What is the best thing about playing live?
- Discharging and adrenaline!
Where is best to play, was the worst?
-Best: Festivals with people is founded on its way, however, it is virtually hell of a full nightclub because it is so intimately
Worst: A lousy restaurant with some people.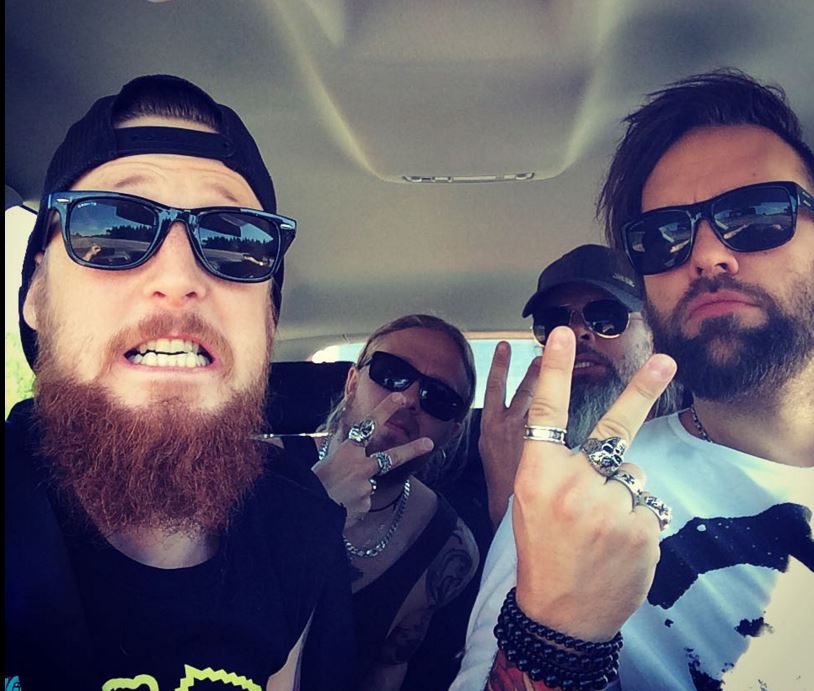 How is it to play this sort of music in Sweden today ??
-Fun but difficult! One must constantly find ways to stand out.
How would you describe your music in three words ??
-Energetic, hard, heavy
What does punk mean to you, is it only a word or is it a lifestyle? I know you do not play punk but it feels like you have a bit of that attitude ..
-I do not know, actually. That's just the attitude and the energy I guess.
How do you see on download, mp3 and the like?
-Bad. Music cannot be free! Adding still down a whole lot of money and time creating and recording music.
How do you think it is to live in Sweden today, politically?
-Messy ...
Are there any bands in Sweden today? In your hometown? Is there any good bands there nowadays?
-In Karlstad vicinity there are really many good Metal and hard rock bands: Sparzanza, Incarnit, Eyes Wide Open, Skallbank, Deception,The Generals are just a few. There is a lot here!
Do you play anything outside Sweden?
-No, so it has only become Sweden.
Your lyrics, what influenced you in? You seem angry?
-Short, you could say that we had thought that the whole world was perfect and the people are not stupid, we had probably had no lyrics.
Is there anything you are never going to write about?
-Dragons, swords and magic and stuff, we will never write about.
Politics and music, does it always confused ??
-It may well very much do. It's a good channel to get their message out. But our music is not particularly political.
Best political band / artist?
-The only thing I can think of offhand, even if they no longer exist are well "Rage Against the Machine" musically anyway. Politically, I do not know ...
Do you think music can change someone's life, I mean texts etc?
-There I definitely think so, it may be about to recognize themselves in the lyrics or the music can convey a feeling that makes you feel better.
Your cover is really cool on your record, who did this. Is it important to have a cover that you understand what type of music you play? What is your favorite cover all time? ... The violence in your paradise(Våldet i ditt paradis) ... what are you referring to?
-Yeah, it was really good, we have done ourselves, or rather, Markus. We have tried to employ various designers to previous covers, and even to this album but we never become complacent. Therefore it was better we did it ourselves. It's good if you can understand on the cover of what music is.
Will not actually recognize any favorite covers right now.
Violence in your paradise refers to the ugly. Where there is something seemingly beautiful, lies the slightly less beautiful.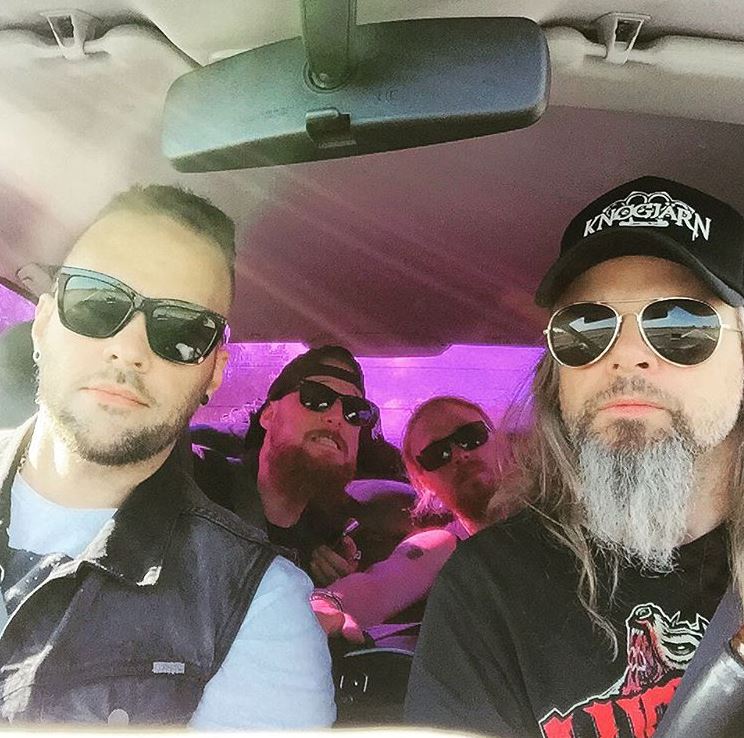 It is important to get out physical discs? Is there any good record shop in your hometown?
-Even though it's hard to sell physical records, I think it is important that there is.
Well there is well no record stores left at home, it is well that the rest of Sweden, Record Shops it's petrol stations and large department stores.
But we have in itself a real cult record store called "Knastret"
Please tell me something really funny happened during a career on stage or backstage etc?
-I do not know if it was so fun then because, for them, but in retrospect it's quite fun. It was in the summer of Hoforsrock. We played next to last on one of the scenes, behind us would Corroded play at another scene. It is always tight with the time in festivals and they were about to administer and sound check when we played. To this story is that it blew the storm and rained as hell. When we were ready and would go off, and Corroded would launch so faded their stage. Pitch black. It was just for them to rowing down their stuff back and get the hell rig up everything on stage we were taking down our stuff from. So when we were all unload ours came Corrodedguys running with their stuff in the pouring rain. Then I thought damn sorry for them. But it went well and they just drove on. And in retrospect, it is fun!
How does your audience look like? Which type of people? If you miss someone, which types of people?
-That's all possible, mostly it is well the people who are into metal and hardcore. But we have met many old punk guys who likes us. Do not know if we are missing somebody certain type of people?
Is it boring with interviews ??
-Honestly? Yes ...
Music is a good way to get frustrated and become a kinder person ??
- It can work as a valve. Hopefully, even for those who listen to us, but if someone gets nicer I do not know.
What is the weirdest question you have in an interview?
-I do not know ... this might it be haha.
Which is the question you never get, please ask it and answer it?
- "Is that pork in it?"
- "Yes".
Future plans for the band?
-The future plans is best to come out and play. Then it is clear that it is written new material all the time, and the idea is to release a new single sometime this winter.
Words of wisdom?
- "Beer, meat and coffee, you can live on that until you die"