The Knock Backs are.....bass & vocals Nidge knock back
guitar& vocals Sham knock back
drums & backing vocals Jerryatric knock back

Please tell me a little bit history of the group?
Nidge ...I met Sham at a punk show in Brisbane ....he was very drunk and asked me to roll him a cigaret ...we got talking & I told him I was trying to put a band together. He said he played guitar so I got his number and phoned him a few days later ... At the time I was trying to put a irish punk band together but the banjo player kept letting me down.. I was hoping just to sing at the time cause I hadn't played bass in a band for nearly 20 years. he said he know a drummer if we just wanted to have a jam ....so a few weeks later we all met up at Sham house ....I started coming up with some bass lines . The music to Brissy boys was wrote that day. I started the bass line then Jerryatric & Sham did the rest... There was a lot of beer that day & by the end of it we know we were just going to be a 3 piece ......we all liked the same music punk, metal, ska, rockabilly you name it we liked it & no boundaries to what we liked.....but we know then & there we was going to be a Punk band ...
Sham ...Sham +Jerryatric +Nidge= The Knock Backs
jJerryatric...me & Sham when to a local punk festival bender7 .where Sham bumped into Nidge we all met up had a jam and have never looked back..

Please tell me a little about every member in the group right now, age, family, work, interests and something bad about everyone? Other bands before?
Nidge...ya im the old one 40yr old....Irish- Australian living in Australia seen 1997 married with one child. Passed band was back in Ireland we were called Hate bomb. Messed around with a few mates over the years but nothing every be came of it ..I work in construction mainly civil .Interests .music beer fishing & watching my son grow up ...Bad Manners Mmmmmm no can't think of any im a fucking angel...ha ha ha .
Sham..31 spraypainter
Jerryatric ..trap&vox 28yr old working class single father of one ,night shift worker...Interests drumming music chun & Brazilian jiu-jitsu.. passed bands Riot Rats & ,Dead Fish Floating where the main bands & a few local bands that never really took off..

I think I can hear both Exploited and some oi and punkrock in your music.. Am I right? Favorites from the past?
Nidge..we all love oi & punk so I ya I hope that's what your hearing. favorites..Ramones ..SLF.. Anti Nowhere league. Dubtones Madness also love bands like AC/DC, Iron Maiden, Motörhead etc how much time have we got ha ha...
Sham..oi . punk .rockabilly, oldschool punk
Jerryatric .Exploited Ramones Plan of attack

Knock Backs, who came up with the name, are you satisfied with it? You werent´afraid that not any other band who had that name? Which is the best bandname you know?
Nidge ... Sham came up with it. think it was after listening to the Business song Drinking & Driving ...knock it back have another one drinking & driving is so much fun ..yes we´re very happy with it.. easy one to use in so many ways..we spent a lot of time on the internet to make sure there was no other band with the name ..we now have the name registered with the worldwide band name registry .so no one can take the name ...unless they want to pay us lots of money...ha ha ha don't think that will every happen... best band name Mmmmmm The Knock Backs ha ha...
Sham ..hard work cause every name u can think off is taken ....
Jerryatric .. ya Sham came up with that ... Knock em back have another one ....

What´s the best thing with playing live? And what´s the difference of playing now and when you started to play?
Nidge ..people singing our songs & wearing our tee shirts were having a lot more fun on stage now and were a lot better at hiding our fuck ups ha ha ..
Sham .. good fun play a little less intoxicated now... second show I played couldn't even play me guitar lasted 3 songs it was all drum & bass from there yes I learned a bit from that show ...
Jerryatric .. best thing about playing live is the crowd interaction seeing them sing along to our songs is a great feeling . its better when they get up on stage for a dance ,sing along or even just having beer .it really pumps me up & gets me going ..

And where is best to play? Is there any place you really hate to play?
-Nidge...I´d play anywhere..best place in Brisbane is Chardons corner the back room...
Sham ..The jam room because we can be stupid cunts and fuck around and drink lots of beer & pass out anywhere...
Jerryatric... we have played most of the good ones around Brisbane ..but the back room @ Chardons corner would definitely be the best. big venue .. great staff & security they are really understanding of the scene ..

How is it to play this sort of music in Australia?
Nidge ..aussies love their punk ...punk is always a hard one to pull a crowd anywhere in the world & a band like us I don't think will ever break any records ..but the main ones that do come are all good fun .. & each time we play we play to someone new so far every gig someone new has come up to me to shake my hand .. which is awesome or just want to buy a tee shirt or cd..
Sham all good great scene for it...
Jerryatric.. great scene here ... love playing live...

How would you describe your music in three words?
Nidge.. The knock backs
Jerryatric.... loud ,raw ,punk

What does punk mean to you, is it only a word or is it a lifestyle?
Nidge... punk Mmmmm u get it or u don't get it.....some people like nice coffee ..some people like fine dining ...we like hard rock n roll with guts & balls
Sham ...everything is a way of life...
Jerryatric ..I work 5 days a week pay my bills and tax ....punk is my time to turn off and enjoy life for a while.

How do you see on downloading, mp3 and that stuff?
Nidge... downloading is killing music a small band like us it takes a lot of money for equipment buying tee shirt cds recording u only do this shit if u fucking love it.. some people fix cars for a hobby we play punkrock...it does cost us more then we take in but we fucking love it ...working class punk that what it is..but on the good side we get our music out there & that's why were doing it and that's how u heard about the Knock Backs right......& how we heard about skrutt magazine ... and it awesome... we would also like to thank you for looking us up cheers & beers...
Sham great way to get your music out there...
Jerryatric ... any way to get your music out there is a good thing .. it´s never been about money ..its about sharing what we love to do with as many people as possible ...

How is it to live in Australia now? Politically?
Nidge..very expensive like the rest of the world... political shit I try not to let it get to me ... I don't look at tv much full of shit ...political jokes.... we wrote about it ......ha ha
Sham .... Tony Abbott is a knob - but we live in a lucky country . it could be a lot worse can't complain to much...
Jerryatric ...aussie aussie aussie oi oi oi & punk rock ... fuck political shit .....

Is there any good bands from Australia now? Is the punkscene big? How is it in your hometown?
Nidge... There are shit loads of great bands in Australia .. That's the great thing about playing gigs u get to see lots of new bands . Plan of Attack would be one of the bigger bands around Brisbane more of a oi band .. Those Rat Bastards oi punk kind of band ,Myrtle Place , Monster Fodder, The Scam ,Second Hand Toothbrush , Cactus Dill Dos, Rust, so many good ones AC/DC is also a good aussie up and coming band, look out for them ... ha ha
Sham .. heaps of great local bands...
Jerryatric..Plan of attack , Topnovil ,Warxxxiv , Slick46, Kombi Killers just to name a few . I could go on & on so many awesome aussie bands out there...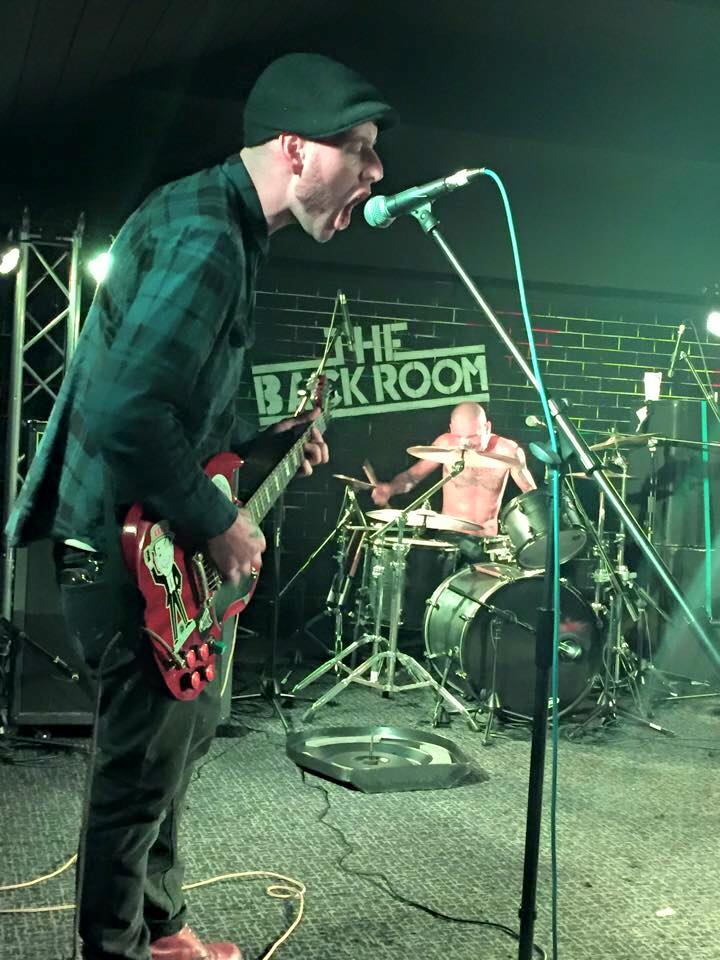 What do you know about Sweden?
Nidge ... there are very sexy girls in Sweden, your capital is Stockholm .. population around 9.775522 & there are very sexy girls in Sweden o I said that before ...& great beer & we want to play there....and IKEA .... got to love that place .....
Sham ..IKEA -flatpacks and very sexy boys I mean girls..... lol

Have you heard any good bands from Sweden?
Nidge ... ABBA how good are they being a 70s child growing up with ABBA on the radio great we love punk but we also love other bands aswell .. belive it or not im a big Elvis fan aswell .. not that he is from Sweden but u see where im coming from....
Sham ...Mmmmm Mob 47? sorry I do like ABBA
Jerryatric ... don't really know many bands from Sweden but I do like the sound of Sötlimpa they are Swedish are they .???

Your lyrics, who does them and what influences you? It seems like you both like to sing about politics and about drinking?
Nidge .... well we do a lot of drinking so it´s easy to sing about it .. but I don't hold no boundaries .I would sing about anything ... if I like the sound and it & it works well ill sing it .....
Sham.. yeah stupid politicians and every day life ....
Jerryatric ... I´ll drum to what ever the boys come up with and if its shit I´ll tell em...

Is there any subject that you never will write anything about?
Nidge ....no if it makes me angry ill right about it check out Innocent boy .......I think you'll work it out what that is about .....Scum of the earth pedophiles....

Politic and music, does it goes hand in hand?
Nidge ...maybe but in small doses to much and people will soon get sick of it ...mix it up and hold no boundaries...
Sham....It´s fairly inspirational

Best political band/artist?
Nidge ....The Clash & Dead Kennedys.

Do you think that music(lyrics and so on) can change anyones life, I mean people who listens to music?
Nidge ... I don't know if it will change your life but listening to music will make you happy . so yes maybe in small ways it will change your life ...
Sham.... fuck yeah it did for me

First record, last record and the most expensive record ever bought?
Nidge ..first record..AC/DC Those about to rock my older brother gave it to me for a Christmas present. I think he was sick of me playing his records all the time.. I was 8 years old I still have it .. it plays & sounds just as good as the first time I heard it ...most expensive ...Ramones It´s alive only because I bought it 3 times somehow I´ve lost it or it´s been robbed on me ......last cd i´ve got is Myrtle Place...People of the sun ... a local awesome band from Brisbane check em out ....
Sham.... Rancid..out come the wolfs..
Jerryatrick .. I think the frist record I owned was Pennywise Full circle ..I remember pinching it off my old man when I was a wee boy .Last record I got was Oi street punk vol 5 .. got it from the lads from Plan of Attack at one of our last gigs .. Most expensive was probably Mike v and the rats limited blue marble vinyl .I was eating cans of beans all week after getting that one ha ha ..

Is it important for you to get out your records physical also? New stuff on it´s way? Label?
Nidge well I work 5 days a week have a young boy & play in a band getting out my records don't happening too often .. I find my Ipod a lot easier to work into my lifestyle ....but now again I´ll get out a record. last one I pulled out was SLF Inflammable Material..I was trying to learn the song Suspect Device just about got it ....keep your ears open for that one .... when the time is right and we have the money to press records we'll put them out we are 100% a D.I.Y. band ....... unless some record label would like to pick us up until then we'll keep doing it our selfs
Jerryatrick .. I would love to get our records pressed were D.I.Y so it comes down to money ...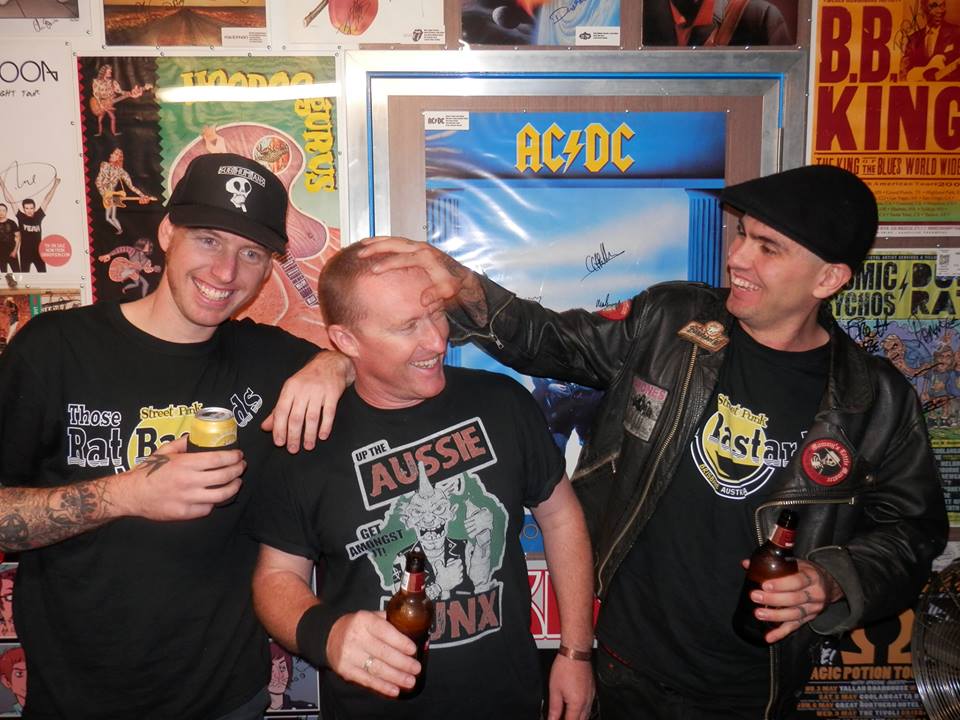 Please tell me a funny thing which have happened during your career and under some gig?
Nidge .Sham couldn't play our second gig he was too pissed that was a funny one not at the time but looking back it´s very funny ... .we headlined a gig in Brisbane and one of our mates from Monster Fodder ran on stage in his jocks ... so we paid him back one night when Monster Fodder were headlining the drummer was to pissed to play so Jerryatrick jumped on drums and I was very drunk my self so I jumped on stage & did the full monty yep jocks down great night ...
Sham .. Jerryatrick likes to play drums naked ....

How does your audience look like? Which people do you miss on your concerts?
Nidge.. drunk with spikey hair & safety pins ....I don't know how to awesome that sorry
Sham ..They are all beautiful..

Please rank your five favoriterecords, five favoriteconcerts and five most important things in life?
Nidge ..hard questions cause I love so many but the first ones when I started buying records 1AC/DC If u want blood 2 The Clash first album .3 Ramones Rocket to Russia 4 Motörhead No remorse 5 SLF Inflammable material.
Favorite concerts 1 Ramones 96 Brixton academy.... 2 Madness 94 Finsbury park... 3 Rebellion blackpool 2011&2012 ...4 The Specials 2009 Sydney.... 5 Bad Manners 96 Dublin ....every AC/DC concert I went to ....
Most important things in my life ....1 my wife & son ...2 family & friends ...3 giving my son the best in life I can give him ..4 music my band and trying harder to write better song ..5.playing in Sweden some time and living till I´m 120 years old...
Sham ... Clash, Pistols ,Rancid ,beer ,wine, sprits
Jerryatrick top 5 records ..1Minor Threat 1st demo tape,,Black Flag Wasted Again , Dead Kennedys Fresh fruit rotting veg ,Social Distortion Cant run no more , Ramones Too tough to die ...
Top 5 concerts UK Subs West end leagues club .,Suicidal Tendencies @ Brisbane show ground , Real Mckenzies @ Pow Brisbane , CJ Ramone .. Vicious...
5 most important things in life ...daughter,family,mates,music,training work

Is it boring with interviews? Is it much interviews?
Nidge ..no I think its good for people who are interested in the knock backs people over seas... who don't get to see us .. we´re just 3 wankers from Brisbane playing what we love punk rock

Please ask the questions you never get but you want to have, ask it and answer it?
Nidge ...how are you so good looking ....answer..... I drink lots of beer
Futureplans for the band?
Nidge ... get to Europe & play as many gigs as possible Rebellion Sweden keep recording and putting out albums ...
Jerryatrick ...put out more cd keep giging & get to Europe

For yourself?
Nidge... writet better songs keep enjoying life & drink more beer

I think your cover on your CDs is really nice, who came up with the idea? Which is you favorite cover for a record, which band and which record?
Nidge... The cover was done by a very good mate of mine Whelo from the Dublin punk-ska band The Dubtones...I gave him a idea I had and that is what he came up with... we have had great response from people... they love the t-shirt designs with it on it ...

Wisdomword?
Nidge ....I´ve got a few ,smile , beer, punkrock, enjoy life it will be over before u know it ..

Something to add?
Nidge ....I´d like to thank Skruttmagazine for looking us up awesome thanks for helping us get our music out there ... it´s a long way to the top if u want to rock & roll and for a D.I.Y. band it´s a very long way .... punkrock cheers & beers The Knock Backs.....