When you make songs, how does it work, is someone doing everything or is it something you jam out in the rehearsal room?
-It's very mixed, but we almost always write everything together, and if we don't, we always do the finishing touches at the end together on what has been written.
The texts seem quite important to you, don't they? What is your most political song?
-Our songs may not be directly political, but we write more what we feel and think about the world and society today, at least in some songs, such as Why I hate the world and Little mary
What do you think about living in Sweden today, politically with SD-KD-M etc?
-We think that you should take care of the environment by reducing emissions and environmental degradation etc, which we have not seen so far from the government and we do not think that feels good.
I've noticed through all the years in punk that when there are right-wing governments, there are more and more punk bands? Is punk a good way to express your contempt for them?
-Music in general is a very good way to express feelings and dissatisfactions, and punk is one of the most passionate genres to do this, so yes we think there may be something in it, however, we would not say that we belong to that group of punks, we started with punk just because we liked the music and the culture
What does the word punk mean to you, is it just a word, music style or lifestyle?
-Punk is a bit of a mindset, punk is that you are not so careful that things have to be perfect from the beginning, but that you just do it, it's like a little diy in it, that was our mindset anyway when we started, we made the best of what we had, however, punk can be so much more, But then we would sit here all day if we were to go into that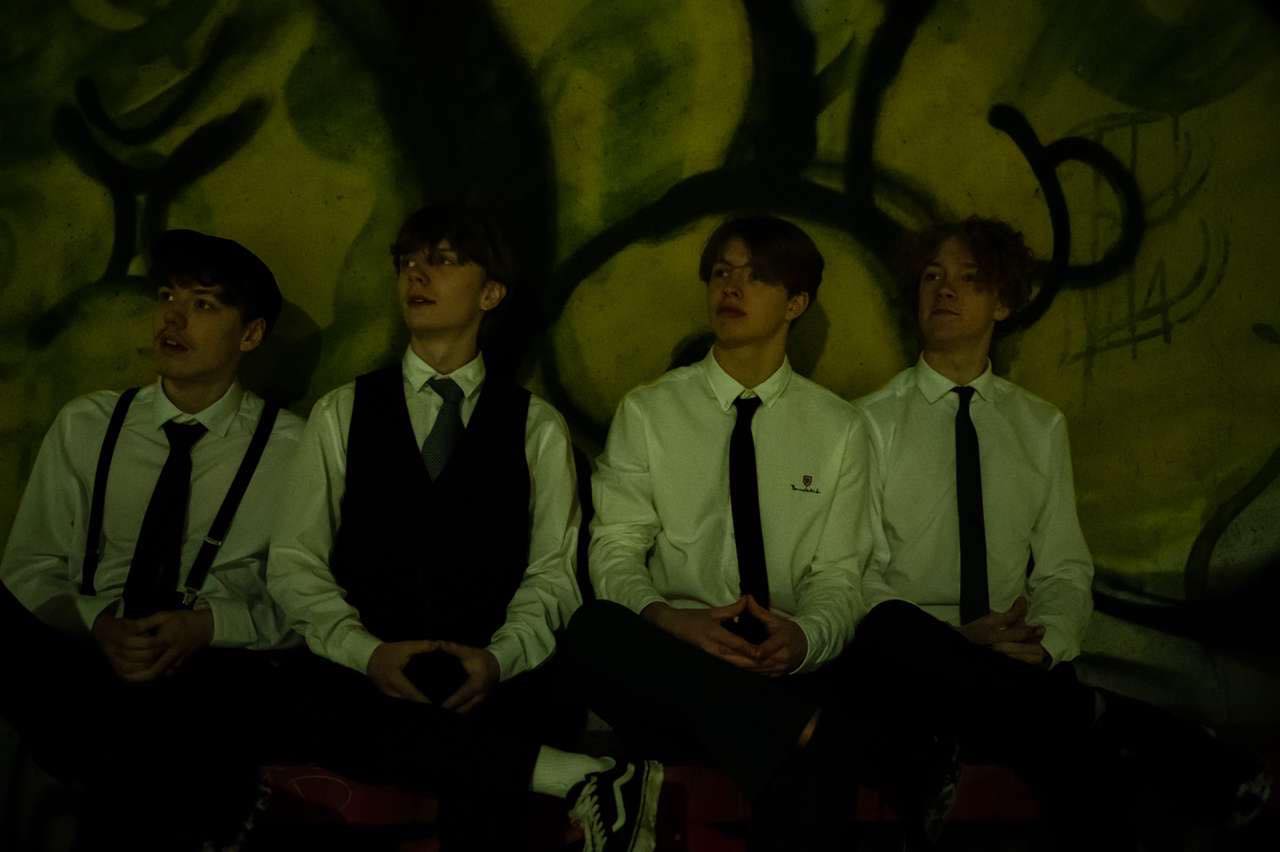 How did you get in touch with Grönpeppar records?
-They contacted us one day and asked if we would be interested in collaborating, which of course we were!
Do you think it is important to get your disc out in physical format?
-Yes, we think it's damn fun to be able to hold your music physically
Do you buy records yourself or is it only Spotify that applies to you?
-Yes we buy records, although not as many as we wished we did, but if we get past a vinyl store you usually pick one or two with you
If you had the chance to choose five bands (both living and dead) to have a concert with you, what five would the dream bands be?
-We do so that we take one band each, we then take the last one together. Calle: The Stooges, Anton: Led Zeppelin, Gustav: Nirvana, Vidar: Death, together: Misfits, with Danzig of course!
When you play outside, do you only draw young audiences or do old guys like me come along?
-There are a lot of young people, but you still see quite a few older people who also seem to like our music!
Skellefteå, is there any good record store there or is there nothing like that?
-No, unfortunately there is nothing
Do you have any young new bands to recommend otherwise?' Any old bands that you like a lot?
-No nothing in Skellefteå
Playing music, is it a good way to get out frustration or what do you say?
-No, it's more a way to express all feelings and thoughts, it's also for the community you feel with like-minded.
Tell us a little about the following songs and lyrics:
a) Drink piss or die
b) Why I hate the world
c) Love troubles
a)Drink piss or die is our first song we wrote together, we found the name of a bench that will come up later also in the interview, we always end our concerts with it, it's a good sing along song!
b)Why I hate the world is one of our first songs, it was finished the day before our first gig and we played it at the gig, which went very well actually! It is about how man destroys the environment and will exterminate himself and all other life because of it, but that no one does anything about it.
c) Kärleksbekymmer is a song about jealousy and abuse, from the perspective of the person who feels the jealousy and anger, and what they can think for something in such a situation that leads to such feelings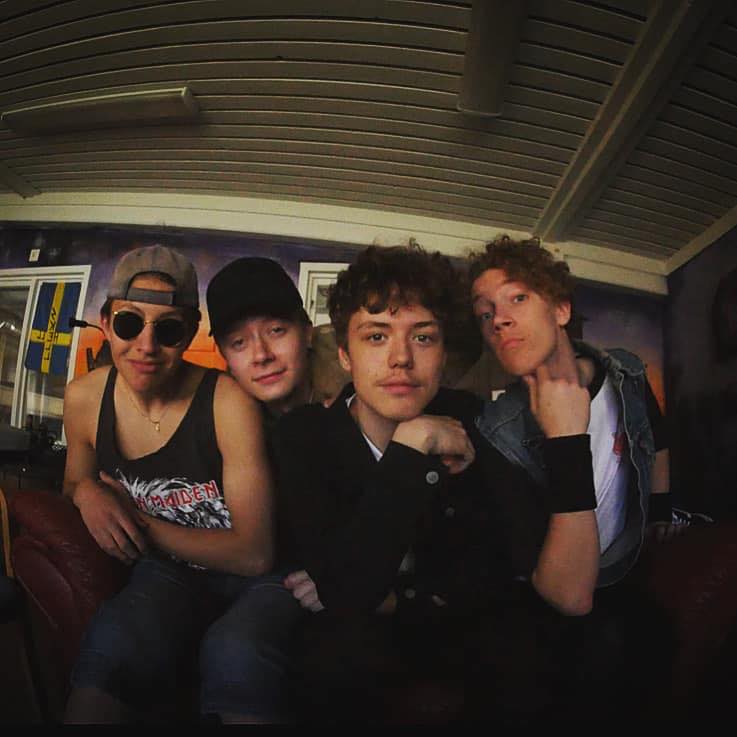 You never sing in Swedish. just the title I saw so reformulates the question... Do you never sing in Swedish?
-No, so far we only sing in English, we have a Swedish title which is Kärlekstrubbel, but also it is in English
Do you do any covers when playing out? If so, which ones?
-Yes, sometimes we play covers, so far we have played Hybrid moments by Misfits, Staten och kapitalet by Ebba Grön and My Hometown by the Wannadies
Who the hell is Kjell? And where is the bench?
-There is a bench at KF Mullberget, where we rehearse that is filled with graffiti, and on that bench it says Kjells Bänk and that's where we got the name from, we first took it in jest, but then came our first gig so then we rolled on it, it was also where we got inspiration for the title Drink piss or die.
Do you have anything to say to other young bands who want to record an album etc, something they should think about?
-Take your time, and do not rush, be prepared before you enter the studio, it is important not to have to rehearse when recording without it going smoothly. And do not record in 34 plus degrees, we did and we do not recommend!
Five favorite records right now?
-We do the same as before with artists: Vidar: Sunbather by Deafheaven. Anton: The Wall Pink Floyd. Gustav: Weapons for the hopeless by Hurula. Calle: Paul Stanley's solo album from 1978. Together: Songs for the deaf by Queens of the stoneage
What was the first punk record you acquired?
-Vidar: Pengarna eller livet of Lastkaj 14. Calle: Survival sickness by International Noise Conspiracy. Gustav: Walk among us by Misfits. Anton: Rocket to Russia by the Ramones.
Future plans for the band
-We are going around the country, we now have gigs planned in Stockholm at Kafé 44 on April 13, Ungdomens hus in Uppsala on April 14. Then we are also going to Kiruna April 1st at Tusen toner and we always look around in other places for gaming opportunities, so keep an eye on our Instagram where we play next! @Kjells_bank. We're also going to record an album, and releasing vinyl is the plan
Anything to add?
-Sometimes you can rely on a bench