Kitty in A casket is a band which I didn´t thought would be so good but when the record came into my recordplayer I was positivley surprised of their splendid punk. Here´s an interview with the group done in june-2011
History?
-Billy and i started Kitty in a Casket in Summer 2008. Actually there was only the idea of starting a band and a band name. The band came into being in autumn in the same year, when we met Marc, who played the doublebass. Well and after that we recorded some songs and got a record deal at Crazy Love Records where we published our first CD "Horror Express" in june 2009. Three months later we released an EP "HalloWien" on the same label. Since then we played a lot of cool shows and festivals all around Europe.

Please tell me a litle about every member in the group , age, work, family, interests and something bad about every one?
-Let's start with the rhythm section: on the drums we have Scott the Hitman, who is originally from Portland, Oregon. He is really relaxed all the time and calms everyone down. He likes spending time with his wife Margit and their two dogs in his spare time. A "bad", but actually alsogood thing about him, he is a little crazy and gets lost a lot of times. Slappin Suspender, who plays the doublebass lives in Germany with his wife and their dog. Because of his looks he gets confused with Jason Statham a lot. That is also the reason, why I won't tell you anything bad about him, because I don't wanna end up in the trunk of a car. On the guitar we have Billy, who is also my husband. We live together in our appartment in Vienna, Austria. We like spending time together, watching movies and going out for dinner with friends. We rarely have spare time, so whenever we are free, we mostly try to relax or write new songs.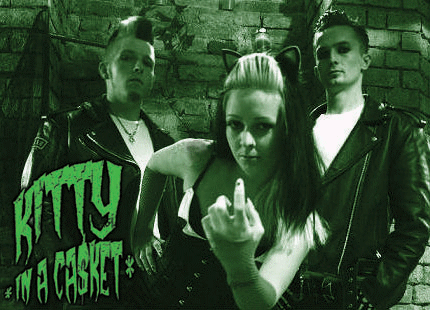 Have it been many lineupchanges ?
-Actually we had two line up changes. Both times in the rhythm section. Marc, who was our former bass player, quit after about one year and since then Slappin Suspender took his place. And recently we also had to find ourselves a new drummer, because Mike, the former drummer, had to quit playing shows due to health issues. The line up changes didn't really change the whole charakter of the band, because Billy and I are the founders of KiaC and as long the both of us are in the band there will be Kitty in a Casket.

To play punkrock in Austria, how is that?
-I guess it's not really different than playing another music genre in Austria. Talking about Vienna: there is almost every night a punkrock show, so the audience is sort of bored, because it's nothing special to go to a show. I mean of course, it's better when there are a lot of different events and you can choose, but for the bands it's really difficult to have enough people at their shows. We rarely play shows in Austria due to that fact, but whenever we play the venue is full. <![if !supportLineBreakNewLine]>
<![endif]>
And how to be a female singer in Austria in the style punk?
-Well I guess that's a good thing. There are not soooo many female fronted bands here, so it's ok. hehe

I thought you would play psychobilly when you have a standing bass, why are you having a standing bass?
-We really like the sound of the stand up bass and the energy of it on stage. I think it's not necessary to play pschobilly or rockabilly only because there is a stand up bass involved. I like experiments and trying new things when it comes to our music, that's also the reason why we have 3 songs with electronic bass on the new CD "Back to Thrill"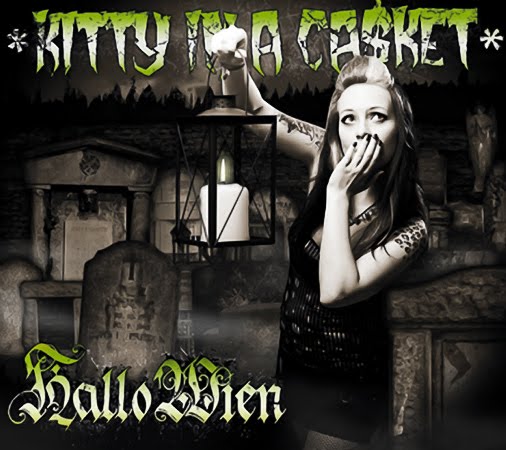 How would you describe your music in three words?
-Melody, energy, party.

What does punk means to you?Is it only a word or is it a lifestyle?
-I actually never thought about that and I think everyone has their own definition of the word "punk". I would not put myself totally in a punk category. I live my life the way that I think is right. I try to be not judgemental or intolerant. I guess I live from one day to another with a vage plan of where I want to go. But I always want to be independent and free to do what I think is right for me.

How is it to live in Austria today, I mean politically?
-Austria is part of the EU, so I think it'snot really different to other states in the european union. I think it's really beautiful here and there are not many poor people, so that's pretty good.

Your lyrics, what are they about? Who writes them?
-Our lyrics are mostly about "horror-themes" and creepy stuff, but also about social and cultural difficulties. I actually write all oft he lyrics and I simply try to put my thoughts into words.

What do you know about Sweden?
-IKEA. Haha,… well I know that Sweden is way up north in Europe and it's capital is Stockholm. Sweden is also part oft he European union, but you don't pay with € and you still have a King. :) Hmm, that's what comes to my mind first when hearing about Sweden. <![if !supportLineBreakNewLine]>
<![endif]>
Have you heard any good swedish bands worth to mention?
-Oh, there are so many Swedish bands, but I really like the Satanic Surfers, Millencolin, and Roxette (we cover one of their songs in live sets).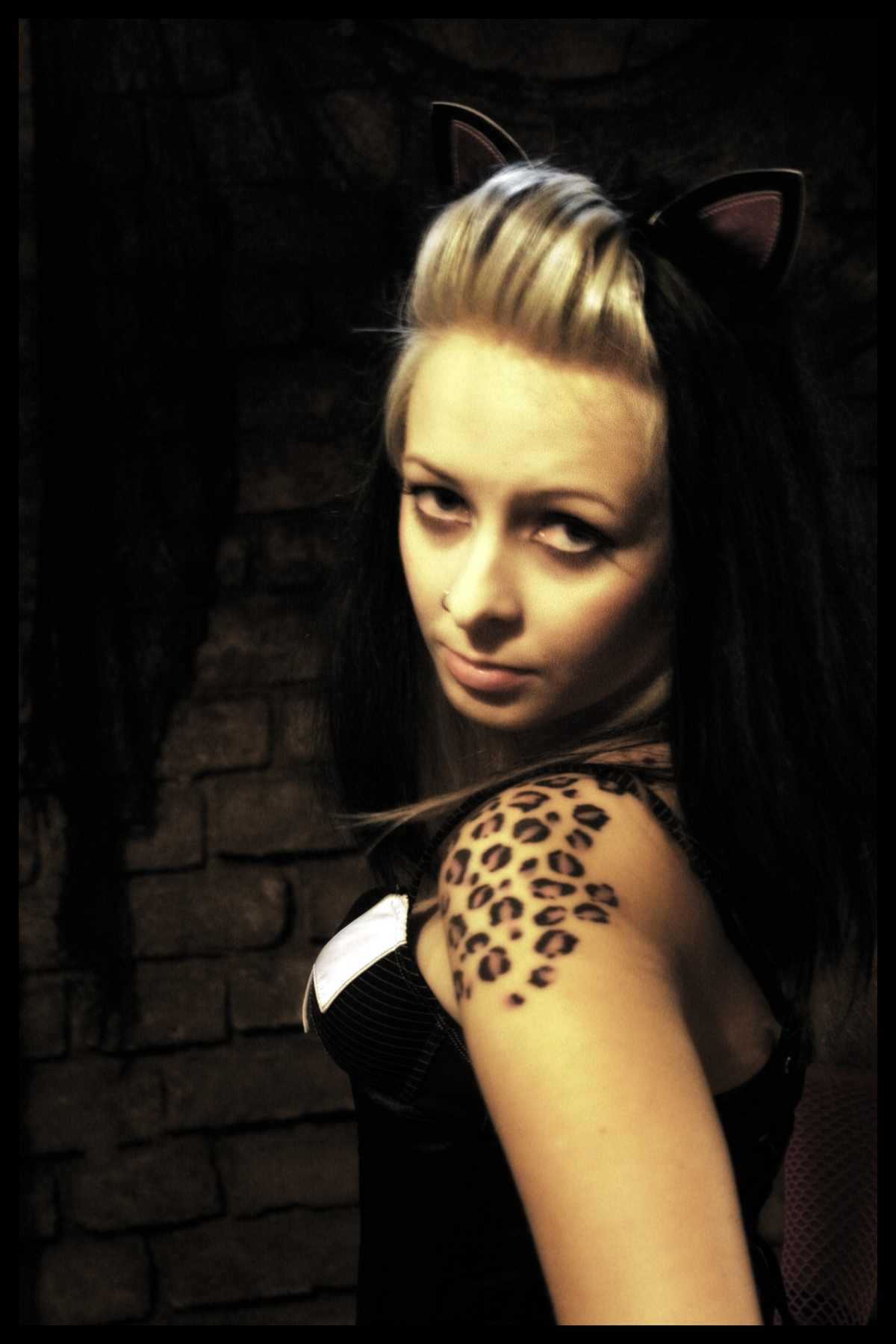 Are you much outside Austria and play?
-Mostly yes. We play a lot in Germany and also Eastern Europe. We rarely play in Austria, because here are so many shows all the time and people get sick of seeing bands over and over again. <![if !supportLineBreakNewLine]>
<![endif]>
How much does a record with you sell?
-Sort of an inappropriate question for an interview haha. We'll see, I hope an uncountable number. <![if !supportLineBreakNewLine]>
<![endif]>
Where do you stand when were talking about mp3 and downloading etc?
-I prefer when people buy our records or pay for downloading it on iTunes. Recording an album is a lot of work and also costs money. I hope that people think about that and are willing to give something back to the bands to show their support.
Is it good or bad for band like yours with pirate downloading?
-It's a kind of a two sided thing: it's good when all people know your music, and when they sing along at the shows, so that's the positive thing about pirate downloading, but the bad side is that the bands have a lot of expenses and when everybody just downloads it, the bands would make no money at all and get sick of spending so much time and energy recording something nobody is willing to pay for.

Please rank your five favoruiterecords, five favouriteconcerts and five most important things in life?
-My favourite records change all the time, but one of my all time favourites are: Broilers "Vanitas", all Millencolin, NOFX and Anti Flag CDs,…. But there are so many more,… those are just popping up in my mind right now. Favourite concerts: Guana Batz, Zebrahead, Nim Vind and the Bones. Most important things: my husband, hapiness, friends, music, being on stage.

First, last and most expensive record ever bought?
-I have no idea,.. but the most recent album I bought was "Broilers – Vanitas".

Most embarrassing record in your collection
-I am not embarassed about any records that I bought in the past.

How is a good concert with you?
-When people enjoy themselves and have fun.

Which type of people comes to your concerts?
-There is not really one type and also not really a majority of people of one type. And I really like the diversity. :)

Which type of people are you missing at your concerts?
-None really. I would also like to have more younger people there. But all in all our audience is always awesome! The more the better! ;)

How did you came in contact with Wolverine Records?
-We wrote Sascha, the labelboss, a mail,... and after that we worked our a record deal with him for the new album. That was pretty much how it happened.

Is it a good label?
-We wouldn't be there unless it was a good label ;) We are very happy to be part of the Wolverine family. We like how the labelboss, Sascha, takes care of us. He does a really good job!

Futureplans for the band?
-Play a lot of cool shows and we hope to make it to Sweden as well! For next year we have a Japan tour planned and also we might record some new songs! Hehe,.. so stay tuned!

For yourself?
-Stay happy with myself and my life. <![if !supportLineBreakNewLine]>
<![endif]>
Something more to add?
-Thanks for yourt interview! And we hope to be able to come to Sweden really soon! J For more information about KIAC and brand new merch, check out: www.kittyinacasket.com
.