Kardborrebandet from Falköping has made a record that I consider to be one of the best punk albums released in Sweden in recent years. Here, they are kind to answer a lot of questions about the group and this happened in March-2020
A little history about the group?
Nanna: There is a little funny biography about the band on the Facebook page under the "about" tab. has I recommend reading it for a few minutes. But in short, the band was formed in 2010
by Jocke. We have had a few different members come and go. But it's only now (or
possibly after the EP "Noter för idioter") as the band really found their sound that they are proud of to represent.
(Gösta: hands it to you others.)
Jocke: The dream of playing in bands has been around for a long time but during high school, it got probably! The band was officially formed in 2010, but it was the year before that I started talking to one friend called Måns that we should start a punk band, he on bass and I on the drums. We threw out a post on Facebook and we were joined by a singer, Nanna. After that began a long search for guitarist, who thought it would be the most difficult instrument to find
anyone who could play? Don't know how many guitarists we went through or how long it took but
in the end we founding 2! Fredrik Wallin & Carl Ekström. The first gig was performed down there
old good music cellar 1000-volt here in Falköping and I was so nervous that I drank several
cups of coffee before, even though I haven't learned it yet at that time. Unfortunately, we got rid of it the guitarists not so far after that but one beautiful morning, Måns woke up after a soak
evening out, lying together with who would be our next guitarist, Damien Terry. Here, songs started to be written and we released our first album "Refränger som svänger".
Here somewhere we even got a stage mascot named Kulan, he wasn't so good musican
but he could tell funny jokes. After some years we went different ways with Damien of logistics
reason and we finally found Emil Söderberg in some way, I do not remember how though, and so we were on again! A new album was released "För sånna som oss är det ni som är drägg". After a year both quit Måns & Kulan but we quickly managed to find our current bassist Gösta who got a carrot of Kulan at a gig in Vårgårda, when he pulled one of his jokes. We got significantly better and more better together with the years and released the EP " Noter för idioter ", it was recorded music videos and we played everywhere as often as we could only and today we stand with a newly released 12 "and the best gig year ahead of us ever!
Tell us a little about each member, age, job, family, band before and band next to it?
Gösta: Year -78, born, raised and living in Vårgårda, works as a high school teacher. Family consists of cohabitant, cat Kulvert and chinchillan Piff. Started the punk metal band
Hepatit Gud in the early 2000s, was for a brief period in a metal band called Insomnia (Alingsås). Has been in a Nirvana tribute band named Nearvana for many years together with a mate from Gothenburg.
Nanna: Born -91, married to Joacim and lives on a horse farm just outside Falköping. Works as personal assistant and acupuncturist. Exercises a lot in my spare time, both with the horse and in the gym.
Also plays in the Vänsternäven and Kollektivet.
Jocke: Born in 1991 in Gudhem, working as a chimney sweeper, married to the biscuit above, we have lots of different animals on a farm outside the metropol of Falköping together. The cat Tinnitus and the newly acquired dog puppy Asta are the favorites. Also plays bass in Dystra Li (but we are not so awake) and organ in Marcus Wilsson och Kollektivet.
Emil: 28 years, partner, carpenter, released a solo album (ska / punk) before kbb, hoping to release more if I get the thumb out of my ass.
Kim: 32 years old, cohabitant with newly born kid and 2 predators, works as a car mechanic and is the band's Bosse Bildoktor. Played bass in a death metal band for a few years.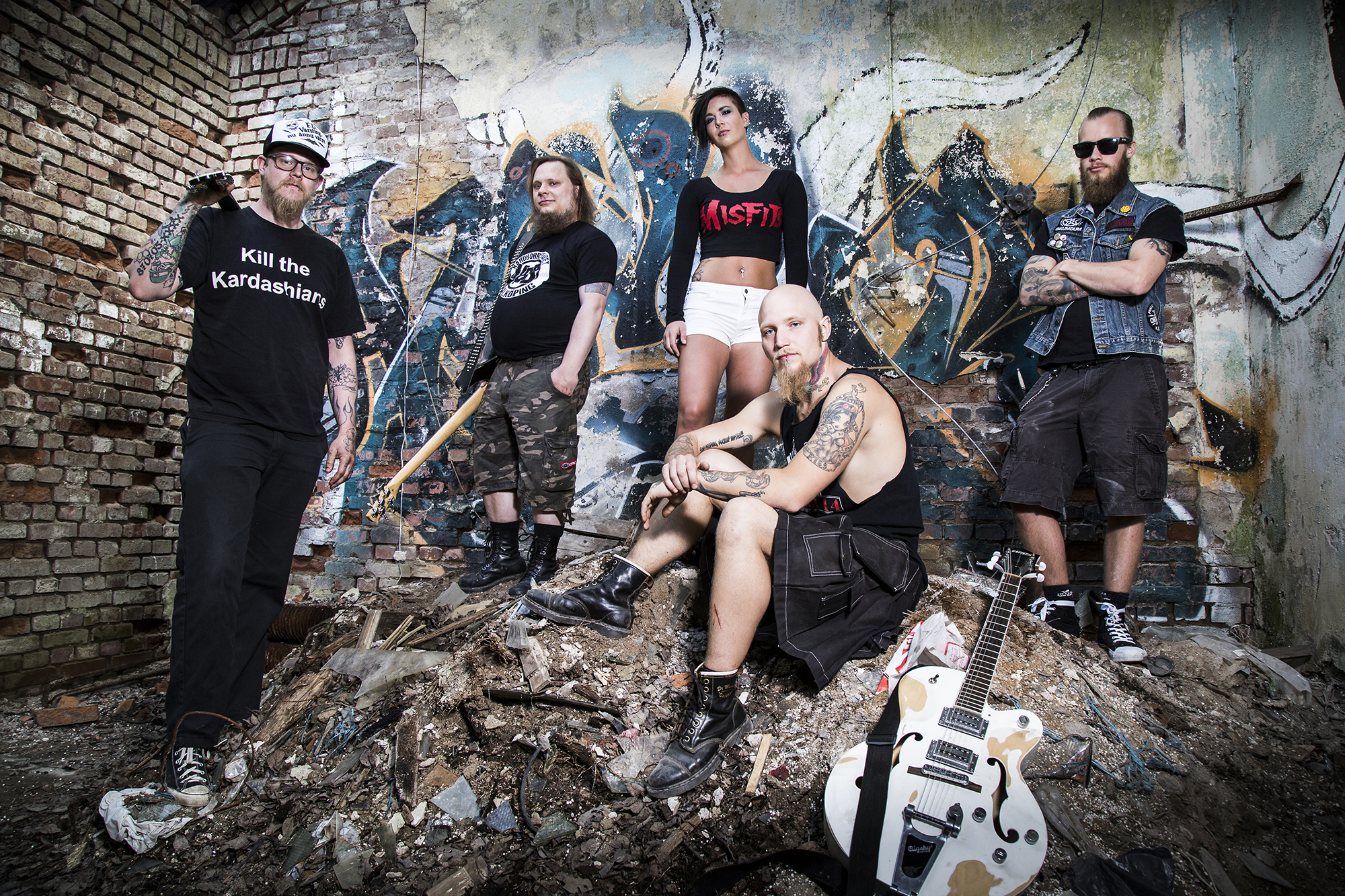 I can hear a lot of trallpunk but also a little tougher punk, do I hear right?
Gösta: So it is good, we mix and give within the genre as a whole, a song's musical style and the theme of the text should harmonize to some extent and you do not want to sound or sing thematically
monotonous, you have to use what serves the purpose best, ie to write a good song. Our own influences also reflect this to a great extent as we listen to in the band and we liston to many different types of music.
Nanna: When I write lyrics and music I don't want to commit. That's probably what your mood is just the day you write. We never went in to sound in a special way.
Jocke: Simple and boring answer, we are punk basically but all of us have a little love for others genres so we take and mix a little bit because it's fun and that sounds good!
Kardborrebandet, are you happy with the name? If not the best band name had been busy, what name would you have chosen then? I mean which is the best band name?
Gösta: I think it is a fun and functional name that is easy to remember. Topband name is… oh, that was a difficult question. I wait with that.
Nanna: The advantage of the name is that people have an easy time to remembering it. The downside is that it is not is always so good at assorted merch
Jocke: I thought it was a little funny and fun when I came across it and we just heard positive about it until recently when we were first interviewed in Turist i Tillvaron and then Döda Katten Podcast. Then all of a sudden it was rubbish haha.
What's the best thing about playing live?
Gösta: The adrenaline rush you get in contact with the audience, the sweat, the heat, the joy, the beerspots.
Nanna: The interaction with the music. To express your feelings and just pour out a lot of energy. Plus I love being at the center
Jocke: So damn fun! It is an indescribable feeling to be able to take the step from the rehearsalroom to perform what you repeated for so many hours on a stage in front of people!
Where is the best to play, where is the worst?
Gösta: Well-filled smaller venues, compressed audience energy, compressed sound. Some of ours funniest / best gigs have been in minimal places for quite a small audience. I do not think that we would have more fun at Rock in Rio than at Musikens Hus for example. Of course, you should, of course play in front of an audience who appreciates what you do.
Nanna: The audience does everything. Does not matter if you are playing on a big or small stage. If the audience is in, listening and liking what you do it is always fun. I can feel it is less fun to play at events where "punks" are not even the target group.
Jocke: Hard to say was when the audience does the gig. Not necessarily the amount! We are honest talked gone to gig without hope and got completely overwhelmed by the response and had as much fun as preferably!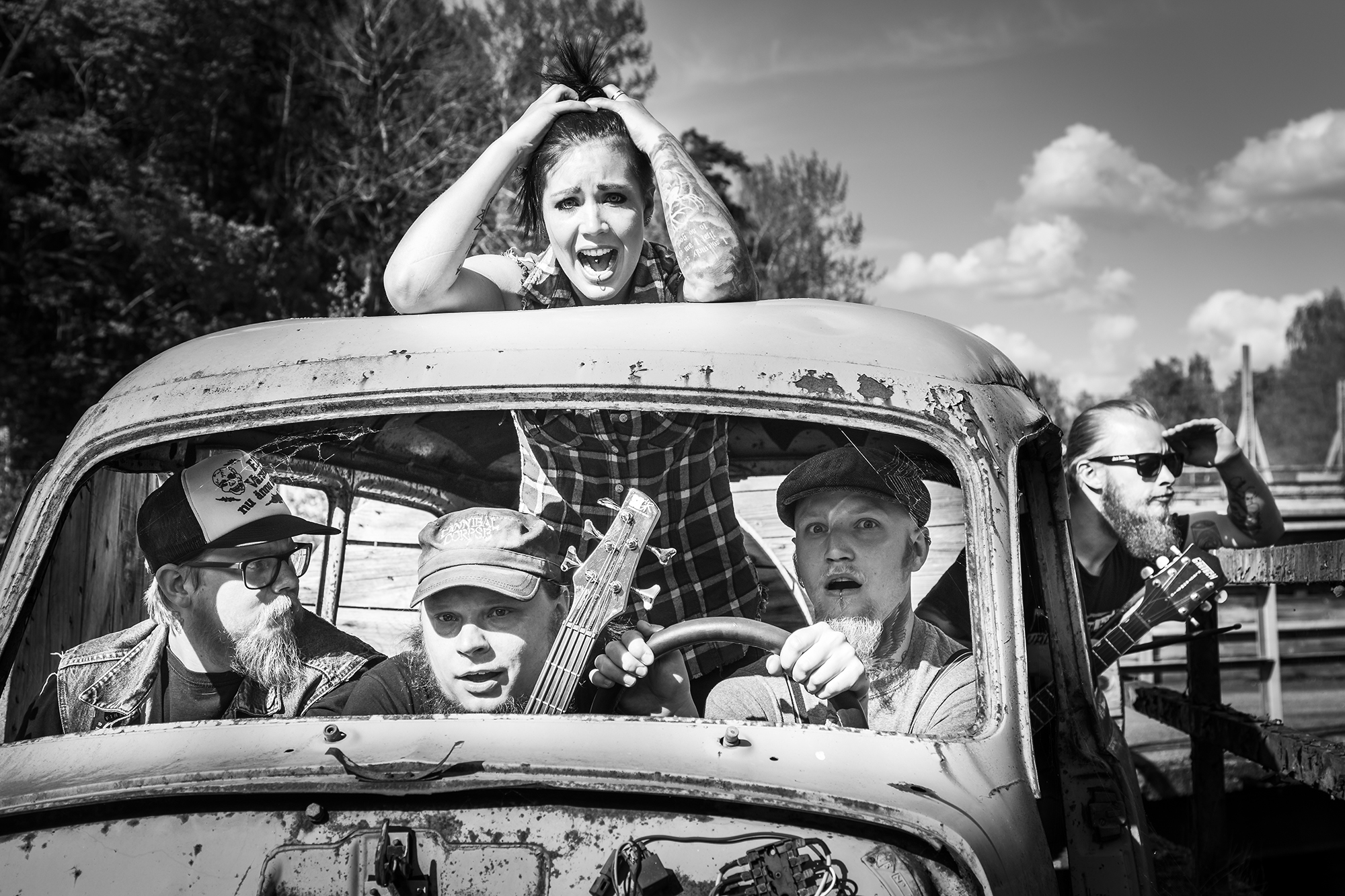 What is it like to play this kind of punk in Sweden today?
Gösta: Based on the initial response to the record and the fact that we have quite a few gigs booked in the first half of 2020 you might say that for our part it feels pretty good thankful, at least right now. It goes on for periods, depending on what we do within the band, but external factors also affect how you feel about it. Don't you have any booked gigs to look forward to then it may feel a little heavy .
Nanna: Sure it can always be better, but I think punk is the "easiest" genre to get gigs on. The punk is not dead and I never think it will either.
Jocke: We do not have much political texts or aggressive texts, but generally more positive written songs and it seems that a small mix is ​​appreciated if we take the response away for the new record as an example.
How would you describe your music in three words?
Gösta: Smooth, energy rich and lively.
Nanna: Energy-rich, song-friendly, melodic
Jocke: Beers, love & punk!
Emil: Agrees, With, Jocke
Kim: Fast, fun and beer friendly.
What does punk mean to you, is it just a word or is it a lifestyle? You sing a lot about punk in your texts ...
Gösta: Musical freedom, music by and for workers, political and social consciousness.
Nanna: That everyone should be just as they are and not ashamed of it. In our modern society must people think and think so much about other people based on what they look like. Punk says Fuck you to those who are terrified of sticking out.
Jocke: It used to feel like punk had to be political and anti-anything but today I feel more welcome! Come and be exactly who the fuck you want, it doesn't matter, everyone are welcome as well. Of course, racists, etc., are not tolerated, but otherwise nothing needs to be so fucking perfect, just be yourself.
How do you see on downloads, mp3s and the like?
Gösta: I'd rather share the music for free than that any Bert Karlsson type sits on the ass and piles in dough, at the same time it is nice if you do not have to go back at releases. Vinyl is not free to press, but it is something concrete to put on, unlike digital and streaming. I as an old guy think vinyl is by far the sexiest format to publish your music on.
Jocke: Don't really know what to say today, Spotify kind of killed that "problem"?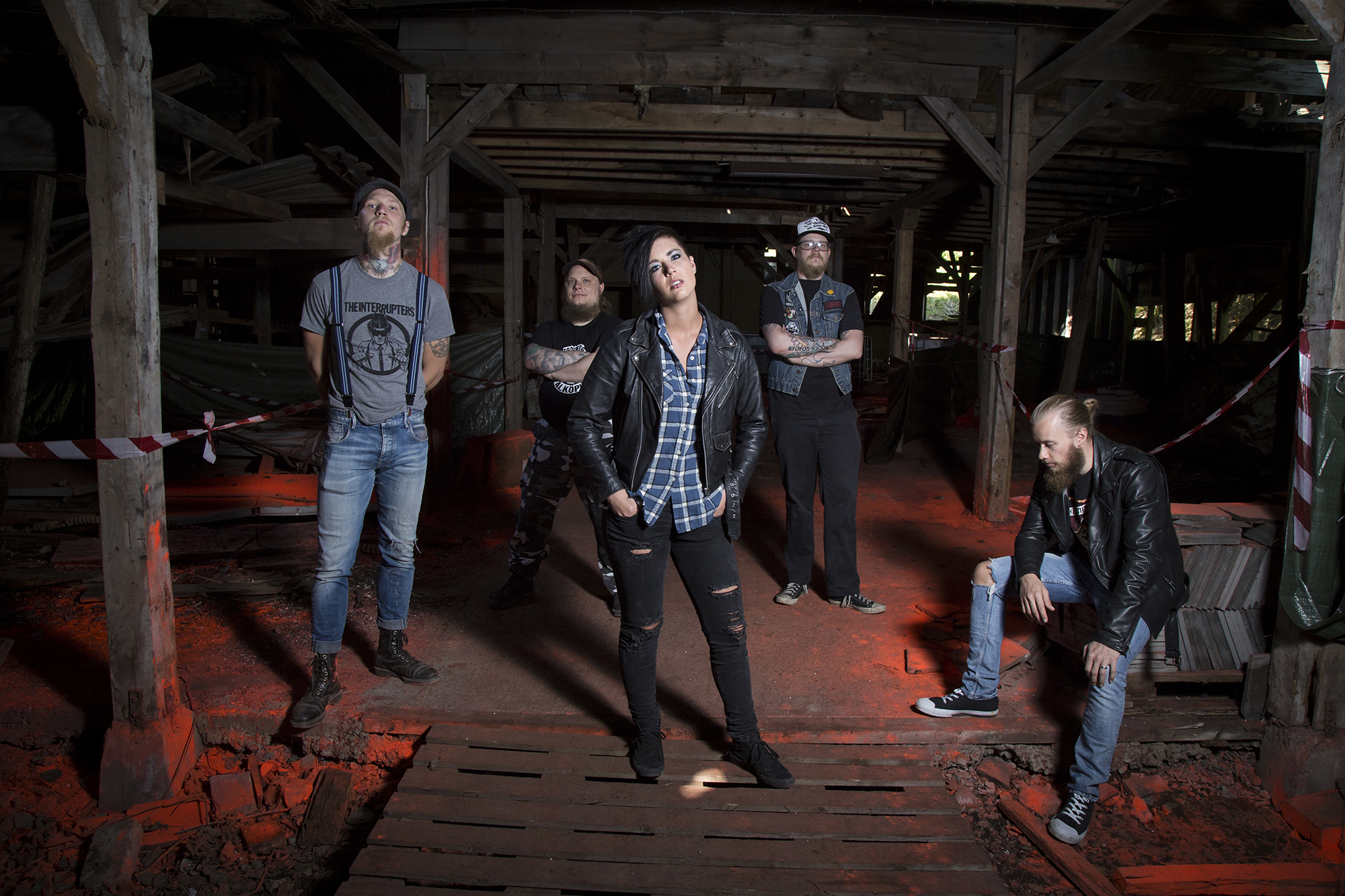 How do you think living in Sweden today, politically?
Gösta: Extremely dirty and polarized, the political discussion has become "for or against SD". There are no gray zones, either seen as racist or left-wing. The epithet is thrown on opposers when the arguments can´t be find.
Nanna: I am so terribly disinterested in politics so I dare not to speak
Jocke: The profession of politician is a big fucking joke in Sweden today! There is not one that I trust and the only way to get sensible people who actually care about power is to throw away the profession altogether and start over. No monthly salaries as another has an annual salary, no violent high parachutes (who the fuck came up with it, you failed but here you still get paid after you stopped working like that). If only we had gotten rid of its ridiculous amounts, it would have only made sense who actually cared about the country that is interested in working as a politician and making a difference left!
Are there any good bands in Sweden today? In your hometown?
Gösta: In Sweden there are bands, which I am quite convinced about. In my hometown as well.
Nanna: At 90% I only listen to Swedish punk. That's what I like the most and it is so many incredibly good bands. No one mentioned no one forgot. From Falköping, it is Snutjävel which i think about.
Jocke: Lots of new and good punk has been produced in recent years after all! Also many old band which still holds the dimensions of course 😉 but in little Falköping it is not very active right now unfortunately, but there is Blisterhead, Snutjävel, Mähälium in our genre.
Do you play anything outside Sweden?
Gösta: Not yet, but we were contacted by some Russian a couple of years ago who wanted to arrange a mini tour for us, but then we would be responsible for all expenses and he would take all possible profits. Felt not that seriously. It is difficult to be so open with your plan if you want to blow people on money, I think, haha.
Other good bands from abroad? (Say 1 each or?)
Gösta: NOFX, Bad Religion, m.m.
Jocke: Rise Against
Emil : Rancid
Kim: Austrian death machine.
Your texts, what influences youce? Never in a language other than Swedish? Tell us a little about Ölens fel(Beer's fault) and text line Du är vacker som en ros du käkar bara pulvermos? Where did that line come from?
Gösta: Ölens fel is a bit autobiographical, isn't it? Emil? (Pulvermos must someone else explain.)
Nanna: Usually it's Emil who comes up with a chorus and music, which I then put on text.
Hard to say what you are influenced by, it varies so much. No, no language other than Swedish.
Powder mash was really a ploy song (just like Ölens fel). Think Kim wrote the text on it.
Emil: Ölens fel is a result of getting a guitar in the fist 4 in the morning, then just picked things up as happened when we have been drunk.
Is there anything you will never write about?
Gösta: That bourgeois politics, capitalism or that religion would be good.
Politics and music, does it always belong together?
Gösta: It comes together when you want it to do so. Do you want to write a song that is about something else you do that. But to use the punk as a tool for performing political messages, of course.
Best political band / artist?
Gösta: Rage Against the Machine
Nanna: No idea, who are they even? Mimikry and Lastkaj 14?
Do you think music can change someone's life, then I mean lyrics etc? Have texts changed your lives? Give us any example?
Gösta: A lot of early Korn and Slipknot talked to me, there was a lot of emotion, anger, sadness. The was music that made me feel at home somewhere, to work my way through periods when you it was crap. Early Dissection was also inspirational, it put words on one's contempt for Christianity and religion in general.
Nanna: I definitely think so! How many times have you not gone through tough periods with help of music? Mimikry has been an energy source for me. Also writing own texts of my thoughts have helped me process a lot.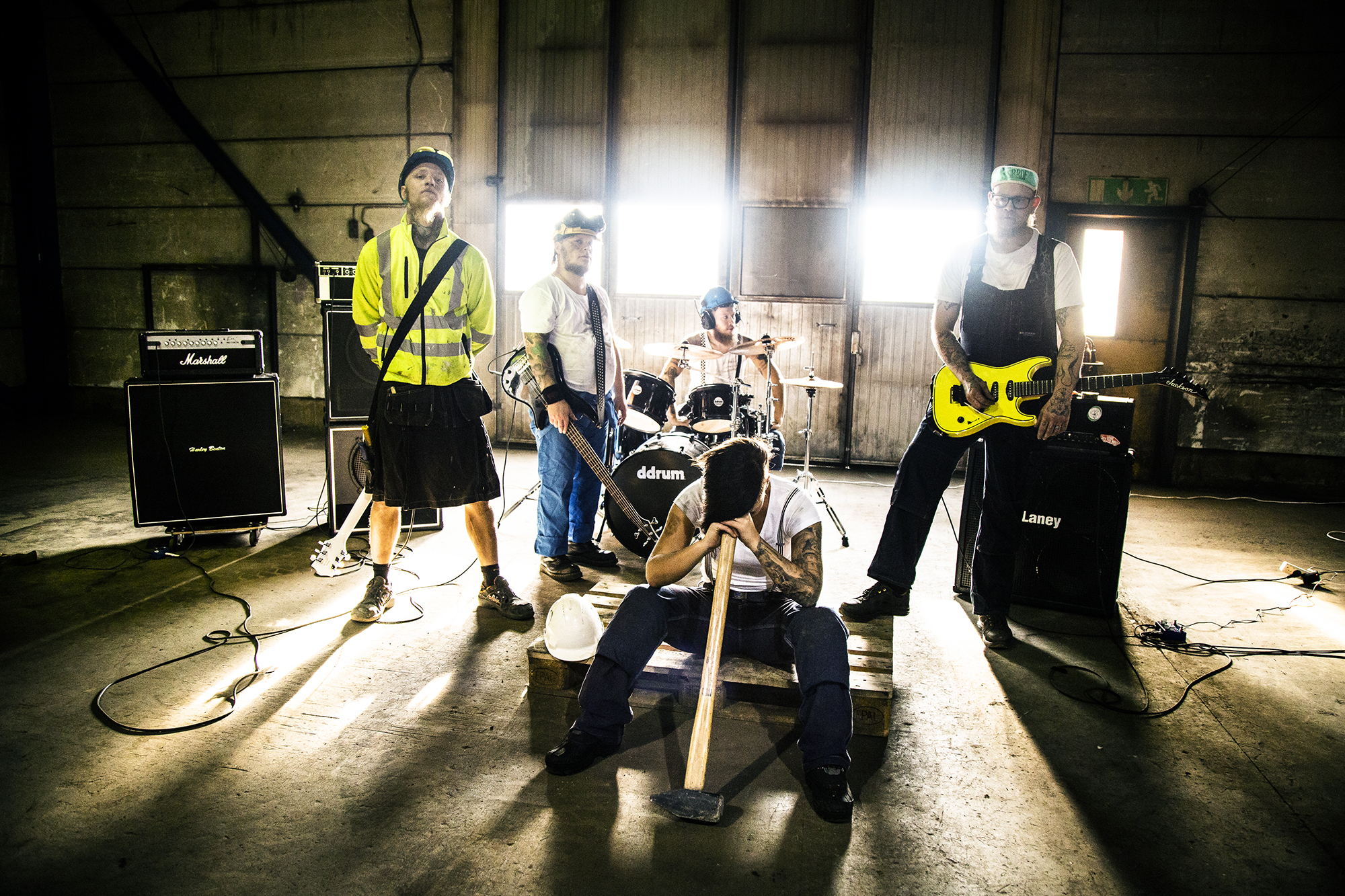 Your cover is really cool on your LP, who did it. Is it important to have a cover like you understand what kind of music you play? Which factory are we welcome to? Which is your favorite cover of all time?…
Gösta: The cover image was taken by our good friend Robert Hellström at RH Foto, in connection with that we recorded the video for the song Fabriken. The cover "sells" the record to a certain extent, perhaps more in the past in time, however, before digitization. But it still fulfills that function, even in social media flows, being the music's "face out." Fabriken in this case is quite literally "the where the factory you drag yourself away to every working day and that sucks both health and willpower out of you ",but one could also interpret the "factory" as "Kardborrebandets musical factory", but that was perhaps not a thought we discussed when naming the record.
Nanna: When I wrote "Fabriken" it was more of a metaphor for people to always struggle and struggle for someone else is going to make more money than himself. There are far too many directors making ridiculously large amount of money just because they on the floor works their ass off. (not just in factories also the most workplaces) The important thing in today's society is ultimately to pull in so much money as possible, not the health of the workers. No one thanks you for driving yourself in the wall. Then the name of the record, might as well be called "Welcome to our reality", because in this case, the "factory" is our reality.
Is it important to get physical records? An obvious choice that it would be a vinyl LP? Is there any good record store near you left?
Gösta: I pushed that we would do it physically, partly because I love the format as such, partly because the CD is on its way out and as digital media is the source of mp3/streaming. To have a the physical record in the shelf is higher than just showing that you are on Spotify, but it is also grateful to release punk, hard rock and metal on vinyl as it is still a buying group of people. Not because we expect to be rich on the cup, but it is a great feeling to have it
on physical record. Unfortunately, record stores are an extinct industry, most near is probably Gothenburg, Andra Långgatans Skivhandel, Skivhandeln Majorna and similar stores, second-hand, etc.
Please tell me something really fun that happened during your career on stage or behind the scenes etc?
Gösta: The recording of the video "Tredje Ölen" was really fun, brilliant weather, many good beers and lots of laughter. On stage, most live shows have been fun in themselves, but I don't know if
something extraordinary has happened that fits the category of "really fun." But who knows what future gigs have to offer?
Nanna: We have so many fun memories from gigs, trips, recordings etc, hard to choose something specific.
Jocke: So I still giggle at the time when someone thought it was a good idea to give Kulan the wireless and most expensive mic that was on stage. 8000: - I want to remember and it went obviously in the floor when he would make a nice little throw and the sound engineer was about to explode behind the mixer table. Or when Kim tore the coffee pot in Kulan's head and his mother became angry and deeply disappointed in the video we posted of it on Facebook "BUT KIM!" Lol!
How does your audiebce look like, which type of people comes? Is there any you miss?
Gösta: We have everything from studs and mohawkpunk to rockers to "common" people with interest for good music(other htan the shit which is come out via mainstreamradio) The age is everything from teens to middleaged and ofr example some of my workingmates which often comes when we play in Falköping.
Please rate your five favoriterecords and five favoriteconcerts?
Gösta: Records: Meshuggah - Catch 33, Räserbajs - Noppriga Tights & Moonboots, NOFX - The
War on Errorism, The Kristet Utseende - Inferno Pervers, Nirvana - In Utero *** Concerts: The
Kristet Utseendes farewelltour on Gefle Metal Festival 2019, Slipknot on Hovet, Stockholm
2002, Nasum on Arvikafestivalen 2003, LOK onSweden Rock Festival 1999, Sportlovs "last gig" on Belsepub, Göteborg 2004
Emil : Rancid - Out comes the wolves, Sonic boom six - City of thieves, Interrupters - Say it out
loud, Stilett -S/t, The Vlash - London calling. Best festival is Gruvpunken always.
Kim: Sepultura - Beneath the remains, Slayer - Christ illusion, Tvärnitad – all records,
Slipknot - Iowa, Meshuggah – Nothing
Is it boring with interviews? Do you prefer mail, phone or live interviews?
Gösta: The interviews do not get better than the questions, but usually the interviews are completely ok. Should you be
interviewed three times a week and the questions are just about irrelevant idiot stuff you would tired quite quickly, but we are not so popular (yet). I like the spontaneity underneath live interviews, but mail is good as you can think about your answers a bit more before sending back them. I have never made any telephone interviews, so I cannot say that.
Nanna: It's fun with interviews, but I'm so terribly bad at expressing myself in text so live interviews are preferred
Jocke: We haven't done that many so it's fun! But we are probably pretty bad at answering that way probably more we who are boring.
If you could choose five bands from the history, dead and alive to have a concert together with your band, what are the dream bands then?
Gösta: Nirvana, NOFX, Räserbajs, The Dillinger Escape Plan, Municipal Waste
Nanna: A fucking good line up would be: Mimikry, Lastkaj, Ebba Grön, Pastoratet and Björnarna
Jocke : Not quite the same genre but Queen for fucks sake!
Is music a good way to get out frustration and become a kinder person? Are you angrier today than you were as young punks?
Gösta: I am convinced that it is, the music acts as a channel and safety valve. After all, I was a metalhead when I was young (and I am largely still) so I was angry and hateful in a way that might not be described as typical "young punk anger", but the older I got,
the less hateful I have become towards people at the individual level and more frustrated, bitter and abandoned when it comes to general political and social phenomena. So in that way I'm probably the same
angry, but anger is more focused than when you were younger and had no further life experience. You were angry but you didn't really understand what you would be angry about.
Nanna: Yes it has happened that instead of going ahead and beating someone on the mouth, you have written a song about the person instead. Works just fine!
Emil: It can't be as frustrating as a teenager, it's oozing about them. then you get older and more bitter .. how the hell would music make me nicer, I think everyone who does not share mine music taste can go to hell.
What is the strangest question you have been asked in an interview?
Gösta: This question.
Jocke: Haha good answer, Gösta!
What is the question you never get, ask it and answer it?
Gösta: Who has the most smelly farts? Emil. ;)
Future plans for the band?
Gösta: Play live, hopefully the album generates plenty of gigs this summer so you can maybe get off on some small mini-tour or to some festival. And the next record is well in the stage of thinking anyway, it will be writing music in the spring.
For yourself?
Gösta: Get in the habit of warming your fingers before the live shows.
Nanna: Continue to stand on stage and love what I do.
Words of wisdom?
Gösta: "You damned if you do, and damned if you do." - Bart Simpson
Kim: "It's easier to apologize than ask for permission ." - Kim Löf
Something to add?
Gösta: Well, I rarely egg at all, think it's a waste of eggs.
Nanna: No, you've probably got the most in this interview
Kardborrebandet från Falköping har gjort en skiva som jag anser vara en av de bästa punkplattorna som
getts ut i Sverige på senare år. Här är de som vänliga att svara på en massa frågor angående gruppen och
detta skedde i mars-2020
Lite historia om gruppen?
Nanna : Det finns ju en liten smårolig biografi om bandet på facebooksidan under fliken "om". Har
man några minuter över rekommenderar jag att läsa den. Men i korta drag bildades bandet 2010
av Jocke. Vi har haft några olika medlemmar som kommit och gått. Men det är först nu (eller
möjligtvis efter EPn "noter för idioter") som bandet verkligen hittat sitt sound som de är stolta över
att representera.
( Gösta : överlämnar det åt er andra.)
Jocke: Drömmen om att spela i band har funnits länge men under gymnasietiden så fick det va
nog! Bandet bildades väl officiellt 2010 men det var året innan som jag började snacka med en
kompis som heter Måns om att vi borde starta ett punkband, han på bas och jag trummor. Vi
slängde ut ett inlägg på Facebook och vips blev vi med en sångerska, Nanna . Efter detta började
ett långt sökande efter gitarrist, vem trodde att det skulle va det svåraste instrumentet att hitta
nån som kunde spela? Vet inte hur många gitarrister vi gick igenom eller hur lång tid det tog men
till slut så hittade vi 2! Fredrik Wallin & Carl Ekström. Första spelningen genomfördes nere i den
gamla goa musikkällaren 1000-volt här i Falköping och jag var så nervös att jag drack flera
koppar kaffe innan, trots att jag inte lärt mig det än på den tiden. Vi blev tyvärr av med
gitarristerna inte så långt därefter men en vacker morgon så vaknade Måns upp efter en blöt
kväll utsocknes, liggandes skavfötters med vem som skulle bli vår nästa gitarrist, Damien
Terry. Här börjades det skrivas låtar och vi släppte vår första platta " Refränger som svänger" .
Här någonstans blev vi även med scenmaskot vid namn Kulan , han va inte så värst musikalisk
men han kunde dra roliga skämt. Efter nåt år så gick vi skilda vägar med Damien av logistiska
skäl och vi hittade tillslut Emil Söderberg på nåt vis, jag minns inte hur dock, och så var vi igång
igen! Ny platta släpptes " För sånna som oss är det ni som är drägg ". Efter nåt år slutade både
Måns & Kulan men vi lyckades snabbt att hitta våran nuvarande bassist Gösta som fått en morot
av Kulan vid en spelning i Vårgårda, när han drog ett av sina skämt. Vi blev avsevärt bättre och
mer samspelta med åren och släppte EP:n " Noter för idioter ", det spelades in musikvideos och
vi lirade kors och tvärs så ofta vi bara kunde och idag står vi med en nysläppt 12" och det bästa
gigåret framför oss någonsin!
Berätta lite om varje medlem, ålder, jobb, familj, band före och band bredvid?
Gösta: Årgång -78, född, uppvuxen och boendes i Vårgårda, jobbar som gymnasielärare. Familj
består av sambo, katten Kulvert och chinchillan Piff. Var med och startade punkmetalbandet
Hepatit Gud i början av 2000-talet, var under en kortare period med i ett metalband som hette
Insomnia (Alingsås). Har sen många år tillbaka ett Nirvana-tributeband vid namn Nearvana
tillsammans med en polare från Göteborg.
Nanna: Född -91, gift med Joacim och bor på en hästgård strax utanför Falköping. Jobbar som
personlig assistent och akupunktör. Tränar mycket på fritiden, både med hästen och på gym.
Spelar även i Vänsternäven och Kollektivet.
Jocke: Född 1991 i Gudhem, jobbar som sotare, gift med kexet här ovan, vi har massa olika djur
på en gård utanför metropolen Falköping tillsammans. Katten Tinnitus och den nyförvärvade
hundvalpen Asta är favoriterna. Spelar även bas i Dystra Li (men vi ligger hårt i dvala) och orgel i
Marcus Wilsson och Kollektivet .
Emil : 28 år, sambo, snickare, släppte en soloskiva (ska/punk) innan kbb, hoppas på att släppa
fler om jag får tummen ur röven.
Kim: 32 år, sambo med nykläckt unge och 2 rovdjur, jobbar som bilmekaniker och är bandets
Bosse bildoktor. Spelat bas i ett dödsmetallband några år.
Jag kan höra mycket trall men även lite tuffare punk, hör jag rätt?
Gösta: Så är det väl, vi blandar och ger inom genren som helhet, en låts musikaliska stil och
textens tema bör ju harmonisera i någon mån och vill man inte låta eller sjunga tematiskt
enformigt så får man ju använda sig av det som tjänar syftet bäst, dvs att skriva en bra låt. Våra
egna influenser speglar väl också detta i ganska stor utsträckning då vi inom bandet lyssnar på
många olika typer av musik.
Nanna: När jag skriver texter och musik vill jag inte binda mig. Det är nog på vilket humör man är
just den dagen man skriver. Vi har aldrig gått in för att låta på ett speciellt sätt.
Jocke: Enkelt och tråkigt svar, vi är punk i grunden men alla av oss har lite förkärlek till andra
genrer så vi tar och blandar lite smått för att det är kul och att det låter gött!
Kardborrebandet, är ni nöjda med namnet? Om inte det bästa bandnamnet hade varit
upptaget, vilket namn hade ni valt då? Jag menar vilket är det bästa bandnamnet?
Gösta: Jag tycker att det är ett roligt och funktionellt namn som är lätt att lägga på minnet. Bästa
bandnamnet är … oj, det var en svår fråga. Pass på den.
Nanna: Fördel med namnet är att folk har lätt för att komma ihåg det. Nackdelen är att det inte
alltid är så snyggt på diverse merch
Jocke : Jag tyckte att det var lite småfyndigt och kul när jag kom på det och vi har bara hört
positivt om det tills nyligen när vi blev intervjuade i först Turist i tillvaron och sen Döda Katten
Podcast. Då var det helt plötsligt urtöntigt haha.
Vad är det bästa med att spela live?
Gösta: Adrenalinrushen som man får i kontakt med publiken, svetten, värmen, glädjen,
ölfläckarna.
Nanna: Samspelet med musiken. Att få uttrycka sina känslor och bara ösa ur sig massa energi.
Plus att jag älskar att stå i centrum
Jocke: Så jävla sköj! Det är en obeskrivlig känsla att få ta steget ifrån replokalen till att framföra
det man repat i så många timmar på en scen framför folk!
Var är bäst att spela, var är sämst?
Gösta: Välfyllda mindre spelställen, komprimerad publikenergi, komprimerat ljud. Några av våra
roligaste/bästa spelningar har varit på minimala ställen inför ganska liten publik. Jag tror inte att
vi skulle ha roligare på Rock in Rio än på exempelvis Musikens Hus. Därtill ska man ju såklart
spela inför en publik som uppskattar det man gör.
Nanna: Publiken gör allt. Spelar ingen roll om man spelar på en stor eller liten scen. Om
publiken är med, lyssnar och gillar det man gör är det alltid roligt. Jag kan känna att det är mindre
kul att spela på tillställningar där "punkare" inte är ens målgrupp.
Jocke: Svårt att säga var då publiken gör spelningen. Inte nödvändigtvis mängden! Vi har ärligt
talat åkt till gig utan förhoppningar och blivit helt överförtjusta av responsen och haft hur kul som
helst!
Hur är det att spela denna sortens punk i Sverige idag?
Gösta: Utifrån den initiala responsen på skivan och det faktum att vi har ganska många gigs
inbokade under första halvan av 2020 så kan man kanske säga att det för vår del känns ganska
tacksamt, i alla fall just nu. Det går i perioder, beroende på vad vi gör inom bandet, men externa
faktorer påverkar ju också hur man känner inför det. Har man inga inbokade gig att se fram emot
så kan det kännas lite tunggrott.
Nanna: Klart att det alltid kan bli bättre, men jag tror att punk är den "lättaste" genren att få
spelningar på. Punken är inte död och jag tror aldrig att det kommer bli det heller.
Jocke: Vi har ju inte så mycket politiska texter eller aggressiva texter utan generellt mer positivt
skrivna låtar och det verkar som att det uppskattas en liten blandning om vi tar responsen ifrån
nya skivan som exempel.
Hur skulle du beskriva er musik med tre ord?
Gösta: Glatt, energirikt och spralligt.
Nanna: Energirikt, sjungamedvänligt, melodiskt
Jocke : Bärs, kärlek & punk!
Emil: Håller, Med, Jocke
Kim: Fort, rolig och ölvänligt.
Vad betyder punk för er, är det bara ett ord eller är det en livsstil? Ni sjunger mycket om punk i
era texter…
Gösta: Musikalisk frihet, musik av och för arbetare, politisk och samhällelig medvetenhet.
Nanna: Att alla får vara precis som de är och inte skämmas för det. I vårt moderna samhälle ska
folk tycka och tänka så mycket om andra människor baserat på hur dom ser ut. Punk säger Fuck
you till dom som är livrädda för att sticka ut.
Jocke: Förr kändes det som att punk var tvunget att va politiskt och anti nånting men idag
upplever jag det mer välkomnande! Kom och var precis vem fan du vill, det spelar ingen roll alla
är välkomna liksom. Självklart tolereras inte rasister etc. men i övrigt så behöver inget vara så
jävla perfekt, var dig själv bara.
Hur ser ni på nedladdning, mp3 och liknande?
Gösta: Jag skulle hellre dela med mig av musiken helt gratis än att någon Bert Karlsson-typ
sitter på arslet och håvar in deg, samtidigt är det ju skönt om man i alla fall slipper gå back på ett
skivsläpp. Vinyl är ju inte gratis att pressa, men det är ju något konkret att ta på, till skillnad från
digitalt och streaming. Jag som gammal gubbe tycker att vinyl är det klart sexigaste formatet att
ge ut sin musik på.
Jocke: Vet inte riktigt vad man ska säga idag, Spotify har ju typ dödat det "problemet"?
Hur tycker ni det är att bo i Sverige idag, politiskt?
Gösta: Extremt skitnödigt och polariserat, den politiska diskussionen har blivit "för eller emot SD".
Det finns inga gråzoner, antingen ses man som rasist eller vänsterbliven. Epitet kastas på
meningsmotståndare när argumenten tryter.
Nanna: Jag är så fruktansvärt ointresserad av politik så jag vågar inte uttala mig
Jocke : Yrket politiker är idag ett stort jävla skämt i Sverige! Finns inte en enda som jag har
förtroende för och enda sättet för att få vettigt folk som faktiskt bryr sig till makten är att skrota
yrket helt och hållet och börja om. Inga månadslöner som en annan har årslön, inga våldsamt
höga fallskärmar (vem fan kom på det, du misslyckades men här får du ändå betalt efter du
slutat jobba som det). Hade vi bara fått ner dess löjliga summor så hade det bara varit vettigt folk
som faktiskt brytt sig om landet som intresserar sig av att jobba som politiker och göra skillnad
kvar!
Finns det några bra band I Sverige idag? I er hemstad?
Gösta: I Sverige finns det band, det är jag ganska övertygad om. I min hemstad likaså.
Nanna: Till 90% lyssnar jag bara på svensk punk. Det är det jag gillar mest och det finns så
många otroligt bra band. Ingen nämnd ingen glömd. Från Falköping är det väl Snutjävel som jag
kommer på.
Jocke: Massor ny och bra punk har producerats de senaste åren ju! Även många gamla rävar
som fortfarande håller måtten såklart 😉 men i lilla Falköping är det inte så mycket aktivt just nu
tyvärr, men det finns ju Blisterhead, Snutjävel, Mähälium inom vår genre.
Spelar ni något utanför Sverige?
Gösta: Inte än, men vi blev kontaktade av någon knäpp ryss för ett par år sen som ville arrangera
en miniturné för oss, men då skulle vi stå för alla utgifter och han skulle ta all eventuell vinst.
Kändes sådär seriöst. Otaktiskt att vara så öppen med sitt upplägg om man vill blåsa folk på
pengar, kan jag tycka, haha.
Andra bra band från utlandet? (Säga 1 var eller?)
Gösta: NOFX, Bad Religion, m.m.
Jocke: Rise Against
Emil : Rancid
Kim: Austrian death machine.
Era texter, vad influeras ni av? Aldrig på annan språk än svenska? Berätta lite om Ölens fel
och textraden Du är vacker som en ros du käkar bara pulvermos? Var kom den raden ifrån?
Gösta: Ölens fel är väl lite självbiografisk eller? Emil? (Pulvermos får någon annan förklara.)
Nanna: Oftast är det Emil som kommer på en refräng och musik, som jag sedan sätter text på.
Svårt att säga vad man influeras av, det varierar så mycket. Nej, inget annat språk än svenska.
Pulvermos var väl egentligen en plojlåt (precis som ölens fel). Tror Kim skrev texten på den.
Emil : Ölens fel är ett resultat av att få en gitarr i näven 4 på morgonen, sen plockade bara saker
som hänt på fyllan.
Finns det något ni aldrig kommer att skriva om?
Gösta: Att borgerlig politik, kapitalism eller att religion skulle vara bra.
Politik och musik, hör det alltid ihop?
Gösta: Det hör ihop när man vill att det ska göra det. Vill man skriva en låt som handlar om
något annat så gör man det. Men att använda sig av punken som ett verktyg för att föra ut
politiska budskap, ja självklart.
Bästa politiska band/artist?
Gösta: Rage Against the Machine
Nanna: Ingen aning, vilka är ens det? Mimikry och Lastkaj?
Tror du musik kan ändra någons liv, då menar jag texter etc? Har texter ändrat era liv? Ge
något exempel isåfall?
Gösta: Mycket av tidiga Korn och Slipknot talade till mig, det var mycket känslor, ilska, sorg. Det
var musik som fick mig att känna mig hemma nånstans, att orka mig igenom perioder när man
mådde skit. Tidiga Dissection var även inspirerande, det satte ord på ens förakt för kristendomen
och religion i allmänhet.
Nanna: Absolut tror jag det! Hur många gånger har man inte tagit sig igenom tuffa perioder med
hjälp av musik? Mimikry har varit en energikälla för mig. Även att skriva egna texter av sina
tankar har hjälpt mig bearbeta mycket.
Ert omslag är riktigt fräckt på er LP, vem har gjort det. Är det viktigt att ha ett omslag som man
förstår vilken typ av musik man spelar? Vilken fabrik är det vi är välkomna till? Vilken är ert
favoritomslag alla tider?…
Gösta: Omslagsbilden är fotad av vår gode vän Robert Hellström på RH Foto, i samband med
att vi spelade in videon till låten Fabriken. Omslaget "säljer" ju plattan i viss mån, kanske mer förr
i tiden dock, innan digitaliseringen. Men det fyller ju fortfarande den funktionen, även i sociala
medieflöden, att vara musikens "ansikte utåt." Fabriken i det här fallet är väl rent bokstavligt "den
där fabriken du släpar dig iväg till varje arbetsdag och som suger både hälsa och livsvilja ur dig",
men man skulle även kunna tolka "fabriken" som "Kardborrebandets musikaliska fabrik", men det
var kanske inte en tanke vi diskuterade när vi namngav skivan.
Nanna: När jag skrev "Fabriken" var det mer en metafor till att man alltid kämpar och sliter för att
någon annan ska tjäna mer pengar än sig själv. Det finns alldeles för många chefer som tjänar
löjligt stora summa pengar bara för att dom på golvet sliter arslet av sig. (inte bara på fabriker då
utan de flesta arbetsplatser) Det viktiga i dagens samhälle är i slutändan att dra in så mycket
pengar som möjligt, inte arbetarnas hälsa. Det är ingen som tackar dig när du har kört dig själv i
bott. Sen namnet på skivan, skulle lika gärna kunna heta "välkommen till vår verklighet", för i
detta fallet är "fabriken" vår verklighet.
Är det viktigt att få ut fysiska skivor? Ett självklart val att det skulle bli LP? Finns det någon bra
skivaffär i er närhet kvar?
Gösta: Jag drev att vi skulle pressa upp den fysiskt, dels för att jag älskar formatet som sådant,
dels för att CD är på väg ut och som digital media är omsprunget av mp3/streaming. Att ha en
fysisk skiva i hyllan smäller ju högre än att bara visa upp att man finns på Spotify, men det är ju
också tacksamt att släppa punk, hårdrock och metal på vinyl då det fortfarande är en köpstark
grupp. Inte för att vi räknar med att bli rika på kuppen, men det är ju en häftig känsla att ha den
på fysisk press. Skivaffärer är ju tyvärr en utdöende bransch, närmast är väl Göteborg, Andra
Långgatans Skivhandel, Skivhandel Majorna och dylika affärer, second-hand osv.
Snälla berätta något riktigt roligt som hänt under er karriär på scen eller bakom scen etc?
Gösta: Inspelningen av videon "Tredje Ölen" var riktigt kul, strålande väder, många god öl och
mycket skratt. På scen har väl de flesta livespelningar varit kul i sig själva, men jag vet inte om
det har hänt något extraordinärt som duger för kategorin "riktigt roligt." Men vem vet vad vårens
spelningar har att erbjuda?
Nanna: Vi har så många roliga minnen från spelningar, resor, inspelningar etc, svårt att välja
något specifikt.
Jocke : Asså jag fnissar fortfarande åt den gången då nån tyckte att det var en god idé att ge
Kulan den trådlösa och dyraste micken som fanns på scen. 8000:- vill jag minnas och den åkte
självklart i golvet när han skulle göra ett snyggt litet kast och ljudteknikern höll på att explodera
bakom mixerbordet. Eller när Kim slog sönder kaffekannan i Kulans huvud och hans morsa blev
förbannad och djupt besviken på videon som vi la upp av det på Facebook "MEN KIM!" haha!
Hur ser er publik ut? Vad drar ni för folk? Saknar ni några typer av folk?
Gösta: Vi drar väl allt från nit- och tuppkamspunkare till rockers till "vanligt" folk med intresse för
proper musik (annat än skiten som prånglas ut via mainstreamradio). Åldern är allt från
tonåringar till medelålders, exempelvis några av mina arbetskollegor som ofta dyker upp när vi
spelar lokalt i Falköping.
Snälla ranka fem favoritskivor, fem favoritkonserter?
Gösta: Skivor: Meshuggah - Catch 33, Räserbajs - Noppriga Tights & Moonboots, NOFX - The
War on Errorism, The Kristet Utseende - Inferno Pervers, Nirvana - In Utero *** Konserter: The
Kristet Utseendes avskedskonsert på Gefle Metal Festival 2019, Slipknot på Hovet, Stockholm
2002, Nasum på Arvikafestivalen 2003, LOK på Sweden Rock Festival 1999, Sportlovs "sista
spelning" på Belsepub, Göteborg 2004
Emil : Rancid - Out comes the wolves, Sonic boom six - City of thieves, Interrupters - Say it out
loud, Stilett -S/t, The Vlash - London calling. Bästa festival är Gruvpunken rakt igenom.
Kim: Sepultura - Beneath the remains, Slayer - Christ illusion, Tvärnitad - samtliga skivor,
Slipknot - Iowa, Meshuggah – Nothing
Är det tråkigt med intervjuer? Föredrar ni mail, telefon eller liveintervjuer?
Gösta: Intervjuerna blir inte bättre än frågorna, men vanligtvis är intervjuer helt ok. Skulle man bli
intervjuad tre gånger i veckan och frågorna bara handlar om irrelevanta idiotsaker så skulle man
tröttna rätt så snabbt, men SÅ populära är vi ju inte (än). Jag gillar spontaniteten under
liveintervjuer, men mail är ju bra då man kan tänka över sina svar lite mer innan man skickar
tillbaka dem. Någon telefonare har jag aldrig gjort, så det kan jag inte uttala mig om.
Nanna: Det är kul med intervjuer, men jag är så fruktansvärt dålig på att uttrycka mig i text så
liveintervjuer är att föredra
Jocke : Vi har inte gjort så många så det är kul! Men vi är nog rätt dåliga på att svara så det är
nog mer vi som är tråkiga.
Ifall ni kunde välja fem band från historien, döda och levande att ha en konsert ihop med ert
band, vilka är drömbanden då?
Gösta: Nirvana, NOFX, Räserbajs, The Dillinger Escape Plan, Municipal Waste
Nanna: En jävligt bra lineup skulle va: Mimikry, Lastkaj, Ebba Grön, Pastoratet och Björnarna
Jocke : Inte riktigt samma genre men Queen för fan!
Är musik ett bra sätt att få ut frustration och bli en snällare person? Är ni argare idag än ni var
unga punkare?
Gösta: Det är jag övertygad om att det är, musiken fungerar som en kanal och säkerhetsventil.
Jag var ju metalskalle när jag var ung (och är till stor del fortfarande) så jag var väl arg och hatisk
på ett sätt som kanske inte skulle beskrivas som typisk "ung punkig ilska", men ju äldre jag blivit,
desto mindre hatisk har jag blivit mot folk på individnivå och mer frustrerad, bitter och uppgiven
när det kommer till generella politiska och samhälleliga fenomen. Så på så sätt är jag nog lika
arg, men ilskan är mer fokuserad än när man var yngre och inte hade någon vidare
livserfarenhet. Man var arg men man förstod inte riktigt vad man skulle vara arg på.
Nanna: Ja det har ju hänt att man istället för att gå fram och slå någon på käften har man skrivit
en låt om personen istället. Funkar alldeles utmärkt!
Emil : Det går inte vara lika frustrerad som en tonåring, det osar ju runt dem. sen blir man äldre
och mer bitter.. hur fan musik skulle göra en snällare, Jag tycker att alla som inte delar min
musiksmak kan dra åt helvete.
Vilken är den konstigaste frågan ni fått i en intervju?
Gösta: Den här frågan.
Jocke: Haha klockrent svar, Gösta!
Vilken är frågan ni aldrig får, ställ den och besvara den?
Gösta: Vem har mest illaluktande pruttar? Emil. ;)
Framtidsplaner för bandet?
Gösta: Lira live, förhoppningsvis genererar plattan gott om spelningar i sommar så att man
kanske får åka ut på någon liten miniturné eller till någon festival. Och nästa platta är väl i
tankestadiet i alla fall, det blir att skriva musik under våren.
För dig själv?
Gösta: Få in vanan att värma upp fingrarna innan livespelningarna.
Nanna: Fortsätta att stå på scen och älska det jag gör.
Visdomsord?
Gösta: "You're damned if you do, and damned if you don't." - Bart Simpson
Kim: "Det är lättare att be om ursäkt än om lov." - Kim Löf
Nåt att tillägga?
Gösta: Nä, jag äggar sällan överhuvudtaget, tycker att det slöseri med ägg.
Nanna: Nej du har nog fått med de mesta