Please tell me a little bit history of the group?
-For me it has always been a priority to have a female band - it is something a bit different.. But there are lots of girls' bands everywhere and I didn't want to have a band like this - I wanted to have a band, which can play hard and is instrumentaly on ahigher level. That's what makes the girl band more attractive to others. So I decided to form a female band and to find the female musicians to join me. It took over 8 years but it was worth doing it and keeping the band existing in various resemblances.

Please tell me a little about every member in the group right now, age, family, work, interests and something bad about everyone? Other bands before?
-Our ages are different, our hobbies are more or less the same, feeling is the same. The most of us are vegetarians.
Dona Michelle - guitar, violin
Songwriter, lyricwriter. I work as a music teacher in the school. I like playing the electric six stringed violin, this is my new hobby. Also drawing, but this is very time consumining. I like cooking, this is often my stress reliefe. From time to time I arrange a huge vegeparty for my friends. The bad thing - sometimes I should be more furious and let the emotions out more easily.
Mercy: drums
Mercy is a heavy caliber woman. She entered the scene just like "Deux ex machina" when nobody has expected it and she immediately started to rule with her drum - sticks all over the band. Apart from drums, she likes boxing, which in fact goes hand in hand with playing the drums. She gets angry immediaetely, she' s our little furious Andromeda :)
Bass Barue - bass guitar, piano, lyrics
A special kind of ethereal being. Very attractive and smart simultaneously, which makes her more attracive and more smart. She is the one who has absolutely balanced common sense and the factual perspective, she put us back to reality, when we get lost in our unhealthy dose of subjectivity and self esteem. She studies something very strange, but I think it has something to do with physics and nanotechnology. Sometimes she gets drunk, then escapes somewhere after the gig and we have to seek her in the forest :-)
Marqui: lead vocal, back vocal
The youngest component of the band. She plays the classical music as she studies playing the flute in Vienna. Yes the bad I think - she got married one month ago :)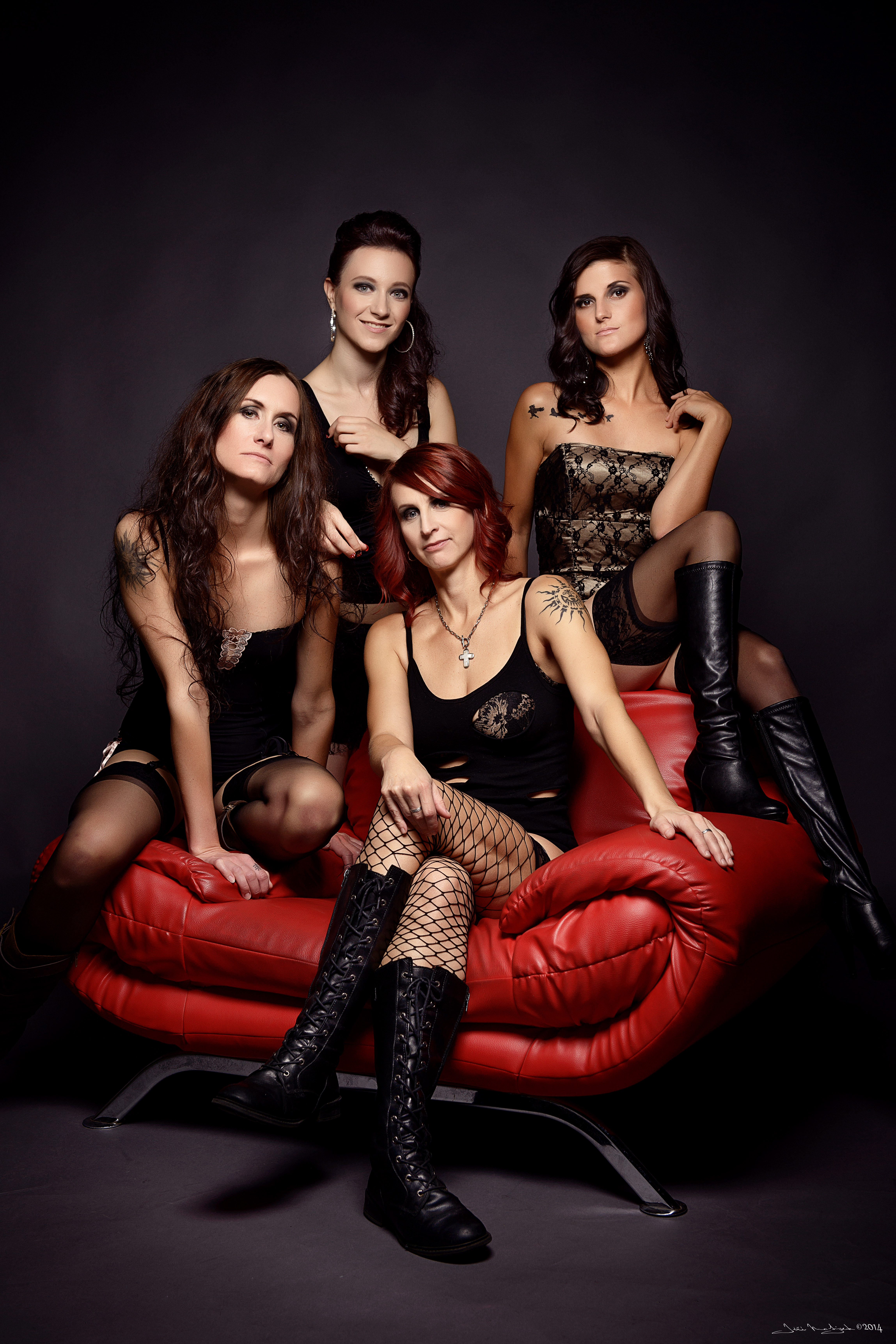 I think I can hear both metal(of course most), folk and a little punkrock in your music.. Am I right? Favorites from the past?
-Yes, past influences. New CD will be more metalcore, we are already working on it. Women gentle metalcore.
Kapriola, who came up with the name, are you satisfied with it?? Which is the best bandname you know?
-We come from Ostrava - it's a Czech town and it has a jumping horse in its sign. Maybe the horse is doing the Kapriola (a kind of horse step). Apart from this, Kapriola means also a "crazy little thing" or something what finally turns out amazingly, something rather unexpected.
Recently I've heard about a czech band and their name is something like "fuck me a little bit", in Czech. Don't know what do they play, but the name is unforgettable.
What´s the best thing with playing live? And what´s the difference of playing now and when you started to play?
-We recieve energy from people, they recieve it from us. This is the best, the two-way interaction. The biggest difference between now and then is that now people know our songs and they can sing it with us.
And where is best to play? Is there any place you really hate to play?
-Not really. We like both outdoor festivals and smaller intimate club stage. Also playing unplugged in a very small club is very good, somehow the people are closer to us and to our songs.
How is it to play this sort of music in Czech Republic?
-People here are more hit by the commercialism and main stream. But the rock base is good, anyway. It is difficult to play in big festivals which are very attractive to us.
How would you describe your music in three words?
-Earthy female rock :)
What does punk mean to you, is it only a word or is it a lifestyle? I know that you don´t play that but I only wonder how you think about it?
-Punk is philosophy. A kind of revolutionary movement itself. At least it was, in the past. Nowdays being punk means just to provocate, often without any deeper idea. At the age of 16 being punk is in. But there are still guys who are really punk hearted.
How do you see on downloading, mp3 and that stuff?
-When people download something, it means they like it. I say: YES - keep downloading the music, share it with your friends, learn new songs and then come to join us at a live concert!! More downloading - more people to know the music (I mean it just from my attitude as a musician).
<![if !supportLineBreakNewLine]>
<![endif]> How is it to live in Czech Republic now? Politically?
-No comment :) President is a buffoon.
Is there any good bands from Czech Republic now? Is the musicscene big? How is it in your hometown?
-Yes there are some. I like one - their name is Cast of mind and they are timeless, I like this progressive music very much. Unfortunately they are not very known, but as I said - people here are more commercial and even in a rock music they need easy melodies, comprehensible unsophisticated lyrics, clear drum straight strikes. And maybe some guitar or drum masturbation. That is what people want to hear with a beer in one hand and a huge piece of meat in another, when they visit a rock festival. Anyway, the musicscene here is very rich, everybody can develope a taste for what he likes. I think for example classic, jazz, folk etc. are on high level. The most famous event here is Colours of Ostrava - maybe the biggest alternative - ethno - music event in Europe.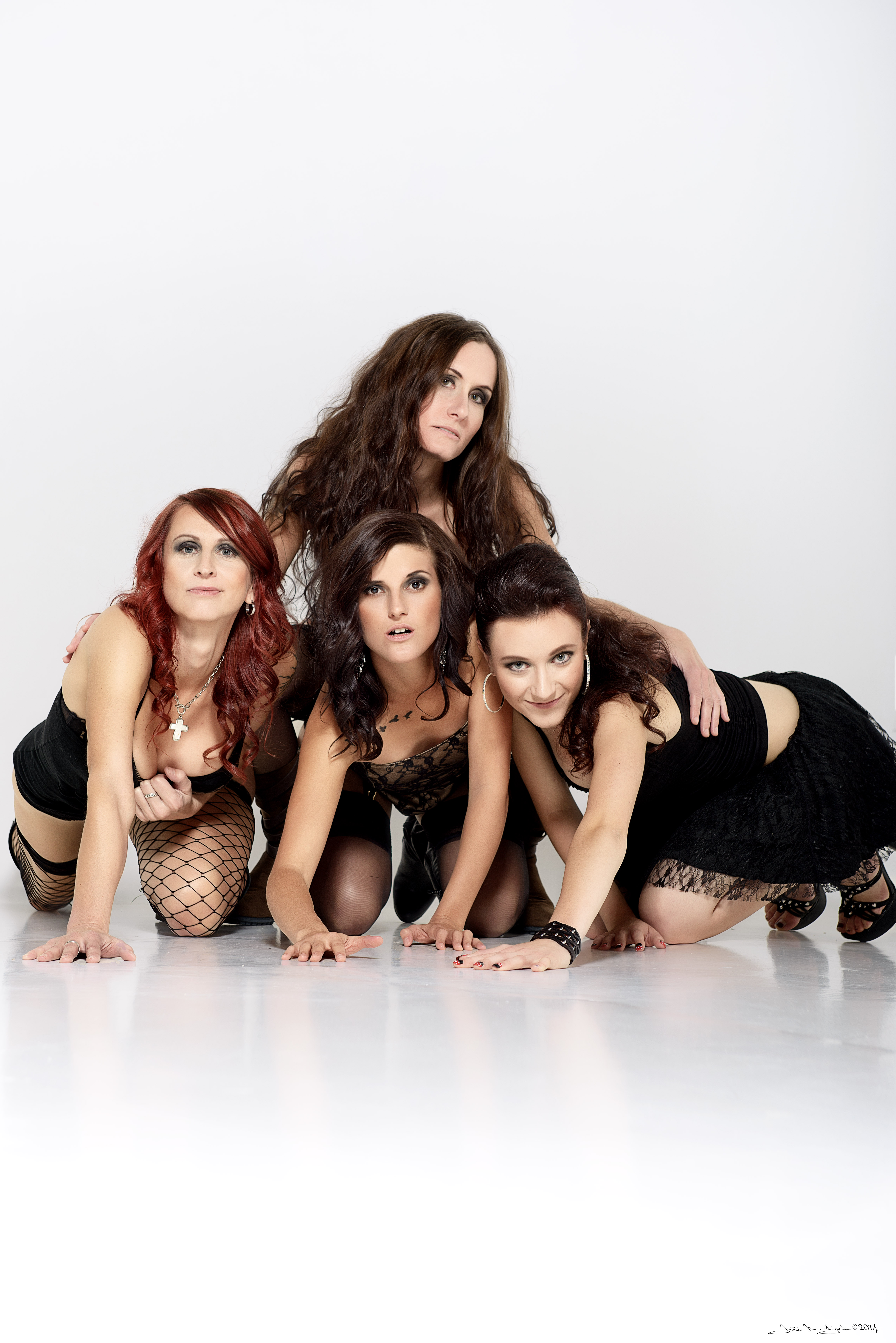 What do you know about Sweden?
-Stockholm, high life standards, lovely nature, modern liberal country. IKEA. Swedish pop music, which hit everybody in its time, swedish heavy metal scene such as Arch Enemy, In Flames, Opeth and Amon Amarth. Yngwie Malmsteen also. I would like to visit this country one day.

Have you heard any good bands from Sweden?
-Except for what I have mentioned I started with Europe 25 years ago. I love Arch enemy and Crucified Barbara. Mia is phenomenal.
Your lyrics, who does them and what influences you? Only in Czech??
-Mostly me. Neverending searching, relationships, life itself. Yes we are a czech band and we sing in czech. I have one backside project also and here we use english sometimes.

Is there any subject that you never will write anything about?
-Sure, many. Maybe motorbikes, it was the first to come to my head :)

Politic and music, does it goes hand in hand?
-Maybe. Some politics are even good musicians (I know just one or two) and some artists can express their political convictions. We have some musicians here, mostly folk singers palying the guitar, they often point out something what people consider to be wrong. In the past (in our country) expressing political or social attitudes went hand in hand with being political prisoner.
Best political band/artist?
-Michael Kocáb (Czech Republic) and the band was called "Pražský výběr" (Prague selection or something like that)
Do you think that music(lyrics and so on) can change anyones life, I mean people who listens to music?
-Not sure if it can really change anything, but it has some influences for sure. We are all influenced by what we hear and what we listen to. Then we grow up and our taste in music grows up also. But one needs to search for the music and hide himself from being attacked by the sounds, bad music or noise. There are sounds which are very pleasant to hear, not only the music.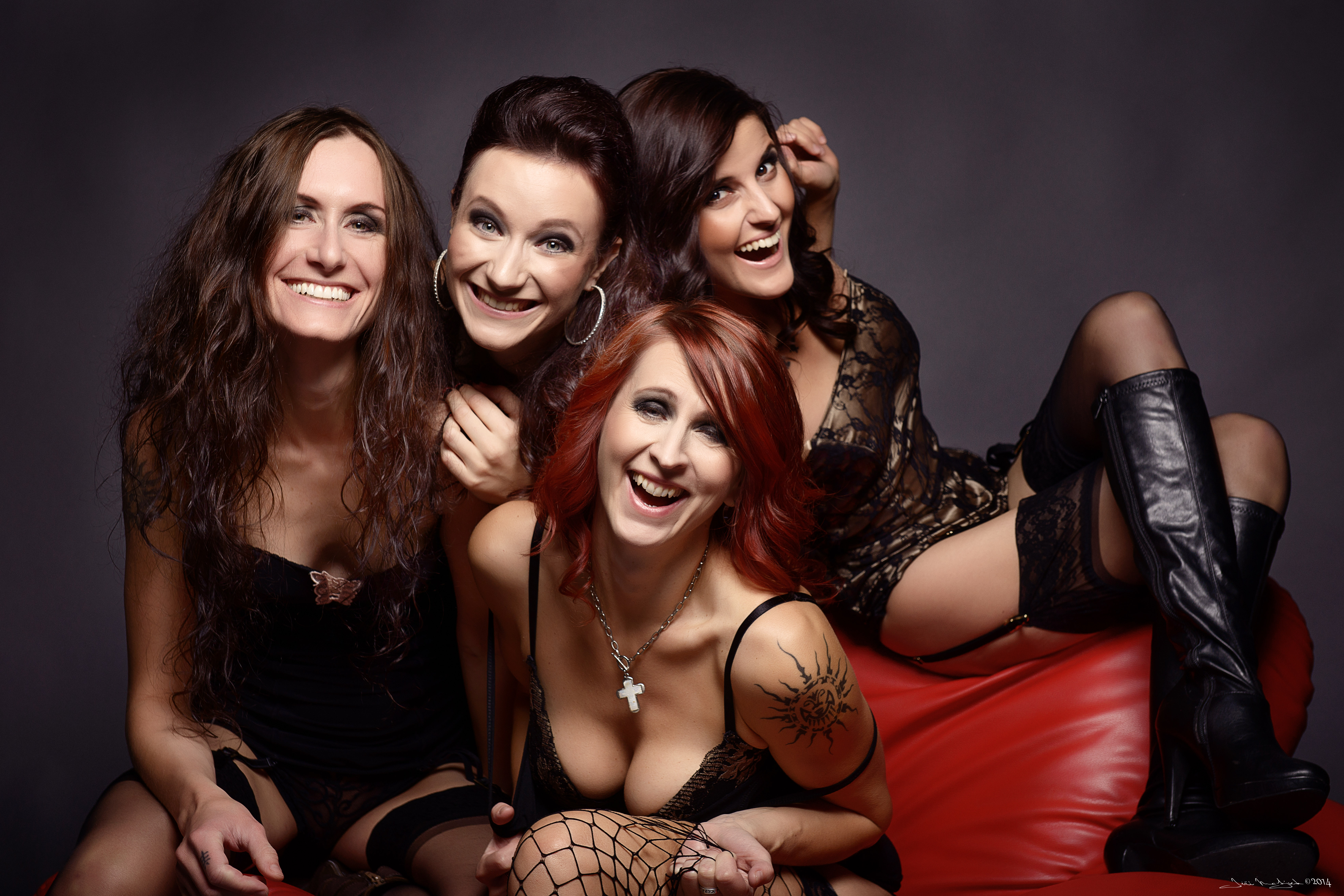 First record, last record and the most expensive record ever bought?
-It has been quite a long time since I last bought some record, downloading is more comfortable. :) I don't remember the first record I really bought, I had almost everything important what I shoul have on the vinyl records of my father, I think I bought some slovak metal record at the basic shool. And I bought a regular record of Angra two years ago. And the most expensive were the CDs of Vanessa Mae.
Is it important for you to get out your records physical also? New stuff on it´s way? Label?
-On the livegigs people come to buy our records, they prefer to have them physical. New CD should be ready in autumn. Not sure about the label yet.
Please tell me a funny thing which have happened during your career and under some gig?
-All of those funny things happen behind the scene, at the backstage, during taking the photos, make - up sessions, traveling to concerts and so on. Fortunately, it never gets out. :) I remember one gig, where our singer put on her new shoes, her new super shoes with huge thin heels and then I remember seeing her balancing on the stage, falling down, making the roll, taking up the microphone and singing on, as nothing has happend. This was a good reason to laugh, mainly for us on the stage. Or some other gig, our drummer during a solo broke her stick and a part of it hit the eye of the bassguitarist, this was less funny, but very curious.
How does your audience look like? Which people do you miss on your concerts?
-Men, women, children. We miss some aliens and the third gender.
Please rank your five favoriterecords, five favoriteconcerts and five most important things in life?
-Five is too less, there is much more of them, but these are my favourites:
4 non blondes - Bigger better Faster More
Steve Vai - Firegarden
Whitesnake - Slip on the tongue
Ozzy Osbourne - No more tears
Sibelius and Mendelsson volin concertos by Sarah Chang
Live concerts:
Crucified Barbara
Andy Timmons "Live Resolutiuon"
G3
Muse - Main Square 2015
Andrew Bird
5 things: health, music, veganism, happiness, family
Is it boring with interviews? Is it much interviews??
-Not too boring :) and just enough of them, always surprising with new questions.
Please ask the question you never get but you want to have, ask it and answer it?
-"Do you think veganism is a good choice for life?"
Yes, I' m convinced, that gonig vegan is the best choice for anyone's life. It's the best thing you can do for yourself and for the whole planet.
Futureplans for the band?
-Finishing the CD, new promo, new video, new concert sets for next season

For yourself?
-Getting a new guitar, viper violin, improve my recording home abilities, resting, vege parties with my friends, arranging compositions for my pupils, balancing my mind
I think your cover on your CDs is really nice, who came up with the idea? Which is you favorite cover for a record, which band and which record?
-Bass guitarist came with this idea and the picture was drawn by a daughter of our friend, she was 15 years old when drawing it.
I like Gary Moore Still got the blues album cover, I remember it from my childhood.

Wisdomword?
-Love animals. Don't eat them. Don't let your body become a burial ground of other beiings. Animals are here for themselves. They were not created for people, just as black were not created for white and women were not created for men.
Something to add?
-Take umbrella, it's going to rain...