An interview with the Slovenian band Kansky should be on it´s place after their really good debut-CD in the style metal….or indie…or…punk…or what? August-2009

History?
-The band started as an instrumental trio in 2005;Jure,Tomaz,Miha A. At the beginning more like a jam band and later when we started to knew each other musically we started to create songs. After a while we all agreed that vocalist would be suitable for our music. Soon Dejan joined and the band has started to developed. Later we started with first concerts and after a year we decided to record our work. While we were preparing material for the studio saxophonist Igor contacted us and the idea to add sax in our music was more than welcome. We finished the record in December 2008. While we were recording we also decided to add another guitarist and soon the last member joined: Miha L. Soon after the release of the album Poison Tree Records contacted us and now they are in charge of digital distribution. We played all around Slovenia, so we can say we had a great promotion tour round our country. Maybe, if we are lucky we'll have a small tour abroad; we'll see??

Please tell me a little about every member, age, family, interests, work and something bad about every one?
-Jure - guitar (age 24) – former athlete (110m hurdles) – now student of construction engineering – handsome!
Dejan – vocal (age 33) – former hockey player – now father and free climber – handsome!
Tomaz – drums (age 36) – former weed abuser and windsurfer – father – giant weirdo – handsome!
Miha L.-guitar (age 22) – fan of South park and loves green – mostly happy – drives green Audi – handsome!
Igor –saxophone (age 62) – professional diver (instructor) – father – always on time – handsome!
Miha A.-bas gutar (age 23) – basketball referee– bank manager wannabe – minister for logic and discipline – handsome!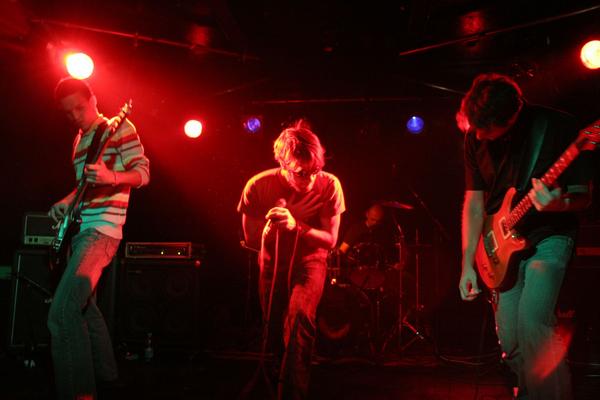 Your music is interesting, how would you describe it yourself?
-Weird, but still not enough for asylum.

I say in my review that it is a mix of a calmer System of a Down and Pearl jam, how about that?
-It's always interesting to hear how the others try to describe your music.

How did you came up with the thought with a saxophone in the band?
-It was more or less a coincidence - Igor surprised us; but the idea to add another specter was great!

To play this sort of music in Slovenia, how is that?
-Live performance is always great, but the fact is that majority is mostly into mainstream, so we look like a gang of weirdos.

How´s music life in Slovenia right now? Any good bands?
-The alternative scene now days is very creative, we have a lot of very interesting bands; Carnaval, Moveknowledgement, Zircus, New wave Syria, Elvis Jackson etc. – but this is just one of the aspects of today's scene – there are many more! Mainstream is mostly boring.

What do you know about Sweden?
-Mostly the facts – we haven't visited it yet; we would be glad to know your country a bit closer.

Have you heard any good Swedish bands?
-Besides ABBA we love Lowrider! Mostly rock/alternative scene – respect!

Tell me a little about Slovenia, I don't know so much about it?
-It's a nature's paradise bordering Italy (W), Austria (N), Hungary (E) and Croatia (S). Around 2 mio citizens. Loads of very intelligent and creative people and on the other hand loads of idiots and weird individuals – pretty the same as in other countries. And very beautiful women. You must visit it.

Have you been outside Slovenia and played? Where is best?
-Haven't been out from Slovenia – just a wish for now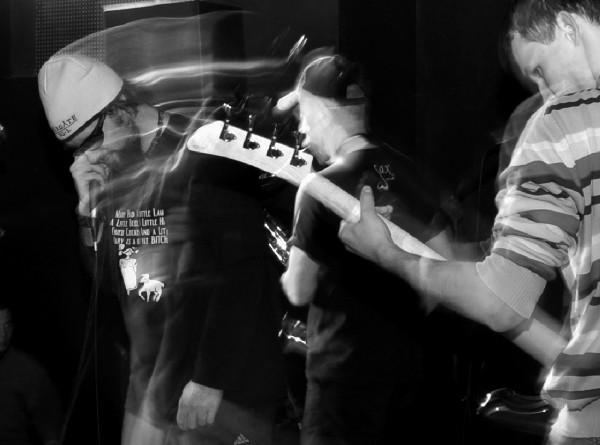 What is the most odd which have happened during a gig with Kansky, on stage or in the audience? -Well besides excited women showing us underwear & black holes and a few drunks falling on stage and off it -nothing Jspecial

Kansky, where did the name come from?
-It come from "Circus Kansky"- Ana Monroe's street theatre performance.

Have you done anything more than the CD you sent to me?
-This is our debut.

I´m grown up with punkrock, how's your relation to punk?
-It's an interesting expression in the music; it effected all of us.

Are there any good punkbands in Slovenia, in the world?
-Yes there are – many!

Please rank your five favourite records, five favourite concerts and five most important things in life? -We're not so much into ranking, so we would be glad if we could skip this question.

The first the last and the most expensive record ever bought?
-The last album I bought was from Bernays Propaganda (Macedonia), I think the first was LP White Album from the Beatles – don't remember exactly!

The most embarrassing record in your collection?
-No embarrassing music in my collection.

How do you see on mp3 and downloading and that stuff?
-We support the idea of free circulation of ideas, projects, etc. – we must find another way to satisfy the needs of an artist – very important - art has nothing to do with money!

In Sweden sells record more than for a year ago and it depends on a new law against downloading. How is it in Slovenia, do you sell any records there?
-I think selling records is the past – "live performance" is the future.

Is it good or bad with mp3 and downloading for a band of your size?
-More people hear our music – the better!<![if !supportLineBreakNewLine]>
<![endif]>
Futureplans for the band?
-New record!<![if !supportLineBreakNewLine]>
<![endif]>
For yourself?
-Enjoying Life
Wisdomword?
-Think
Something to add?
-We are glad you are interested in our music and gave us a chance to present ourselves – Thanks for the support! See you in Sweden!