Kaltfron began to play in the eastern Germany and then it was almost dangerous to play punkrock. Jörg is the one who answers my questions one day in april 2009 about this and many more things.
History?
-Dresden's underground punk bands SUIZID and PARANOIA broke up in 1985. Blitz (Ex-Suizid) and me (Ex-Paranoia) decided to start a new band together. In the early 1986 we got the line-up fixed for KALTFRONT. In the confusion of 1989, the "year of change", two members left the band and went to West Germany. The rest of the band still played a couple of shows with guest musicians. Kaltfront finally broke up 1990. But there was always a further interest in KALTFRONT. Kids still listened to the music and copied old tapes again and again. In 2005 we were in the mood for a reunion.
Please tell me a little about every member in the group, age, family, interests, work, and something bad about everyone? Have it been many line up changes?
-TOM (39), the singer, runs some in a free radio station and works in a culture centre. BLITZ (43) plays guitar and works as sound engineer. MICHA (35) plays drums. He works for a small brewery and plays in a couple of bands. I am JÖRG (45) and play bass (since 2007 I'm playing occasionally in Paranoia again). There is nothing bad about anyone of us!!! Two are rockers, lots of girls and party every night. Two of us are family guys. Good balance!
When you started to play and played punk in East Germany, how was it??
-In the early 80s when we played in real underground bands like Paranoia and Suizid, it was kind of "dangerous" to be a punk. Kids could get arrested just for looking different. The authorities tried to eliminate all kinds of "non-conform" youth. Not only punks - hippies, gothics, metals etc. as well. Punk bands were not allowed to play public shows. There were only illegal concerts at parties in private places or in church rooms (Churches were permitted to operate more or less free from government control, as long as they abstained from political activity). When Kaltfront started in 1986 some political changes were going on. The effects of glasnost and perestroika had begun to be evident. The political conditions improved slightly. Suddenly some sub-cultural activities were possible. Bands like Kaltfront could play official shows. But it was still hard if you're not prepared to compromise.
It feels like you have an old punkstyle? Much influences from the past?
-In the Paranoia-era we loved old German punk rock like Slime and U.S. hard core like Bad Brains and Black Flag. Later we listened to bands like Joy Division, Public Image Ltd. and Reggae and Dub. Kaltfront in the 80´s was influenced by new wave, cow punk, Social Distortion, Hüsker Dü and Clash in the London-Calling- / Sandinista-phase. Actually all four of us listen to very different styles of music, from 30s Jazz to Grind core. Good experiences that make us more flexible and variable. But I guess the main influence of the band is still the old, melodic punk stuff.
Was it many good bands back in East Germany?
-There were a few punk bands only. All of them played simple, rough and as fast as they could. They had no skills and no equipment, but much anger and energy. For my personal taste there wasn´t any good bands. They sounded mostly terrible in spite of having a big sub-cultural significance. Two of the most important bands were Wutanfall from Leipzig and Schleimkeim from Erfurt.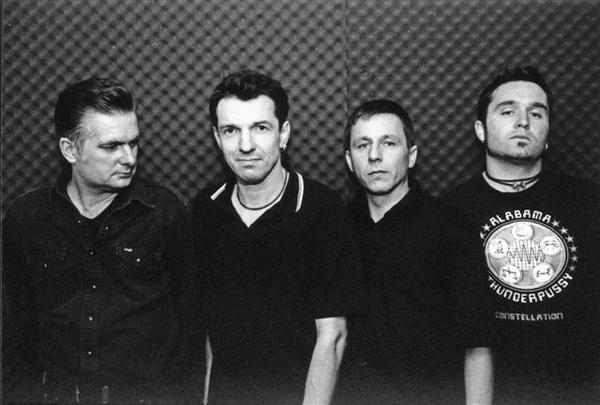 It seems to be very political your music, is it so? If people played political music back in time, how did the government react?
-We would not describe our music political. Basically it was normal kind of teenage problems: be angry with the school, the other kids, the parents and the whole situation. We did not try to bring down the government. We just wanted to have fun and realize our own ideas. The political aspect came later, when we felt to be criminalized. We have been treated like enemies of the state. The secret police observed and infiltrated the punk scene. There was no freedom of speech. You could get sentenced for singing critical lyrics just as for appearing at the wrong places. The authorities proclaimed some kind of no-go-areas for punks, like the city area of Dresden). They tried to prosecute punks for some shit and put them into jail, draft them to the army or (if nothing else worked) expel them from the country. In 1985 I was arrested for communicating with people from Western Europe. I reported about my bands and punk in East Germany in several fanzines. Accused of state defamation.
Was it difficult to hear foreign punk at that time?
-Difficult but not impossible. We listened to Western European radio stations. People from West Germany sent us records and fanzines. Family members who were allowed to travel to West Germany brought us records. We could buy punk records in Poland and Hungary as well. Mainly we copied and traded tapes.
Is there any good bands around nowadays in Germany?
-It seems as we have millions of bands nowadays. On the first impression many of them sound not bad. But the more I listen the more I feel bored. There are so much bands announced as the "new sensation" but when I've heard them I'm very disappointed. Same hypes in punk as in mainstream! I still like this special Hamburg stuff like Oma Hans, Kommando Sonne-Nmilch and our Dresden mates Paparazzi, Venusshells, Eleanor Lance, Creeks, Tangled Lines and the pretty bizarre Rummelsnuff, which our guitar player Blitz plays with sometimes.
How is it with nazism , racism and those things on gigs nowadays?
-Here it seems to be less nazi activities than in the early 90s. You don't see these typical nazi-skinheads any more. We didn't have any problems with nazis on our gigs. But they only changed their ways of activity. You just have to go 10 km out of Dresden in the countryside and the small towns around. There are a lot of NPD voters. Attacking of immigrants and antifascist people is still going on.
How do you see on mp3 and downloading and so on?
-It is the normal way of development. Records and CDs will disappear, like Edison's phonograph or shellac discs. Now almost every one has computers, iPods or what ever. Who else still does really need turn tables, except DJs? Naturally musicians and record labels are not happy about downloading. But obviously it is the way of music consumption today and they are supposed to handle cool with that. This reminds me on the "home-taping is killing the record industry" campaign in the 80s. For a long period the music industry made big profit on expensive CDs. And if the business is running bad, they accuse young kids for illegal downloading. That is hypocritical!!! I'll keep on using tapes, vinyl and CDs, but Mp3s as well. I won't try to condemn new media, I use it to serve my purpose.
What does punk mean to you, is it only a word or is it a lifestyle?
-Sorry, I am so tired of questions like this. What is the definition of "punk"? I guess everyone has his own difference. I think real punk was existing only for a couple of months back in the 70s. Like an eruption: chaotic, spontaneous, unpredictable… Self destruction was part of the "plan". Actually I don't care about outfits, lifestyles, attitudes or ideologies. I don't like to be restricted by any "scene rules". Now I don't waste my time with thinking about the meaning of punk. There are many more important things. But punk was my socialization and always part of my life somehow. You see, I'm still busy with that shit. Playing in punk bands and worked for an exhibition about punk in East Germany in Dresden 2007.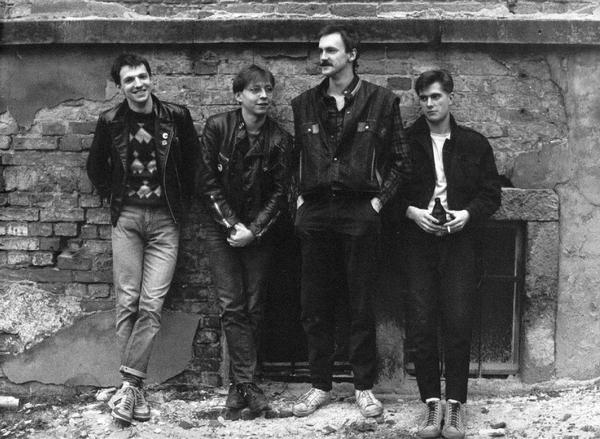 What do you know about Sweden?
-Heard about Swedish day tourists who come over on the ferry for cheap liquor, drinking all day long and puking in the Baltic Sea on the way back home. I know, just stereotypes. But I haven't been over there. All I know about Sweden is what I've been told and what I've seen in TV. More stereotypes: IKEA, H&M, Tre Kronors (I guess Swedes play better ice hockey than football!), Malmö FF (big in the 70s), Henrik Larsson = good, Ibrahimovic = bad! What's about Freddie Ljungberg right now?
Have you heard any Swedish bands which you like?
-ABBA of course! Great punk bands like Asta Kask, Refused, Kamikatze…
Interesting "alternative" bands like Noise Conspiracy, The Vicious, Masshysteri…
Also Millencollin, Entombed (legendary, but not my favourite kind of music), The Go-Getters (played with them a couple of times years ago, when I used to play upright bass in some Rock'n'Roll and Rockabilly bands). Unfortunately when I think about Swedish bands at first I recognize a lot of those Mando-Diao-posers. Sorry…
You like football or what?
-Sure! Three of us plays together in a hobby team.
Favourite team?
-Dynamo Dresden – chaotic management and unsuccessful team. Nevertheless our favourites. We even wrote a song about them.
Which is the best political group/artist?
-I am bored of this "smash the state / fuck the police" stuff. Same paroles like 30 years ago. It might be still relevant, but it's nothing that the kids don't already know. I don't like to be agitated.
Please rank your five favourite records, five favourite concerts and five most important things in life?
-I hate rankings. My favourites are changing every day. Here some all-time-faves:
RANCID - …and out come the wolves, I always like this Ska & Reggae influenced punk,
DEAD 60S – Dead 60s, and the more I listen to their 2nd LP the more I like it too,
JESUS LIZARD - Head/Pure, as example for this noisy blues stuff (could be replaced by BIRTHDAY PARTY - Prayers on fire),
One of these 60s Ska compilations of Trojan Records (I hate most of modern Ska),
and still SEX PISTOLS - Never Mind The Bollocks (I confess I bought the reissue!).
There are not so much records that I like completely, usually only one or two particular songs.
Favourite concerts:
RAMONES at Eissporthalle Berlin-West 1989 (it was not such a great concert, but it was the first time I could see one of my old heroes).
THE KIDS at Chemiefabrik Dresden
AVAIL or TVTV$ at riesa efau Dresden (as examples for concerts that I organised with some friends under the name of Kellercore in the 90s)
NOMEANSNO at Starclub Dresden
ROCKET FROM THE CRYPT at Starclub Dresden
Most important things in life are the people around me, family and good friends. Everything else is non-essential.
First, last and most expensive record ever bought?
-When I was teen I bought an East German licence-pressing of a Rubettes LP and I still have it!!! The last I bought in January in Capetown, South Africa: a record of the local rockabilly band Them Tornadoes. It was funny to see them playing the same cover versions of rockabilly classics as bad as I used to do with several rockabilly bands years ago. I'm not a record collector. Maybe I own some rare records but I don't know much about that. I've never spend more than 20 Euros for a record.
Most embarrassing record in your collection?
-In the last time I enjoy "embarrassing" records more than the usual stuff. For example "Buenos Dias Argentina" of German national football team and the singer Udo Jürgens, recorded for the world championship 1978. Sooo bad, but even "good" somehow!!! Also very strange is the compilation "Die Erde dreht sich links herum" (The earth revolves around the left). An unintentional funny celebration of the first East German cosmonaut Sigmund Jähn who flew into space in 1978.
How is it to live in Germany right now, I mean politically?
-Try to ignore it as much as I can. No matter if christ democrats, social democrats, liberal democrats, communists or "Die Grünen", they are all the same shit. There is only confusion. Sometimes I'm really frustrated. Living conditions are getting worser. But where is the paradise on earth? Compared to other countries I'm mostly happy to live here. It could be even worse. I am not a patriot nor an anarchist. (By the way anarchy is nothing but a pretty fantasy as long as there are so much selfish, greedy, primitive and violent idiots around. Ask me again in 500 or 1000 years…)
That you only sing in German, is it so it will be or did you have any thoughts in English sometime??
-Until now we only have played in Germany. Our audience are Germans. So it's natural to sing in German. That special type of lyrics is characteristic for Kaltfront. Difficult to explain. We couldn't write so in English.
Was it better or worser before the Berlin Wall, what is the biggest differences?
-I guess you can imagine what it meant to live under a communist regime: lack of basic freedoms, supply problems, isolation, surveillance, total media control etc. Most of the people were sick of it and wanted a change. But we got capitalism very quickly. Suddenly many people lost their jobs. Many things got expensive. Poverty is rising. But that's no reason for me to wish those old days back. I enjoy to do what I want to do, to make music without restrictions, to communicate, to travel where ever I want to as long as my account is covered …
Which type of people comes to your concerts?
-To the first reunion-shows came many older people who already have seen us in the 80s.
They were happy to see us once more after so many years. They only wanted to listen to the old songs. But now more and more young kids come to our shows. They like to hear the new stuff as well.
Which type of people do you miss there?
-There's no special type of people I miss. I can't force anyone to come to our shows. Some people love our style some people don't. We continue to make our own special thing. Don't try to change and play more "commercial" punk rock. Hope everyone who loves our stuff realizes that we're back on tour now. Many people think we're still disbanded or we played only one single reunion show.
Futureplans for the band?
-Release a new record.
Futureplans for yourself?
-I don't really think about the future. I intend travelling Peru, Ecuador and Bolivia in November so far.
Wisdomword?
-No, I am not Konfuzius.
Something to add?
-Music, merch, pictures, dates and more:
www.myspace.com/kaltfrontdresden
www.myspace.com/paranoiadresdenpunk