Käftsmäll is a group of some guys who are frustrated. I sent them an interview and some hours later Putte and Micke had answered. May -2018
A little story about the group?
-Four frustrated old guys who do not want change would start a band to spread their vision to like-minded people. There is not much more history available. Well, we have been around for more than a year.
Tell us a little about each member, age, job, family, band before and band on the side?
-So we can summarize it like this. We are all middle-aged. Everyone has family, children, houses / housing rights, cars, jobs. Recovery position. In other words, we have become so-kind as we once showed our finger. Everyone has played together in bands before in different constellations, last played Putte, Johan and Gunnar in The Chapsticks, a rockabilly band.
I can hear a lot of old punk and then both Swedish and English, I hear right? Was it better back in time?
-Absolutely. Old punk is the best. Then one could hear what the message was, not like today, when it broke forward and you think the faster the better. But there are lots of bands today that we like, both old and new.
Käftsmäll, are you satisfied with the name?
-Si!
If the best band name had not been taken, if you had chosen name, which would you have chosen? I mean which is the best band name?
-We think that Käftsmäll breathes 77. And there are so many good band names. Personally, Putte may think that Mobbade barn med automatvapen (Mobbed children with automatic weapons) are a strong candidate. The Kristet Utseende(The Kristet Appearance) is also a good bandname (Micke)
What's the best thing about playing live?
-The feeling when you see that the audience get started Is it a good place we get free beer.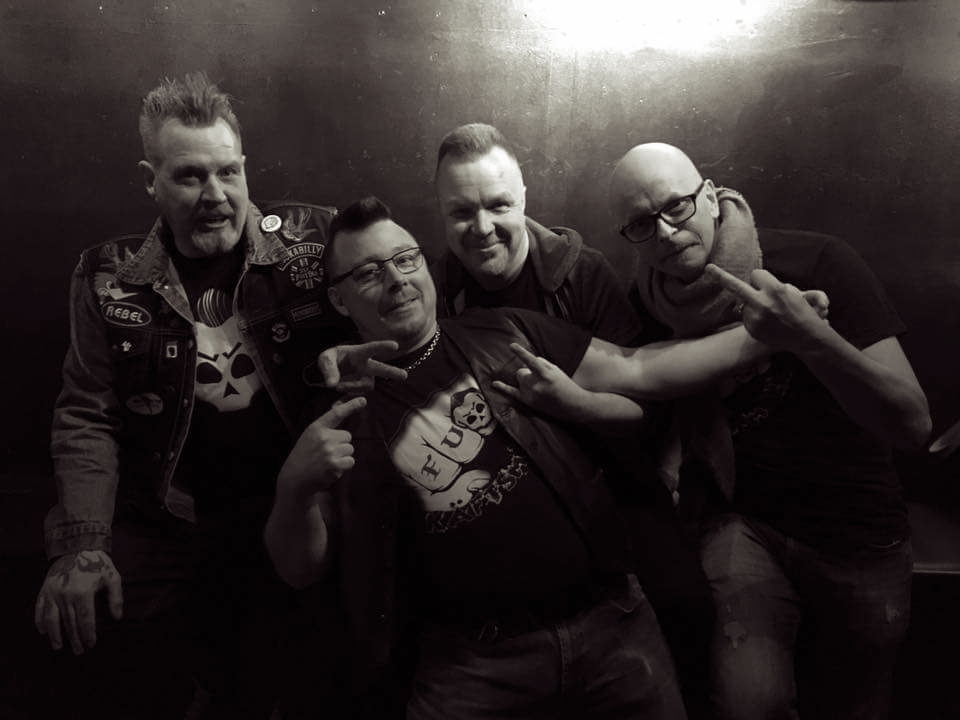 Where is the best to play, where is the worst?
-Intimate places with audiences who like what we play. Afterski, maybe it's the worst. Ah, we're playing anywhere we have to play.
How is it to play this kind of punk in Sweden today ??
-We get a lot of cred because we play punk from the old school. People have a recognition factor that takes them back to the old good times.
How would you describe your music in three words ??
-Swedish punk 77.
What does punk mean to you, is it just a word or is it a lifestyle?
-Punk is a way of thinking, dare to think punk dare to go beyond the norm, be yourself.
How do you look at download, mp3 and the like?
-As with everything new, there are both good and bad aspects. What's good is that there's more music to discover. The bad thing is to lose the feeling of craving, trending, going shopping, looking for new music and getting the physical disc. Platforms like Spotify are good, but it does not give us a so much money at the checkout for small artists.
How do you think it's to live in Sweden today, politically?
-Sweden today is a country where many build walls because they are so afraid of each other. Political parties and their tails lie and change to get voices instead of trying to make a difference. Simple answers to difficult questions go before thinking about your own thoughts. We stand for diversity and because all people are equally worth no matter what.
Are there any good bands in Sweden today? in your hometown?
-There are plenty. Hellacopters, the Baboon Show and Asta Kask for example.
ödsBabs, ZeroZero, 16 ton rockers is some bands from Stockholm which we played with / will play with and like. ApanJapan is also cool and fun to play with.
Do you play anything outside Sweden?
-Not yet. We would love to do that if we get the chance.
Other good bands from abroad?
-Sham 69, Cock Sparrer, Die Toten hosen, Motörhead ... there are so many here too.
Your texts, what are you influenced by? Never in a language other than Swedish? I thought the song Pyskbryt would be about that group?
-We write as we think is relevant to getting older, going to work, getting blinded by a meeting car, etc. Psykbryt, that is a cover on Sham 69's Borstal Breakout, which in their version is about breaking out of a youth prison, is in our version rather than being physically and mentally insulted in itself. I have written songs in English but have realized that Swedish is the language I can handle and can best express myself when I´m singing in Swedish, so people understand what we want to say. (Putte)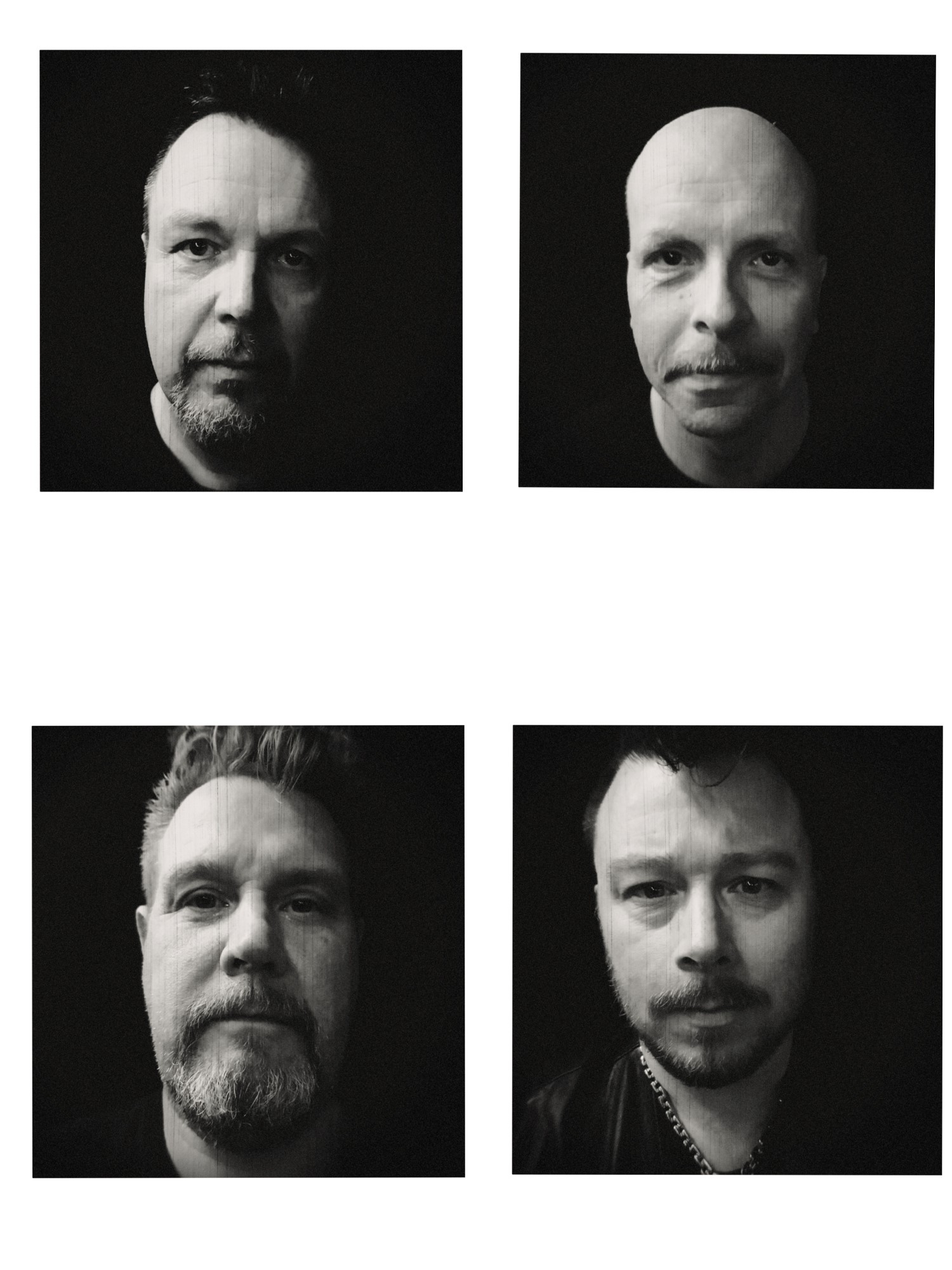 Is there anything you will never write about?
-We can write about everything. Nothing is holy.
Politics and music, do you always belong?
-Not always. There are good and bad music of both varieties. But it will always be better if there are texts that mean something that comes from the heart or written.
Best political band / artist?
-Svullo, Nationalteatern, Gudibrallan
Do you think music can change someone's life, then I mean lyrics etc?
-Absolutely. There are many stories about people who have been inspired to do something about their situation or not to commit suicide because of texts that meant a lot to them.
Your cover is really cheeky on your CD, who has done it. Is it important to have a cover so you understand what kind of music you play? What is your favorite cover all the time? ...
-Thanks! It his Putte, our singer and main songwriter who have done it. We think it helps if the cover shows what style you have. Our favorite cover ... Elvis Presley's debut album
Is it important to get out physical discs? Vinyl or CD or both and? Is there any good record store in your homoetown?
-We think it's like the old guys we are. We just printed CDs, not vinyls, for this edition but will make it for future release. Good record stores here are Sound Pollution and Mickes Skivor in Hornstull and Skivfönstret is still in Nynäshamn.
Please tell me something really fun that happened during your career on stage or behind stage etc?
-The first time we went into the studio with Käftsmäll, we spent four hours in the woods and booked us in a hostel nearby over a weekend. It turned out that there were not even drums in place even though we listened carefully about equipment and what we would have with us and the place was water damaged. and then it was a silly snub who met us with a blank expression, like "What are you doing here?" Just drinking a thousand beers and then going home instead.
In another band we once had a goat in the crowd who loudly liked the show (Putte). Once upon a time, we had a singer pulling out his knee on the stage, fell in a chair and then went to the hospital. People thought it was the worst sceneshow they ever have saw ... (Micke)
How is your audience looking like? Which people comes to your concerts? Do you miss any kind of people?
-Punks, Mates, Musicians and people who walks around. Everyone is welcome!
Ah what we can miss is more people daring to dance in front of the stage.
Please rank your five favorite discs, five favorite concerts?
-really hard to say. Motorhead on Hultsfred and the Ace-of The Spadesrecord does not work out for hacks. Not to mention every time you ran on the Ultrahuset and Tre Backar and all that it was in the first half of the eighties, saw bands like Union Carbide Productions, Asta, Köttgrottorna etc. (Micke). Putte: X-Ray Spex Germfree Adolescents, Sham 69 Tell Us The Truth, David Bowie Scary monsters, Cock Sparrer Shoock troops, Hillbilly moon explosion Raw deal. Ramones on Frönan1988, Sham 69 original setup'77 on anArena 2013, Of course it's fun to have seen Ebba Grön when it started.
Is it boring with interviews ??
-No. Not when the questions are thoughtful and you notice that the interviewer has listened to the music.
If you could choose five bands from history, dead and alive to have a concert with your band, what are the dreams then?
-Sex Pistols, The Clash, The Specials, Sham 69 and Stiff Little Fingers would be a good lineup. If you book, we promise to come! Throw in Elvis Presley and Johnny Cash as well (Putte)
Is music a great way to get frustration and become a nicer person? Are you angrier today than you were as young punks?
-It is. Giving or going down to the rehearsal room is a necessary valve to handle the existence. Do not know if we are angrier today, it can still burn , but maybe because of other reasons.
What is the strangest question you received in an interview?
-This.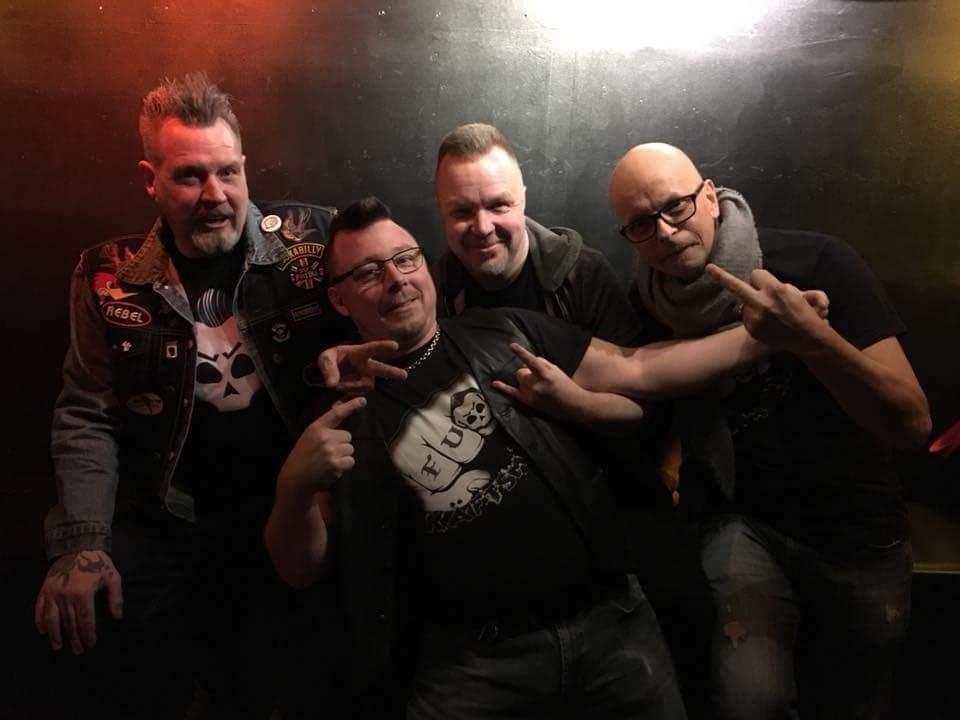 What is the question you never get, ask it and answer it?
-Do you want to play on the Globe? No, because we will never got so much public.
Future plans for the band?
-Rule the world at home and be sponsored by Hembrygdsföreningen. And record more, release more EP's and play more out.
For yourself?
-Dare to become older with dignity (Micke)
Fight until I die (Putte)
Words of wisdom?
-The person who is looking for is going to sauna into a headwind.
Something to add?
-No. It was exhaustive.