Johan Svedberg came out with his record on Troglodyt Records and I wasn´t late and sent him a lot of question s he answered in the middle of june-2007
Please tell me about yourself?
-Yeah, what to say, I´m 32, comes from Ronneby in Blekinge but lives in Uppsala (I´m styuding to be a teacher) and have just released my second record.
Enough so.
Band before, on the side?
-Have been playing in a lot of bands before but as a favouriteorchestra I must say Sven-Stenis Kvintett which we have a lot of fun with, it was with them everything started.
Family?
-A wonderful fionce, five chinesic watersalamanders and one Hyundai Getz ? Everything you need.
Your lyrics is showing us yourself I think, En riktig man which almost is feeling like an advertisment to get contact with a woman? Is it about yourself? How does your lyrics comes to it´s place?
-The song is called "Riktiga män" and is more a look over men overall and how it should be in some cases. Advertisment to get a woman? Hmmmm, No, it sounds odd, it´s more the opposite way. But I often write about my own and my close friends experiences.
Why this sort of music?
-I have always liked swedish singer/songwriter and liked good lyrics so why not?
I think it feels like if punkrock is in the back of you? Is that right?
-Of course is it punk, how would you avoid it? I like a whole lot of punk even if I don´t listen so much to it nowadays.
Your relation to punk?
-as I said very good, I like KSMB most but I had a really hard Exploited-period sometime in my time on the gymnasium, I saw some who was called Görans Pension on the net, really good if they want to call themselves punk.
Is there any good band/artists in Sweden today?
-Yeah, a lot of them. Maud Lindström writes wonderful lyrics, Caj Karlsson sings fantastic, Robyn rocks, Cardigans do fucking good records and so on. I could write a side or two about this. Must mention Pelle Carlberg too, madly good and Blommor.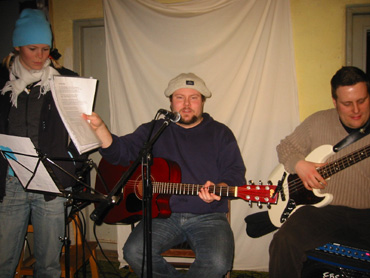 Oustide Sweden?
-Puuuh... Carla Bruni, Gillian Welch, Steve Earle, Springsteen, Wilco, Ani DiFranco, Alanis and so on. Have heard that Pogues shall be together again on Way Out West in august, nice.
You play often out or? Is it always with band or do you play alone sometimes?
-I try to play as much as I can, but I´m studying too. Where is it best? It depends on the mood, both my mood and the audiences mood but Katalin in Uppsala was fun. I mix sologigs with gigs with a band with both two or three persons. The band lives in Ronneby and malmö and I live in Uppsala and then it becomes as it be.
Which is most fun, to play with band or by yourself?
-It depends on different things but it´s mostly best with a band
it´s most
Do you play mostly own songs? How does people who never have heard you before them?
-99 % is own songs but some cover comes sometimes. I think that people take them good if it´s the right places. After a footballgame in a pub isn´t my best forum if you understand what I mean
Which type of people comes to your concerts?
-Fresh mix of people of both sexes between 16 and 71 have bought the record so it´s there somewhere between it is I think
Where is most fun to play? In which city?
-It´s always fun to play in new places to open ears if you say so. But a really sweaty evening on Jekyll & Hyde in Ronneby isn´t wrong either, as fest before you go out, in your sofa, party
I compare you to a mix of calm Pogues and Stefan Sundström, what about that?
-I think that sounds really nice, thanks a lot.
Please rank your five favouriterecords, five favourite concerts and five most important things in life?
-Wow, Okay , I will give it a try, records; Pogues - If I should fall from grace with God, Ryan Adams - Heartbreaker, Stefan Sundström - En bärs med Neferitite, Steve Earle - The mountain och Lars Demian - Lycka till could be a good start.
Concerts: Winnerbäck in Ronneby - 05 when my girlfriend ask me to marry her, Pearl Jam in Wembley late 90´s, Springsteen in Ullevi ?04 (?), Counting Crows in Vega in Copenhagen ? 03 and Ron Sexsmith in Katalin in Uppsala last autumn to start with.
The most important things: Good health, my family and girlfriend, the friends, a good guitar and peace one earth.
First, last and most expensive record in your collection?
-The first was Anthrax-I´m the man, the latest was Catherine Wheel-Adam & Eve and the most expensive I not know, maybe some USA-import.
Most embarrassing record?
-I have a whole case with records which comes foreward after a wet party, very late, so what?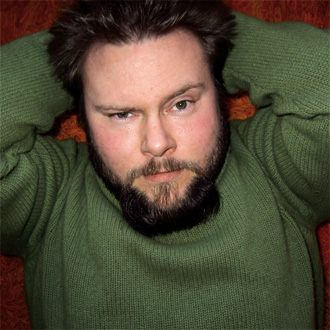 Who do you think gets this summers hit….is it Markoolio as usual?
-With all the free advertisement , Frida (Dunka mig) have got she would be one of them but Markoolio is always on top and maybe Gessle too?
Have your songs been heard on radio much?
-In some P¤-channels it seems to work out fine. It´s not NRJ-style on the songs precisely
Troglodyt...how did this work out?
-I learned to knew Sören who have the label through Maud Lindström, thank you Maud and he thought that we were OK and we thank him for that. Sören is king.
Does it seems to be good? How much do you think your record can sell?
-It works out real fine, easy-to-work and no nagging, precisely as I want it. Have no idea how much it sells but I hope that many people buy it of course. A good review would help a lot. Come here and buy.
Where do you stand when we talk about mp3?
-I think that the labels could take a little fee for downloading so the people who have written the songs could get something anyway. That should they have done from the beginning and then we wouldn´t have this debate. People can download my things as longs as they spread them.
Do you download for yourself? If you do in which purpose?
-I download very little actually. I am the one who wants to hold the cover and I want to see who is playing ukulele in track 3. I download just for a taster
How do you think it is to live in Sweden otherwise, politically?
-I think that Sweden is fantastic. Of course there is things in this country which could have been better but as a wholeness I´m really satisfied to live here right now, Swedish Television, the allemansrätt, Eastern Sea, Kicki Danielsson, fresh air, a lot of sporthalls, what more do you need? Politically I must say that I didn´t voted blue(the right wing) and I´m worrying for everything which will change now.
Futureplans with the music?
-To always try to get foreward and become a little bit better have I always thought it´s a good goal.
And for you as a human being?
-To be a good teacher and a good boyfriend.
Wisdomword?
-I must say as Harry Schein, ?You could not be funny, people can imagine that you´re joking. Or Woody Guthrie said; take it easy but take it.
Something to add?
-Thanks for showing interest and please come and see us when we´re on the road this summe and then I want to say hello to Johan Tenser, over and out/Johan Svedberg