Johan Johansson have been in a lot of groups and he´s one of the fathers of punk in Sweden. He answered my questions immediately and think if everyone would do this way. Read a really nice interview which was done 19/3-2007.
It was a long time since you came out with a record now? Anyway under your own name? When does the next one comes?
-I started to record one some years ago but it isn´t ready yet. The reasons to why I am so slow with my own is many. I think it comes too much music nowadays, people almost drowns in music. And I´m still satisfied with my latest album ("Johan Johansson…och hans lilla svarta värld") which have made it impossible to top this. And then I´m not the most egooriented person in the world which can be a handicap right now. Another reason is that, believe it or not, I have bad self conscious when we´re talking about my own music. I don´t think anything is OK – but I know that I can put out songs which is as good as any other peoples in this country. And I have been priviligied to work with many talent artists and it have been so fun that my own music have became in the shadows. And this is this with time. And in the latest I have toured with Kjell Höglund and Diamond Dogs and I have written the book "I stället för vykort".
Now I have started to write music again. So I don´t hope it is too long time and then we see a new soloalbum. Do you have abstinence til then you can always read my book. There you get a liverecord with many new songs.

Which was the latest record you were on?
-It becomes a lot of recordings, so it´s not so easy to say. I´m often on Stefan Sundströms records. So it must be Stefans new record which he recorded together with Fjodor from Ebba Grön but it haven´t came out yet

Are you still producing records?
-Now and then it comes something good. I feel that I can do anything really good as a producer if it is something I really like really much. Don´t I like it the artists can choose another producer. Today I will go down and mix a recording as I have done with Stina Berge from Pink Champagne which is backed by Kenny Håkansson and a lot of other progressive phantoms. The latest thing otherwise must be Kjell Höglunds "Pandoras Ask". A very strong record I think.
It was almost so that I shall produce Fröken Underbars coming album. I was asked anyway and would really wanted to do that, I like that band. But it fell on the time and that we couldn´t sync it together..

Which is the biggest you have been produced and then I don´t mean in heaviness more the record which have sold the most?
-I did a record some years ago with the icelandic guy Bjartmar Gudlaugsson which sold a fourdouble platina on Iceland. Everey tenth Icelandic bought it – but there isn´t so many living there. But it must have been some of the records I recorded with Winnerbäck. .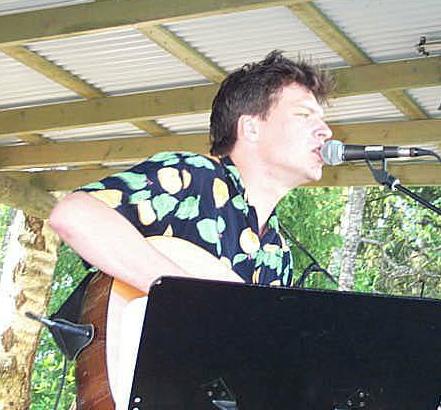 Do you miss the time when you were out and toured with a band?
-Both yes and no. It was very fun to travel around with a band but it´s so much more work in the same time. And it would be it more now when I do everything myself. So as it is now I wouldn´t have the time or money to have it – but those things can change.

Do you play much out nowadays or how is it? Is it only acoustic or is it with a band too?
-On my won concerts it´s only me and the bassist Rickard Donatello. Sometimes when I tour with Kjell Höglund we have a eight-man-strong band and it´s a lot of administration for me so that is enough for me. And then I think that my songs holds really good to be played alone and in a simple way. It was lonely with a guitar they was done and you come so much closer the songs if they´re done that way too on stage.

Josef och Maria is one of my favouritesongs with you….how did you came up with the idea to that song?
-It was done just before my first concert which I did on my own, it was a mix of 75- year old ladies in a library in Sandviken. It was a song which I did really fast, it came out of itself. I´m not a believer but I think that Jesus is a good idol to have anyway. The idea that he came to us again but in the wrong place amused me. That I still can think about and I don´t think that Jesus want to have so much to do with Runar if he decided himself for a comeback. .

Which of your own songs is your favourite?
-"Lat man sleaze twist" from "…svarta värld"-record I´m very satsisfied with. I think that is one of my better songs and lyrics. That song come very fast too – it was recorded and ready in a time of five hours from the time that I started to write.
Many of the songs which have been with me for a long time have taken very short time to write .Both "Polsk Zchlager" and "Världens bästa dåliga exempel" was done during a concentrated half hour. Sometimes it can takes month to do a song but the ones that comes fast- they comes fast. .

How do see on the fact that KSMB did a reunion? You don´t wanted to be in that…why?
-That was the time around my record "Flum" and I didn´t had the time and I didn´t want to live in the past. It was many things which was happen then. I both produced and toured with Stefan Sundström, I was doing De Lyckliga Kompisarnas Hockeyfrilla-record. When so many inspiring things happens i the time you live in so can I don´t have so much time over for nostalgia.
Noone in KSMB was playing in a group then but I had much to do with a lot of other stuff. But I didn´t have anything against the things they did even if many people said so. I was asked to be in the group but I said No Thanks! But I was there and saw them live some times. They did it as good as it could be when you kicking life in an old dinosaur. But shortly I must say that I´m not the nostalgic type and I have never felt any longing to put together KSMB again. Every thing have it´s time and I have always a lot to do with the time which is now.

Is it many people who ask about a reunion?
-Yeah, really often actually. But mostly it´s me who get the questions and the other ones don´t have a clue about what I have said no to through the years…haha!!

How do you see on bands which is doing these reunions?
-Are they doing it good it can be really fun but often it depends on empty pockets and agendas. But I have also old idols I want to see. I will not to any price miss the reunion with Only Ones this summer – one of my absolute favouritebands..

Asta Kask did it really good?
-Oh yes, they really do. But the Asta-guys have been living in the places where they´re born, met each other and have been together through the years(have they really???)and have a lot in common before they started to play again. We hadn´t that in KSMB. I know Asta Kask really good and I think the stuff they´re doing they´re doing really good. And then they have started a musicstyle which have had followers in the whole world., so they have the right to go around and get all the thanks.

You have been growing up with punk? How do you see on it today? Is there any punkmovement today?
-I don´t really agree with this. I´m grown up with 60´s pop and the musicmovement. When the punk came I already have get my musical preferences. Then I can agree that I was in the frontline of doing the Swedish mall musically for what we call the Swedish punk..
I have difficulties to answer this question because it´s so hypothetic and it depends on what punk means to every man. For me it´s an attitude and not a musicstyle. In my world so is Laleh, Marcus Birro and Tingsnotariens bloggs punk. As musicstyle it´s punk really conservative in my eyes. A style with too many puritans and I have always have difficulties with that. Of course there´s a living punkmovement and that´s nice – nut there is people who knows better about this than me. .
And then I´m think it´s fun to have been part of a thing like this which have put it´s traces here and there and it´s flattering to get all these thanksmail for things I have done before. Those things are good but they should think that I am an old man from the past.

How have the punk influenced your life?
-My attitude have definitely been influenced. I would surely lived another life today if it haven´t been so that I have been in the punkmovement for so long time and during an important time in my life. I have been stucked to my ideals and personal principles and I´m happy and proud for that.

Isn´t it hard for todays youth that much have so much harder to chock their parents than we had? In that time it was enough to cut your hair and have a Pistos-badge on the jacket to chock? What shall they do today to chock?
-Yeah, absolute right there. It wasn´t much you had to do before to chock. The last ones who managed to succeeded was Ultima Thule and those white power bands – but people would ignore them today too. Marilyn Manson must be happy to come from USA, and there´s enough people who still is conservative. Here it isn´t many they manages to chock. In my book there´s a whole chapter about this thing.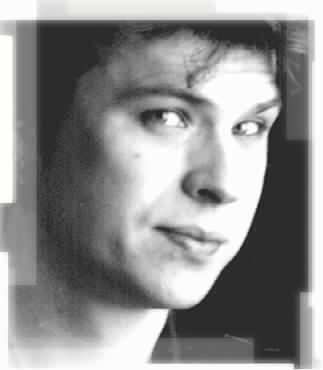 What was/is the best and the worst with punk?
-The best was the DIY-spirit and that you mustn't be so fucking good technically. That it make people to see the difference of being really good and to be good. The worst is that it have become such a conservative style with a lot of small popes which decides how punk should be or not. I think that styles must be destroyed and must be mixed together. I think that therefore I have become put in a style called singer/songwriter-style. In that is a little bit wider. Do you like punk I think you must let it get freedom and go further. Otherwise you get the same destiny as the Swedish traditional folkmusic have done. A style which is dictated by puritans and which is only living one time a year on Skansen and other folkmusicoparades.

Which is your swedish and foreign favouritepunksong?
-Dr Zekes "Jag ska aldrig dö" and Only Ones "Another girl another planet. I don´t think they are any typical punksongs but it isn´t me who decides the styles.

Five favouriterecords right now?
Säkert! – "Säkert!"
Florence Valentin - "Johnny Drama"
Cotton Mather – "Kontiki"
Zarah Leander – "Valdemar"
The (International) Noise Conspiracy – "Armed Love"
...and if you take everything I have been on so is Roger Karlssons "Veckans Babe" the one which is going on most at my home. A record that people have forgotten!!

The first, last and most expensive record ever bought?
-The first was the Ep "Ready Steady Who" and The Monkees album "Headquarters" which I bought in NK in Farsta around 1967. They´re still good.
The latest one was "Säkert!". A brilliant record. I have bought 2 records of the same. I was forced to give one to Kjell Höglund because he liked it so much.
The most expensive….I don´t buy any expensive records and I don´t collect any special records or so. I´m after the music. So the most expensive record must be a single with Mott The Hoople which I tried to grab from PUB when I was fourteen years old . I was caught and that record cost me my proudness – how much that can be worth!

The most embarrassing record in your collection?
-I like embarrassing record so I am the wrong person to talk to. But the KSMB-single "Feliz Navidad" which was given to the Schlager-readers was really bad, so it must be that.

Cannot you get together a John Lenin CD, everything you did must could find their place on one CD?
-Sure, but it is MNW which is sitting on the tapes. Now I managed to get out a compilation with Strindbergs..

You have been in KSMB, Strindbergs, John Lenin and played solo? What have I missed here?
-You mean bands? I was a member in Diamond Dogs for three years and have shorter and longer things in bands like Stockholms Negrer, Incest Brothers, Pink Champagne and Gudibrallan and some more things which I don´t remember myself. I did the record "Griniga Gamla Gubbar" together with Wille Crafoord. I still think that it is a really good album – and then can people say what they want about it.

How do you see on Mp3 and downloading?
-Very fun. A really fine punkthing when we talk about those things. It opens really new possibilities for music. I wish it could have been around when I started to play. I have never met an artist which have been negative to mp3. The most of the negative talking comes from big record labels and artists like Metallica and fuck what I feel bad about them – isn´t I?

Is it anything you do yourself?
-I have downloaded a lot of music. Is it something I listen to many times I go and buy it for principle reasons – especially if it´s released by a smaller label. I would never have heard Säkert! Or Cotton Mather , which is among my favourites right now, if I haven´t downloaded the music first.

You like Hammarby Hockey too….you don´t care about football or? How did this season for the hockeytem go?
-I´m a so called antisuppprter. The hockey team is my gang. I maybe see one football game with men once a year. It´s so much hysteria around that team. I rather look at women football or handball but the hockeyteam´s matches I don´t miss. This year they didn´t have to qualify to be in this serie next year and I think that is good because the team is young and the budget is a little piece if you compare with what other team have had.

Is it many interview nowadays, is it boring??
-I cannot say that it is too much. It can be boring to answer the same question again and again but these things are only fun.

The question you never get but you want to have?
-We need you as a dictator, are you in?
-OK then but then it´s going to happen things!

You´re out on My Space too, why?
-To meet new and old friends. A good compliment to the usual website and easy to do. But I came here because that I wanted to help my friend and my big idol Ollekarlsson(yeah, it must be written together) to make his MYSPACE functional. He´s the coolest guy in the world and I would do anything for him..

Futureplans with the music?
-To continue struggling to get foreward my own and others music, to get my arse from the wagon and to my next soloalbum and get it finished, to be fucking with the world once again for a hateful reviewersquad with the leftrightwing duo Griniga Gamla Gubbar, to do concerts of my own and together with Kjell Höglund and sometime to one or two Strindbergs-concerts.

For you as a human being?
-To be happy , take care of my friends, make my self living on things I´m think is fun and then I die without being a healthpackage in some years.

Wisdomword?
-"Is it Ok is it OK"

Something to add?
-Stop the rightwing, crash the egos and be bad against the people who hits people already lying. Soldiarity to everyone, And get rid of the moderates(right wing) as soon as it´s possible!

haveagoodtime!
Johansson