Jobseekers Colin Kelly answers me on a lot of questions one day in the beginning of September 2014. The band comes from Eire and it´s a really good band.
Please tell me a little bit history of the group?
-Formed in early August 2010, Jobseekers were originally a three-piece, Colin Kelly, Simon Maples and David Molloy, and were a moderately fast punk band. They played their first gig in October 2010 and followed that with another three before 2011. In late December 2010, the original bassist announced, with upcoming gigs, that his college work meant that he could no longer commit to the band, and so David and Jobseekers and David parted ways. Colin and Simon were forced into a difficult predicament; a big gig with no bassist. Luckily enough, Colin's best friend Tony Carberry had just moved up to the city and offered to play the upcoming gig, only two weeks away. With their nerves settled, the lads decided to go one step further, and added a second guitarist, Shane Kennedy, two days before the gig! The band instantly acquired a new dynamic and a penchant for playing ridiculously fast. The gig was a success, and since then the band have gone on to record their debut EP "As Real As It Gets..." Eleven tracks in under fifteen hours...The EP lasts twenty-four minutes and 48 seconds. In September 2011, there was a new addition to the band with the departure of Simon on drums and the addition of Matt Howard behind the kit. The new line-up turned out new material like there was no tomorrow. The beginning of 2012 saw Tony leaving the band to pursue other dreams, and Chris Burke (Septic Pussy) joining and bringing a new slant to the band's dynamic. Then, in early February, Shane also left, seeing Daniel Knowles fill his shoes in guitar responsibilities. Jobseekers released their debut album, "Heads On sticks", on CD with FOAD Musick on 2nd November 2012. 2013 saw the departure of Chris and Danny, and the arrival of Mark Derelict on bass. The band then recorded 7 tracks, before recruiting a second guitarist, Diarmuid Casserly, in October. Matt left for Canada in february 2014, leaving the job open for their good friend and drummer of fellow hardcore punk killers Excuses, Gazza Derelict, who fits in nicely. The "Jobseekers" 7" EP was released July 28th 2014, and the band have since been playing gigs to promote it.
Please tell me a little about every member in the group right now, age, family, work, interests and something bad about everyone?
-I (Colin) am 26 years old. I live for music. I play in Turfboy and Visions Of Apophis, as well, and I'm currently unemployed. I'm a shit guitarist. Mark is age-indeterminable, and works as a nurse. It's kind of apt, as he is completely insane. He's also the business side of the band, and ever since he joined, in late 2012, we've been doing much better, financially. He's a vegetarian, though, and therefore lets the worst farts. Diarmuid is 22 years old, and works between a bar, a shop and a hotel. He has, on numerous occasions, played two nights in a row, and gone to work a few hours later. He's a beast, but he snores. Gazza is 26 years old, and is our saviour since Matt went to Canada, in February. He's starting in college for music this month. He's the fastest single-kick around. He may require an intervention at some stage in the future.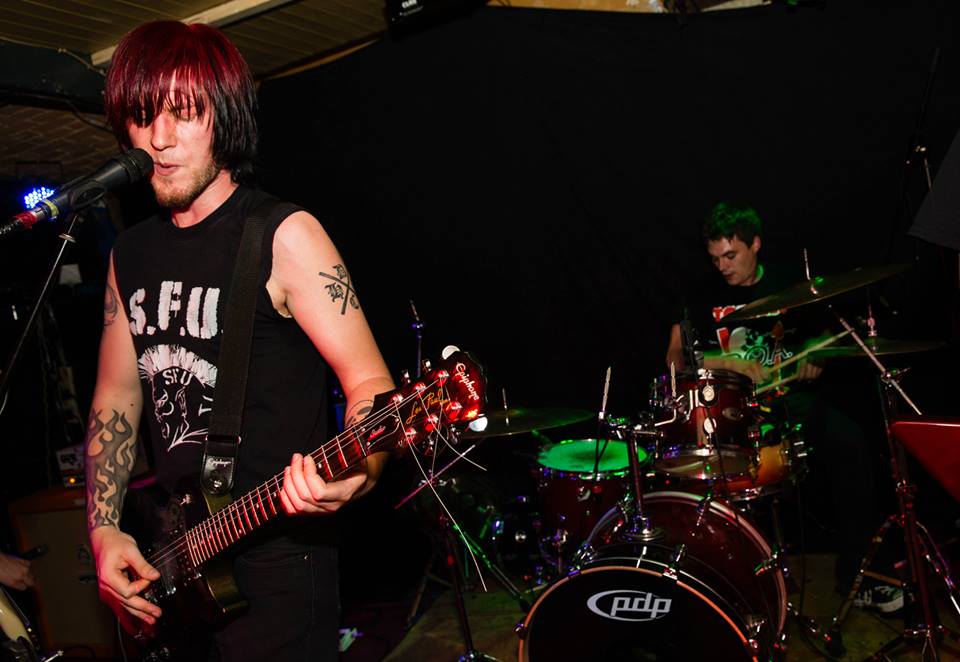 FOAD have released your album , is that a good label?
-FOAD are great. They gave us plenty of gigs (still do), plenty of exposure and they gave us the leg up that we needed to release a physical album, and they made a big deal about us. Theyr'e constantly on the look-out fro new bands, and they'll always give every band a chance.
I can imagine that you´re fucking good live, is it so?
-To quote the great, Stanto Ramone Strummer (Hollow Cost, The Dubtones, Ex-Complan, Ex-The Lee Harveys), "Tight as a shark's arse, and that's water-tight!!". Take from that what you will. We like to entertain, and If we get lost in the performance, so be it.
What´s the best thing with playing live?
-That's a difficult one... I guess the unpredictability of every show. Every venue is different, as is every crowd, and you get different reactions and have to decide what way to play off them. We always put everything into our performances, but when it's given back to us, it gives us more energy to consistently rock out.
And where is best to play?
-Our best experiences, apart from The Thomas House, have been outside of Dublin. We've yet to play outside of Ireland, but we're playing Scotland in November, so that will be interesting. Best show yet was in Sligo. I almost killed Diarmuid, and the crowd flattened the mic-stands, and scratched us up good! The P.A. Cut out, so we decided to play in the middle of the crowd. It was insane.
I compare you a little to be a mix of 77-punk and oi, what about that?
-Depends on the album. I mean, our first album "As Real As It Gets/Jobseekers 2011", is very skate-punk. We always got compared to the likes of Bad Religion/Pennywise/The Offspring. "Heads On Sticks" is a lot more '77 and Oi-sounding, definitely. Chris, our bassist at the time, had a huge influence on my writing, and his own writing was very Oi/street-punk, but we've always had a hardcore element, which is where the "Jobseekers" EP comes in.
How would you describe your music in three words?
-Disgusting, passionate energy.
What does punk mean to you, is it only a word or is it a lifestyle?
-"Punk" is more than a word to me. It's more than just a lifestyle. It's a mind-set. It's who you are. It's the civilian's filming of the corrupt police. It's the peaceful protest outside the gates of The Dáil (irish government building). It's the global solidarity of music, through which we rebel.
How do you see on downloading, mp3 and that stuff?
-I think it's great that, even though some small band in, say. Indonesia sold out of copies of their debut album, but my mate can still introduce me to their music, and talk about doing a split EP.
-How is it to live in Eire?
-It's easier than a lot of places, I guess. It's expensive. We have unemployment allowances, but the cost of living kind of balances that out with other countries.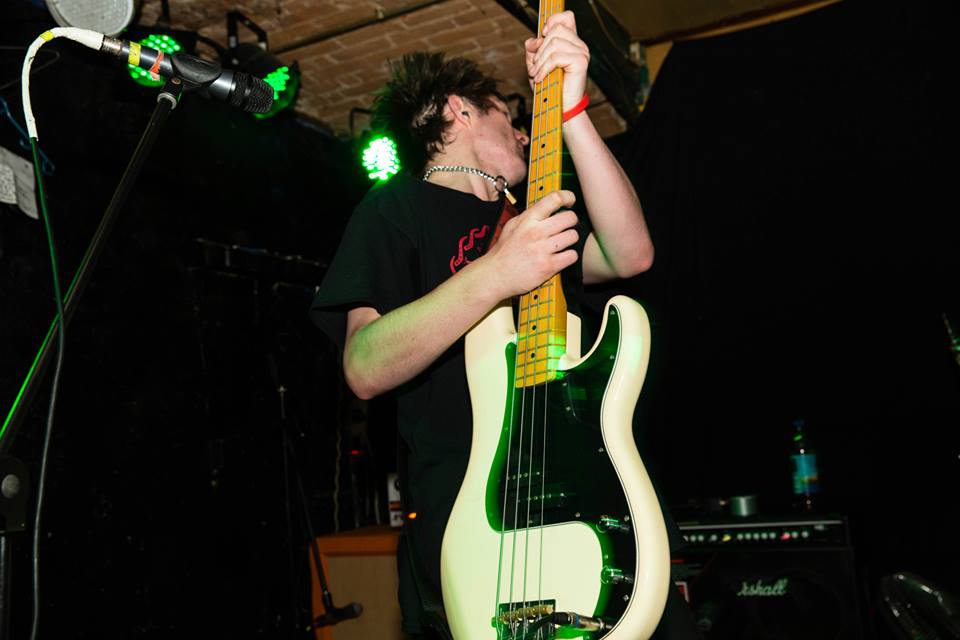 Is there any good bands from Eire?
-Loads of great bands here! S.F.U., The Lee Harveys, Runnin' Riot (R.I.P.), Paranoid Visions, The Dubtones, I Am A Car Crash, Liz Is Evil, Hollow Cost, Gummidge, Section 4, We Know Jack, Old Bean, YouNameUs, The Jollars, Mohican Jack, Corrosive Machine, Aggro-Culture, The Gakk, Setting Off Sirens, Complan, Skeleton Crew, PigsAsPeople, No Matter and Dropping Bombs, to name but a few.
What do you know about Sweden?
-Not very much, I'm afraid. My mate, Robin, moved there a couple of years ago, and I haven't been in contact enough. If you're reading, Robin, we have to catch up (if we haven't already).
Have you heard any good bands from Sweden?
-Apart from Millencolin? Not to my knowledge...
Your lyrics, who does them and what influences you?
-I write the majority of our lyrics, although, other members, past and present, have contributed. I go between writing from observation and experience. Life influences me.
Do you do any covers when you play live, which(if you do) ?
-We used to cover "Blitzkrieg Bop", and "Dig Up Her Bones", but we stopped when we got Matt in on drums in 2011.
Politics and musics, does it goes hand in hand?
-Of course! Even in my other bands, the lyrics are sometimes political. If it is passionate and honest, politics will always be touched upon, as they affect everyone.
Best political band/artist?
-Propagandhi
Do you think that music(lyrics and so on) can change anyones life)I mean people who listens to music)?
-I believe that music can help to motivate people to revolt and rebel, it can give meaning to life where there is no other and it can save lives. I truly believe that.
Have you done anything more than "Heads On Sticks"?
-We have our first album, "As Real As It Gets", available for free download, and our new 7" EP "Jobseekers" is available for digital download, or on vinyl.
If you have how can I get it?
-All recordings and merch are available through jobseekers.bandcamp.com, and at our shows.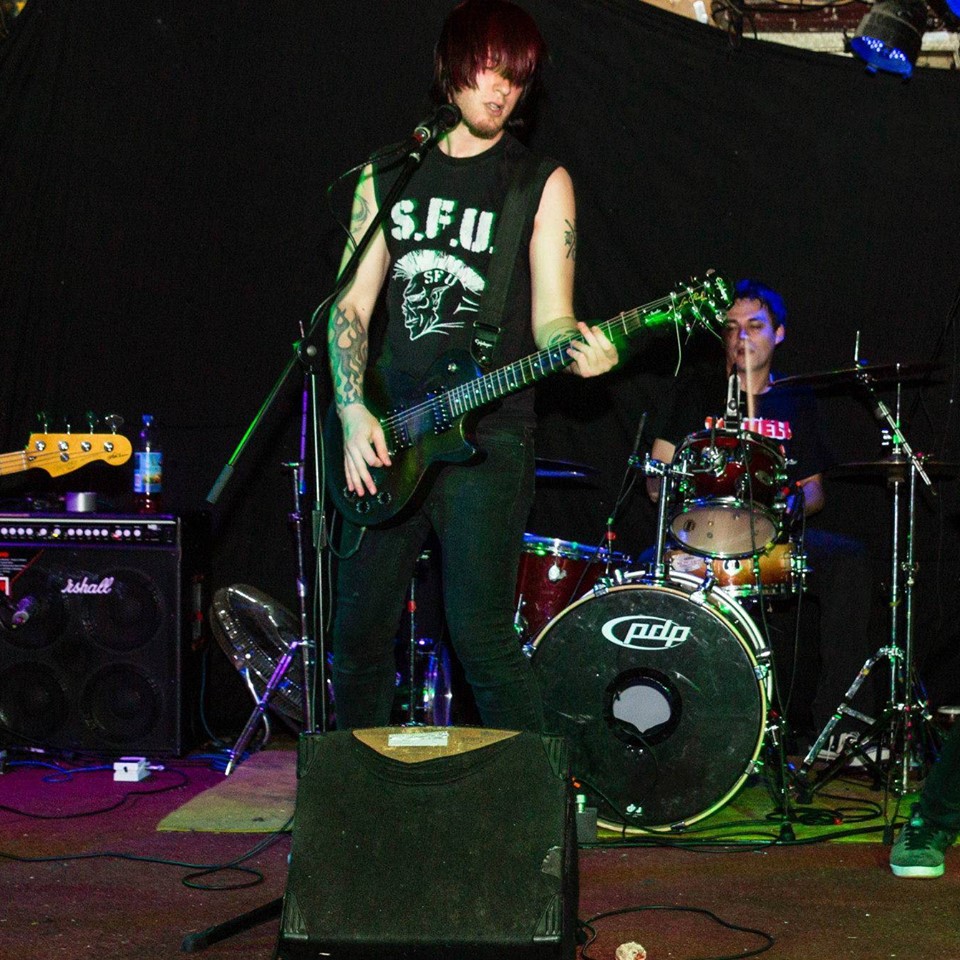 No new CD/LP on it´s way?
-Not new, as such. Lots of new material written, but we need to do something else, first. We are going to finally release our first album "As Real As It Gets", along with "Heads On Sticks", and three songs from the EP recording session that we couldn't fit on the 7", all on one CD.
Please tell me a funny thing which have happened during your career and under some gig?
-I knew this one would come up... Haha Here it is...
The night before we started recording "Heads On Sticks", I went to a gig in a venue called "Seomra Spraoi" in Dublin City, to see a band called "Complan". I drank a fair amount, and danced like a maniac, before being invited back to a house party. At the house party, I proceeded to continue my drinking session, until about 6 a.m., when I shared a taxi home with a mate. Recording was meant to be about 10 a.m., so I decided to just eat through the tiredness. So, I bought a breakfast roll, and went home and ate it. I started to get very tired as I finished my tea, so I decided to sleep for an hour. I woke up at 9.15, grabbed my guitar, and ran for the bus. I felt as sick as a dog. The whole, 45-minute, journey, all I could think was, "Don't vomit." So, the bus starts to come to my destination, and as I run up the aisle, I feel my stomach churn. I put my hand to my mouth, but it's no use. I exploded across the whole front of the bus, snatched my guitar, and stepped off the bus, continuing to vomit all over myself. Chris' house was just across the street, so I filled him in, and he said he'd get me some spare clothes. Somehow, we forgot. I spent the whole day feeling like shit, and smelling like puke, while recording. The vocals in "Fight Inequality" were recorded that day, so you can hear my illness in my voice, haha. The worst part is, I had my Ramones t-shirt in the bottom of my bag all day, and I could have gotten changed... 13 hours in my own vomit.
How does your audience look like?
-Some wear leather jackets, others wear hoodies, others don't dress to suit any genre. Some are metalheads, others just appreciate passionate music. We appreciate them all.
Which people do you miss on your concerts?
-My girlfriend, Cerri. I'll miss her a lot when we go outside of Ireland.
Futureplans for the band?
-We aim to record a new full album within the next year, tour abroad a bit (Scotland, Holland, UK, Czech, maybe Germany) and keep building our fanbase.
For yourself?
-Keep all my bands going steady, and record more.
Wisdomword?
-Don't do a night-long drinking session before a recording session.
Something to add?
-Thank you for taking an interest in our band, and we hope to see you some day in Sweden!