Sicken of Jerrys Farsa answers all the questions. Jerry Farsa is a nice punk band from Trollhättan, which has both nice, uncommon and fun lyrics. Siken gave time to this in September 2017.
A little story about the group?
-Jerry's Farsa was founded in the summer of 2010 in Trollhättan when the punk band Moderatjävel, which we played in earlier lay down. It was from the beginning Sicken on guitar and song, Focken on drums and Loke on bass. Loke got kicked just after one rehearsal I remember clearly and it was already when we decided to be such a band that runs without bass. Since then we have released three records and some demos and we have made around twenty gigs around Sweden. Members have come and gone, we took in Gurra on the trombone and he has been an important part of the band and has played on all discs, but now he has jumped off and we are chasing a new trombonist. Eli also jumped on the train as a drummer in 2015 and then Focken chose to play electric guitar in the band instead.
Tell us a little about each member, age, job, family, band before and band on the side?
-Sicken is 27 years old and works with youngsters and comes out as Zombie at Liseberg over Halloween this year. The bastard lives in Trollhättan with his girl and the cats in a good three room apartment with a good view. Siken is in addition to the music interested in Star Wars, sick intricate board games and old Nintendo games. Sick is currently playing in a band called Gitigt Avfall, but has previously played in crazy many bands, including: Civil Olydnad, Smurfslakt, Smärtgräns, Framgångskonceptet, Moderatjävel, Guilty, Astrids Syra, Fittslickers, Nervgas, R:H, Körd i Grus, Dog Waste and lots of other bands.
Focken is 28 years old and lives in Gothenburg with her girlfriend. He played drums in the band, but since 2015 he has been playing Guitar when Eli joined. He works as a full-time guitar teacher and also plays in a cover band and a jazz band. Focken has previously played in some other punk bands, Moderatjävel and Anti Allt, for example. Focken plays hockey in his spare time.
Eli fills 30 this year and plays drums in Jerry's! He lives with his girlfriend and two cats in Gothenburg. Eli plugs into speechtherapist and works with something in LSS activities. Eli also plays drums in Civil Olydnad and another band called Hello World.
I can hear a lot of old trallpunk and some old Swedish punk, can I hear that? Was it better before?
-Yes, the ambition was from the beginning to play good melodic punk in the style of Asta and Sötlimpa, but with time I feel more and more we found our own sound that now stands out for us what it is. We combine the classic trallsound with a cheeky cowboy or rock n roll so it will get a little redneck sound. We have also chosen to give the production on our discs a garage-like sound and our guitars are not particularly distant which we think makes the songs a better feeling. We do not want to be such a band that sounds digital with computer-generated distpedals on the guitars and triggered drums with double rhymes and metronomers. We are two songwriters in Jerry's Farsa, and I am the one who writes the most but then we also have Frej Rydén who never have been in the band but actually deliver a couple of great songs or lyrics to me for each new disc. Personally, I think the punk was better before in the sound anyway. The sound was honest in the 80's and not executed and digitally.
Jerry Farsa, are you satisfied with the name? How did it come foreward. If not the best band name had been taken, what name would you have chosen then? I mean which is the best band name?
-I had a boy down the street where I grew up called Juhani and it was always talked about Juhani's dad and all rumors about him that he fought with police and sold stolen mopeds and more. When the band name was to be put, I first thought "Juhanis Farsa" but I picked it a bit more gently sounding "Jerry's Farsa" quickly and thought that something could be fun because there was a character from "The Three Friends and Jerry" which was called Jerry and who had a hard daddy. Our song "Jerry's Farsa" from the first album is about a guy named Jerry and to flirt with the series a bit, I wrote that he had long front teeth, otherwise the song has nothing to do with the series. I'm happy with our band name but there are two things which bother me. Partly,I´m disturbing now on the link to "The Three Friends and Jerry". Sometimes when searching for our name on the internet, the series comes up and I think it would be better like this afterwards not to write it with the front teeth in the song text. Another thing I bother with is that I had completely missed the phenomenally good band "Jerry's Kids" and discovered that Jerry's Farsa had started and kicking. Sometimes people think we are some kind of tribute band in Swedish or so to them which is a bit of a shame. Had I started Jerry's Farsa today it was probably called "Glenn's Farsa" or "Bennys Farsa" or something hehe. There are so many good band names. Overall, I've always thought Skitsystem is so good, but it's probably a bit too hard to fit Jerry's Farsa. Then there are many good punk band names with more humor that might have suited us for example: "Tre meter Älg" or "Ohlsson har semester, produktion" hehe.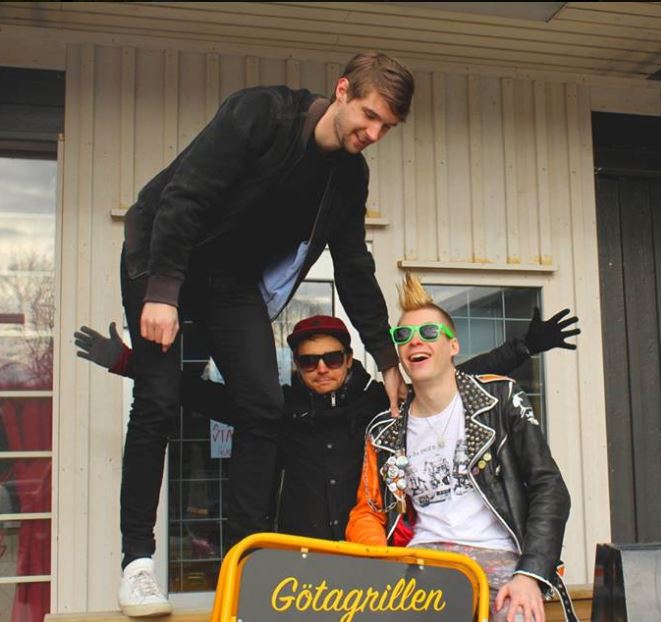 What's the best thing about playing live?
-There is a state of ecstasy that I can achieve through music. It does not have to be live but can also be in a rehearsalroom or when I listen to music loudly. However, this is most commonly live and it is absolutely wonderful. But I really like everything about gigs. They prepare with the rehearsals, choose songs to play, pack and go, rig it up, eat some tired food before soundcheck and then play and sell records. The one thing I think is a bit hard is when everyone is after me and want to say how good it was, I think it's a bit hard, so I always hide backstage for a little while after each gig. It may also be hard to sleep away, I think we never get hotel rooms without sleeping at randoms and you never know what it is like.
Where is the best to play, where is the worst?
"Worst, Borås, I think, always silly and without people. We have a lot of fans in Skövde so I'm sure Skövde is the best.
How is it to play this kind of punk in Sweden today?
-The trallpunkscene is dead, it feels like there is a constant headwind. For example, we had a gig in Stockholm when we were in the hooks and I have contacted ten dozen punkplaces and said that we will come and play for free but we have never received anything. Our records do not sell either, which is a bit boring.
How would you describe your music in three words?
-Punk, Elk, Epa Tractors
What does punk mean to you, is it just a word or is it a lifestyle?
-The punk means everything to me and has been my lifestyle fully the last 15 years.
How do you look at download, mp3 and the like?
-I've never done anything like that, I like discs and cassettes, like vinyl, but also CD. I boycott Spotify and such.
How do you think it's to live in Sweden today, politically?
-You are lucky enough to have grown up in a free country where you have not been forced to become a child soldier as a child or something. Politically, I am very frustrated all the time and I am getting more and more now that I see that racism and Nazism become more and more normalized and Nazis can demonstrate on May 1st and so on. It's a little scary.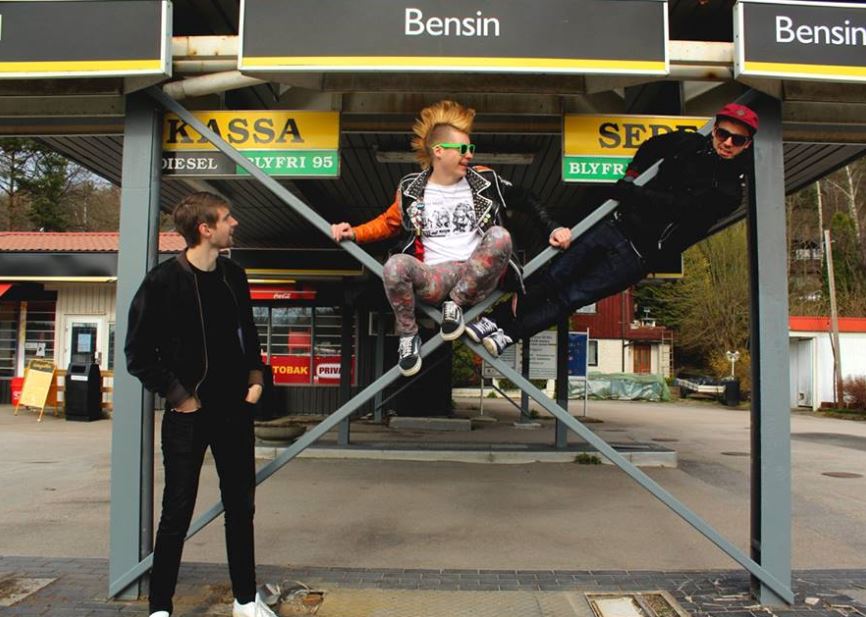 Are there any good bands in Sweden today? In your home town?
-I'm discovering new awesome bands every year. Last year I discovered Berg and Bedragare from Uddevalla and Del 3 from Göteborg which are two incredibly good bands. This year I have discovered a lot of incredibly good bands: Pablo Matisse, Adrestia, Ond Cirkel, Fabriken and Bombangrepp.
Do you play anything outside Sweden?
-No not yet.
Other good bands from abroad?
-My housegods are Minor Threat and Bad Religion from the United States, as I know there are no better bands than them. But I always tell people about Finnish "Tryer" which is good as a fan. Norwegian "Honningbarna" and "Intet Sjönn" are good so into hell as well.
Your lyrics, what are you influenced of? Never in a language other than Swedish? A bit of fun lyrics but there is seriousness behind them too?-
Once we started the band, it was decided that our lyrics should always circle around a person or a couple of people. Usually it's a fictional person it's about which we find but sometimes it's true stories, "Lenny Dobermann" is a true story for example. We would like to drive stereotypes and prejudices that people have about people. A fun thing is also that you can follow many of the characters we write about through several songs, as many return again. "Bettan and Ronny" and their son "Ragge" are, for example, some performances that play the lead in several good songs and are on all the discs. I am very careful with the texts and I would like to claim that every Jerry's Farsa text contains a core of seriousness and many contain a political standpoint. Just as you write, we try to be fun and fun and write to recognize the stereotype of the person we write about, but we always weave an important message in each lyric. For example, we have a song from the last album called "Ulla Red to Ullared" who has an apparently gratuitous text about a woman going to Ullared. The song is in fact about sexism in society and how women are produced in the media, advertising, porn and fashion industry. There is another song called "Ralf och den flygande bussen", which seems to be about a guy who sees a UFO, but actually concerned with self-consciousness and self-esteem, doubting on himself and his ideals.
Is there anything you will never write about?
-We will probably write about most things I think, it does not feel like something is impossible to write about in Jerry's Farsa.
Politics and music, do they always goes together? Do you have any real political song?
-Yeah we have a massive of political songs. "Trygghet och Tradition" is, for example, a song from the first record that deals with a swedish democrat who falls in love with a woman and when he finds out she is a Jewish, he takes away his life with a drill. The message in the song is to show how stupid policy that party stands for when they put groups against each other after descent. As long as he did not know she was a Jew, he was well and he loved her but when he found out she was a Jew, there was suddenly a difference between her. I just chose Jewish is to mark the Roots of the Swedish Democrats in Nazism, they try to conceal their history but we must never forget it.
Best political band / artist?
-Back to my favorites which are Minor Threat and Bad Religion, political ties both of them.
Do you think music can change someone's life, then I mean lyrics etc?
-The punk has changed my life, I was an insecure lost depressed teenager with a diagnosis that grew up in a shithole called Lilla Edet. I needed an outlet for the creativity I thankfully had and a place to feel at home. Fortunately, I found punk before I found GHB or something similar to use. I could easily have gone badly wrong, I even had a period where I was Christian and thought that the church was the right way for me before I found the punk. The opinions in punk appealed to me almost as much as the tough music and they put words on many things that I really had always thought but I could not have formulated before and some things I heard for the first time that made me reflect and think over important things.
Your cover is really nice on your CD, who has done it. Is it important to have a cover so you understand what kind of music you play? What is your favorite cover all the time?
-I painted the cover to "Knallpulverpunk" and I'm really satisfied with it. I twisted the idea from Lasse Stefanz who runs a similar variant on their merch fixed with bulls instead of moose. We like moose in Jerry's Farsa and we think it feels a bit good, supposing it signals a little that we are a band of humor and self-distance I hope. I've always thought that the Offspring's "Ixnay on the hombre" record has an amazingly nice cover, something that appeals to me strongly. At home on my wall I have put "Med is i magen" with Asta Kask, which I think is very nice, but it's more about them looking so tough on the picture rather than the cover really so nice.
Is it important to get out physical discs? Vinyl or CD or both and? Is there any good record store in your hometown?
-I think it's really important with physical discs and we have certainly made sure that all our discs have been available on CD, despite the fact that we sell really badly. The vinyl has got a boost so we have a record store now in Trollhättan actually and it's fun , unfortunately, they do not seem to have any punk, so I find the most of Tradera or directly from the band.
Please tell me something really fun that happened during your career on stage or behind stage etc?
-Can tell you that we kicked Loke our bassist in a radio interview, it was a bit fun, otherwise I'm not so much fun to tell you.
How is your audience looking like? What type of people? Do you miss any kind of people?
-Younger punks often from smaller cities, like Skövde. We are flirting a bit with the rock n roll in our songs and we have participated with a couple of songs on a DVD where they showed up different american cars and burned rubber and dirt. We have sometimes said that we should do a camping tour with caravan or something and see if the raggare would like us or kill us. We take a lot of distance from everything that the raggarculture stands for, I just want to point out, but it would be fun if we could get more raggare, who knows maybe you could convert one or two into the punk.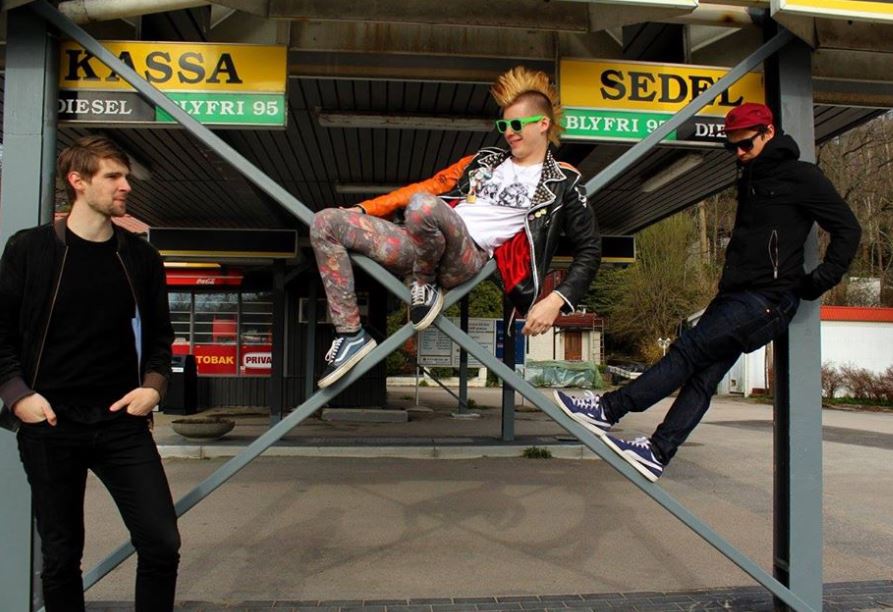 Please rank five favorite discs, five favorite concerts?
-Records, shit that was hard, here are some really good with some favorite bands anyway: Minor Threat - Filler. Skitsystem - Stigmata. Bad Religion - No control. Red hot chili peppers - Blood sugar sex magic. Asta kask - Med is i magen. Thåström is always damn good live, always trying to see him when he plays nearby. Then I was one of them was lucky enough to see Masshysteri before they quit playing and the same with Svin from Stockholm who played only a few months, incredibly damn good live.
Is it boring with interviews?
-It is going to be pretty boring now, yes, this was overwhelmingly long.
If you could choose five bands from history, dead and alive to have a concert with your band, what are the dreambands then?
-Minor Threat of course and Asta Kask from 84 when they were probably the best. Bad Religion from 89 when they were at their best. Fuck do I know, now it's going to be hard ... Roland's Goosskör maybe? Or any other band like Sista Skriket or Frost. Then I have a mate named Frej, as I mentioned earlier, writing some songs for Jerry's. He stopped singing a few years ago for some damn reason, which is a pity because he is an extremely good singer. I would like that bastard to perform with some old band he sang in.
Is music a great way to get frustration and become a nicer person? Are you angrier today than you were as young punks?
- Yes, it's an incredibly good channel to write through and scream out in the rehearsal and on scene and how to feel and what you think. I'm as angry now as before and have strangely have the same drive after just over 12 years in the scene.
What is the strangest question you received in an interview?
-I think the strangest question is this I'm responding to right now.
What is the question you never get, ask it and answer it?
-I actually not know what it would be, I think you managed to pin everything.
Future plans for the band?
-We have lots of new songs that we probably are recording pretty soon. We talked about releasing a seven inch first but we have material for a full length more or less clear so it's leaning more to be a full length I think.
For yourself?
-My future plans are to just continue to play punk as much as I can.
Words of wisdom?
-Never die for something that you can´t not be responsible for..
Something to add?
-Thanks!