Jojje Löfroth has chosen to call his band Introspektivet and he has chosen to send me a record and I am really happy about that. The record is a brilliant little thing. Jojje was also quick and answered a lot of questions from me. October 2022
Hi Jojje, tell us a little about yourself, age work, family? Band before? Do you have any other bands on the side?
-Halloj! Yes, I'll be 50 in a little over a week. How did that happen? Music has always been a passion since an early age. I started playing drums for the course when I was 6 years old. Continued with it until the age of 12. Then it was time for sheet music and I thought that was really boring. I just wanted to play. Felt somewhere there that I had a need to express myself that I didn't get an outlet for as a drummer. So I sat in my room and taught myself to play the guitar and that's the way it is. Has played in bands like Lushes & Tramps etc. Now it's the Introspektivet that counts. Initially saw it as my "solo project" when I put my band Stars of the silverscreen on hold. Now, though, I feel like this is what I want to do. I've kind of found my way home!
How did you get into punk in the first place?
-I have a memory of hearing Know your rights with the Clash on the radio at a very early age. The slapback guitar in the intro was the scariest, but at the same time coolest I've heard. Then Ebba the movie was shown on the TV. Saw it at my grandmother and grandfather and remember vividly how I thought - I want to do that too! Discovered KSMB, Stiff Little Fingers etc. And the heart band Strindbergs that made me want to write songs myself.
Introspektivet, is it your alter ego or is it a group?
-It started as an alter ego. Mats, who plays bass with Säkert and who has a studio here in town, said several times that I should do one of my solo songs. We started small to work something out, then Mats was prevented from continuing. I had a bloody tooth so I contacted my old friend and bandmate Micke from the Lushes era. He came right away and everything fell into place. At first Micke played bass and I played most of the other, but over time Micke gets more and more space to play the instruments and arrangment etc. We complement each other in a fantastic way. So you can say that it is an alter ego with the nice help of Micke ... perhaps?
You guys have made a record, does it sound the same way about? How to get hold of it?
-The debut was released on January 1, 2021 on vinyl and digitally. The vinyl edition will remain in some copies at the record store Tidens Tempo Diversehandel.
Do you have any thoughts on a third record?
-It's a little crazy, but like I said, I've found a home in my expression and creativity is bubbling in me. I have gained a new curiosity as I opened my eyes to different genres and instruments. So at the time of writing, 16 songs are actually finished recording and we're halfway through the mixing process to the third album. It feels very exciting as we explore further new paths.
The lyrics are fine poetry... What influences you lyrically, some favorite lyricists?
-Thank you, that was kindly said! I've always tried even in Stars of the silverscreen to always go in depth. I'm not much for surface. So I want to try to write something that hits my heart and soul. I like to move in blackness, broken souls, melancholy that usually has a political basis. However, I try not to write anyone on the nose, but it is woven into melancholy. Oh, lyricists, there are so many... Stefan Sundström, Johan Johansson, Janne Borgh, Thåström are all genious. Realize that it was just Swedish names haha... Tom Petty, Clash and Bad Religion if we're going to name a few...
We talked a little earlier about me euthanizing our cat and you had a similar experience with your dog Lita? A song that touches me and how did you come to want to do a song about this?
-That text came to me during the trip home the day before the vet appointment was booked. A sadness that never goes away. So it came naturally to process and endear Lita with a song.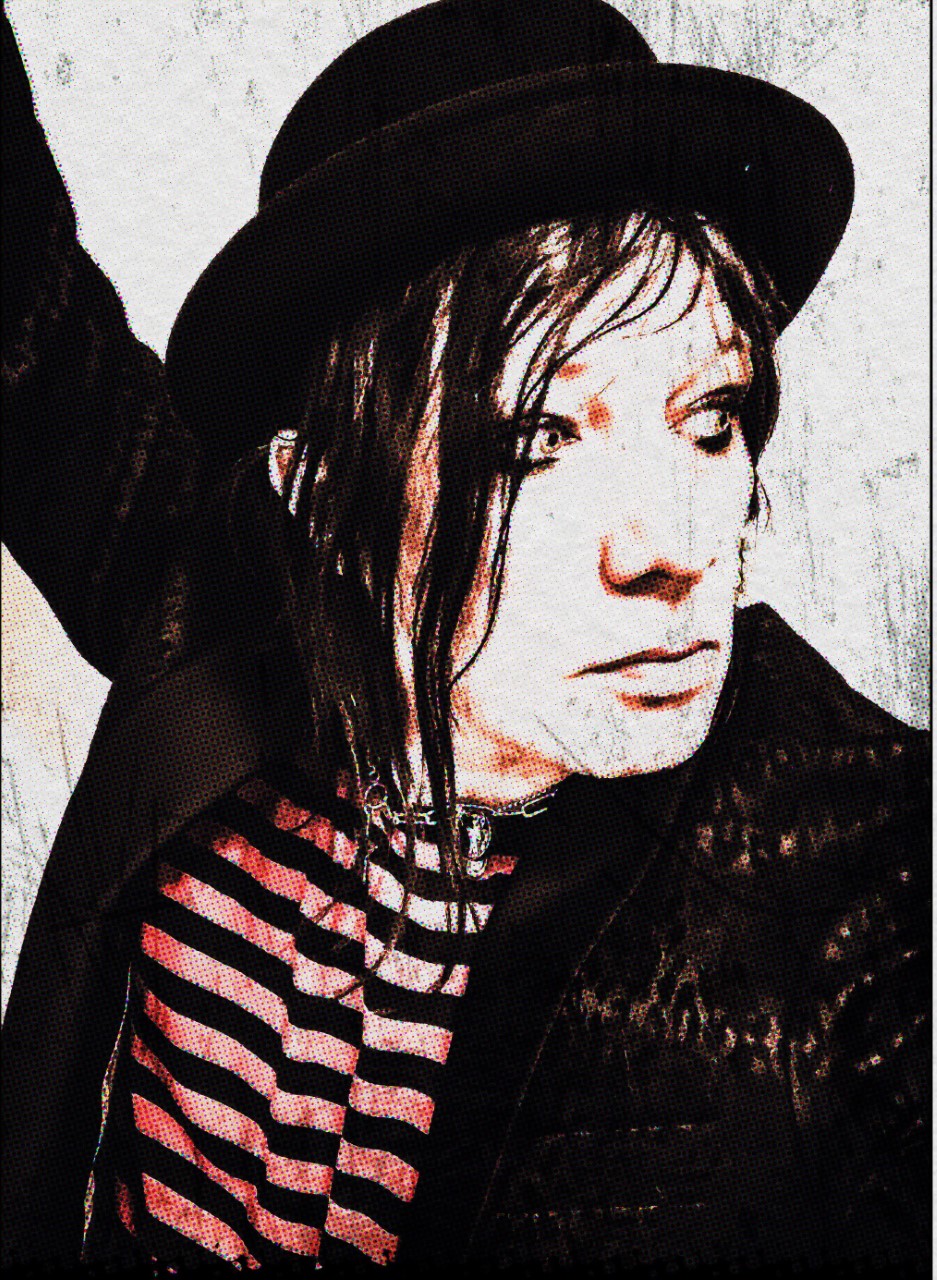 What does punk mean to you? Is it just a word or is it a lifestyle? Would you call your music punk?
-For me, it's a lifestyle, I guess. For me, it hasn't been so much about rebelling, more about giving everyone space, being who you are and giving love... I'm thinking that Introspektivet has the nerve of punk, but that it contains much more... I want to believe and hope. With Introspektivet, I've turned my gaze inwards more. Introverted punk maybe? Haha
How has the most odd review sounded you got in any band that you've been in?
-It must probably be a German review on Stars of the silverscreen's first album... it simply read " Stars of the silverscreen neon Danke" haha..
Is there a lot of gigs? Or is it difficult to play live with only two members?
-At the moment we haven't had any gigs. Some inquiry has come, but I haven't figured out yet how I want to present the whole thing. I'm starting to miss being on stage. Look for bands? Have all the synths on the backing track? Will see what I come up with.
Do you have any suggestions for really good new bands that you'd like to say here?
-Oh, what's a new band? I'm probably an old guy. It will be mostly "Older" music. But Sekunderna from Umeå are good. INVSN (does that count as new?) is good. Ossler and Ulf Ivarsson's album Nammu is good.
Five favorite albums of all time, five best concerts you've been to?
-Records:Strindbergs (all 3), Ksmb Rika Barn, Hellacopters by the grace, Clash London calling, Thåström Centralmassivet, Depeche Mode Ultra, everything with Nick Cave often spins ( there were certainly more than 5).
Concerts: Weeping Willows at Lolipopfestivalen, Bowie at the same festival, The Cure in Sthlm -89, Thåström this spring was awesome and Monster was always really good. Toured extensively with The Bones. They're never bad live.
How has punk changed over the years, for you and in general
-I don't really know?" Gotten harder and faster maybe? I'm not that tough haha. Need more power pop and glam to thrive. For my own part, I probably mostly add inspiration from different styles of music. So maybe I've lost the "core" of today's punk a little bit?
I myself remember when my dad said in 1976/77 when the Pistols were playing on the radio, damn ----those idiots, you're going to grow from this soon? What did your parents say about you becoming a punk?
-My mother has always been very supportive. She dyed my hair red when I was 8 years old, followed me to drum lessons, listened to music with me. I'm incredibly grateful for how I got to bloom.
In the past, it was almost enough cut your hair short or put a safety pin on your jacket for people to be shocked. How should a young guy/girl today supposed to shock her parents(because that's what we wanted a little bit)?
-Maybe it feels a little bit like the world has changed that maybe it's not going the same way today?" But as I described in the last question, I'm probably not the right person to answer that...
Is it important for you to release records physically?
-For me, it's incredibly important. That's how I grew up with music. Disappear away in amazing convolutions to vinyl records. It gives a whole for me along with the music. It took a very long time before I got digital platforms. Not listening to them in and of itself, it's more to get Introspektivet out. Sadly, music seems to be mostly seen as a background noise for people today. Nothing that you should touch... to generalize a bit...
Do you drink beer, wouldn't you release a beer called Kamikazeblickar, would be superb, if you like beer, what is the favorite style??
-No, I don't drink. Has never done it to such an extent, but hasn't been drinking since 2015. Haven't had a problem with it or so... just realized more and more that it's not my thing. I get my kicks through music and poetry. But if anyone wants to brew Kamikazeblickar beer, it would be sick sizzling!
How many records do you have to sell for a project to come together? Do you sell a lot of the records and how much have you made of each record?
-Idel loss haha. I hate capitalism so I have a very hard time charging. And I'd rather reach out to more and more people and get more people to listen and know the name. Then it can hopefully lead to break even anyway. Only small editions have been printed in the first stage. Partly because that Introspektivet is so new, but also because the fewer people listen physically. Although maybe my audience actually belongs to that category that actually buys records.
What else do you think about living in Sweden today, politically, SD-M + KD? Shootings etc etc?
-I think it's sad that the brown right's unfounded intimidation has caused people to go for it. Everything is distributional politics, if you close down BUP, youth recreation centers, social services, etc., it is no wonder that it breeds alienation and resignation. Without preventive work and good role models, it is difficult to succeed. The most important thing we have is each other. Too little is being invested in the soft values today. I am very scared and angry about the coming years now with this rule. Tax cuts do not create wealth. But this government is certainly completely uninterested in there being any welfare. We have to organize ourselves and fight back!
Politics and music are they something that goes together? Is it important to get opinions out in music do you think? What is your most political song?
-For me, it's all politics, how we treat each other, etc. For me, it has always been important to express opinions in music. To speak for the little man, the broken souls. And try to give a glimmer of hope. I don't know? Which one do you think? Maybe Pecus Katedral from the first record? Or Vår tids konfession?
Who/what is the best political artist/band?
-Unquestionably Baboon Show, Världen Brinner and Johan Johansson
Before punk came along 76/77, I listened to a lot of Alice Cooper, Deep Purple, New York Dolls, the Nationalteatern, Motvind, etc. What were you listening to before punk and is that something you can come back to today?
-There was a lot of Beatles and all the vinyl 7" that mom and my uncle had with grandma and grandpa, but then I fell into punk around 80, 81..
What's the weirdest thing that no one thinks you'd listen to that you listen to and like?
-Hmm, what could it be huh? Right now, as I said, I'm so creative. So it feels like for the last 2 years I've done nothing but listen to my own mixes that we send back and forth between each other me and Micke. Maybe that's weird? Haha
Future plans with the writing?
-Talked to a friend today. She would like to read my texts in a book. That idea has probably been with me as well, but probably needs to write a little more first. 3 records won't be such a long book haha... Otherwise, I write almost all the time, it's kind of a valve..
Future plans with your life otherwise?
-To be able to continue with Introspektivet. To feel the peace by the sea where I live... a bit like that...
Words of wisdom?
-Give the world love, respect each other and be kind
Anything to add?
-Hmm... Well, would like to thank you for taking the initiative to want to do this interview.