OIntoxication is a really good band which comes out with their CD soon. I did an interview with them in the end of january 2009.

History about the group?
-In 2004 three guys started the band Unsafe Chaos, Seppi on bass and vocals, Marten on drums and Eugen on guitar. Early 2006 Arnold joined the band and took over the main vocals. Mid 2006 we got rid of Eugen and René joined the band and took over the bass and Seppi switched over to guitar. Also the name changed to Intoxication and the line-up from then still is:
Arnold – Vocals
Seppi – Guitar / Vocals
Marten – Drums
René – Bass
We did our first gig on December 24th 2006 in Gauw at Studio Landscape. Due to personal reasons the band stops for several months in 2007 and didn't play any gigs that year. From the start of 2008 the band played at 15 gigs and recorded their first album "Rebels till we die". That year we played with bands like: MDC, Total Chaos, Oi Polloi, Civil Terror, The Farts and local bands.

Please tell me a little about every member in the group, age, family, work, interests and something bad about every one?
-Arnold:
Age: 27
Family: 2 brothers.
Job: Housepainter.
Interest: Music, playing in Intoxication, sex, going to the pub to drink beer with mates.
Bad habits: Don't know when to stop drinking when he's in the pub and ending with a hangover the next day. (Maybe isn't a very bad habit)
Played from 1998-2004 in Dead Society on drums.
Seppi:
Age: 18
Family: 1 brother (Marten) and a sister.
Job: Bricklayer.
Interest: Music.
Bad habit: Dance to much.
Marten:
Age: 20
Family: 1 brother (Seppi) and a sister.
Job: Production worker at a metal factory.
Interest: Sex, music, sleeping, drinking beer and partying.
Bad habit: Very lazy and always late.
René:
Age: 28
Family: 1 brother.
Job: Drawing construction lines on a pc for several companies.
Interest: Music, movies, sports, history, geography, drinking with friends and going to gigs.
Bad habit: Always hiding stuff for fun that belongs to his mates.
Played from 2003-2004 in Dead Society on bass.

How is it to play this sort of music in The Netherlands nowadays?
-We think it's great to play this type of music and live the lifestyle. Only we got now more problems to play shows because a lot venues are being closed due financial problems. But when we do shows it's always great fun!

I say in my review that your influences is in England in the beginning of the 80s am I right?
-Yes, but we've been influenced by a lot of different styles of punk, from Oi! to crust.

Your lyrics seems to be angry, is it so that people who do angry music is calmer persons otherwise?
-It's otherwise because of the things you experienced in life of stuff you see really pissing us off!

Are many good bands coming to play in The Netherlands?
-Yes, there are great bands coming to The Netherlands to play. Too many to mention.

Which is the biggest band you have played together with?
-We've played with some great bands, but we can't say one is bigger then the other.

What does punk mean to you is it only a word or is it a lifestyle?
-For us it's a lifestyle, a way of expressing our self.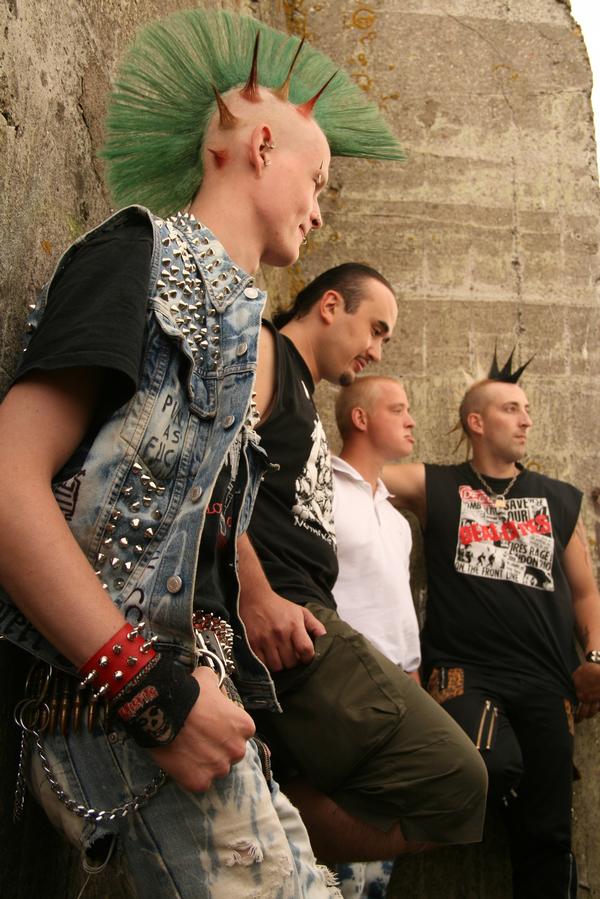 You do some song in another language than English?
-That language is the Frisian language. It's the language that's been spoken in the northern part of The Netherlands, the part where we live.

What's the best with singing in your own language?
-It's fun to write some songs in the language we normally speak.

Have you done anything more than rebels till we die? If you have how can I get it?
-We appeared on the 12" international compilation "Mind your own fuckin' business – vol. 2" with two songs taken from the our upcoming album "Rebels till we die". For info send an e-mail to our myspace http://www. myspace. com/intoxicationpunx or to drk_rules@hotmail.com.

It feels like if you mix a lot of styles in your music but that you always have punk as a ground? What other styles do you like?
-Besides all the punk styles we like. We also like some early thrash metal.

Is there any good bands in your country nowadays? Any old favourites?
-Yes, there are bands like Antidote, Disturbance, Vopo's, Gewapend Beton, Die Nakse Bananen, Fleas and Lice, Krush, Seein'Red, The Farts etc.
Our old favourites are BGK, Lärm, Pandemonium, Jesus and the Gospelfuckers, Mushroom Attack, Mihoen!, No Men, PCP, Makiladoras, Boycot, RNL and The Dead Bolkensteins.

What do you know about Sweden?
-Stockholm, Ikea, Cold, Knackerbröd, Big, Scania and good D-beat!

Have you heard any good Swedish bands?
-Yeah! Like Mob 47, Avskum, Wolfbrigade, Skitsystem, Victims, Shades of Grey, Worst Case Scenario, Perkele, Skitkids, Today's Overdose, Disfear, Krigshot, Nitad, Fy Fan, Regulations, Meanwhile, 59 Times the Pain, Anti Cimex, DS-13, Driller Killer, Raised Fist, Totalitär and Uncurbed.

I know that Netherlands had problems with hooligans , how is it with that now? Favourite team in football??
-The problems are still not solved.
We don't like football.

How is it to live there right now, I mean politically?
-Not bad if you compare it to some other countries, but there are way to many rules here in The Netherlands.

Please rank your five favourite records, five favourite concerts and five most important things in life?
-In non particular order:
Records:
Exploited – The Massacre
Kaaos – Ristiinaulittu
Substandard – Discography
Victims – Divide and Conquer
Perkele – Voice of Anger
Festivals:
K-Town Festival 2006 – Copenhagen (DK)
Cremation Of The Flesh Festival – Stieltjeskanaal (NL)
Oi Polloi 2008 – Steenwijk (NL)
Broken Bones (2004) – Sneek (NL)
Wasted – Amsterdam (NL)
Important things:
Unity
Believe
Support
Time
Fun

First, last and most expensive record ever bought?
-1st: Metallica – Master of Puppets
Last: Wolfbrigade – Comalife
Most expensive: Misfits box

Most embarrassing record in your collection?
-Hepie en Hepie – ik lig op mijn kussen te dromen.

What do you think about Facebook, My space and all those stuff, is it good for a band of your calibre?
-Myspace and all of those stuff is good for exposure and spreading our music and get in touch with punx all over the world.

Where do you stand when we talk about mp3 and downloading?
-We think it's a good thing. Downloading MP3's can be handy if you want to check out a band.

Is it good or bad for a band of your size?
-Yeah! It's good for exposure.

Future plans for the band?
-More gigs (international) and releasing our album and records more in the future!

Future plans for yourself?
-Future for our self is stay young, stay punk, proud and drunk!

Wisdomword?
-At mem seit dat we genoch jirdappels hân ha dan bin we séd.

Something more to add?
-Thanx for letting us do this interview!
Keep checking out http://www. myspace. com/intoxicationpunx

Cheers!