Inglorious Bastards is a really interesting punkrockgroup which sounds a little like Cockney rejects, Business and so on. The interview was done in april 2003 with Thompa.
<![if !supportLineBreakNewLine]>
<![endif]>
History
-I (Thompa) and Christian B started IB in october 2002 after we have left Scumbags. In November Olle came with us on drums and we could record a demo. He thought the demo was good so he is still in the group and that we thought were great. And now have we precisely got a rehearsalroom so now we go on for all we can.

Please tell me a litle about every member, age, work, interests and something bad about eery one?
-Thompa, 24 years, working extra with priniting(shit job), and I live with my girlfreind and a lot of records.
Christian, 24 years, works on some sort of fabric, lives in the woods with his girlfriend, cats and a dog. Olle, 23 years, between two works….(fucking unemployed), shares apartment with Sjukdom and a disguisting Adele, heīs always against me
Are you Inglorious Bastards?
-Of course!
To play this sort of music in Falunhow is it? To look different in Falun, howīs that?
-Thereīs no real punkscene in Falun but many people like our music and thatīs fun. To look like we do is really calm, there some raggare whoīs fucking with us sometimes but itīs OK.
Have people more bad thought about people who is different in smaller towns?
-Absolutely, Iīm grown up in a little place outside Mora and there was a lot of bullshittalking when you have some odd hair or colour in your hair, all the old women and men talked about you..
I compare you withCockney Rejects, Business and so on, comment?
-Itīs very fun to be compared with them , I have never thought of the fact that we sound like them but thatīs maybe right.
Do you care about reviews?
-No, but itīs always fun if people like our music and you get good reviews but we will never change anything because of a bad review.
Which is the most peculiar you have got?
-We havenīt got any peculiar yet
.
You havenīt heard anything from a label?
-Yeah, but nothing itīs definitive yet. Weīre going on and try to play as much as we can live and then we will see how itsīgoing with releases and those things later
10.Which label would suit you best?
-Some small label who let us do what we want but theyīre going to back us up to 100 % and helps us with gigs and that sort of things.
How do you thin the musicscene is today in Sweden?
-The punkscene grows but it could have been better because it was a lot of good punkbands before. In Falun thereīs no good place to play right now, The club was a really good place to play but it was sold to a sportstore.!!!
Is there any good bands in Sweden right now?
-Fornicators, Antiellen, Clockwork Crew, The Vectors, The Negatives etc.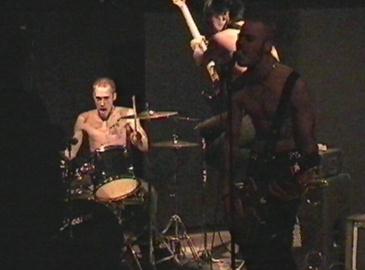 If you could choose five bands throughout the history and til now to play a big concert with you w,hich five would you choose?
-Stiff Little Fingers, U.S Bombs, GBH, Lower Class Brats, The Clash, what a fucking concert it would be...
Your lyrics donīt have any Lundellstyle precisly, donīt you think itīs important with lyrics?
-Haha, what have you expected? Our lyrics is about us and what we have done/we do and other things that forms our life. Booze+booze=fucking fun. Booze n Blackouts is about when I was in Los Angeles and hanged out with a lot of punx, we dranked everyday and we stopped early in the morning and thereīs the title: Booze nīblackouts...
What is most important when you do songs?
-Have fun and do something we think itīs good and we can stand for.
What does punk mean to you, is it only a word or?
-Punk means really much to me, especially to be yourself.
Please rank your five favouriterecords, five favouriteconcerts and five most important things in life?
-Records(The list could be so long)- Lower Class Brats/allt, The Dragons/Live at the casbah, U.S Bombs/Never mind the opened minds, Stiff Little Fingers/Inflammable material, The Clash/The Clash, Social Distortion/everything, Iīm sorry , it was six.....
Concerts- Social Distortion (in San Diego), The Dragons (in San Diego), Rancid (on Bergslagsrocken) , Blanks 77 (somewhere in California), Odd Numbers (in Falun).
Most important things- (no order) Play ,music, listen to music, girlfriend, friends, have fun.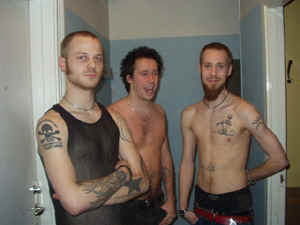 First last and the most expensive record ever bought?
-First vinyl- Twisted Sister/Come out and play.First Cd- Black Flag/Damage. Last vinyl- Roger Miret and the Disasters. Last Cd- Defiance/out of the ashes. Most expensive-I donīt know.
Idols when you were small?
-Dee Snider.
If someone wants you to a political gig, can you imagine that you will be doing it?
-We try to be so unpolitical as possible. But we have difficulties with racism because we have heard some of that stuff during our childhood as punks.
What do you think about the war, who is the stupiest?
-Icrazy, Bush and Saddam is crazy.
How is a good gig with you?
-Energy, sweat and alcohol.
To have a website, is it important?
-I think itīs very good to have a website, itīs easier to spread our music so people who didnīt knew about us can download some of our songs and listen to the shit.
Where do you stand when we talk about mp3?
-Mp3 is fucking goo. Now you can download some songs with the group before you buy the record and you donīt have to buy any shitrecords
Do you download yourself?
-Yes!
Which are the futureplans for the band?
-To play live as much as possible because we love the things we do and in the same time we meet funny people. Record some more songs.
And for yourself?
-Get gigs, write songs, have fun with my friends and with my girlfriend. Party!
Wisdomword?
-The I say as Olle" You got to have the balls to live if you dont have the guts to die!"
Something to add?
-Up the punxxx