Indigentes from Brazil is a really good punk/hardcoreband which holds the Brazilian punkflag really high. Here have Leonardo answered my questions in january 2018.
Please tell me a little bit history of the group?
- The band exists since 1997, in São Gonçalo, suburb of Rio de Janeiro. There was a great need to disobey and shout, "We do not belong to this unscrupulous society. '' So the band started with their first chords. He went through several formations And the way to define our sound is this: Ripped chords that would never please submissive minds, music to the ears of restless and subversive.
Please tell me a little about every member in the group right now, age, family, work, interests and something bad about everyone? Earlier bands? Other bands on the side?
-We are very discreet. Haha ha I am an audio operator, I have 2 children, 27 years old, I play with crust post-earthquake being my current band in activity. Cyro is a modeler, 34 years old, 4 kids no other band outside the destitute. The 28-year-old Diogo plays with a crust Death Certificate. Sushi is 24 years old, fighter plays with the Urban Kaos band.
I can hear many different influences but mostly punk and a lot of hardcore etc? Favorites from the past Brazil have a lot of good old HC-bands?
- Damn Brazil has lots of fucking bands! Cocktail Molotov, Remains of nothing, Sub-attitude, Social Repression, Lixomania, Urban Neurosis, Besthoven ... I would spend the day here quoting great bands of the punk scene in Brazil.
Indigentes are you satisfied with the name? How did it came up? You were not afraid that any other band would be named like this? Which is the best bandname you know?
-Hahahaha Indigents in Brazil mean people living in extreme need. Without ceiling, with no quality of life. People who die without anyone knowing their name. We do not see problems in other people using the same name. Those who know us know that we do not care much about this.
What's the best thing with playing live?
- The best thing about playing live is being able to transmit our feelings of hatred and fury through from music. From the audience identify with each sound touched, subverting each libertarian mind.
And where is best to play? And the worst place?
-The best peak to touch is Ceará street a totally underground place ... I witnessed great bands in this, there also existed a place called garage a kind of CBGB for us Cariocas where it appeared and played many bands of the local punk scene.
How is to play this sort of music in Brazil right now? Which types of bands do you have? concerts together with?
- Playing Punk Hardcore in Brazil is not easy. We face many problems, And there is still a lot of lack and delay of information but among them the most difficult nowadays is to get good spaces for the events. We always play with other punk bands inside the scene.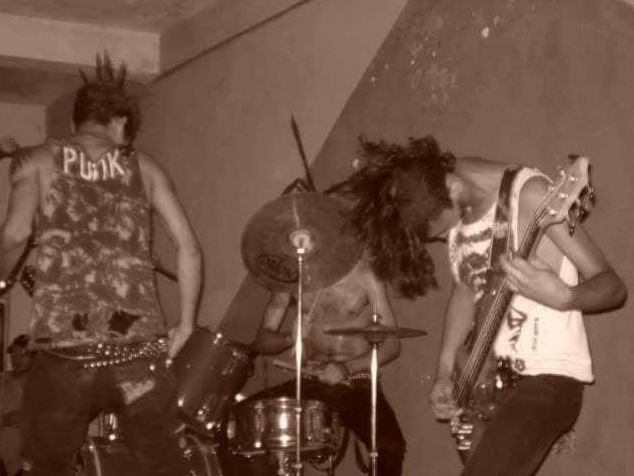 How would you describe your music in three words?
-Music for the restless and subversive.
What does punk mean to you, is it just a word or is it a lifestyle?
-Punk will never be a word to us. We breathe and live Punk by counter-culture always!
How do you see on downloading, mp3 and that stuff?
- I do not care for downloading. Young people today do not have the money to buy all the CDs they look forward to, they download on the Internet to listen, if they enjoy it they will surely want to buy the material. We did the same thing using K7 tapes, whenever a friend arrived with a new record ... everyone would run to his house to listen and whoever had an interest, tape in the pocket. The only difference is that today we have more facility to access.
How is it to live in Brazil right now? Politically? Fascists?
- Living in Bra $ il sucks! As the fear of the future says in one of his songs: '' I hate the Brazil!!!" The cultural backwardness is enormous. The politics here is totally fascist! Totally conservative and authoritarian Christian parties ... Politicians with no respect for human rights, people sub-human, while in politics the here is totally fascist! Totally conservative and authoritarian Christian parties ... Politicians with no respect for human rights, people subhuman, while politics and impunity prevail. Corruption rules in Brazil.
Is there any good bands from Brazil now? Is the punkscene / hardcorescene big? How is it in your hometown?
- There are great bands in Brazil The scene is huge in the country. I'd spend the day talking about them. Hehehe The scene here in RJ is huge, but little valued. There are lots of good bands here! Cocktail Molotov, Sub-Attitude, Krostäh, Tërrör Some, Hell on Earth, Operation 81, Social Repression, Inertia, Total Silence and many other fucking bands ... Today we have with few spaces open to these shows.
What do you know about Sweden?
- I have never visited Sweden, obviously do not know much about people's customs and places, but the little that I know makes me very keen to visit ...
Have you heard any good bands from Sweden?
-I'm crazy for the Swedish bands hahaha Crude SS, Anti Cimex, Wolfbrigade, Fear of War, Civil Olydnad among many other bands fuck that I am particularly madly in love. Hehehe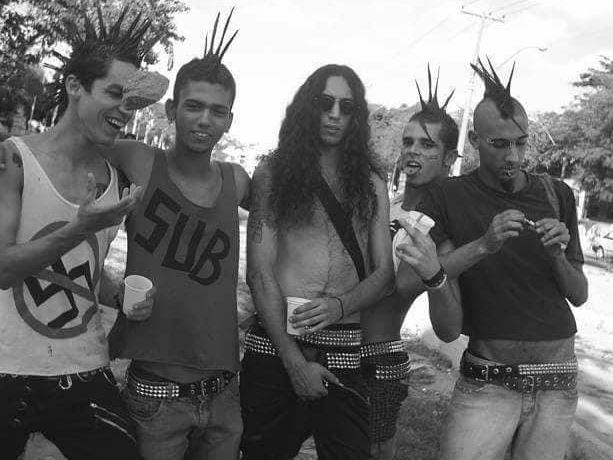 Your lyrics, who does it and what influences you? It is easier to lyrics now or was it easier to do it when you were younger? Never in English?
-Our lyrics influence what we live and witness. We do not sing in English because our vocals do not know. Haha ha
Is there any subject that you will never write anything about ?
-I do not know. Hahaha But I do not think I would ever write about love.
Politic and music, does it go hand in hand? What is your most political song?
-Yes, for us music and politics will always go hand in hand. All music is a form of expression. And all of our songs portray the political landscape of the country and the world.
Best political band/artist?
- Not the best band nor artist, much less political. Hahahaha
Do you think that music (lyrics and so on) can change the life of any person, I mean, people who listen to music?
-Yes, I believe that music can change lives.
Your cover on your CD looks really cool, is it important to have a record cover that shows people what kind of music you play? Your favorite record? Who does the covers? And do you have good recordstores in your hometown?
-Yes, I think an album always deserves a good cover, the one who made a Punk cover in RJ was Wallace. I cut a lot of copy arts. Never a favorite one..Here in RJ there unfortunately does not exist in a store with good discs. Music here is very little valued unless they touch what the media wants ... Usually the materials are bought from out of state or direct from distros.
Is it important to release physical records of your things? Why or why not? Vinyl, CD, cassette, what do you prefer if you can choose ?
-Yes, I think it is very important that the band have physical material. Because an album is a complete art, made by several people, musicians, sound technician and up to the face that makes a cover.I would choose the vinyl without a doubt.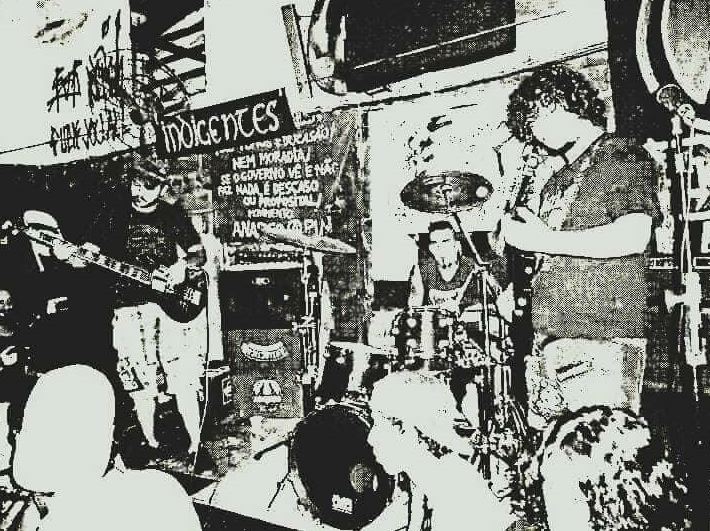 Tell me something funny that happened during your career and under some gig?
-Had a Gig with our old GARAGEM and no one was able to talk to him when we started our preparationculed with a bottle of cachaça and a guitar in his arms should have taken an acid ... But the really funny detail and that he arrived in underwear on the show hahahahaha we performed without him, after he played 2 songs with the guitar.
How does your audience look like? What people do you miss in your concerts? Which is the biggest band you've ever played with?
-We've played a lot of fucking bands with Cholera, Dry eye, Remnants of nothing, Armageddon among many others.
Please rank your five favoriterecords, five favoriteconcerts and five most important things in life
-5 Favorite albums 1- All Day hell Wolfpack Chaos Uk - One hundred percent two fingers in the air 3- Absolut country of Sweden Anti Cimex 4- V.A the Vikings are comming 5- Self titled Fear of War 5 Concerts ... I do not understand the question well ... But I have a lot of desire to go on 3 shows 1- Obscene extreme fest 2- Punk Illegal 3- Festival of Puntala 5 most important things 1- My children 2- My partner 3- The Punk hahaha