Hung like Hanratty have a little bit odd name I think, but it get itīs answer here, they plays a really good form of punkrock and they answered my questions in September 2014.
Please tell me a little bit history of the group?
-Hung Like Hanratty were formed in 2011. We have always lived for Punk Rock. Chris and Al have been in many bands together over the years, but decided to do something different. Everyone sings about , hate, war, religion, so we decided to sing about petty things what piss us all off like dog crap on the floor, traffic wardens, coppers, smack heads, etc
Please tell me a little about every member in the group right now, age, family, work, interests and something bad about everyone?
-Al Sation vocals he writes all the songs his mental age is 3.
Chris, bass, he is a fat ugly, smelly, grumpy old twat, loves to moan and sulk, but we love him how he is,lol.
Liam guitar, is happy go lucky, always smiling, no matter what goes off.
Kyle, drums, is ginger, not really his fault lol, an exceptional drummer, who is super fit.
We all love punk, and enjoy touring and gigging.
Hang like Hanratty, how did the name come up?? Is it important to have a good name that people remember? Which is the best bandname you know?
-Hung like hanratty was thought up by Pete Miles, our friend who sadly passed away due to cancer, r.i.p. James Hanratty was the last man in England to be hung, and they still donít know if he was guilty or not. We had thought up loads of names, Countryside Flytippers, Spuncups, etc, but we thought Hung like hanratty was a clever name so we stuck with it. The best name we have come across from any other band is Albertoylostriosparanoias.
You have some different influences, mostly 77 punk am I right with some streetpunk maybe? Favorites from then ?
-Yes 1977 is where we are. bands like Outcasts, Damned, Clash, Stranglers, Stiff little fingers etc, are our influences, however we do love Rancid, Bad Religion,Cocksparrer, Total Chaos, etc, and there are some incredible punk bands coming through the ranks at the moment.
Whatīs the best thing with playing live?
-When you put work into rehearsal, writing new material, etc, then you play to a packed venue and the crowd love it, is the best feeling possible. A great buzz.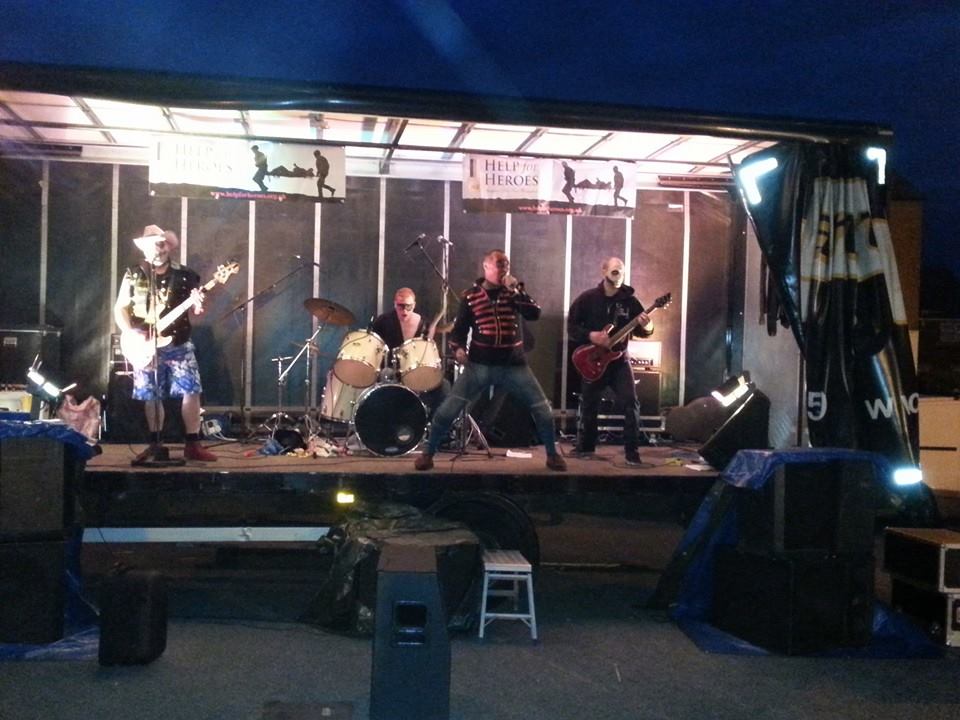 And where is best to play?
-We have so many great places over the uk, and so many good friends it is difficult to pin point one particular place, however, we do like to play in our home town of Mansfield to our friends, nicknamed the Mansfield mongs, they are our family, we love the doll at Gateshead Aswel, Shev, Trev, Dave, Paul, etc, great people.
How is it to play this sort of music in England? Is it hard to get gigs?
-Itís great. We have loads of gigs in the uk, we are out every weekend. We play festivals, pubs , clubs, etc. England is still good for punk,
How would you describe your music in three words?
-Total, utter, mayhem.
What does punk mean to you, is it only a word or is it a lifestyle?
-Punk is life to us, als house is a shrine to punk, people donít seem to understand it, but punk is our first love.
How do you see on downloading, mp3 and that stuff?
-We like vinyl, cd, tapes, etc, that way you own something, downloading is how the younger generation listen to new music, we are not pulling it down its just how things have moved on since we were kids
How is it to live in England now? Politically?
-We donít get involved in politics, or religion. We hate David Cameron, the sooner he joins Thatcher in hell the better, lol
Is there any good bands from England now?
-Many many great bands, itís unfair for me to mention them cos there are so many bands we love, who are now our friends, if we miss one out by accident we could offend, and we would never want to do that.
What do you know about Sweden?
-Sexy ladies, and good porn videos,lol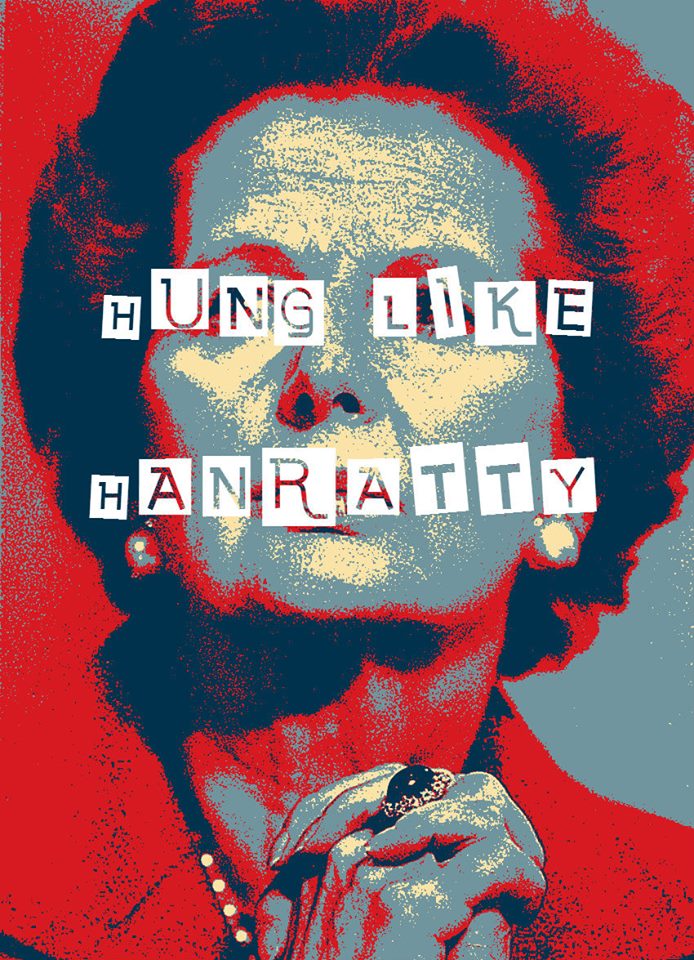 Have you heard any good bands from Sweden?
-We do try to keep our ears out for new bands throughout the world, Iīm a big fan of the Hives, we also like Anticimex, Asta Kask, Ebba GrŲn, Millencolin, Avskum, KSMB, etc, some great bands you have.
Your lyrics, who does them and what influences you?
-Al Sation writes all the lyrics. If something pisses someone off there is a song there, lol.
You do lyrics which is mostly fun lyrics, which is your most serious song?
-Cardinal kid fucker. We read an article in the paper about cardinals messing with kids. We hate that and think all pedophiles need killing, so this song was written in an evil way to make people see even people in trust could be abusers.
Politics and musics, does it goes hand in hand?
-Yes it does, but politics can also cause problems, because everyoneís views on politics can differ. We keep out of it, but it worked well for Crass, Discharge , etc.
Best political band/artist?
-Without any shadow of doubt, it has to be Crass.
Do you think that music(lyrics and so on) can change anyones life,I mean people who listens to music?
-It is very important. People especially youngsters are very easily led and look for influences, and if the music is good and they like it, they will follow that direction. As indeed we did.
Can you do a lyric about anything or is it something you canīt write about?
-We have no boundaries, if we find something amusing, annoying, or wrong, we will write about it
Can you imagine yourself doing a tribute song to a special football team, animal rights or any political party? Or have you already done this?
-We love football, but I donít know if we would write a tribute song about a team, we would take the piss though, lol. Animal rights, we are big animal rights people, but as our lyrics are comedy it wouldnít fit. The only political party we would do a tribute too is the monster raving loony party, Screaming Lord Sutch was a friend of ours r.i.p.
Please tell me a funny thing which have happened during your career and under some gig?
-Where do I start, something happens at every gig. One of the funny moments is when Al Sation was being crowd surfed towards an open window, and we were playing in a 3 story building, he was pushed out the window and was hanging on for his life, the show was stopped and al was rescued by security,lol
How does your audience look like? Which people do you miss on your concerts?
-Our audience varies, people with mohicans, skinheads, rudies, and we even get trendies in to see us, itís strange how our style appeals to a wide audience.
Please rank your five favoriterecords, five favoriteconcerts and five most important things in life?
-1= Stiff Little Fingers, Alternative ulster, 2= Stranglers, No more heroes, 3= Damned, Neat Neat Neat 4= Agent Orange, Everything turns grey, 5= Sex Pistols, Anarchy in the uk.
Five best concerts Crass at the Mardi Gras , in Nottingham, 2= Toy Dolls, Retford Porterhouse, 3= Stranglers, Lincoln engine rooms, 4= Anti Nowhere League, Sherwood rooms ,Nottingham, 5= Damned, Grey topper, Jacksdale.
Five most important things in life1= Punk rock 2=sex 3=more sex, 4= even more sex 5= punk rock and loads of sex, lol.
Is it boring with interviews? Which is the most stupid question you ever have got?
-No we like being interviewed and it is important so people get to know about us, the most stupid question we were ever asked is how many band members do you have in your 4 piece band, lol.
Do you understand that reviewers always compare bands to other bands? Is that disturbing when you try to do something own?
-No, it is opinions at the end of the day. It is impossible to be totally unique. Everything has been done before, so no matter what anyone thinks there will always be something that sounds like what we have tried to create. We donít get offended, unless we get classed as a boy band,lol.
Futureplans for the band?
-We want to do a world tour.
For yourself?
-To keep writing songs and keep on the road, making new friends and discovering new bands, .
Wisdomword?
-Donít eat yellow snow
Something to add?
-Keep supporting bands, and venues, it is very important. We need to keep our scene alive, and bring new younger bands through the ranks. Punk rock is life. Thank you Peter for the interview, thank you to everyone who has taken time to read this review. Check us out, and come and have a drink with us when you come and see us, cheers HUNG LIKE HANRATTY