.
I work on hospital and I donīt really know how the Hospital Food is here but the band from England with the same name is a really good punkband. Here they have answered a lot of questions from me in February 2015.
Please tell me a little bit history of the group?
-We started as a 4 piece around 6 years ago. it was only suppose to be a bit of fun but we played a few gigs and started to enjoy it so we carried it on. Me (Ben) and Nathan are the only original members of the band left.
Please tell me a little about every member in the group right now, age, family, work, interests and something bad about everyone? Have you been in any other punkbands before?
-Ben: Im 25, I have a girlfriend but no children, I work as a builder and im interested in punk rock, football and drinking. Nathan: Hes in his 40's, he has 4 children and works in as an order picker for DHL. He likes Punk rock, going to the cinema with his kids and BOOBIES haha. Rob: Hes in his 40's, has no children and he part owns a flooring business and he likes music, going to jam night at his local pub and driving the van.
I can hear Dr Feelgood, Eddie and the Hot Rods and oi also? Am I right? Favorites from the past?
-You could be right yes, we are influenced by many many bands that each of us likes.
Hospital Food are you satisfied with the name? How did it came up? Which is the best bandname you know:
-It was our original vocalist Scoffa's idea to call us "Hospital Food". It comes from an old football chant "Do you want some fucking Hospital Food!" and we still like it now. Many bands have cool names, like Peter And The Test Tube Babies, Guttersluts and The Fuckwits, All funny names that would only work for a punk band.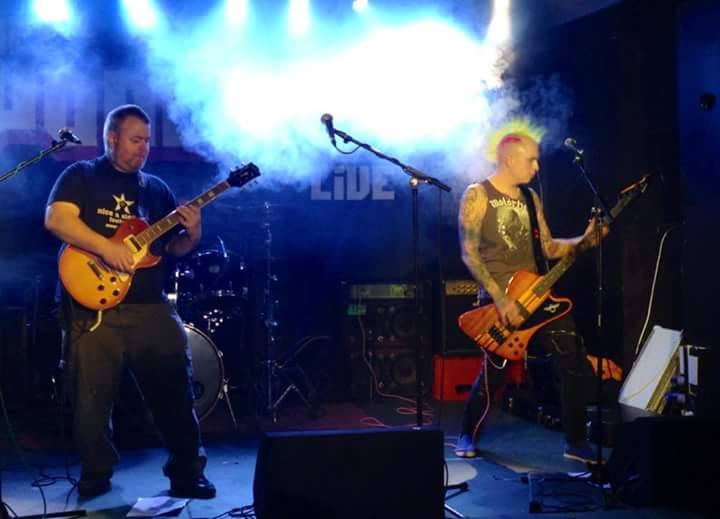 Whatīs the best thing with playing live?
-The energy, the adrenaline rush just before you go on stage and when people sing your words back to you.
And where is best to play? And the worst place?
-Too many to mention.
How is to play this sort of music in England right now?
-If you can get on a gig with a big band, you find people will usually turn up and you are guaranteed a good audience. Gigs in the UK aren't always advertised very well.
How would you describe your music in three words?
-Melodic Punk Rock
What does punk mean to you, is it only a word or is it a lifestyle?
-For me (Ben) itís a lifestyle and a way of thinking. Punx live on the outside of society and that how I like it. We question everything and try to fight and highlight injustices in society. We are proud to be what we are and accept everyone for who they are too.
How do you see on downloading, mp3 and that stuff?
-I think itís good as long as CDs and Vinyl donít completely get forgotten about.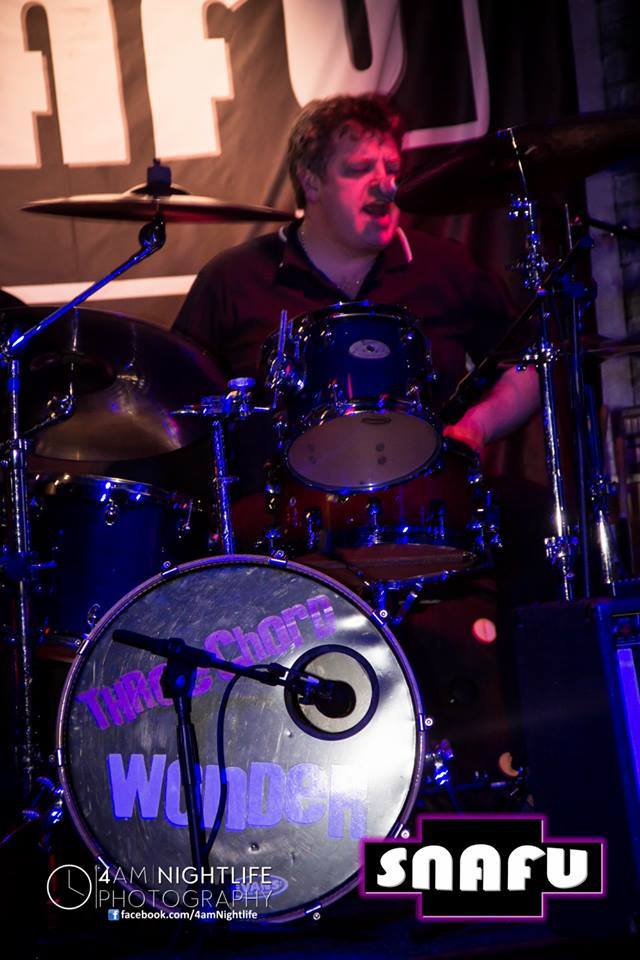 How is it to live in England now? Politically?
-Right wing at the moment sadly. The Conservatives are in power right now so not very good. The poor and disabled are being victimized by the government but the election is coming up very soon so hopefully they will be voted out
Is there any good bands from England now? Is the punkscene big? How is it in your hometown?
-The punk scene is very small and unless you are on with a big band then not many people tend to turn up to shows. I have quite a few punk friends locally and we meet up, go to gigs and socialize alot so I like the punk scene.
What do you know about Sweden?
-Not very much. I know your football team didn't make the world cup last year and I know Stockholm is your capital city. We would love to come play in Sweden sometime.
Have you heard any good bands from Sweden?
-No but we would very much like to hear some Swedish punk!
Your lyrics, who does them and what influences you? The song Too Young for punk, how did you came up with that and what do you mean with the lyrics?
-Just everyday life. Things that are wrong with the world and things that affect us. We write some songs seriously but others are just about fun and having a laugh. Too Young For Punk was written by Ben as he is only 25 and he wrote it because many older people had told him he was too young to be a punk as he wasn't alive in the 70's, so he wrote a song about how this was wrong and you can never be too young to be a punk. The first verse is from the perspective of someone telling Ben hes too young to be a punk and the second verse is Ben replying to that.
Is there any subject that you never will write anything about?
-No I don't think so, if itís something that affects us as people then we will write about it. Never say never.
Politic and music, does it goes hand in hand?
-Sometimes, it depends what sort of image you wish to convey for your band.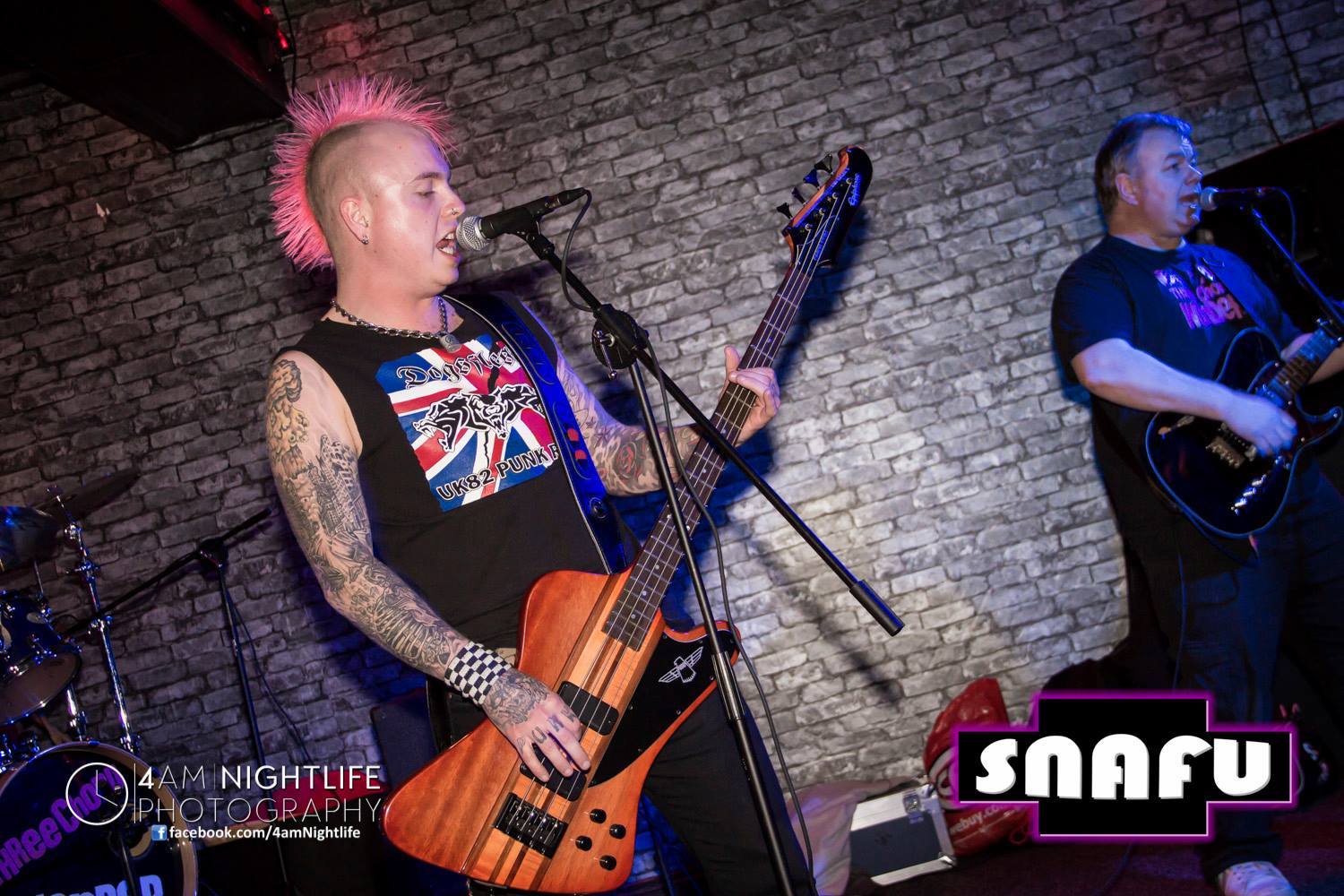 Best political band/artist?
-Too many to mention.
Do you think that music(lyrics and so on) can change anyones life, I mean people who listens to music?
-Yes of course. music changed my life, punk music made me who i am today. Some people say that some bands music has helped them with issues in their lives and helped them come to terms with some of the hardship that life throws at us.
You do a lot of covers on your Demo album? Why these covers and do you do any more covers live?
-We sometimes do a few live but we prefer to play our own stuff. The covers we do are just songs we like and we think we could play well as a band.
Is it important to get out physical records of your stuff? Why or why not?
-Yes very as we are not on Itunes or Spotify and itís the only way you can get our music.
Please tell me a funny thing which have happened during your career and under some gig?
-We played a gig once and Bens strap came off his bass and his bass fell to the ground with a big thud! haha We like to have a laugh and taker the piss out of each other on stage too.
How does your audience look like? Which people do you miss on your concerts?
-We have audiences from all different backgrounds, we welcome anyone to our shows and we hope they enjoy us as much as we enjoy playing.
Is it boring with interviews? Is it much interviews??
-No we like being interviewed. It shows people are interested in the band and want to know about us.
If you could choose five bands from the past and the history and nowadays and both dead and living bands to have a concert together with your band. Which five have you been chosed?
-The Sex Pistols, The Clash, Stiff Little Fingers, Rancid and Motorhead.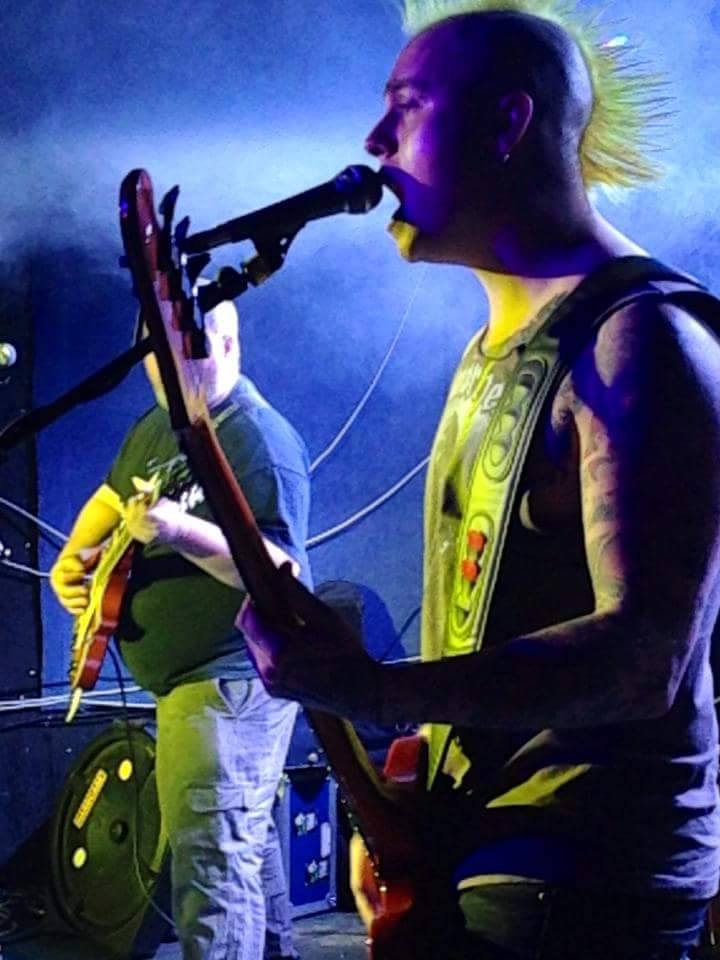 Is punk a good way to get out frustration and become a nice person outside the punkmusic?
-Yes punk is good for venting anger through the music and through performing live. It made me a more understanding person outside of the punk scene and made me accept people for who and what they are.
Which is the most odd question you ever have got in an interview?
-We have had many odd questions in interviews.
Which is the question you want to have but you never get. Please ask it and answer it?
-Whatís the most famous person you have met? answer: Travis Barker from Blink 182
Futureplans for the band?
-Write some new songs and keep on playing shows hopefully more worldwide.
For yourself?
-Grow old disgracefully!
Wisdomword?
-Itís nice to be important but itís important to be nice.
Something to add?
-Hello to everyone in Sweden! We would love to come play in Sweden sometime! We hope you guys listen to our music and like us! All the best. Ben, Nathan and Rob, Hospital Food