Hi Fi Spitfires is a new band which I really liked from the beginning. The members are in my age and that I lreally like. Anyway, here´s the interview which was done in February 2009.
History
-Hi Fi Spitfires is a brand new band from the north east of England. We formed in June 2008, had 11 hours practise and went into the studio to record the 7 songs we had. That is why the cd is called "The 11th Hour". We played our first gig supporting 999 on September 12th and have also supported Goldblade and The Rabble. We are looking to go back into the studio very soon.

Please tell me a little about every member in the group, age, family, interests, work, and something bad about everyone?
-Steve: Vocals and guitar, age 43, married, one child, interests include punk rock, writing music, playing music, listening to music, live music, eating, breathing, sleeping, and drinking music. I work for a street lighting company and daydream all day about music.
Something bad about me - I once tied a large vibrator onto the front of a workmates van and let him drive about for days without telling him.
Nelly: Drums. age - old enough to know better. No job at the moment so I can catch up reading all the punk books I've bought and never had time to read. Something bad about me? The others are more qualified to dish the dirt than me!
(What about Nelly?)

You have been into bands like Red London and so on, any other bands you have been members in??
-Steve: As well as Red London, I was also in The Pits, and was the founder member of Holy Racket, and now I also play bass for Loaded 44.
Nelly: Started playing 1981 with Negative Earth. Since then, The Fiend, Diesel, The Hang-Ups, The Illegal Movers. Also stood in for Uproar and Distortion. Currently with the Hi Fi Spitfires, The Lurkers, Loaded 44 and the City Kids.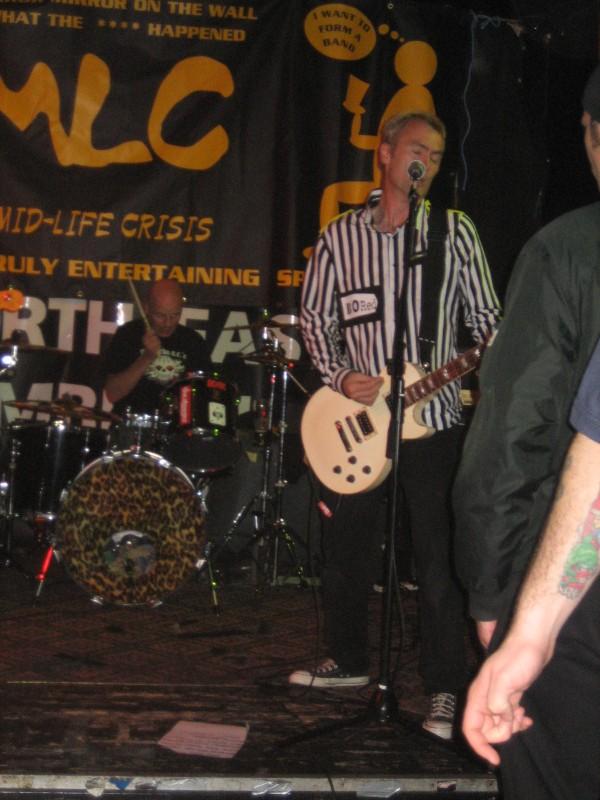 It feels like you have an old punkstyle? Much influences from the past?
-Steve: Yes. I've always been into bands from 77, but I also love many bands of today.

My review sounds like this HIFI SPITFIRES-11TH HOUR(MINI-CD) Everyone starts a war sings the group in the first song Write it on the rooftops and already here they show us an attitude which makes me think of early punkbands as Chelsea, London,Vibrators and that type of bands…you know where the rock have as big influence on the music as the punk have. But it feels dangerous in a way as the punk did back in time and it feels really good and refreshing I think. It..s a shame that there is "only" 7 songs on the record but it..s really good quality on them and except the bands I mentioned so does it feels like if they have taken a bit from the streetbands Cocksparrer, Business etc and that they have did a big impression on them.(EIGHT) 5/2-09? Comment about this?
-Steve: I have a great love for old punk so if we are compared to those bands I am very happy.
Nelly: Maybe some of our influences are obvious but hey, what better influences to draw from.

Politics and music, does it goes hand in hand?
-Steve: Yes it can go hand in hand, but I don't tend to write political songs. I write songs about stories that interest me.
Nelly: It can, but I think most bands with a political agenda are simply preaching to the converted.

Biggest Blunder, was it that song about?
-Steve: Biggest Blunder is about a man who was addicted to using his mobile phone, so much so that he asked to be buried with it when he died. Sadly he did die, and was buried with his phone. A few weeks later, his wife noticed one of their children playing with a piece of plastic and she realised that it was his SIM card from his phone. So he wouldn't have been able to use it if he'd wanted to. So the moral of the story is, never trust your wife with your dying wishes or you may have to sell your soul to the devil to make a phone call!

Is there any good bands around nowadays in England?
-Steve: Us, Loaded 44, Loudmouth, Dipsomaniacs, Gimp Fist, Drongos For Europe, Guns on The Roof, Hateful (Scotland), and many more, the list is endless.
Dean: Us, Loudmouth, Loaded 44, Gimp Fist, The King Blues, Strawberry Blondes, the rest come from Germany or America.
Nelly: Guns On The Roof, First Wave, Red Eyes, Loudmouth, etc. Playing with the Lurkers I've seen loads of bands supporting us, some great, some not so good.

How is it with nazism , racism and those things on gigs nowadays?
-Steve: I don't really know, in the 80's it seemed there was a problem but I don't tend to see to see it anymore.
Nelly: As Steve said, it's thankfully a thing of the past.

How do you see on mp3 and downloading and so on?
-Steve: I haven't really thought about it because I haven't downloaded music.
Nelly: Never done it. I like rummaging through records and cds, covers and artwork etc.

What does punk mean to you, is it only a word or is it a lifestyle?
-Steve: Punk, to me, is a way of life by being yourself and not having to accept the normal ways of life like tradition, fashion, religion, and what your parents tell you. I am living my life how I want to live it and not being told how to live it.
Nelly: I've been into punk since I saw Eddie and the Hot Rods and The Damned on tv late '76/early '77. It's been a huge part of my life for 32 years, can't imagine life without it.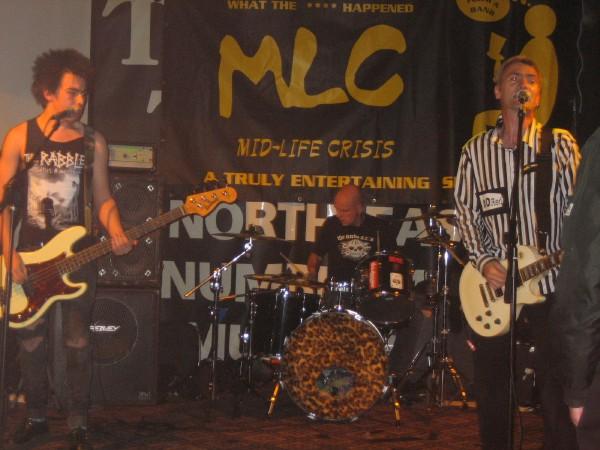 What do you know about Sweden?
-Steve: I've toured Europe many times with different bands but I've never been to Sweden. When you invite me to your house for a holiday, I will be able to tell you alot more!
Dean: Abba, Psychopunch
Nelly: Not much really. Played in Gothenburg in 2005 with The Lurkers but that's about it.

Have you heard any swedish bands which you like?
-Steve: I've played with swedish bands Bombshell Rocks and Voice Of A Generation in Germany and England and I really liked them.
Dean: Psychopunch
Nelly: Fistful, Part time Posers, The Vectors from Umea - I was their driver on a tour in Germany 1997, really good punk rock band.

You like football or what?Favourite team?
-Steve: I do not like football at all. Favourite team - the A Team.
Dean: Sunderland
Nelly: Not my thing.

No label yet? When do you get that, any interested labels?
-Steve: We've only just started posting the cd to record labels.

Which is the best political group/artist?
-Steve: Crass
Dean: Crass
Nelly: re question 6, I guess it would be someone like Billy Bragg who gets to a wider audience.

Please rank your five favourite records, five favourite concerts and five most important things in life?

Steve: records :- The Saints - This Perfect Day, Adverts - One Chord Wonders, Sex Pistols - Problems, Slaughter & The Dogs - Victims of the Vampire, Rich Kids - Ghosts of Princes In Towers
Gigs:- Crass at Carlisle (sometime in the 1980's), Christmas On Earth Festival at Leeds 1982, Slaughter & The Dogs at Holidays in the Sun Blackpool 1996, Damned when they gatecrashed a Ruts DC gig at Durham (1980's), Sex Pistols London 1996.
Most important things:- My family, guitar, record collection, brothel creepers, my little cats.
Dean: records:- Sex Pistols - Never Mind The Bollocks, GBH - City Baby Attacked By Rats, Crass - Feeding Of The 5000, The Boys - The Boys, US Bombs - We Are The Problem
Gigs:- Buzzcocks at Newcastle 2004, Abrasive Wheels at Newcastle 2006, The Briefs at Durham 2007, Rancid at Newcastle 2006, Toy Dolls at Durham 2007.
Most important things:- cider, KP beefy crisps, sunday dinners, our lass's top drawer.
Nelly: records:- Clash - White Man In Hammersmith Palais, Buzzcocks - I Don't Mind, All - She's My Ex, Real Kids - All Kindsa Girls, Dictators - Loyola
Gigs:- 999 at Carlisle 1978, Discharge at Birmingham '81, Exploited at Edinburgh '81, Social Distortion at Berlin '05, Stiff little Fingers at Carlisle '79.
Most Important things:- friends and family, my cd mountain, my bike, good health, good times.

First, last and most expensive record ever bought?
-Steve: first - David Bowie Ziggy Stardust, last - Guns on the Roof - New Frustration, most expensive - It was a Crass flexidisc for 5.00 in the 80's, this was a lot of money then.
Dean: first - No FX - So Long and Thanks For All the Shoes, last - Sex Pistols Never Mind The Bollocks, most expensive - Culture Shock - Onwards and Upwards.
Nelly: first - Alice Cooper - Schools Out LP, last - Zero Boys - History Of, most expensive - I don't do expensive but my mate allowed me to hold God Save The Queen on A&M Records the other day worth 9000.

Most embarrassing record in your collection?
-Steve: Showaddywaddy's Greatest Hits but I'm not ashamed!
Dean: Snarling Horses e.p's
Nelly - Not embarrassed by any or I wouldn't have them but the oddest ones are 60's girl groups like The Crystals and Ronettes etc.

Have you done anything more than The 11th hour mini cd??
-Steve: Not yet. We will be going into the studio soon. We have done a video for Write it On The Rooftops.

Is it many interview? Is it boring?
-Steve: We've done a few interviews, it never gets boring. The crazier the questions, the better!

Which type of people comes to your concerts?
-Steve: tall, short, fat, thin, bald, hairy people. ha ha!

Which type of people do you miss there?
-Steve: I don't think about the people who are not there. The ones who are there are the ones who count.

Futureplans for the band?
-Steve: Recording more songs, playing more gigs and festivals in the UK and abroad.

Futureplans for yourself?
-Steve: I have been planning doing some acoustic recordings of my old material.
Dean: Invent something so useless, everyone will have to have one.
Nelly: keep on keeping on.

Wisdomword?
-Steve: From my experience, never go on stage thinking its going to be a bad gig, wait til you have played the last chord because it could end up being the best gig you have ever done.
Dean: Find yourself 4 kids, make sure they hate each other, make sure they can't play.
Nelly: Have a good time all of the time. (copyright spinal tap 1984)

Something to add?
-Steve: I can't imagine how dull life would be if I hadn't been into punk rock. Great music, great friends, great times.
Nelly: Thanks for your interest. Keep it up!