April 2003
Hello Peter . Many questions, I will do my best. Pictures can
you take from my site. Many people asks for the mp3.
When we get more space we put out more during more time.
My plan is to release everything on CD. Be patient.
To the questions.
Tell me a little about yourself?
-580305, born in Uppsala. 6 children, Daniel 23,Teresa 20, Johanna 16, Julian 15, Isabella 3 och Lovisa 1.
You have been older(precisly as I) how have it changed you?
-I try to donīt think about it but people reminds me whole the time.
Venant, is a it a name that you have taken, where does it come from and so on?
-Venant is my real name.
You have family nowadays, have it changed your mind?
-I have had a family for 23 eyars so I donīt remember how it was before that.
I begin from the beginning with your long musiccareer, New Bondage was first or(the first record release), it was more punky, how does the record was reviewed and why did you sing in english?
-New Bondage was the first recordband. It was mostly badly reviewed. The English came automatically.
And then it was TT reuter and I know that many of my mates think you sounded a little peculiar but I think they was disturbed of the fact that they couldnīt place you in something special music style? Did you got many peculiar reviews?
-TT-Reuter had mostly good critics. Donīt remember any special...
Much of your music have depending on your voice to be so different as it is, is it musically raised or?
-Absolutely not any schoolvoice here. How can I know why I sound as I do?
In the beginning you played more punkstyle. What have punk done to you through the years, how have it changed your way of thinking and so on?
-Punk is the best thing which have happened to me. The attitude I have left in me many times.
The punk was a reaction to the society. The punk is heer today and why havenīt it died yet and then I donīt mean bands like.
Blink 182, Green Day and those bands, I mean more bands like
Totalt Jävla Mörker, Refused and those bands?
-Then punk today is mostly a musicform. Not punk I the way I mean..
Is there any good bands in Sweden today? Outside Sweden?
-Of course it is. I mostly listen to jazz but if you wonder about rock and pop I can say bands like. Jackie Leven, Will Oldham, System of a Down and Queens of the Stoneage and so on. Jazz and other things : Per Henrik Wallin, Sten Sandell, Josefine Cronholm, McCoy Tyner, Wayne Shorter,
Which was the ebst bands back then?
-Cortex och Garbochock.
Which is the biggest difference of playing music now and then, the best and the worst things about it?
-I cannot think of them all but it was more time back then. Now I so much bigger register instead.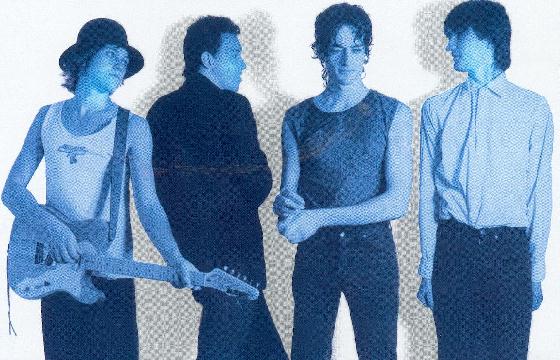 You did start Heartwork also , why did you start an own label, didnīt you get any contract or did you want full control? ll?
-Didnīt get any contract and we wanted full control.
Is Heartwork still left as a label?
-Yes
How do you see about the fact that the old singles is so expensive nowadays, isnīt it to go against punkīs first thought?
-Thatīs life.
You havenīt any plans on releasing your stuff on CD? A little box maybe?
-There is plans. But no economy..
You give us a new mp3 song every week, howcome and what purpose does it fill?
-As long as nyone is amused of it it gives me something.
Stry, Johan Johansson is alson giving out free mp3`s , is it something you download?
-I have never downloaded anything. I donīt know how to do it.
Where do yo stand in the mp3 question, whatīs the best and whatīs the worst?
-As long as the record prizes are so fucking high itīs only to download I think.
Now back to your bands, after TT came Underjordiska Lyxorkestern, what was the difference between TT Reuter and UL if we talk about member and musically?
-Members:Look at my website. Musically must other people say. I donīt remember what we was compared to.
Lyxorkestern and then Pojken med Grodan i Pannan ,where did you get that name from?
-Secret.
Have you contact with some of the guys in your old bands?
-Mostly with Peter Strauss, Mikael Vestergren and Peter Puders.
You havenīt been talking about a reuinion with some of the bands? What do you like thos reunions bands do?
-Are you feeling for it, itīs O.K.
How would you describe Shangles music with three words
-Keen, feelings och adventure.
Are you living on your music, or have you never done that?,
-To the half. 50 %
What about living in Sweden today, politically and so on?
-Itīs difficult to say. I shouldnīt feel comfortable politically somewhere else. I donīt like the autumn and the winter.
How did you react whne the terroristattack was the 11th of september 2001, anger, surprised or what?
-USA have been begging for this for a long time. But itīs not defenseable but I understand that it happened..
How do you reacty on whatīs happening now with USA and Iraq?
-USA try to rule the world. I hope this is the beginning to their doomsday..
Politics and music, is it goes along hand in hand?
-I wish it could been separated. But nowadays it must be together.
Can music change anyones life, please give me example?
-Absolutely, mine for example.
What is your strength on stage and what does other people say?
-Presence.
When you play gigs nowadays, do you play old songs from other old bands. And what does people shouts after?
-New songs for the most. People shouts about many different songs.
How many songs have you done?
-About 600. Half of them must be rearranged and get the lyrics done
What is most important for you, is it a good lyrics a good melody or to have a refrain that people remembers
-I have no priorities. When it feels good itīs good..
Which is your favouritesong among your own stuff?
-Impossible question.
What would you change on your old records if you have the chance to do it?
-Much. But itīs stupid to think about it
Please rank your five favouriterecords, five best concerts and five most important things in life?
(Difficult). 1. Roxy Music : 1:a, 2. Roky Erickson : The Evil One, 3. Magma : Mekanik Destruktiv Kommandöh,
4. Mozart: Requiem, 5. Thelonius Monk : Brilliant Corners
Concertsr : 1. Doll by Doll : The Nashville London –78, 2. Magma : in a cinema Köpenhamn –75, 3. David Bowie : Torquay Townhall England –73, 4. Cortex : "Lokalen" Lund –78, 5. Chokebore : Smålands Nation Lund mitten på –90talet.
My children.
First last and the most expensive record ever bought?
-First record was Ticket to Ride with Beatles. The last one Requiem by Nils Lindberg. The most expensive I donīt know.
What is the most peculiar which have happened on a concert with you, on stage or in the audience?
-When a concert is really good I donīt remember anything. Itīs always weird.
What drives you to play music for so long time?
-I only must do it. Itīs nothing to think about.
I think of a guy like Charlie Harper who have his band UK Subs and heīs soon 60, is it pathetic or what do you think. He feels true even if he changes members in the band as other people changes underwear?
-For me thereīs no agerules. Itīs a westerland thing to talk about age.
Is it many interviews, is it boring?
-Not so many, it can be boring.
Which is the question you never get but you want ?
-I have no idea.
Which are the futureplans for you as a human being?
-Live more in harmony with our earth.
As a musican?
-To let the many ideas I have come true along with my visions.
Which advice do you have to a young band which have begun to play and want a contract?
-Donīt do everything the labels tell you to do. Be careful..
Wisdomword?
-Believe in the human being..
Something to add?
-Iīm pretty tired now. I hope youīre satisfied Greetings Henrik I