Robert Dahlqvist plays in Hellacopters, he comes from the same city as me, Uddevalla. It was even more fun to send a gang of questions to him….this was done in the day of Lucia in december 2006. Fast answers and that you cannot complain on.
When did you start to play any instrument?
-I got an acoustic guitar when I was 10 years old and I started to play in the music school but I quit after some month. I become really angry and I cut off the strings because I didn´t play the Kiss-songs at the music school. I was angry in 5 years and then I got an electric guitar from my mom. So you can say that I was 15 when I started to play.

Please tell me a little about yourself, family, interestes, have you ever worked in a "normal" work?
-Girlfriend, music is my biggest interest. Have worked in the restaurantbusiness in a lot of years, everything from dishwasher, to chief and the one who serve the food. But otherwise I want to have my private life for myself

How did it became so that you got the job in Hellacopters, was they looking for new members or did you get phoned up?
-Hahaha...got the job, it sounds like if I tried to get a work at the factory.
I had known them for a while and they used to drink booze in a restaurant that I worked at then.
I knew that they were testing a new guitarist and I said to them that they should test me instead, it didn´t work with the first guy so we rehearsed some times and it was splendid. In that way…..

Did you live in Uddevalla then?
-No, Stockholm.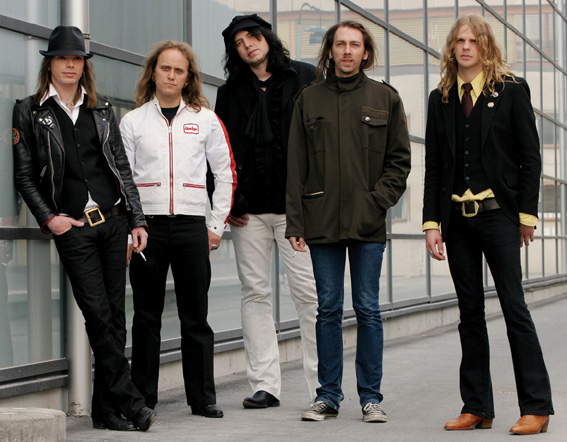 What takes you to Uddevalla today? Are you often there?
-I have some mates left and my family. I try to come to Uddevalla some times a year. I really like Uddevalla.

You have been to the cassetteparties, how are them?
-I have only been to one, but they´re a really nice gang those cassettes.
What´s the best and the worst with Uddevalla then? If you compare with your hometown now, Stockholm?
-Hmmmm...you cannot compare them so. But I can say that the worst with both Uddevalla and Stockholm is that the rightwingbastards won the election.

Which band did you play with before you came into Hellacopters?
-A band named Silvermachine

Please tell me a little about your other group Thunder Express? How do you sound? Members?
- http://www.myspace.com/thunderexpressmusic
There can you hear how we sounds and some info about the members.
New record comes out in 2007

Was it hard to come into the Hellacoptersgang?
-No, not directly, I knew them rather well before.

Which is the biggest band you have played together with?
-We were support act to Rolling Stones in Helsinki and Stockholm summer 2003. It was really big I must say..
The tour this summer with Backyard Babies, Millencollin and so on, how was it?
Which of the bands you played with impressed most on you?
-It was a fucking good tour, as a summercamp for 30 year old guys.I have heard the bands x times before so I wasn´t surprised about any of the bands.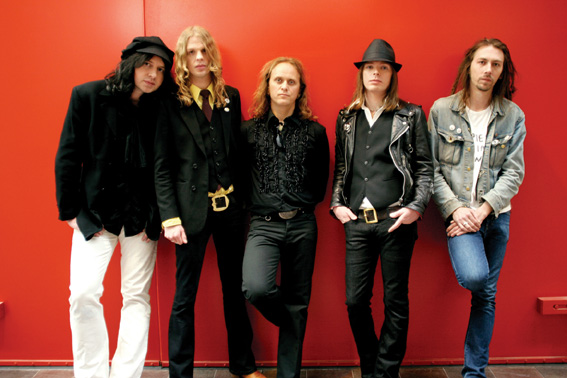 How is your relationship with punk? What does it mean to you, is it only a word or is it a lifestyle?
-I´m not so much of a punker. I like of course Deadboys, The Damned oand son….but early 70´s rock have mean more for me..

Which is the biggest audience you have played for?
-Wow, I cannot really remember, we played in the biggest scene on a german festival which is called Hurricane and then it was about 30-35000 in the audience and with Stones on The olympia Stadium in helsinki it was really much people too.

You played together with Kiss, was it a dream from your childhood? How was the guys in the group?
-It was the summer of 1997, I started 1999.

Hellacopters is a band which is higly respected among musicians? How do you notice that?
-Are we..?Hell, I haven´t noticed that…hahaha.

But you don´t notice that on the records you sell? How much do your record sell?
-Records isn´t sold so much nowadays, but both High Visibility and Grace of God sold gold in Sweden so we sell some records.

Are you more popular outside Sweden, or how is it?
-The thing which is really good with playing with Hellacopters is that we can go around in The States, Australia, Brazil or Europe and it comes the same amount of people everywhere. That´s our strength too, we have get ourselves a rumour that we´re a really strong liveband.

Is there any Hellacopters records which have become really expensive and being sold at Ebay or Tradera really expnsive?
-Yeah….. A lot of the old vinylsingles costs a lot.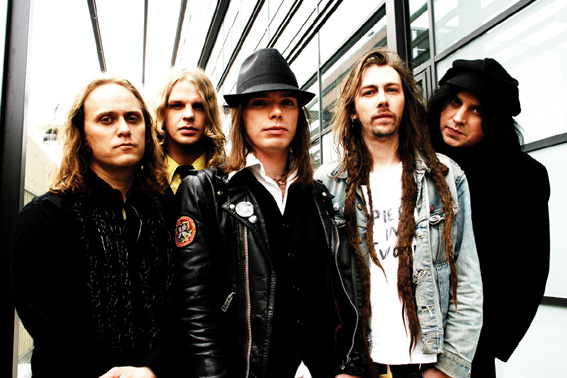 Please rank your five favouriterecords, favouriteconcerts and five most important things in life?
-Wow, that´s difficult as hell and it's very varying. But I will give it a try on records and concerts: ..
Records. Exile On Main Street-Rolling Stones, Street Legal-Bob Dylan, In Concert-Humble Pie, Then Play On-Fleetwood Mac, Getting Ready-Freddie King
Concerts. Flaming Sideburns (demoscene Hultsfred 2000) AC/DC (Globen 1995) Rolling Stones (Cirkus 2003) Jackson Browne (Cirkus 2004) Gaza Strippers (Chicago,usa 2002)

The first, last and most expensive record ever bought?
First - Accept Restless and wild. The latest stuff was a lot of vinylrecords on a recordcollectorthing in Finland a while ago and the most expensive I cannot remember.

The most embarrassing record in your collection?
-Dan Reed Network

Before you came into Hellacopters, did you listen to them then?
-Yeah.

Where´s best to play?
-Tavastia Helsingfors, Sao Paulo Brasilien

How does the average Hellacoptersfan look like?
-Is there anyone??

Do you have good contact with your fans?
-Yes we have!

Every band have a rider, which is yours?
-Yeah…a rider is not only what is going to be backstage, it's all info about microphones, cables, personal, how we stand on the stage, what we shall eat and what we want to have to drink and so on….all too long to write here..

Is it mostly Nicke which is the one which is interviewed about Hellacopters? But is it OK if it is other bandmembers who does it too?
-All do interviews.
The futureplans for the bands? With Hellacopters...with Thunder Express?
-We will record a new record with Hellacopters in the beginning of next year. T E release a new record in march.

For yourself personally?
-Celebrate Christmas in Uddevalla.

Wisdowmord?
-Köra så det ryker
Something to add?
-Take it easy!

Ok! Have a good time!

<![if !supportLineBreakNewLine]>
<![endif]>