Good that you wanted to be in the zine so soon again. Swedens most nicest rockstar?
-Haha.. maybe

Is it definitely ready with the tour with Hellacopters now? How does it feel? Is it right? Empty?
-Itīs definitely the end now. It feels really good actually from the time we decided to quit til we did the last gig it was almost a year and it did that the feeling was that it became a really long goodbye but of course it feels a little bit sad.
Didnīt it felt wrong to quit playing after a so good tour?
-No, the opposite. It felt good, it was really good between us and good gigs. It had been very bad if we have felt the opposite way. Now we quit with a positive feeling. .
And itīs no way back?
-I cannot see that.

What shall you do now? Is it only Thunder Express or do you have anything other stuff going?
-18th of february does Thunder Express release a new record but under the name Dundertåget, it is a record in swedish. It feels really good. And then I will continue to play with Sundström.

Do you have any clue how much Hellacopters did sell ?
-I donīt really know but I will guess that itīs about 500-600000 of everything we did. But itīs mostly a guess. High Visibilty and Grace of God was the ones which sold the most.

And you have get a hit with Darling Darling?
-Yeah, thatīs mighty!

Why did the last record became a coverrecord and nothing new material?
-It wasnīt the idea that this would be the last record , when we recorded that we hadnīt a thought of quit the band. And the thoughts about a coverrecord have been around for years.

Is there a lot of material which is here and there with Hellacopters which will come in a box later?
-We will see!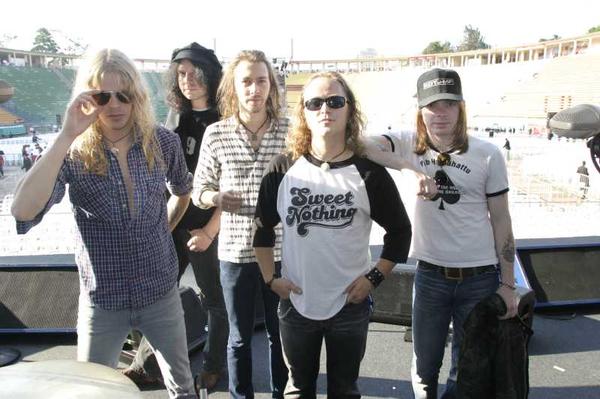 HELLACOPTERS
What shall the other members do?
-Nicke is having his studio and he record some sort of record. Robban have his band Tramp, Boba studies and he have a band which is called Bitter Twins. Kenny writes reviews and he will start a spacerockband.

What is the most fun that you have done in Hellacopters?
-Big day out in Australia was among the most fun tours I ever have done.

What is the most peculiar which have happened?
-Wow... thatīs a lot..

Which is the biggest band which you have been a support act to? And which is the biggest band which you have had as a support act(which maybe have been bigger after that)?
-Must be Rolling Stones and Hives.

Swedish music have a good rumour outside Sweden, why do you think it is so that swedish music have this good rumour? What do we have which is so special?
-Difficult question which I have got thousand of times, I donīt have any clue.

If you could choose to be in which band you want, dead or alive, and play guitar, which should you choose?
-Humbe Pie

Is there any good new music you like?
-I like Bullet and Dollhouse.

How do nu...I mean politically?
-Yeah...itīs not so good. Have a little bit difficulties with that Reinfeldt, itīs not so good for us cultural workers when the blue is in the power.

Barack Obama, what do you think?
-Everything is better than Bush.

My daughter loves your song Iīm in the band and that depends much on that she plays Guitar Hero…is a game like that good advertisement? Have you played the game?
-Yeah, thatīs OK advertisement, the things which was good was that we got younger audience. I have played it and Iīm really bad on it. ,

I think that gets more kids to listen to better music….what do you think?
-Absolutely!

Have you been in any other computergames or similar?
-I donīt think so, but I actually donīt know.

Do you think that people stops their downloading when the law getting tougher?
-No, the people who downloads finds new ways.

Do you think that bands like Hellacopters/Thunder Express have a lot of problems with downloading or do you think your fans are recordcollectors?
-The older fans buys the records and the kids are downloading them I guess.

The latest record you bought?
-Sugar Mountain - Live at Canterbury house 1968 with Neil Young.

I have in some odd way always missed Hellacopters every time you have played in Gothenburg? What have I missed…I mean live with Hellacopters…which is your big thing?
-You have missed us live, that was our big thing.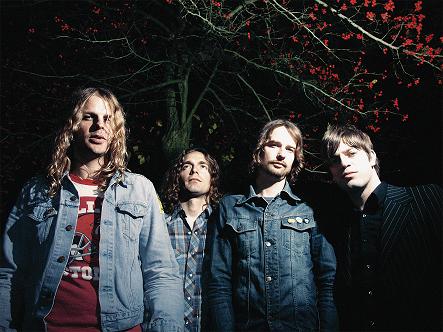 THUNDER EXPRESS
Favouritesong to play?
-Better than you

The fans favouritesong?
-Toys and flavors I guess.

What do you want as a christmas gift?
-Peace and quiet.

Will you go home to Uddevalla(our hometown)?
-Uddevalla isnīt actually my hometown, Iīm born in Visby. But itīs no Uddevalla this year, I will stay in my apartment in Stockholm so far away from everything which have with Christmas to do..

Futureplans?
-Play music and be happy.

Wisdomword?
-Be nice.

Something to add?
-No,Iīm saisified this way.