Marc from Hedniskt Avfall wrote to me last week and asked if I wanted a copy of their new record. Yes thank you I said of course and now after less than a week we are here…. Interview with the group. The guys in the group are more than half as old as myself but punk/hardcore no longer have those boundaries. March-2021
A little story about the group?
-The band was formed mostly by pure chance, we lived a bunch in Arnold's parents' basement at the time, I (Marc) sat and listened while Arnold and Raoul jammed in the music room we have done and just felt that their interaction I wanted to take advantage of so just said "We're going to start a band" then it was clear type? We brought in Max on bass pretty immediately after because we all had a common interest in music and liked the same type of music more or less and started rehearsing just in an attempt to find our sound.
Tell us a little about each member, age, job, family, band before and band on the side?
-We are four in the band:
Max is 27 years old working with tires but is now studying to be an electrical designer. Lives with a partner and a dog in a far too small apartment. Has played in two bands before Hedniskt Avfall became a thing, but in total other genres. Otherwise, I write some of my own music on the page that has not yet reached the sunlight.
Raoul, 26, will soon turn 27, is currently unemployed but has worked in a tire workshop for a few years. Plays with our drummer in another band called Sepulchral Frost and I also play with the band Vägran.
Arnold, drummer. 28 years. Works as a student assistant at a small training school in Stockholm. Lives with his wife. Bands before he and Raoul and Max had a project with a mate called Gravel Grave, was kind of a rock n roll / punk band. A bit like Dead Kennedys mixed with the Hives type. Plays and drums in the Doom/deathmetal band Sepulchral Frost together with Raoul and other friends on stage.
My name is Marc then, I am 27 years old and I am currently studying to be a social educator at a polytechnic. Family consists of parents, an older sister, my girlfriend and some cats and dogs. Bands before were a couple, but mostly small dirty teenage bands that you thought were really cool but today mostly look a little nostalgic nowadays. Bands next to it are loose projects such as No Krångel and other "future projects".
I can hear very old crust and then both Swedish and English, I hear right? Was it better before?
-Absolutely, not so much the English song perhaps, but a few words here and there that will be a nice starting point. But absolutely think you hear right, crust is an extremely big influence on me as lyricwriter and then I force-feed the other three a little too maybe
I personally can think that absolutely it is done a little too little both of crust and käng today, but it goes well in waves a little? So was it better before? Well, there were a lot of damn good bands but today there is also a good bunch
Hedniskt Avfall, are you happy with the name? If the best band name had not been taken, which name would you have chosen then? I mean, what's the best band name besides yours?
-We are damn happy with the name, it was created in some drunkenness at a Dissekerad gig I think and everything just sat right we felt.
Really good question, we struggled with a lot of ideas before we landed on Hedniskt. We were pretty sure of Organiserat Kaos for a long time and before that it was the Psykavdelning that was the planned name. But it never felt completely 110% so we kept it open only until we landed right.
Otherwise only the best name must be Human Waste or Totalt Jävla Mörker, straight meanings and no metaphors here.
What is the best thing about playing live? Do you miss it right now. As a drummer in a band like this, you have to be tired?
-The best thing about playing live from my own perspective, in any case, I think is the landing afterwards. It's such a total outlet for all the shit you sit on in the brain office, it combined with stage fright from hell leads to me having very vague memories of when you actually plays. Everything becomes just like a single second then you lie exhausted on stage and dripping with sweat and just feel ready in some way.
Hahah yes you should be, he might get tired but he does not say that. The most you can hear is probably a "fuck you Ralf!" live after someone a little harder work if the tag was too high and you play faster than in the rehearsalroom.
He says himself: "You do not get so super tired in the rehersalroom or live, but sweaty. It's something so incredibly nice when you get to hit and knock behind the drum set and make a noise! To create chaos and hell mass crashes, to alternate between soft drum beats and hard. Create harmony in the sounds. Then of course you get lactic acid in the legs and so on, maybe I should really train more, but no ... then I do not have time to drink beers, after all. "
Where is the best to play, where is the worst?
-The worst is probably the gig at different bars in Stockholm, depends a bit on the bar you have to play in as well, then it can be really good and intimate. But if it does not look quite right, it often becomes quite sparse and stiff. It all depends on the owner and who arranges approximately. Then there is surely something that will top these in the future who knows
The best is at actual venues such as Cyklopen or Fraggelberget before it went under. It will be such a different feeling once you plays there. Less svensson who sits and has a beer and more people who are there because they like punk and are open to new things. And more fun after parties too!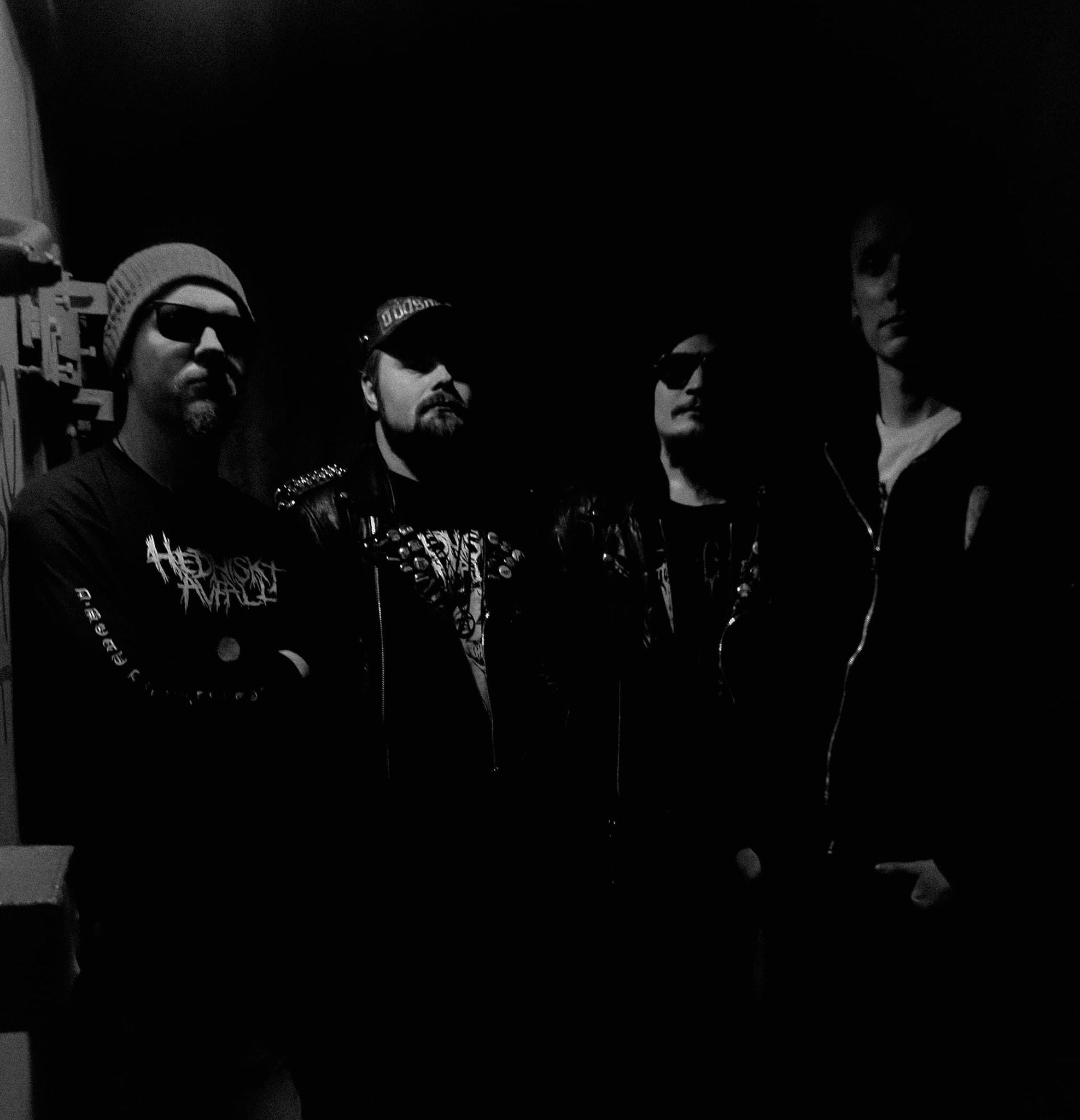 How is it like to play this kind of punk in Sweden today? Hard to get gigs when everything once again been running? Have you dared to book anything?
-It is not very difficult I think in any case, you can easily get gigs if you want and then it helps to be active in the scene and have many friends throughout Sweden who can lead you right if you are looking for gigs.
But it feels like it has been a bit low with new bands lately that run a bit more crust, so I think it also helps a lot because people are hungry.
We have actually just got the green light to play at Hygget this summer, thinking that then maybe everything has calmed down and the vaccinations have come longer.
What does punk mean to you, is it just a word or is it a lifestyle?
-Punk is everything, cliché enough maybe. It's so much more than just a genre or a word, it's a way of looking at the world, a way of being and a way of expressing oneself. It has been such an important part of life for so long that now you are stucked.
So even if you wanted to, I can not stop now. Love to go to gigs, arrange gigs, go to festivals, play live and meet all the friends you have made over the years.
How do you see on downloads, mp3s and the like? Your first records are only digital or? Does it feel like you released an album then?
-Is it just looks like something good, it makes it easier for the music to get around the world. Of course the competition does that too, but I know that I would never have managed to get the influences I got as I have today without internet in the shitresort I live in.
Yes exactly, the first demo we made came on a few cassettes that we produced ourselves but they disappeared somewhere in the piles.
And the last EP only came digitally yes, but for us it feels like an album release, we have gone through the whole process of standing in the rehearsal room to the studio, to listen to all versions until the production is finished and then gather and upload it online. Then we might want to see physical copies of all the records, but it is not entirely easy when you are a fairly unknown band also in msuicworld. Since then, Covid has not helped anything directly either.
How do you think it is to live in Sweden today, politically? KD / M / SD, the covid situation?
-Piss is probably a good word? I'm fine with Sweden as a society, I guess, but with a totally eroded welfare, right-wing parties that are growing and the growing number of dumb people that should express themselves as if they have some kind of fucking control over the situation towards actual researchers in the subject, you get pretty fucking tired.
The whole right-wing block KD, M and SD above all can go to hell.
Arnold: "Sad to see young people prefer the right's ideals for a better life. Politically, most people seem to be at a shallow level of understanding of different ideologies.
It would have been nice not to be called a leftist by a rightwing when discussing politics. And then why is Jesus in the Riksdag for? Feels unnecessary. "
Covid has taken a hard line on everyone. Especially on the gig front. But living restrictively has its pros and cons. For some, you just have to and it is not so damn difficult to help to reduce the infection, but Svenne seems to have a hard time understanding that the sun does not revolve around oneself. Longing until the foil hats take their vaccine so we can get rid of the infection at least.
Are there any bands in Sweden today? Are you hometown?
-In Norrort where we operate, it is pretty fucking dead. But in Stockholm there are lots, new bands, we have Rawheads who released a demo not too long ago which is really cool. Then we have Vägran too, they recently ran a livestream gig from Cafe 44 which was really nice!
Then all over Sweden there are lots, but give a shoutout to some mates; Weltschmerz for a messy summer weekend in Halmstad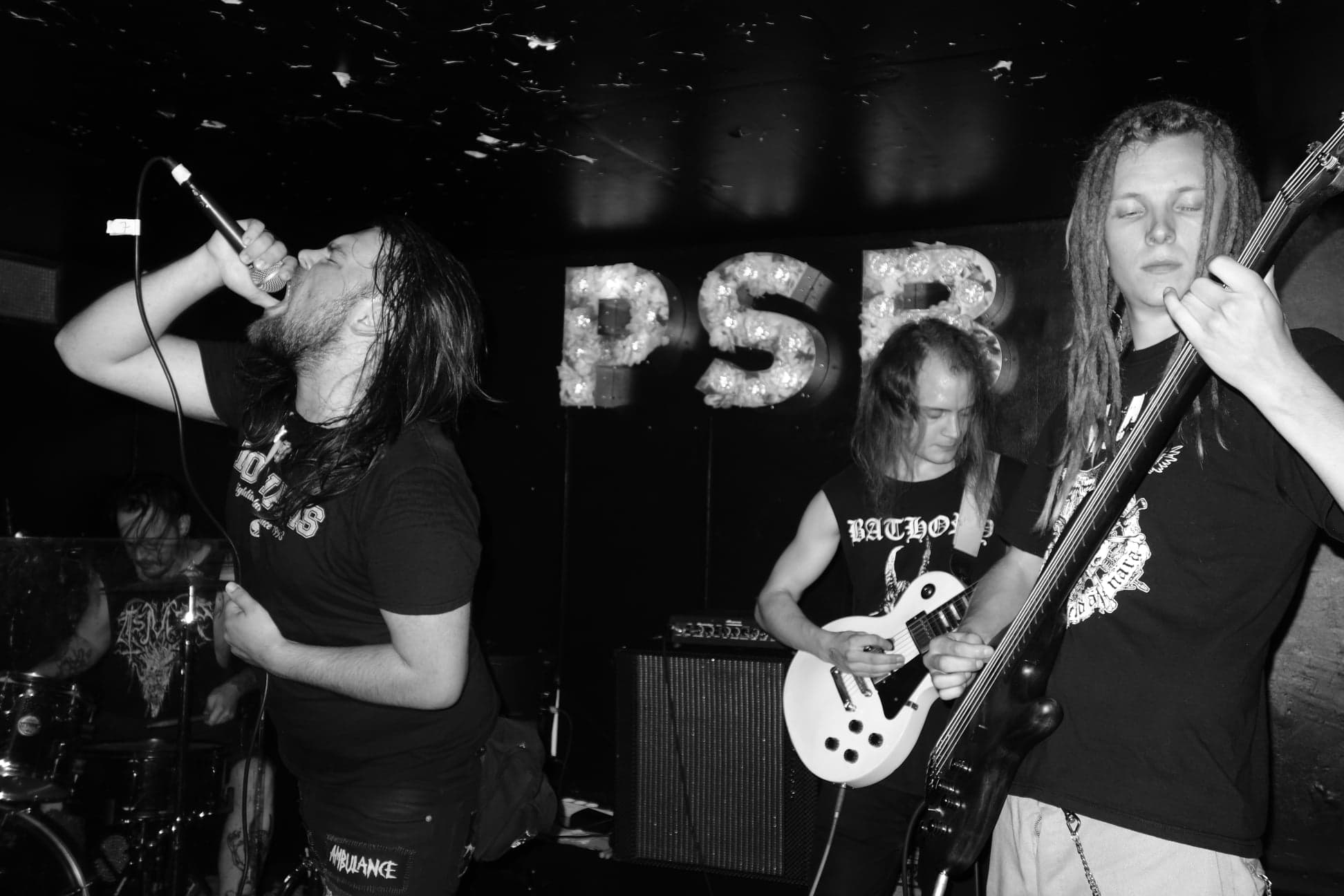 Do you play anything outside Sweden?
-Unfortunately we have not played outside Sweden yet, but there are definitely plans! The dream is probably some kind of tour through Europe down to the Balkans, just heard good things from friends who played down there in Southern Europe.
Other good bands from abroad?
-Mar De Rabia from Venezuela are really damn good, I was lucky to gig with them in Stockholm during their Europe tour 2019. Unarm from Japan were also really awesome, we arranged them in Stockholm at Cyklopen and got to see them about a week later at K -town hardcore party and they were just as good every single gig. Then a house favorite in the band is Mørkt Kapittel from Norway, cruel music and nice people.
Your lyrics, what are you influenced by? Never in a language other than Swedish? Why do you not have a text sheet in the disc?
-The lyrics are of course influenced by other bands and themes you can feel from other songs. A lot of the 21st century neocrust has a big impact on myself in any case, to vary the very political with the anxious and more metaphorical story texts, such is nice I think.
But mostly they are influenced by life, I guess, I write lyrics about things I need to get out of me that I just feel I have to shout at someone in the face about how tired I am of idiots, being depressed or pawned racists.
At the moment no, but in the future you might do a cover that is in English but we keep it to Swedish at the moment. I think it's a little more fun to write texts in Swedish anyway.
Good question actually, it was a bit mixed because Dark Charge thought we were should play untranslated into Swedish because it is a home language and that everyone gets a digital code to download the album on bandcamp as well and there are all the lyrics. The release in question is mostly centered in the US and they may not have the use of a note in Swedish haha
If you look at the song titles, are there no optimistic things you sing about? Is there anything you will never write about?
-Haha no, is there anything optimistic to sing about today? No, but a lot is just things I write about myself as I said. Shit you are tired of , how the world can the hell look like it does or how people can treat others as disgusting as you do. Things I need to ventilate and that's probably a bit part of the journey, it's a dark and damned band and I'm not screaming for joy exactly.
Good question, I think we would never write anything about Jesus, sobriety or sci-fi.
So no fucking evangelist straight-edge space pirates here not!
Politics and music, do they always belong together? Which is your most political song?
-It probably depends a bit on genre and what the song is about, not all songs need to have a political agenda behind them. But just when it comes to punk, it goes hand in hand in my opinion, punk is, will and will always be political. It's more than just a music scene, it's a movement to always stand up against the shit heads in power that oppress.
Our most political is probably either the Översittarklassen which is about how everyone in the upper class is constantly pushed down with the help of law enforcement or Dårhuset which is just about our parliament and what a fucking sandbox level it is in there and all the shit and scandals they get away with constantly.
Best political band / artist?
-Protestera will always be a favorite for myself and Operation. Very few bands that reach the slapstick level of the political songs they created. It is not wrapped in any refined or metaphorical terms. It's straightforward and it's damn angry.
Do you think music can change someone's life, then I mean lyrics etc?
-Absolutely, I recognize that feeling anyway. Some bands only write lyrics that you needed to hear that succeed in putting into words exactly what you feel or felt then and give you an outlet to sing, shout or just dance along, I think it's a great part to start a process to process things within yourself.
Then also I do not know where I would have been today without punk. I had not had so many good friends, not the girlfriend I have today and no band either.
As well as probably a million experiences poorer on it too, so I really believe that music can change someone's life.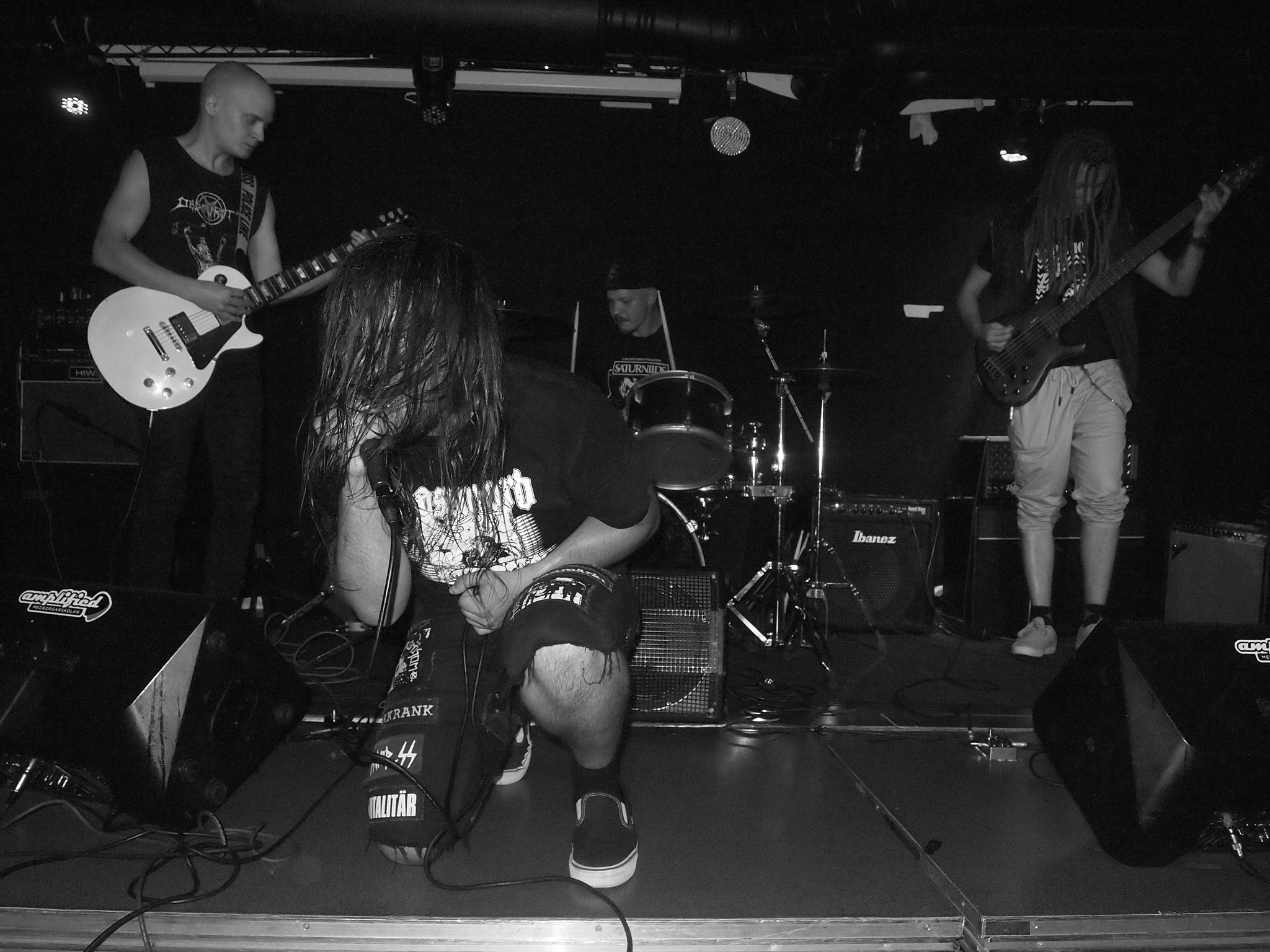 Your cover is really cool on your CD, who did it. Is it important to have a cover that you understand the type of music the groups play? What is your all-time favorite cover?…
-It was David at Open Arms Tattoo here in Stockholm who did the cover, we were really happy actually and fun to get it done as we did that we just said "here is the title, listen to the songs and do what you feel for" and where a pretty good expression without the whole album in pictorial form I can feel, especially with all the little details.
Absolutely I think so, the cover will be like a visual representation of music and the band itself, it can help set the tone and make it easier to mentalize how the record will sound.
When you stand there at a gig and see a record in someone's distro back and you've never heard them before, you have nothing more than the name and the cover to go on, so I absolutely think it's important.
Best cover of all time, difficult question! When I go through my own records, it is always "Acursed - The Tunnel at the End of Light" that stands out. Simple as hell and sets the tone for the album. That or Adrestia's "Art of Modern Warfare", really nicely painted cover.
Is it important to get out physical records? Vinyl or CD or both?
Is there a good record store near you? How come you released the record on Darkcharge Records?
-I think it is absolutely special in the punk scene where many are collectors of physical versions of music, myself included. I think it's easier for people to try some new music when they buy a cheap CD at a gig than when you scroll through all the millions of options on bandcamp, youtube or online in general. Vinyl has been the most popular format for a long time now, but cassettes and CDs are something everyone does, but it is starting to become much rarer as most people focus only on getting it out on vinyl.
In Norrort we don´t have a shit, most music related is run over for more homes approximately. But there is always into Greater Stockholm e.g. Thrash Palace or Sound Pollution which are really good shops to find just more metal and punk related.
We ended up at Darkcharge by frantically looking for companies. Darkcharged used to be a band in the US that I really liked. Then one day I on Facebook that they put down as a band but would become a label instead. So wrote that we were tagged and send a demo. They immediately wrote that we would fit perfectly and they were interested and the rest is history
Please tell me something really funny that happened during your career on stage or behind the scenes etc?
-On stage, it must have been on Fraggelberget when you heard someone in the audience roar between two songs "Fucking Stockholm'sfuck, the songs never end!" You laugh to that even when you think back. Because we know it ourselves, we do quite unusually long songs for today's stage style.
Behind the scenes, I believe in the same gig actually stuck at the afterparty, they only had beer left but booze in the cellar but someone had forgotten the keys. Then began the whole procedure of "how do we get in?" and it was one better idea after another that appeared, of which the organizer is trying to break open the door lock with a hammer and chisel for "Of course you should have booze!" Somewhere in the conversation about sawing up the floor in the kitchen so you could jump down into the basement, I checked out and went to bed, I think.
how does the audience look like? Which type of people comes to your converts? Do you miss any types of people?
-Most of the time it's punk and metalheads that we see in the audience when you play, of course a lot of close friends as well who are off stage and there to support as well, friends and family. But at the front, the dedicated ones usually stand if you do not get an early palying time on the playlist so everyone has just arrived and does not have any beer inside the body yet.
Please rank five favorite records, five favorite concerts?
-Heavy question, there is so incredibly good music and you have been to such a hell of a good gig over the years. Everything also varies with how you feel that day, but you have to try.
5 records:
<![if !supportLists]> 1. <![endif]>Acursed – Tunneln i ljusets slut
<![if !supportLists]> 2. <![endif]>Shades of Grey – Freedom / Incarceration
<![if !supportLists]> 3. <![endif]>Ambulance – End of our Time
<![if !supportLists]> 4. <![endif]>Nails – Unsilent Death
<![if !supportLists]> 5. <![endif]>Mayhem - Deathkrush
honorable mention: Totalt jävla Mörker - S/T
5 favoritconcerts:
1. Avskum at Cyklopen 2017 - So into hell messy gig, so packed with people and just pure magic approximately. People flew to the right and left, never reached that feeling again I think
Kronofogden at Kingstabel 2017 - Really nice bar really, the contrast was so beautiful. Especially whenKornofogden tore the stage and the audience ran away with the owner reluctantly crowdsurfing around
3. Totalt Jävla Mörker Funeral gig at Kraken Stockholm 2017 - TJM's absolutely last gig, it was something awful but beautiful at the same time, standing and roaring from the lyrics like sacred rhymes that took one through adolescence one last time for almost everyone. Good fucking pressure and a lot of people!
4. Knaegt at Antisocial Festival 2017 - What can I say? 2017 was a damn good year, Knaegt was our secret "closing act" at the whole festival, which included the singer climbing around the roof and spraying fire in the crowd and playing such a fucking high that we did not even hear the fire alarm. Good mess!
5. Doom at K-town Hardcore Fest 2016 - Sickly good gig overall I do not remember the whole evening except that I was totally mashed in the moshpit so I hurt my knee quite badly but had promised Arnold that I would stage dive during Doom, so gave it a go again and did it twice because I could.
Is it boring with interviews?
-No, I do not think so, it's fun to think about and talk a little. Some things you have never thought of yourself before! Or who just recently tried to remember all the gigs you have been to and then try to rank them in some form of order.
If you could choose five bands from history, dead and alive to have a concert with your band, what are the dream bands then?
-Oh, it would have been a fucking thunderous gig. If I had to choose completely freely, it would have been Ambulance, Shades of Gray, Personkrets 3: 1, Acursed and Massmord. All just dead bands that are my favorites haha, but would have been a pure dream to both see live and play with everyone.
Is music a good way to vent frustration and become a kinder person? Are you angrier today than you were as young punks?
-Absolutely, I always feel reset when I have had to play live or rehearse and that makes you feel when you have not been rehearsed for a while because you get a little more easily irritated maybe.
I would not say angrier, you are pissed off than rightly so considering what the shitty society and the world looks like, but I would classify myself more as bitter today than angry for the most part.
What is the strangest question you have been asked in an interview?
-I haven't actually done that many interviews in my life so I can't think of anyone actually, most questions are a bit in the same style, who are you, what do you do, what do you like, etc.
Which is the question you never get, ask it and answer it?
-I actually have no good answer to this either, as I said have not done so much interviews to begin with
Future plans for the band?
-Right now we are working on a one more 4 song EP that will be finished sometime this year and immediately when it is released, we will start on a full-length that has been on afterburn for a long time now. Then the future plans are only centered around getting out and play when you can do it, do some tour-like thing through Sweden, taking a trip over to Norway and play there then of course get out in Europe.
If you could dream, USA and Japan are something you really would have liked to have the opportunity to play in.
For yourself?
-Soon finished with the studies, there is probably a lot on the agenda, then start working and try to help others, I guess.
Keep writing lyrics for Hedniskt, live like hell, arrange gigs and just drive straight into the tile with your teeths first.
Words of wisdom?
-It always feels darkest before sunrise.
"Even if you win the rat race - You are still just a rat"
"Die for metal! Live for violence! Fuck off in hell! "
Anything to add?
-We are on Facebook and Bandcamp, keep an eye out there if you are curious about what we have in store for us in the future! We hope that Corona disappear soon so you can gig again and that people appreciate Frihetens Grav during the pandemic
Otherwise, thank you for having us in your zine