Astrid in Heavy Tiger has so kindly answered my questions now here in March 2017. Heavy Tiger is a group that I fell for at once and do you like rock n roll with female vocals a'la Donnas, The Runaways, etc.Then I think the Swedish group Heavy tiger is something for you.
A little history about the group?
We did not know each other before Heavy Tiger. We had just come up in the teens and everybody wanted to be rock stars. The common ambition brought us together and have kept us together for seven years. Still going strong.
Tell me a little about every member, age, work, family, bands before and band on the side ??
-Maja 24 is years old and works at Jam Guitars in Stockholm. Living in a basement in Bromma with her boyfriend. Hope that there not is mold in the apartment but it is not going to know for sure. Have obviously no band next Heavy Tiger - just tigers that counts!
Sara: 24 years and works at the gas station. Lives with her Viking-like boyfriend in Rissne and he enjoys cooking to her. Have obviously no band next Heavy Tiger - just tigers that counts!
Astrid: The youngest in the band but is still a head taller than Sara and Maja. 23 years old and working as a student assistant. Crossword King and calm as a cow. Live with tinker-Uffe in Bromma. Is there anything Uffe can not fix that, it simply can not be fixed - throw the shit! Have obviously no band next to Heavy Tiger - just tigers that counts!

I can hear a lot of older music, glam, garage, I hear right? Was it better before?
-We are all more or less grew up with older music, like 50- 60- 70´s music. For the most part, it was better before, yes.
Heavy Tiger, are you happy with the name.? If not the best band name had been busy by another band which name had you chosen then? I mean what is the best band name?
-Yes, Heavy Tiger is a cool band name. It comes from the Flaming Sideburns song of the same name so it becomes simultaneously a tribute to this cool Finnish garage rock band.
What is the best thing about playing live?
-The energy and kick you get! It's a kind of energy exchange between the audience and the band, and it's magic when it happens!
Where is the best to play, it was the worst?
-Sweden is among the worse places to play. Of course, not always but often it is a stiff audience not until after the gig shows that they actually thought it was an awesome gig. Then arises of course not the magic during the gig. Finland is cruel to play in! Spain and Germany are also really good rock audience that reveals the gigs. Japan was totally unreal. Like a dream! All sang along with the lyrics and stood and was into the whole song through. Between the songs, it was dead silent in the crowded hall and the crowd was so polite and committed and did not want to miss the talking. I felt like a real rockstar.

How would you describe your music in three words ??
-Energy, attitude and good.
What does punk mean to you, is it only a word or is it a lifestyle?
-We have never seen ourselves as particularly punk. We are influenced in part by the garage and the like, but punk, we have never called us. We are rockers!
How do you see on download, MP3 and the like?
-Because we want to live on our music, obviously we want people to buy it if they can, and do not download it for free.
How do you think it is to live in Sweden today, politically?
-It's scary that SD has managed to grow so big !!! But compare it to many other countries in Europe, such as it is so is it calm .
Is there any good bands in Sweden today? In your hometown?
-Bands, there are of course plenty of, but then it's not everyone who is especially good. Tips for a great band is The Hawkins, The Moonbeats, Thundermother, Devil's Gun, Junkstars.

Do you play anything outside Sweden?
-We have made several foreign tours and played in Finland, Japan, Vietnam, Germany, Spain, England, Scotland, Austria, Italy.
Other great bands from abroad?
-The Struts! '77! Flaming Sideburns!
Your lyrics, what influences you? Never in another language than English?
-We sing in English but it would be fun to try sometime Swedish. we might do a Thunder Express / Dundertåget. Writing in one's native language is a way harder for it feels more honest and indecent exposure. But also easier because it is the language you can and have an eye on all the nuances and can color the language in a completely different way than eg English.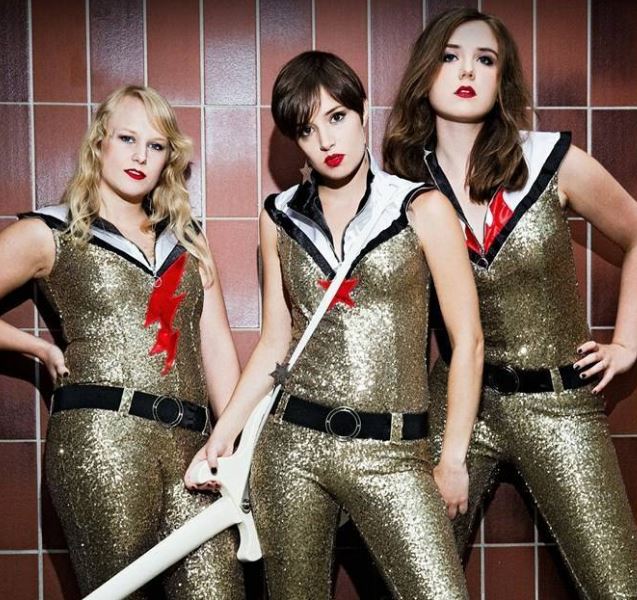 Is there something you are never going to write about?
-You never know, but we will never write something we do not stand for.
Politics and music, does it always goes hand in hand?
-Not automatically and you do not feel compelled to it, but it's good if you take the opportunity to exploit the media space you get and standing up for important and great views.
Best political band / artist?
-The Clash. Otherwise Heavy Tiger. If you are a girl and takes place and is seen and heard in a male-dominated industry (which means most industries), it is in a way always political.
Do you think that music you can change someone's life, I mean texts etc.?
-Absolutely! Music can do so much, it can cheer, comfort, broaden anyone's views ..
Your cover is really cool on your CD, who has done it. Is it important to have a cover so that you understand what kind of music you play? What is your favorite cover all time? ...
-Niklas Brunzell took the picture and Juha Kuusjärvi has made the album cover. Obviously, it is extremely important to have a neat and representative album art that captures the interest and where the potentially prospective believern get what it is about and taking the plunge to buy the album and listen to it.
Is it important to get out physical discs? Vinyl or CD or both? Is there any good record store near you left?
-Absolutely! Both CD and vinyl is important in this genre. Rockfans still listen to the physical discs (or want to at least have the physical discs in the disc back) and depending on the territory's if it´s CD or vinyl that dominates. In Germany it is almost CD that people want and in Spain it is quite the contrary!

Please tell me something really funny that happened during your career on stage or backstage, etc.?
-This is well more a sick story a funny, but during a gig in Helsinki last autumn Sara got a microphone stand in the middle in the middle of the set. It started to drain a lot of blood, and we had to run off the stage and go away to the emergency room with her. There we sit for a few hours, with the glittery costumes and Sara completely patchfilled . It probably looked a little funny anyway.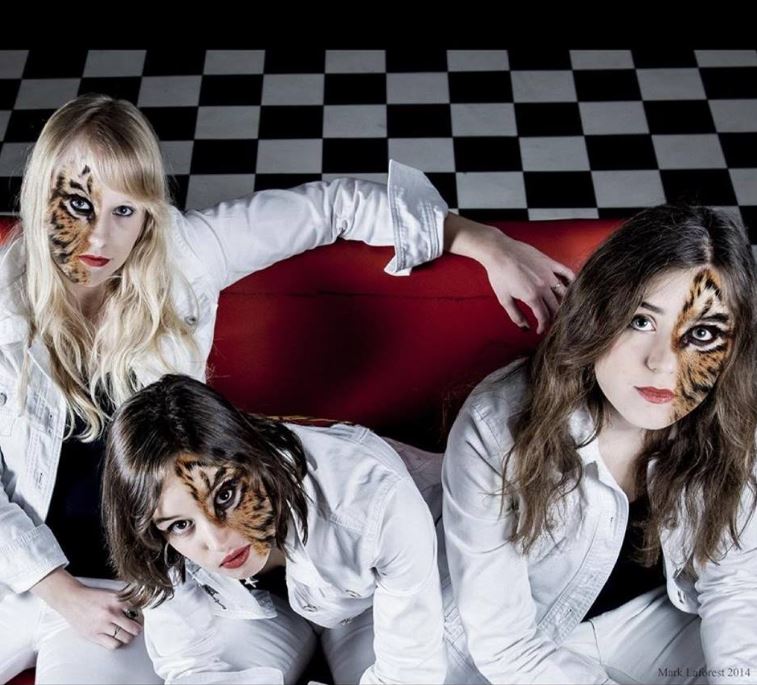 How does your audience look like? What people comes to your concerts? Do you misssome types of people?
-That's the most old men. We lack the younger girls! Rock is so sick unpopular today if you look at the crowd and we tried to play so much to younger audience to get them to open their eyes to this kind of music. We have made several school tours, and it has been quite successful. For many of the kids, this has been their first rock concert, and they thought it was really cool.
Please rank your five favorite records, five favorite concerts?
-That's difficult to answer, because we have quite different favorite bands. Astrid would choose some Deep Purple and Whitesnake CDs, Maja draws more attention to garage and punk rock with such band as The Clash, and Sara dig bands like Thin Lizzy. But we all agree that early KISS and AC / DC are well worth a few extra sessions.

Is it boring with interviews ??
-Depends on the interviewer and the questions it gives us.
If you could choose five bands from history, dead and alive to have a concert together with your band, what are the bands dream then?
-The Clash, Thin Lizzy, ACDC and Kiss (all when they were young and cool).
Music is a great way to get out frustration and become a kinder person? Are you angrier today than you were as young punks?
-We have never been a punk or played particularly angry music. Instead of taking out frustrations through the music we air the energy and joy.
What is the weirdest question you have got in an interview?
-In an interview they lined up a bunch of different women, ranging from musicians to Hillary Clinton, and so they wanted us to give our opinion about them. It felt very strange, as if we would have something special to say about them just because we are women.

Which is the question you never get, please ask it and answer it?
-We never get this question! Which is lucky, because we do not know how we should respond.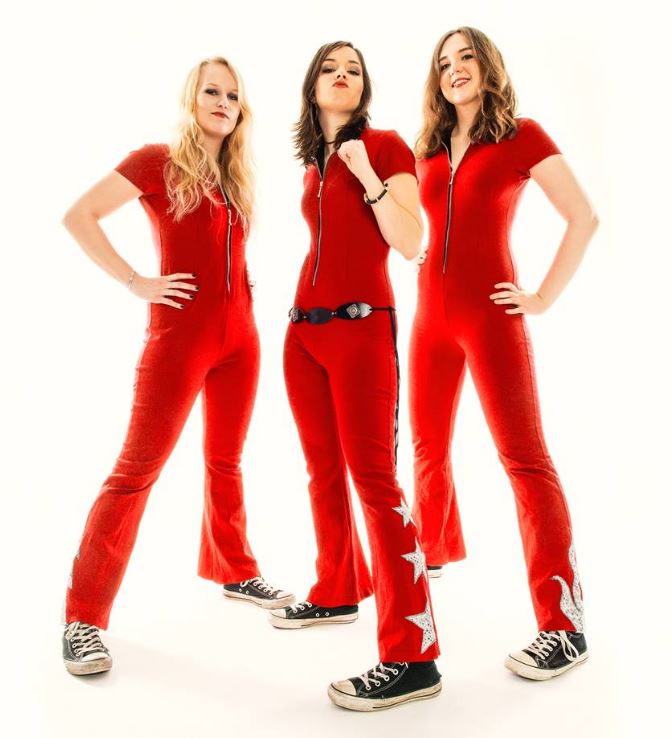 Future plans for the band?
-Release the disc, have a great summer of festivals and start writing new fat music!
For yourself?
-It's all about Heavy Tiger!

Wisdomword?
-Girls got balls - just a little higher up, that's all!