Heartbreak Stereo from Finland is a very interesting band and here they answererd my questions with short answers but I hope they will give the information you want to hear. March-2007
History?
-We started playing together in late 2004 after our bands before that crashed. Since then everything has gone great. 2 records out, a sweden tour and a euro tour is behind us sofar.

Please tell me a little about every member, age, family, work, interests and something bad about every one?
-*Affo -dums, backing vocals- 24 years old, living with my girlfriend in the city of Turku where I'm studying, the bad thing about me is that I'm bad at everything except playing the drums and surfing the Internet.
*Antte -guitars, vocals- 25 years old, living in our rehearsal space & at my girlfriends. I'm bad at drinking "bål" and staying on me old legs.
*Robin -bass, vocals- 19 years old, retarded and blind. I'm living with my parents and sleeping between them. If I'm bad i have to sit in a cage.

My review of your record is like this HEARTBREAK STEREO-ECHO ROAD(MINI-CD FAST EDDIE PRODUCTIONS FFPCD004) Once upon a time I saw Finland like a country without good rockbands. Sure they had hardcoregroups in many different styles in the 80´s and sure there was a group like Hanoi Rocks but they hadn´t so much more. Now it had come a lot of good rockgroups from Finland and Heartbreak Stereo is one of those. 8 songs of fast rock n roll with some punkinfluences is what the group gives to us and Struggling Soul have something in it´s melody which reminds me about The Alarms The Stand..that´s big. Clash, Rancid, Social Distortion is otherwise the groups which I think of when I hear Heartbreak Stereo.(EIGHT) 26/2-07
What about it?
-GRRRRRREAT!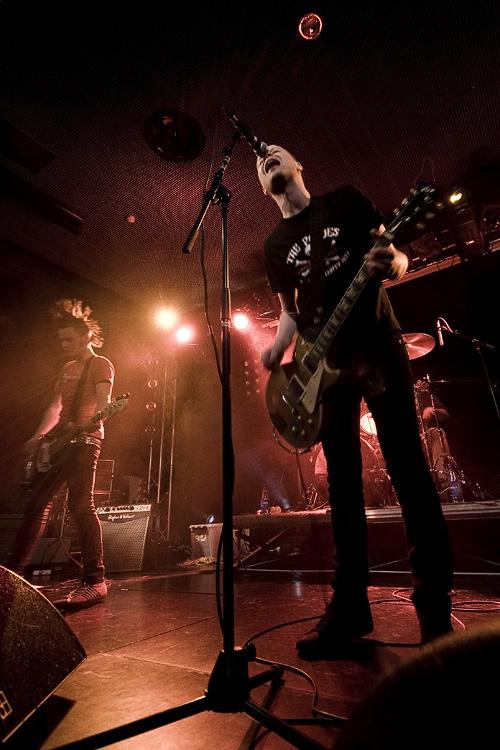 Is there any other bands you´re being compared with?
-The bands above. Oi mate.
...and Bombshell Rocks, Dropkick Murphys

Do you care about reviews?
-A little. It's always fun to get grrreat reviews. Usually we laugh if they're really bad.

Which is the most peculiar review you ever have got?
-We got a finnish review about how our record is only good for icehockey sauna night while the team shaves their balls..

How would you describe your music in three words?
-Energetic punk rock

How is it to live in your homecountry? Is it so that you can swedish too?
-Yes, we all speak better swedish than finnish in our band.

What about the government?
-What about it?

Do you think that music and politics goes hand in hand?
-Sometimes.. not really no.

Best political band?
-The Clash, Propagandhi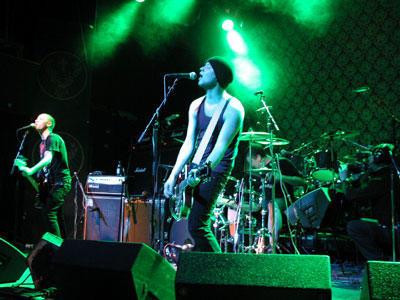 Is there any good bands in your homecountry now? Favourites from the past?
-Lots at the moment, like Disco Enemble, Evilson, HBS, Dead by gun...etc.

What do you know about Sweden?
-Good bands, and expensive beer..

Have you heard any good swedish bands?
-Yeah, Ebba Grön, Bombshell Rocks, Tysta Mari, the Confession..Thåström.

What does punk mean to you, is it only a word or is it a lifestyle?
-A lifestyle... with good music

No songs in Finnish, Swedish??
-Nope, not this time.

Please rank your five favourite records, five favourite concerts and five most important things in life?
-Records:
..and out come the wolves...
Dead american radio
London calling
The New Bronx album

First, last and most expensive record ever bought?
-*Robin - Out come the wolves, Bad Religion ,?
*Antte - Kriss kross, the Bronx, ?
*Affo - Razors edge, Pearl jam- Live at the garden, ?

Most embarrasing record in your collection?
-None

Do you do any covers on stage? Why or why not?
-Nope.. don't have time for them in the set.

Is it many interviews? Is it boring?
-Lately a few.. sometimes their pretty boring...

Which is the question you never get, please ask it and answer it?
-This one

Is it any chance to see you in Sweden soon? Have you ever been here?
-We've been over 4 times.. We're coming back over hopefully this year.

Where is the best place to play?
-On stage.

How is a good gig with you?
-Beers , cheers & energy.

Which type of people comes to your concerts??
-Everyone that wants to come.

What shall we do about all rascists?
-Cook them in their own piss.

The best band in punkhistory? And in finnish punkhistory?
Ramones, Clash,... fin: Sielun Veljet

The most important punksong?
-Brohymn ;)

Futureplans for the band?
-More shows and more records out,

For yourself?
-Playing more shows & stuff

Wisdomword?
-Always eat yellow snow, it might be beer... but don't eat that red snow by the river where the virgins go.

Something to add?
Spread the word, & buy our record!