HATHORis one of the most interesting demobands I ever got. Their three demoCD.s see I like three of the best I evere got to review. These facts forced me to do an intervieqew with the drummer Pierre Ohlsson.
History?
-Yeah, we can say that I and Hampusbegan to play in the summer 95 and then played we some trash but we didnd´t get any basist so the whole thing get layed down after half a year. The both of us were in other bands to the autumn 97 and then we decided to try to come up with music agaian and we recorded our first demo "Fucking Glory" After half a year Patrii came into the band and began to play bass. We have began to play dirty punkrock then and after that have we recorded 4 demos " If You Can`t Be Good, Be Bad", "Philistine", "No More, No Less" and the last one "Dead End Lane".

Please tell me a little about every member ,age ,interests ,work and so on?
-Me myself I is Pierre Ohlsson (23 years) and I play drums. I have no job for the moment. Except from music iam I very interested of motorcycles and all kind of motorsport. Then it´s very nice to take som beers to a good football or hockeymatch.
Guitarist Hampus Kuylenstierna (23 years) helps an old man to renovate his old boat and he gets som black money there(never wrong) He likes boats very much and he do the waterskiing and other things that belongs to the sea. Then he likes beer, hockey and football
The basist Patrik Karlsson (29 years) works in a fabric right now. I don´t really know what his interests is but they are mainly like ours, beer nd hockey i know that he likes. Patrik is the only one in the groups which have a girlfriend so is it any good-looking rcok nroll girl who reads this please write me.

How is it to live in Strömstad then?
- The summer can be really nice, but the rest of the year is really boring. But we´re going to Copenhagen to study for a year all the three of us

And to play this sort of music?
-Useless, that´s because we get so little gigs because of that we live in a little town and here´s only coverband and other shit who gets the gigs.,
You look like heavymetalfreaks but you sound like this?
-I have cut off my hair recently. That we look like this is maybe because that we always have listened to heavymetal, trash, rock n roll and punk.
Hathor, how did the name come up?
-We found in a book and we thought it sounded tough, it´s an old egyptian beer and dancegoddess, so it suits us fine.
Is it many gigs?
-It´s a fucking bad thing. It´s only to call us so can we come and plays the shit out of the place.
Where is best?
- The best place we have played so far is Jailhouse in Gothenburg. Fucking good place and then is Ägget(he who owns the place) a fucking great guy.
How is a good concert with you?
-A fucking great party.

What is the most peculiar thing which have happened on a gig with you?
- It must have been when we played in a place in Uddevalla, because for the first the drumkit was nothing stocked on the drumkit so the bassdrum and other things walked around all the time and then the mics fall down whole the time and the sound shall we not talk about. It ended with that Hampus almost destroyed the guitaramplifier but it was so fucking good gig so it was fun anyway.

What do you think about living in Sweden?
-Yeah, there´s a reason why we chosed to study in Copenhagen.

Is there any good bands in Sweden? Foreign bands??
-Hell,yeah. Troublemakers is a fucking good band and then we have
Entombed as I see as one of Swedens best bands right now.Hives is also good.Foreign bands, we have Motörhead, Misfits, Slayer and other good music.

What does a band good do you think?
-Attitude and jävlarannamma( I don´t know to translate it).

You sound both like Motörhead, Sator and Misfits,please explain that?
-We listen a whole lot on them and other music to we take inspiration from them and the music that sound like them.
You do covers of Stooges and so on, any more covers?
-Emergency with Motörhead/Girlschool, White Riot with Clash and Hate the
living, love the dead with Misfits.
What does a cover good?
-I don´t really know, but can´t never ever do a cover better than the original. When we do covers we try to make them rawer and more chaotic than the originals.

Which type of people are coming to your concerts?
-It mostly punks.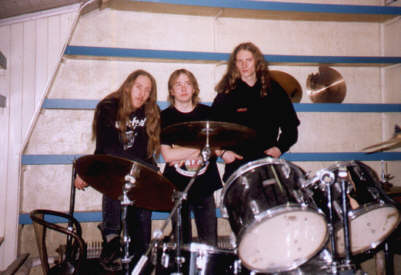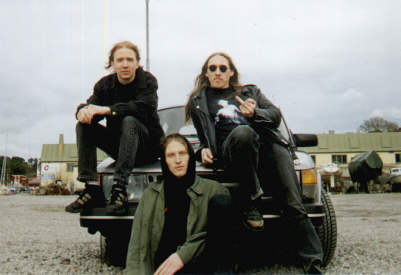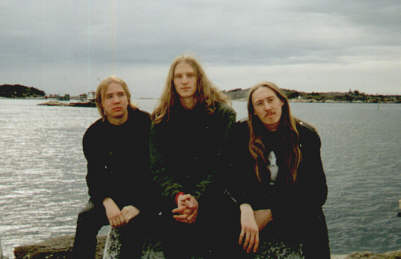 Do you have any fovouritezines on the net or on paper?
-Your zine is fucking good, Chrome, No rule and Denimzineis other good zines.

What shall a fanzine contain?
-Good interviews and reviews is enough for me. Gigsreviews can be fun also.

Do you do something like that except playing music?
-No, Patrik did one for many years ago, I think he called it Hell
Hyland.

What does punk mean for you?
-That we do that we feels for and don´t give a damn about people who tries to force us shit.

Do you have an own homesite- who does it?
-Yeah we have, but because of that noone of us have a computer it mostly is inactive. Why do we have it, we hope that somebody is going in on it and maybe be interested of us. Go to http://members.tripod.com/realhathor

Haven´t you heard anything from any label(it´s a shame)?
-We have heard from two labels which was interested, but it was a while ago and they have never write back after that so I don´t know.

What do you wnat with your music?
-Get chicks!, No we don´t want anything more thatn to have fun and get out som aggressive feelings. a whole lot of gigs have been fun also.

You´re inspired of Slayer you says, why don´t you do a cover of them in punkstyle?
-Have never thought about it but it sounds like a fun idea.

Idols when you were small?
-My absolute favourites was Iron Maiden, Hampus was Ebba Grön and Patriks
was Elvis.

The first record you bougth and the last one?
- The first one was a compilation with some old heavymetalbands. I don´t know what it was called because it was stolen some years ago. The last one was Massacre with Expoloited.

QWhen you do music which is the most important, the music ,the lyrics or to have a refrain that people recognize?
-We put big attention to everything and the most important is to get it so fast and good as possible.
How do you do your songs?
-Hampus and Patrik cames with some chords and a refrain and lyrics and then we put it together in a good way.
Futureplans?
-We plays on and we hope it will be good for us sometime.

Wisdomword?
-Beyourself and don´t care about what other people says to you!

Something to add?
-I want to thank you for the interview and wish you good luck in the future. Then people can write to me. Here´s the adress:
Pierre Ohlsson
Karlsgatan 15/5
45230 Strömstad
Tel:070-6015528
E-mail:hathortractor@hotmail.com

Nowadays Skrutt only come on the net,comments to that please?
-Yeah it+s more fun to read on paper but I understand that you don´t have the time to do that sort of thing anymore.