Conny Bloom have been in many bands but nowadays heīs a member in my old heroes Hanoi Rocks, I got a chat with him a cold autumnday in october 2005.
Howcome that Hanoi Rocks started to play together again after so many years?
-Michael and Andy started to write songs together again and they had been thinking of giving them out under a different name. It sounded like Hanoi and it was them who started the band so it became Hanoi Rocks again. .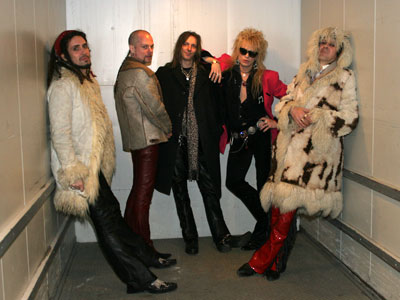 And how did you came into the band?
-Andy and I talked in the 80īs already that we wanted to play together. They wanted to have me in the band when they had their reunion and they thought that I was busy with something else. It was after some coincidences, a jam on Tantogården in Stockholm which Andy said it to me again. We used to joke about to play together and we have done that for 20 years, so it was about time we did it now.
What have you done after Electric Boys? And before?
-After I put together a trio with 2 other songwriters under the name Titanic Truth, just to " play things of me". It wasnīt for a long time. And then I did a soloalbum, "Psychonaut", which was a good record. It was a little bit before itīs time and it wasnīt so much commercial with that. Iīm happy to see that Deaf & Dumb have get it out from Warner Music just to release it again on a combine best of record. One of he CDīs will be the solorecord and the other one will be things which I have been involved in through the years. .
Before EB: I had a powertrio with Gyp Casino (the original drummer from
Hanoi Rocks), Roadrats, which released some singles and we made young girls in Finland hysteric. After that we became some more members and changed name to Rolene and di one record. It was during those years I met Hanoi, then we have toured with them as a support act.
To be one of Finlands biggest bands through all times will put some demands on you, how did you feel to that?
-We is one of the best rockbands in the world live, so we feel no anxiety over that. I wouldnīt go into the stage after a gig with Hanoi Rocks.
How is Finlands rockscene otherwise?
-Iīm not so much into it, I live in Sweden. Have met Ville Vallo, the singer in HIM some times. Heīs a cool guy and their gig on Cirkus I think was really good. My daughter likes Rasmus too. Their latest record have some of the best riffs I have heard in many years even if their concept is a little bit predictable.
Crustpunk have always been big there, how is the punk nowadays in Finland?
-??? I donīt know.
Hanoi Rocks have always been somewhere between punkrock and heavy metal some how, how is your relationship to punk?
-I was never a "punk" but I have always like the energy in punk. Itīs like reggae. Thereīs a lot of boring reggae but when itīs good, itīs fukcing good. Michael listens sometimes to old punk in the tourbus but I and Andy prefer reggae and 70īs disco. A common favouriteband is Cheap Trick.
I havenīt heard the new record yet, but is it far away from the other records? Whatīs the best with the new record?
-Hm.. Itīs very varied. But you van hear that it is Hanoi Rocks but itīs new sounds too. That itīs varied I think is good. I donīt think itīs the best hanoi Rocks record but it have many good songs like " You make the earth move", "Better high" & " No compromise, no regrets".
Have you done anything to change the sound in Hanois sound? Or isnīt you after that?
-I came into this too late to change the sound in some way. I played a little on the record but I havenīt been into the choosing of songs, arrangements or production. I want that the new record shall sound "like a band" more as it is live…rawer, pure.
How is a good gig with you?
-Hopefully a really good rock n roll experience.Many impressions to take home and melt. The most mad gig this far is on the roof of STOCKMAN(a store in Helsingfors). It was a promotionthing for the record 17.00. It came 14.000 and the traffic and trams stood still in 5 songs!
How does the middlefan look like?
-We have everything from old fans which was with us in the 80īs to small girls, which does their best to look like their idols.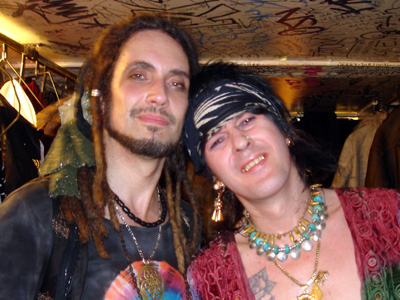 You have been around in the world and played , where is the best place to play? Whatīs the difference of playing in Sweden if you compare with for example Germany?
-The difference between Germany and Sweden is big for me. We have never had any good gigs there not with Hanoi Rocks or Electric Boys. The best country to tour in is without doubt Japan. Iīm looking foreward to tour in USA again.
Where do you stand when weīre talking about mp3, is it OK with downloading and can you understand the people who does it?
-Of course I understand that. CD's is too expensive if you think about what you get. Often is it only 2-3 songs which is really good, the rest is shit.
Have you downloaded for yourself?
-Yes
Did you listen to Hanoi Rocks before you become a member in the group?
-Yes, have always thought that Hanoi Rocks been one of the world best rockīnīrollbands. I think we are that still and Iīm proud of taking part of that.
How would you describe your own music in three words?
-Rock And Roll.
Please rank your five favourite records, five favouriteconcerts and five most important things in life?
-Five records is hard. I say some record which have meant a lot to me when I heard them.
Jimi Hendrix "Smash hits"
Undisputed Truth "Higher than high"
Bob Marley "Live"
Alicie Cooper "Killer"
David Bowie "Pinups"
Five concerts(donīt remember the years)
Bob Marley "Gröna Lund", Sthlm.
Rory Gallagher "Konserthuset", Sthlm.
Aerosmith "3 songs Hard Rock cafč in London".
Trouble Funk "Ritz", sthlm.
Hanoi Rocks "Studion", Sthlm.
Most important ? If you talking about "things" so is it my old strata(guitar) , my passport, my mobile, my stereo and my fuzzbox. Otherwise Iīm really simple and not a techniquenerd. Most important is health, family and to just to play.
The first, last and most expensive record ever bought?
-The latest: Peps "äntligen".
First: Alice Cooper "Killer".
Most expensive: Some CD box..
The most embarrasing record in your collection?
-I donīt know.
Do you live in Finland now or is it not anyone who does that or where do you have your base?
-Lives in Sweden but when we rehearse we do it in Finland.
When you will come to Sweden , what shall we expect of you?
-No fucking idea and that is the thing with Hanoi Rocks, no day is the other same.
Do you do songs in the group nowadays?
-Yeah, we have all ideas. We will see what is left of that when the record is recorded.
Do you play songs from all albums, or is it any album you donīt like?
-We do really varied setlists. This Finland-tour we havenīt had any special set and we have done it on a feeling. We havenīt done any conscious choice to not playing something from any special album.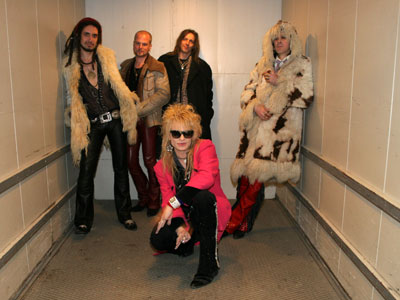 Which is your Hanoi Rocks-favoruitesong?
-Hm….Hard. As a rocker I must say "Motorvaitin*". "11th street kids" is a good song with good lyrics. And "Don't you ever leave me" of course. In the later years I like "You make the earth move" from the latest record plus "People like me" & " A day late, one dollar short".
Is it any song you really donīt like to play but you must do it because the other wants to play it?
-No, I cannot say so directly. Noone like Taxidriver so much but the fans like it.
In Electric Boys you was the frontman but here itīs more Mike Monroe who have this work, is it boring or is it only nice to have it so?
-I have no problem with that. Heīs born to talk/be frontman and I have always thought that the most interesting bands have a separate singer (as AC-DC, Rolling Stones, Aerosmith, The Who etc etc). My strongest weapon is the guitar and I like to concentrate on my playing.
Futureplans for the band?
-To hold this together as long as we can so we can so far that we havenīt done with our respective bands/projects.
For yourself?
-Look at the latest answer. Want to get out some solorecords too.
Wisdomword
-Dance like nobody's watching, love like you've never been hurt, sing
like nobody's listening and live like it's heaven on earth. ~Mark Twain~
Which are the members right now?
-Michael Monroe:
One of this world most energic frontfigures which have been a better singer after all these years. Nice private and heīs keen of getting things together.
Andy McCoy:
A real punkrocker which donīt gives a damn about what people thinks about him. He have a marvellous humour which not so many know about and heīs son of a bitch of writing songs.
Lacu, drummer. One of few drummer which really gives everything of himself. Heīs mad. .
Andy (A.C) Christell. Played the bass in Electric Boys also and in Andy McCoy's soloband ("Live Ammo"). Steady as a rock.
Something to add?
-I hope that so many as possible comes to our shows when we come to Sweden in december.
Peace, love & respect,
Conny
Pictures comes from Hanoi Rocks website www.hanoirocks.com