Hammered satin is a band which doesn´t sound like many other bands nowadays and they plays a form of glamrock which I am grown up with and that with influences like T:rex, Tears, Sweet etc. august 2015
Please tell me a little bit history of the group?
-We started in late 2010. We went to Sweden in 2011 and opened up for the Ark just before they broke up. We went back to Sweden in 2013 and also hit Germany, Denmark and Holland on a tour. We also released our first album "Glamorama" on Burger Records. Toured the US mostly east and West coasts. Released our second record on Lolipop and Radcat Records this year which is a 7" single 45 with two songs. Made a bunch of music videos. One video for our song Foxy Dude made Rolling Stone and Yahoo Music's top 20 music videos of 2014.
Please tell me a little about every member in the group right now, age, family, work, interests and something bad about everyone? Earlier bands?
-Conor Berhle (guitar) is 28. He was in the Fishnet Stalkers from Baltimore prior.
Dan Sandvick (bass) is 38. He was in varios projects with members of the Brian Jonestown Massacre.
Keil Egizi (drums) is 27. He also plays in another band called the Philthy Heathens.
Me, Noah Wallace (lead vocals) I'm 40. I was in Teacher's Pet and the S'cool Girls prior to starting Hammered Satin.
I can hear much different influences in your music but mostly glamrock and a little punk(and some Cult-guitar) in the music here in your music? Am I right? Favorites from the past?
-Yes that's basically it. We are mainly influenced by "Junkshop Glam" and "Proto Punk" as well as Bubblegum but we also love 70's punk rock and all the classic rock giants and a bit of heavy psych freak rock as well. So we pull from many rock n roll stylings which creates an odd mix but an effective and original sound. The Sweet, T.Rex, Deep Purple, Thin Lizzy, Mott the Hoople, Iron Virgin, Hector, Ramones, Cheap Trick, Catapult, Jook, Lemming, Tears, Chicory Tip, Zolar X, Hollywood Brats, New York Dolls, Brett Smiley, Hello, Sparks... I could go on for days but these are a few of our favorites that people might know.
Hammered Saint are you satisfied with the name? (I wrote wrong there)
-The name is actually Hammered Satin, like the fabric. And yes we are satisfied with it.
How did it came up?
-I probably thought of it since I was working with a lot of fabrics doing fashion stylist work in Hollywood and I wanted a name that described our sound which is glammy but also hard so it seemed to work perfectly and falls in line with a duality philosophy that best describes what we do.
Which is the best bandname you know?
-Ours. Spunky Spider is pretty good as well.

What´s the best thing with playing live?
-Getting a good reaction from the audience. When people sing your lyrics at you to every song in the set and it gets to the point where you can hold out the mic and let the audience sing, it gives you a feeling that you are providing some kind of service to people and that is very satisfying. It no longer becomes an ego based self-obsessed thing like "how do I get MY rocks off" "I'm getting MY kicks on stage" "How many girls love ME right now" and it becomes more about the entire audience and giving them the best show you can possibly give. Making them feel like they are "part of" the whole show by pulling them up on stage or just getting them to participate in some way.

And where is best to play?
-Sweden
And the worst place?
-Some venue in the middle of nowhere.

How is to play this sort of music in USA right now?
- This rock n roll style of music that was once very mainstream in the 70's has now become underground in the US and anywhere for that matter. But that gives it a real, authentic and genuine feel that kids can relate to and that's a positive thing.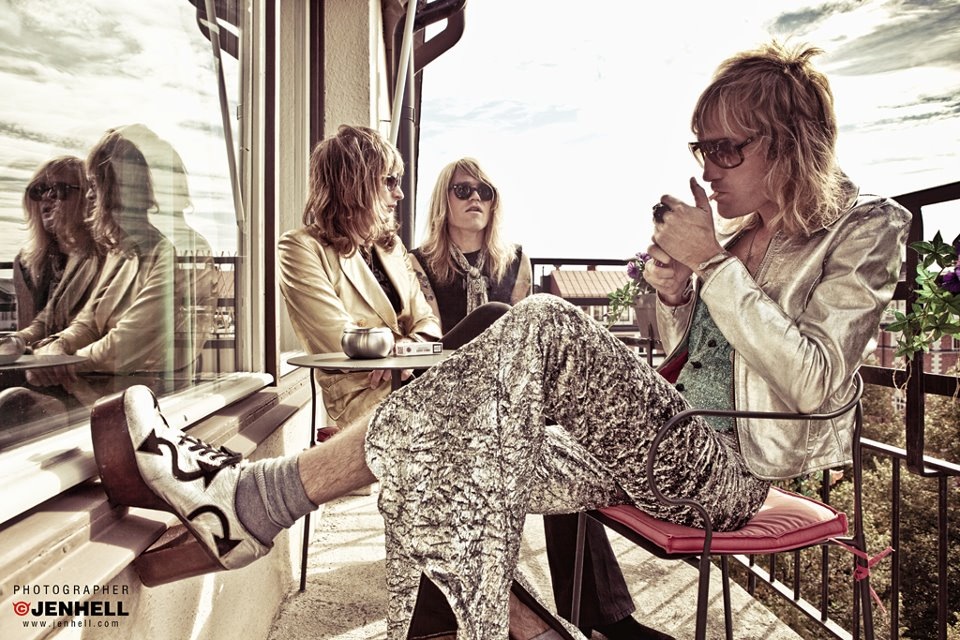 Which types of bands do you have concerts together with?
-We try to play with similar groups that play rock n roll of some kind like the Biters or Redd Kross... We also play sometimes with indie type bands that are label mates of ours if it's a show put on by Burger Records or the Beach Goth festival and things like that.

How would you describe your music in three words?
-JUNK SHOP GLAM ("rock and roll" would be too obvious and boring of an answer.)

What does punk mean to you, is it only a word or is it a lifestyle?
-It's a word to describe a style of music AND it's an anti-establishment anti-opressive-corprate-mainstream attitude that resonates with frustrated youth or anyone for who "get's it" or gives a shit really. When you channel those feelings into music it always sounds raw, exciting and meaningful.

How do you see on downloading, mp3 and that stuff?
-It's necessary in this day and age and very helpful getting your music out to the world. I prefer listening to music on vinyl records though because it sounds better and the ritualistic feeling of putting the needle in the groove is pretty cool.

How is it to live in USA now? Politically?
-Donald Trump is running for President...it feels like a joke. Our Government serves the needs of the 1% of corporate America and NOT the 99% of real hard working middle class and homeless Americans who actually need the help. It's very unbalanced and corrupt to me. I don't subscribe to it. More and more people are waking up to how bad our situation is so that's good.

Is there any good bands from USA now?
-There's a lot right now actually!!!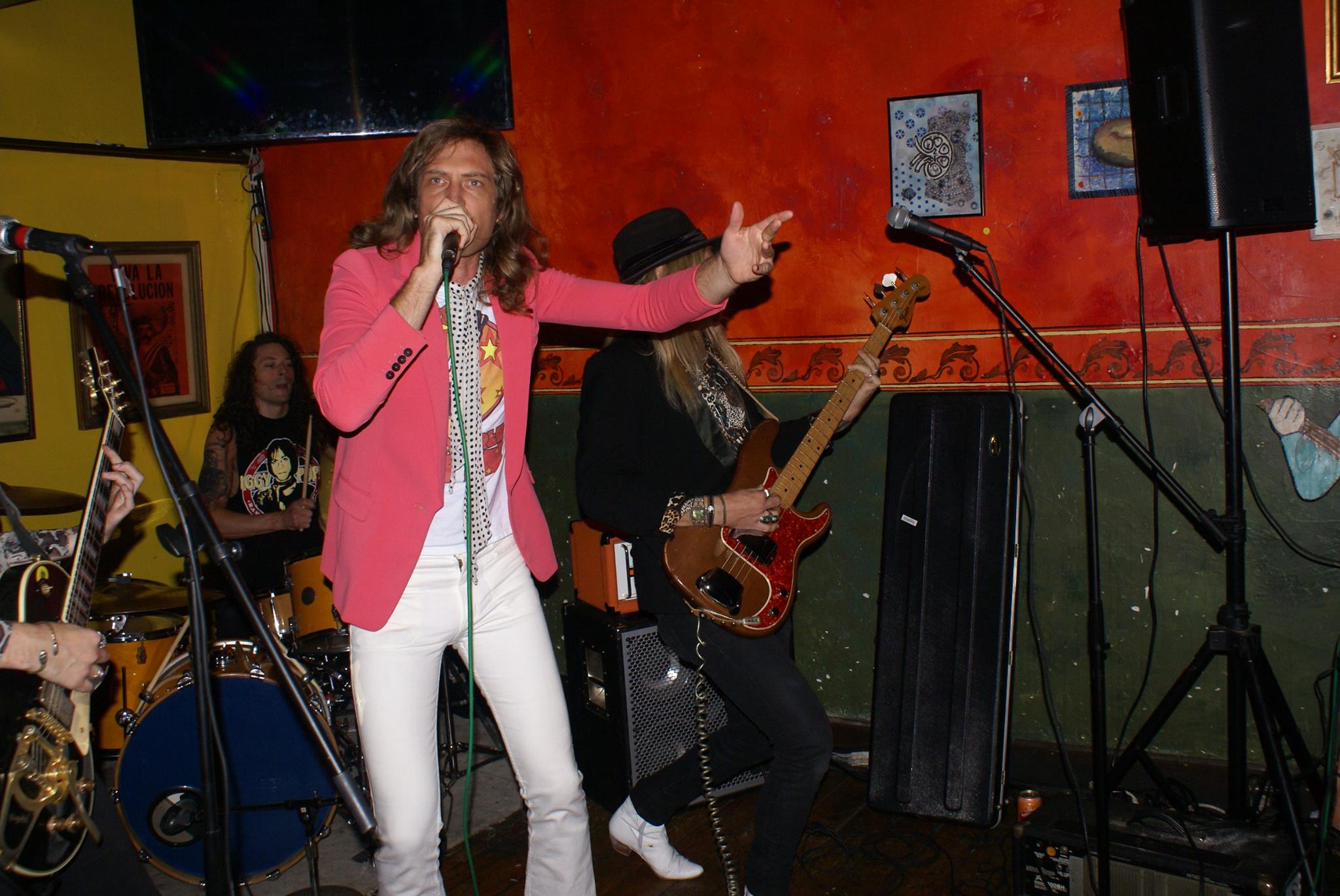 Is the punkscene big?
-Yes and it's growing bigger all the time.
How is it in your hometown?
-In LA and Orange county we have a thriving and growing punk rock n roll scene. It's exciting over here right now! It was dead 5 years ago, it seemed like we we're the only cool band around when we first started. I'm discovering good new bands all the time lately.
Old good bands from your country?
-Alot of the 70's and 80's RNR bands have been getting back together because there's a need and an interest in Rock N Roll again. Something is definitely happening. There's a major shift going on right now.

What do you know about Sweden?
-I love salty licorice!!! I've spent a lot of time all over Sweden actually doing DJ tours with Martin Axen from the Ark. Hammered Satin has toured there a few times as well. We absolutely love Sweden and hope to come back very soon.

Have you heard any good bands from Sweden?
-Sweden has a lot of great bands!! I'm friends with some Swedish groups like the Ark, Melody Club, Casablanca, Ryan Roxie, and Bullet.
Your lyrics, who does them and what influences you?
-I write all the lyrics. The song Glamorama is based on the novel by the American author Brett Easton Ellis. I also have the usual literary influences heard in glam rock like Oscar Wilde and Lord Byron and of course Thomas Wolfe is a big one for me. My lyrics also touch upon UFOlogy and conspiracy theorist. Reptilian, a love song about inter-dimensional shapeshifting aliens. Interstellar Lady (Pleiadian Love Song) is also good example of that.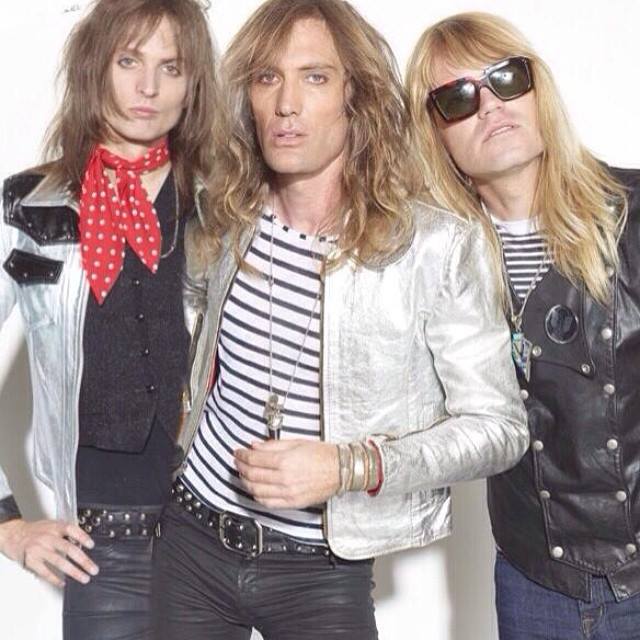 Is it OK to sing a song about such a "simple" thing as love?
-Yes. Love is the highest vibrational frequency so it's probably the very best subject matter for a song. A lot of 'tough guy" rock n rollers or punks who are really bound up in fear and don't even know it are often reluctant or afraid to write love songs because it might expose a vulnerable side. They protect themselves with a false tough guy exterior or armor as a defense mechanism, which is actually a cool formula and works in punk rock and rock n roll, like your typical hard partying "wild boy" rebel type. But the further we go into the future, the more this tattooed rocker persona can feel very formulated, canned pitched, generic and phoney at times. The spikes and patches or rock garb becomes a concocted uniform you can buy at Hot Topic in malls across the US. Don't get me wrong, a lot of guys actually are the real deal and live the lifestyle and are not posers by any means. And it's great to have a "look" or style to help define your identity and have a "rock n roll soldier" type uniform to express yourself as an individual, visually, to show others what you stand for and reflect what feel on the inside. Gives you a sense of pride and belonging blah blah blah... Glam Rock is all for dressing up, obviously. There's just a way to do it wrong and a way to do it right and people will notice all the nuances whichever way you do it. Some have a more keen eye than others. Oh yeah... love songs... I guess all I'm trying to say is that It's tricky to do a love song from the heart in a hip, slick and cool way that doesn't come off as cheesy, corny or sappy. Hopefully I've accomplished that. It's really up to the listener to decide.
Is there any subject that you never will write anything about??
-I dunno, necrophilia maybe. I try to stay away from religion or politics.

Politic and music, does it goes hand in hand?
-In my opinion no. Rarely dose it ever work. It often seems tacky and in bad taste. It feels disingenuous and fake to me in most cases. Almost like a band uses it as a cheap ploy for sympathy votes to become successful and famous when they lack style and or substance so they need compensate to fill that void. That's just not rock n roll to me. Pure Rock N Roll, in my opinion, should be rebellious, wild and exciting without bringing political agendas into the mix. It should be sexy, stylish, clever, provocative and witty but it should almost be a crude, primal, thuggish, neanderthal, bonehead caveman thing sometimes as well. I think Rock N Roll music provides a way to rebel against authority and to escape the power structure's stronghold through the raw and wild energy, volume and torque in conjunction with that defiant punk rock mentality. There's really no need to use music to further a political agenda. But I'm not against it entirely either it's just not something I'm interested in doing at the moment. There's a wonderful anti-war protest song by Children of The Morning called "Hey, America America". It's a total hard glam crunching stomper of a song and the message is cool and full of attitude even though it tackles heavy subject matter. Another good one is "Fight For My Country" by Balls. Or even a Black Sabbath song like "War Pigs" but these were written in the late 60's and early 70's when it seemed more appropriate for what was going on at that time. Maybe I'll write a protest anthem for the second or third album, who knows.
Which is your most political song?
-Probably Glamorama since it talks about terrorists attacks being carried out by supermodels.

Best political band/artist?
-Let's just say I'd rather listen to the Clash than U2 if I had to choose.

Do you think that music(lyrics and so on) can change anyones life, I mean people who listens to music?
-Yes, of course. Music can mean a great deal to people. It often times gives you a reason to live on such a messed up planet. It has made me into a very unique and multilayered character, probably because I'll take it to perverse extremes playing dress up and going down the rabbit hole by collecting rare 45's and implementing that into my daily life and music. Anyway, It gives people purpose and identity. It can act as an anti-depressant giving one a zest for life as well. As a musician you just have to find your personal and preferred vibrational match, mine just happens to be glam rock. The good 70's kind that was full of substance, creativity and intellect like T. Rex, Bowie, Roxy Music, Sweet ect NOT so much the 80's butt rock hair metal band stuff that became over-produced and cheapened towards the late 80's early 90's and sort of ruined rock n roll. Although Poison, Racer X, Tiger Tails, Pretty Boy Floyd and some others from that era do have their moments, I'm not gonna lie !!!

Your cover on your LP looks really nice, is it important to have a record cover which shows people which type of music you play?
-Thanks. Yes it is important to catch people's eye with your album cover's.
Your favorite recordcover?
- Maybe the Teens - Teen's & Jeans & Rock N Roll. Sparks - Kimono My House is a classic one.
Who does your covers?
-We had Mollie Tuggle do the drawing on the front of the Album and Alex Hagen (of the Ravagers) did the back. Alex also did the Reptilian 45 graphic design layout and the photos for that we're by Sasha Eisenman.

Is it important to get out physical records of your stuff? Yes.
-Why or why not? Because a lot fans of Rock N Roll and punk have record players nowadays. Also physical releases give you more merch to sell on tour. People can connect to the band more if they have the vinyl with the ritual of dropping the needle and looking at the cover and simply holding it in your hands.
Is there any good record stores in your town/country ?
-Wombleton in Highland Park on the outskirts of LA is great.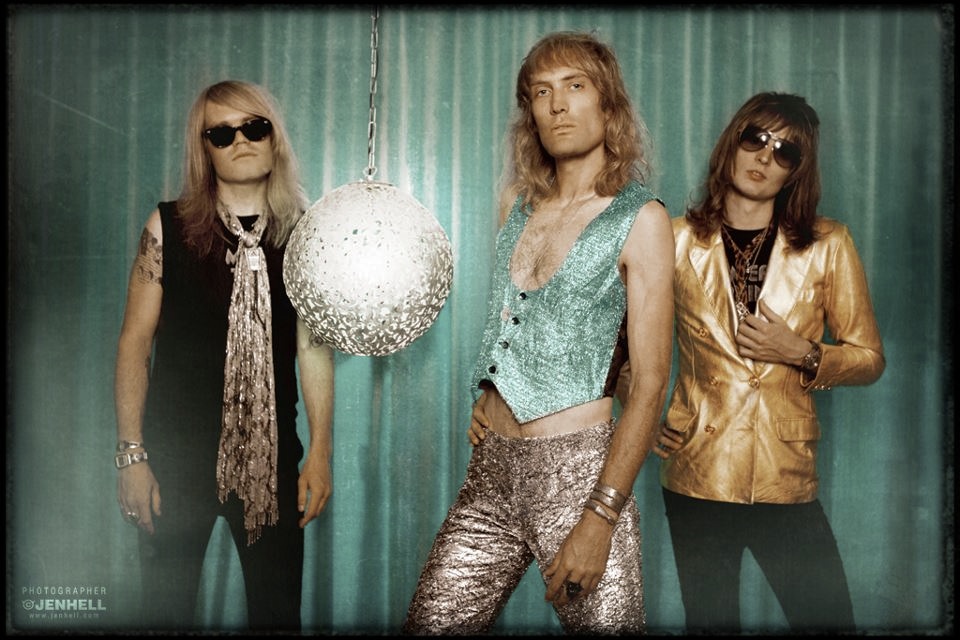 Please tell me a funny thing which have happened during your career and under some gig?
-We played once in Amsterdam. I can't remember what the place was called but they had "sound limiters" that would shut off the power to the amplifiers and stage if you got too loud. There were warning lights on the ceiling like spinning red sirens that would start flashing if you got too loud. Then you had about 10 full seconds to turn down before the power shuts off. We couldn't get through even one song. It was impossible. Our amps just were not quiet enough. Anyway it was not a good place for a rock band to play. We booked that tour ourselves without an agent so we just didn't know. Oh and there was probably less than 10 people there.

How does your audience look like?
-Usually punky rock n roller types but you'll see a variety of people from all walks of life.
Which people do you miss on your concerts?
-The ones that aren't there.
Which is the biggest band you ever have played together with?
-Probably the Ark.

Please rank your five favoriterecord and five most important things in life?
-1) Sweet - Desolation Blvd. 2) T. Rex - Tanx 3) Pantherman - Pantherman 4) Hello - Hello Again 5) Hector - Wired Up
1) Rock N Roll 2) Coffee 3) Gratitude 4) Love 5) Visitors
Is it boring with interviews?
-Nope.
Is it much interviews??
-Depends.

If you could choose five bands from the past and the history and nowadays and both dead and living bands to have a concert together with your band. Which five have you been chosed?
-T.Rex, The Sweet, Rolling Stones, Darkness, Kiss.

Is music a good way to get out frustration and become a nicer person outside the music??
-Yeah, sure.

Which is the most odd question you ever have got in an interview?
-This one.

Which is the question you want to have but you never get. Please ask it and answer it?
-Wait, I take it back from the answer to question above. THIS is the most odd question I've ever had in an interview.

Futureplans for the band?
-Second album is in the works!
For yourself?
-Get married and have a kid.
Wisdomword?
-Be original. Never doubt yourself. Always act and think in faith rather than fear because thoughts become things. Anything is possible. If you think you can or you think you can't, your right. Love people.
Something to add?
-Rock Hard and Stay Cool. Thanks for the interview.