Guttercats from France is a group which makes me think about old music like Saints, Johnny Thunders, Lou Reed and they do their thing really good. This interview was done in may 2021.
Please tell me a little bit history of the group?
-I formed Guttercats in 2007 in Paris, two years after the split of Baby Strange. We toured all over Europe, did more than 350 gigs, shared the stage with The Boys, Peter Perrett, Dave Kusworth .. & released 5 albums including the brand new one «Eternal Life»
Please tell me a little about every member in the group right now, age, family, work, interests and something bad about everyone? Earlier bands? Other bands on the side?
-The line up changed 100 times & would be too long to name every band member (LOL) ..and the future is unwritten !
I can hear much different influences and it´s hard to put you in a special style, later Saints, Johnny Thunders music? The music which much was on the French label New Rose? Favorites from the past?
-We're listening a large palate of bands form Delta Blues to 80's ones & it would be difficult to name a style ...My roots were glam but actually we're sounding more like Scientists, Rowland Howard, Gun Club or Television ..
4 Guttercats are you satisfied with the name? How did it came up? You weren't afraid that some other band would be named like this? Which is the best bandname you know?
-Guttercat was an Alice Copper number from «School's Out» which is obviously a nice reference I guess. I totally ignored that some others bands used the same name back from the start!
What´s the best thing with playing live? Do you miss it now? Have you planned any gigs soon?
-Playing live is the main thing when you're in a band.....We always toured a lot all the european countries including 8 Spain Tours ! Obviously We miss gigs a lot & hope we'll start it again in 2022 to promote the new Album «Eternal Life», we'll be supposed to play a 3 weeks Tour in Spain in March 2022.
And where is best to play? And the worst place?
-We like to play everywhere ...though Spain seems one of the best places in the world for R'N'R.
How is to play this sort of music in France right now? Which types of bands do you have concerts together with?
-Of course France is our homeland but bands here play in a different way & it's really difficult to get a name!! ….that's why we prefer touring Germany, Netherlands, Spain or UK
How would you describe your music in three words?
-Blue, Dark & Haunted !
What does punk mean to you, is it only a word or is it a lifestyle? I know you don´t play punk but I think you´re from punk from the beginning?
-Punk was important in the 70's & affected me when I was 16 (Damned, Boys, Gen X and many more) ...I guess we can find reminiscenses in a few songs we play though it's not the main point coz most of our influences come from Black Music,60's Pop & 70's Folk;...Punk was an attitude before music & in 1979 all was finished ..
Which song/album or group was it who took you into music and began to play yourself?
-«Hunky Dory» (Bowie)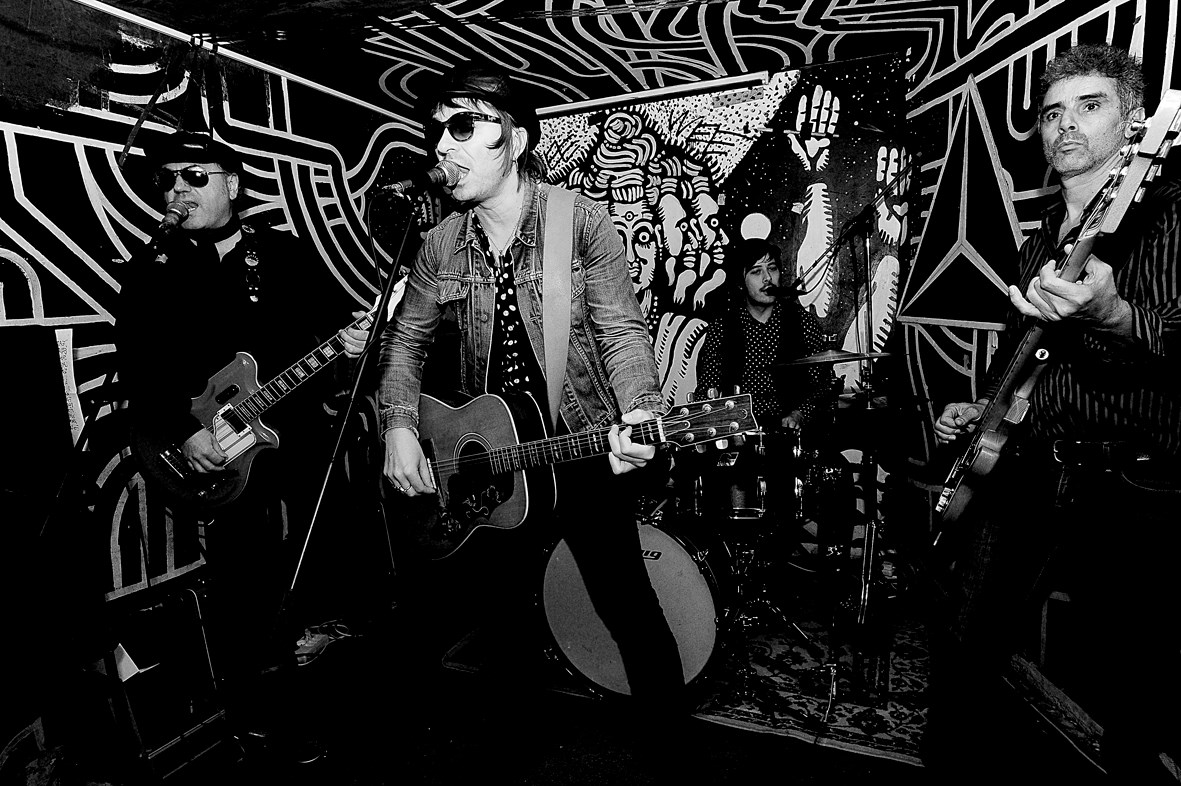 What shall a young guy do today to shock their parents as the way we did when we were young? They have already seen everything <![if !vml]>

<![endif]> ?
-World & mentalities changed a lot through the decades ….RNR was dangerous & self destruct in the 70's ..but actually things seemed to change radically ...Nothing's shocking !
How is it to live in France right now? Politically? Fascists? The covidsituation?
-France has a good social system which is not the case in many other countries, fascism is unfortunately showing his finger everywhere in the world & France is not an exception ...The covid affect everybody & people must be mentally strong to face it...We hope we'll get better days very soon.
Is there any good bands from France right now? Is the alternative music scene big? How is it in your hometown?
-Yeah alternative french music has a few good bands I suppose though it's not so much of interest for me....The underground circuit is very hard here though a few labels try to help bands but you need to go outside France to increase your reputation.
What do you know about Sweden? Have you been here sometime? What is typical Swedish?
-Never been to Sweden...just know Finland where I spent A few holidays weeks in 1995...Sweden is obviously one of th most prolific countries for RNR & we'd like to tour there of course !
Have you heard any good bands from Sweden?
-Yeah there's a lot ..to name a few: Nomads, Diamond Dogs ….
Your lyrics, who does them and what influences you? Never in french?
-I write all songs, dark feelings, Life & Death are my main influences ...English is the international language for RNR & it would be very weird to write in French.
Is there any subject that you never will write anything about? Or isn´t anything sacred?
-I Won't talk aout politics, not my kind ..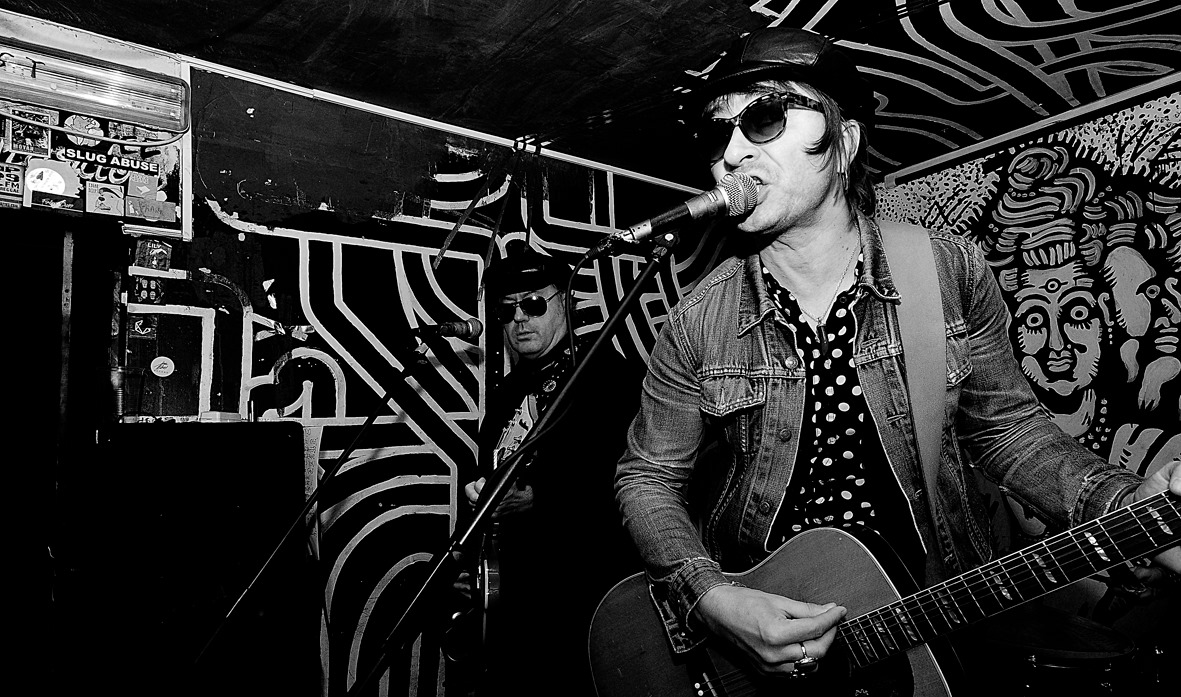 Politic and music, does it goes hand in hand? Which is your most political song? Is it important to get out your opinions in music?
-Bob Dylan did it very well & were messengers ….it's a question of sensibility.
Best political band/artist?
-MC5
Do you think that music (lyrics and so on) can change anyones life, I mean people who listens to music?
-No, I don't think Lyrics could change the world
Your favorite record cover all time? Who does your record covers? And do you have any good record stores in your hometown?
-Leonard Cohen «Songs Of Love & Hate» 1971
We choose all do ourselves (artwork)! ….yeah a few good records shops in Paris.
Is it important to get out physical records of your stuff? Why or why not? Vinyl, CD, cassette, what do you prefer if you could choose whatever ? On the latest you did both LP and CD?
-Yeah we were born before Internet & Physical stuff was the only way to listen records ...we're from the old generation ….though young people like to download stuff & we also have to sell digital tunes !
Please tell me a funny thing which have happened during your career and under some gig? Something really crazy?
-Started a gig without 1 of the 2 guitarists who got lost in town ! (LOL)
How does your audience look like? Which people do you miss on your concerts? Which is the biggest band you ever have played together with?
-We miss all of you & will be back very soon ! Shared the stage with Peter Perrett (Only Ones) was absolutely fantastic !
Please rank your five favorite records, five favorite concerts and five most important things in life?
-Albums: Tim Buckley 1st album, Hollywood Brats 1st album, Stooges Fun House, These Immortal Souls Get Lost Don't Lie, Television Marquee Moon //// Gigs Mike Scott (Waterboys), Iggy 1988 Tour, Neil Young 1989 Paris, Peter Perrett 2017 gig, David Sylvian 1988 //// 5 things in life : Peace, Love, Solidarity, Sincerity, Courage
First, last and most expensive record ever bought?
-Rowland Howard Teenage Snuff Film (Clear Vinyl)
Is it boring with interviews? Is it much interviews?
-I like it !
Do you care about reviews? Which is the most peculiar you ever had, with this band or any other band you have been to? Have you ever changed anything after a bad review?
-Everybody feels free to tell his opinions & it's ok when someone dislike, it could be an honour sometimes (LOL) & We won't change in any cases the way we go. The worst could be indifference.
Which bands do people compare you to, is it boring that people compare you to other bands or is it understandable? I say later Saints, Thunders, Lou Reed just to say something….
-Audience like to get references especially when they don't know the band ..Lou Reed & The Velvet U seems perfect (LOL)
If you could choose five bands from the past and the history and nowadays and both dead and living bands to have a concert together with your band. Which five have you been chosen?
-Big Star, Syd Barrett, Faces, Kinks & Seeds
Is music a good way to get out frustration and become a nicer person outside the music??
-Music is a reflection of what you are.
Which is the most odd question you ever have got in an interview?
-Date of birth (LOL)
Which is the question you want to have but you never get. Please ask it and answer it?
-How do come songs you write? / as a Gift !
Futureplans for the band?
-Promote & sell a lot our new album «Eternal Life» released with 2 spanish label Take The City Records & Sweet Grooves Records ...2022 touring a lot everywhere in the whole world ..including Sweden !!
For yourself ?
-Keep the flame & carry on ...
Wisdomword ?
-Peace & Love
Something to add ? Fanx in advance
-Thanx for all, a pleasure !
GUTS GUTTERCAT
Guttercats .Eternal Life. CD/LP Limited 300 copies
contact /Infos / Order herve.michel748@orange.fr
https://www.youtube.com/watch?v=QmWoDSHEM1U (Official Video 2021)
https://sweetgroovesrecords.bandcamp.com/album/guttercats-eternal-life
(SWEET GROOVES BANDCAMP ETERNAL LIFE)
https://sweetgroovesrecords.bandcamp.com/album/guttercats-eternal-life (SWEET GROOVES BANDCAMP ETERNAL LIFE)
https://sweetgroovesrecords.bandcamp.com/album/guttercats-eternal-life (SWEET GROOVES BANDCAMP ETERNAL LIFE)