I got a vinylsingle with Grooves of Fury I became knocked by them at once so I was "forced" to do an interview with them and here it is and it is February 2018

Please tell me a little bit history of the group?
Tommo: Originally the band started after a hard night of party in Kallio in 2010… Me and my little brother Antti was drinking all night, and after fun was over and all the pubs were closed we went to Anttis apartment to smoke some weed. After few hits I started to feel very sick and threw up all over Anttis toilet, while Antti put Turbonegros Retox on stereo. I layed on toilet floor feeling sick and listened to the opening track, and totally fell in love with their music. Quite soon after this I asked my brother to start a band with me, a band that would play simple, grooving rock´n roll. He was all for it. Later that year we asked Masa on vocals, who we knew was a in to rock´n roll, because he was playing in Bad Machine at the time. We were happy when he decided to join. We had a drummer, who had had serious problems with drinking at the time, so after few rehearsals we decided that we need a new drummer. We decided to ask Amos, another drunk drummer and friend of mine from the work, and Amos joined. We asked fellow called Juho to play lead guitar, he joined as well. So that was the original line-up that played 2011 – 2013. After couple of years I felt the band was not going I right direction, got very frustrated and left. Antti decided to leave as well, so the band stopped… But the urge to play rock´n roll never really goes away if you are in to it: in 2015 we found ourselves jamming and drinking beer just for fun, and quite soon we were playing seriously again. The line-up changed, Juho is not in the new line-up, Masa does the vocals and also plays lead guitar. Juho is great guy, but it is better that we are not in same band, me and him. Rehearsals are difficult to organize these days, because Masa lives in Barcelona. Luckily he is coming back to live here in Helsinki soon, we are quite happy about this.
Antti: Yep. Thats about it. We were lucky to find singer like Masa from city like Helsinki. Its not easy thing to find good singers from this small city. At least the kind of a singer that fits in the group.
Amos: So we started to play again in 2015 (Tommo, Antti & me) and Juho actually recorded our 3-song-demo at that time. We tried to make a totally new band w/ finnish lyrics with name "Vauhtiraidat" (means both: lines of speed and stripes of for example zebra(!) and our zebralogo is from these days of course), but later it turned back Grooves Of Fury again cause we wanted Masa to sing our new stuff with his lyrics.

Please tell me a little about every member in the group right now, age, family, work, interests and something bad about everyone? Earlier bands? Other bands on the side?
Tommo: I´m now 40 years old, I have been playing in rock and punk bands for over 20 years now. I work for organization that works with people with autism. Me, Antti and Amos work for same company. Besides Grooves of Fury, I play in Lapinpolthajat (punk) and Uhrit (d-beat/crust). I have no wife, kids or pets, I have a tendency to wreck the relationships with women before they get serious enough to start a family. Bad stuff about other members… well, we have known each other for many years. I know the bad sides and weaknesses of each member quite well. I think it is better to support and help each other, rather than mock or ridicule. We sometimes do that for fun, of course, but in the end we are in this band together, and if we make each other feel bad, it effects the hole band. We all like to drink too much, have made mistakes in our lives, have annoying habits and horrible sense of humour and we all love rock´n roll and each other.
Amos; Me and Tommo are both born in the year -77. Interests? Now when its again sober-season, I play squash(!), read a lot of music biographies and Jo Nesbø -thrillers. Me and my girlfriend have also three dogs which keeps me busy. Hey, and I'm masterchef also!
Antti: I´m 33 year old guy, second youngest from four siblins. Tommo is oldest brother. At the moment I´m working in socialservices. Its a bad habit to piss all around squats while been too wasted to find toilet I guess. Some of the other bands I´m playing or have played in are Lapinpolthajat, The Heartburns, The Over Attacks, Juice Normaali, Pää Kii, Useless Cunts..

I can hear much different influences but mostly punk and some garageinfluences etc? Favorites from the past? I can hear Electric Blue Peggy Sue, Fucking World…
Tommo: Turbonegro used to be huge influence for me personally, but nowdays their music is getting boring, the feeling of danger is gone. I loved Heartburns when they were active, they have influenced our music a lot. Old Hanoi Rocks because of their bass lines and great songs, Hurriganes because of their attitude, Marko Haavisto & Poutahaukat because of their melodies, Peer Gunt because of their nasty sound… too many to mention all of them.
Antti: I think there isn´t just one or two bands that has influenced Grooves of Fury music. Lets say older rock´n roll in generally.

Grooves of Fury are you satisfied with the name? How did it came up? You weren't afraid that some other band would be named like this? Which is the best bandname you know?
Tommo: We had bunch of name suggestions in the beginning, especially Amos and I came up with stupid ideas... Eventually Masa came up with almost decent name for a rock band, and because it was best idea at the time, we went with it. If there is other group that uses name Grooves of Fury, we have to force them to change their name. There is only one Grooves of Fury, and that is us.
What´s the best thing with playing live?
Amos: Best thing playing live is the first drumstick when my tension gets away. I have some problems with tension (panic attacs etc..). So I suffer quite a bit of those hours of waiting. And drinking too much beer is not an option for me. ..before the gig..
Tommo: All the thousands of women who want to have sex with us, because we are a bunch of cool rock´n roll dudes.
Antti: Adrenaline. And every time you go in new places you meet the best people.

And where is best to play? And the worst place?
Tommo: Anywhere, where we get our thing going. It is not about the venue, it is about the feeling. If it sounds even nearly ok and there is some beer, it is good. Worth carrying fucking heavy equipment, driving hundreds of kilometers, and suffering the hungover afterwards.
Antti: Yep, it not about the place, its about the gig in generally. Of course the highlights are to drive hundreds of kilometers somewhere beyond skuugiduu, get two warm beers and old sandwich and after the gig you get payed 30euros or so and you have to wait a long time till someone is sober enough to drive back home. The spirit of Rock´n roll.
Amos: For me It´s more important to be able to play quite early time than the place itself. So then there's left some time to drink after the gig and not so much time to be sick with tension before...

How is to play this sort of music in Finland right now? Which types of bands do you have concerts together with?
Tommo: There is not too many rock´n roll bands at the moment, it is not a big trend right now in underground scene here in Helsinki. We have played with punk bands, with other rock bands, with underground bands in general.
Antti: This kind of rock´n roll (underground scene) isn't that big at the moment in Finland, but bands are making gigs together so GOF has played gigs with noice/crust/punk bands etc. Playing this sort of music is the same as playing punk. Makes no difference.

How would you describe your music in three words?
Amos: Really funny lerputs
Tommo: Grooves of Fury
Antti: Brains are melting.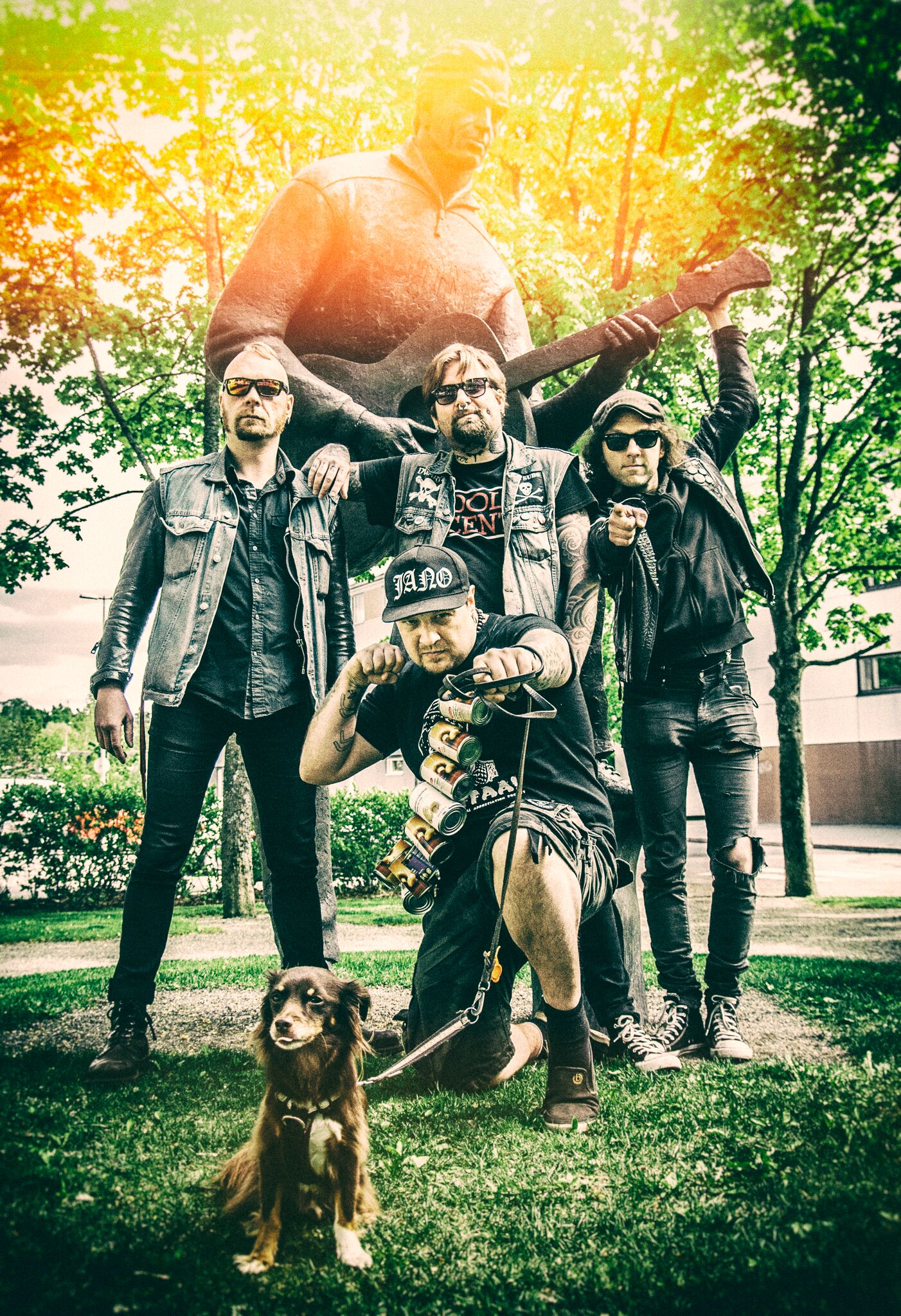 What does punk mean to you, is it only a word or is it a lifestyle?
Tommo: I think it is hairstyle. No, seriously, punk for me is community of people, who share some values I find important. No racism, no sexism, no intolerance, no macho bullshit, but open mind and perhaps little bit of good will for other living beings. Also good concerts and beer.
Antti: Lets just say its the way of life in every aspect.
Amos: DIY

How do you see on downloading, mp3 and that stuff?
Amos: it is contradictory. Everyone gets their music in the air which is nice, but you cant make money with your records if you`re not a really big name. And then you don´t even need extra money, heh.
Tommo: I work for money, and I play rock and punk for fun.. Would be nice to get payed for the music we make, but this way it is way easier for people to check out new music there is from the internet.
Antti: Personally I don't download anything from internet and I don't have mp3- player. For sure it has had tragic impact to the people that gets their living out from selling records etc. Personally I isn´t payed a single rent with the money I´ve had from making music so.. Of course it shitty thing. Still I think its a fight against the windmills. Although its great thing to see that there is a group of people who still buy actual records.
How is it to live in Finland right now? Politically? Fascists?
Tommo: Well, Finland is Finland: lots of stupid, narrowminded people, cold weather, darkness, alcohol, all that shit, but also all the nice things like the Finnish style no-bullshit people who usually have incredible bad sense of humor, all the good bands, beautiful summer nights, good craziness. Politically the country is getting divided to those who have better living standards and those who are poor. Nationalism is on the rise, and there are lots of people who are racist idiots.
Amos: There are many good things in Finland. But people here are so fucked up, so it's better to get out of there once a year to India for example.
Antti: At the moment our right wing government has done everything they can to privatize our public services so they can sell it to their friends or cousins or investors and that pisses me off greatly. Also right wing movement has raise its head past few years and that's nothing but fuckshit. Otherwise I think living in Finland isn't that different than live anywhere else. Except winter sucks
Is there any good bands from Finland now? Is the punkscene/hardcorescene big? How is it in your hometown?
Tommo: Yes there is, but fuck them. If you want to know about them, ask them to make interview… Punkscene is strong, lots of concerts, lots of good bands. In Helsinki there is like hundreds of good bands and good concerts almost every week.
Antti: Yep, there are a lot of great bands. Too many to name just few. The scene is strong at the moment.
What do you know about Sweden?
Tommo: I have played in Luleå and in Umeå with Uhrit and Lapinpolthajat. I lived in Luleå until I was five. There are tons of good bands coming from Sweden.
Antti: Swedish meatballs are good I´ve heard. Although I don't eat meat so what do I know.
Have you heard any good bands from Sweden?
Amos: All Nicke Andersson´s bands are my favorites. He is a goldfinger. Entombed, Hellacopters, Solution, Death Breath, Imperial State Electric. When I need peaceful atmosphere, one of my favorite record is "Long Gone Before Daylight" By The Cardigans and my favorite female artist is Lykke Li. "Wounded Rhymes" is 5/5 album. Perfect and brilliant! Heja Sverige!
Antti: Yes, there are a lot of great bands coming from Sweden. Anti Cimex is good.
Tommo: I love Totalitär

Your lyrics, who does them and what influences you? Is it easier to do lyrics now or was its easier to do it when you was younger? Never in Finnish?
Masa: I do. I'm very highly influenced what happens in world. And what happens in my life and so on... How I feel about life. I have travelled a lot and when I was fired from my job 4-years ago, I have lived in Barcelona since. My lyrics are usually about against evil powers of capitalism, cheating in general, which seems to be favorite hobby and lifestyle of people. And love. Pure love. We got lack of that one many times.

Is there any subject that you never will write anything about?
Masa: What ever drops to the paper from my mind I write. From my own point. Try to be very open-minded about all, if possible.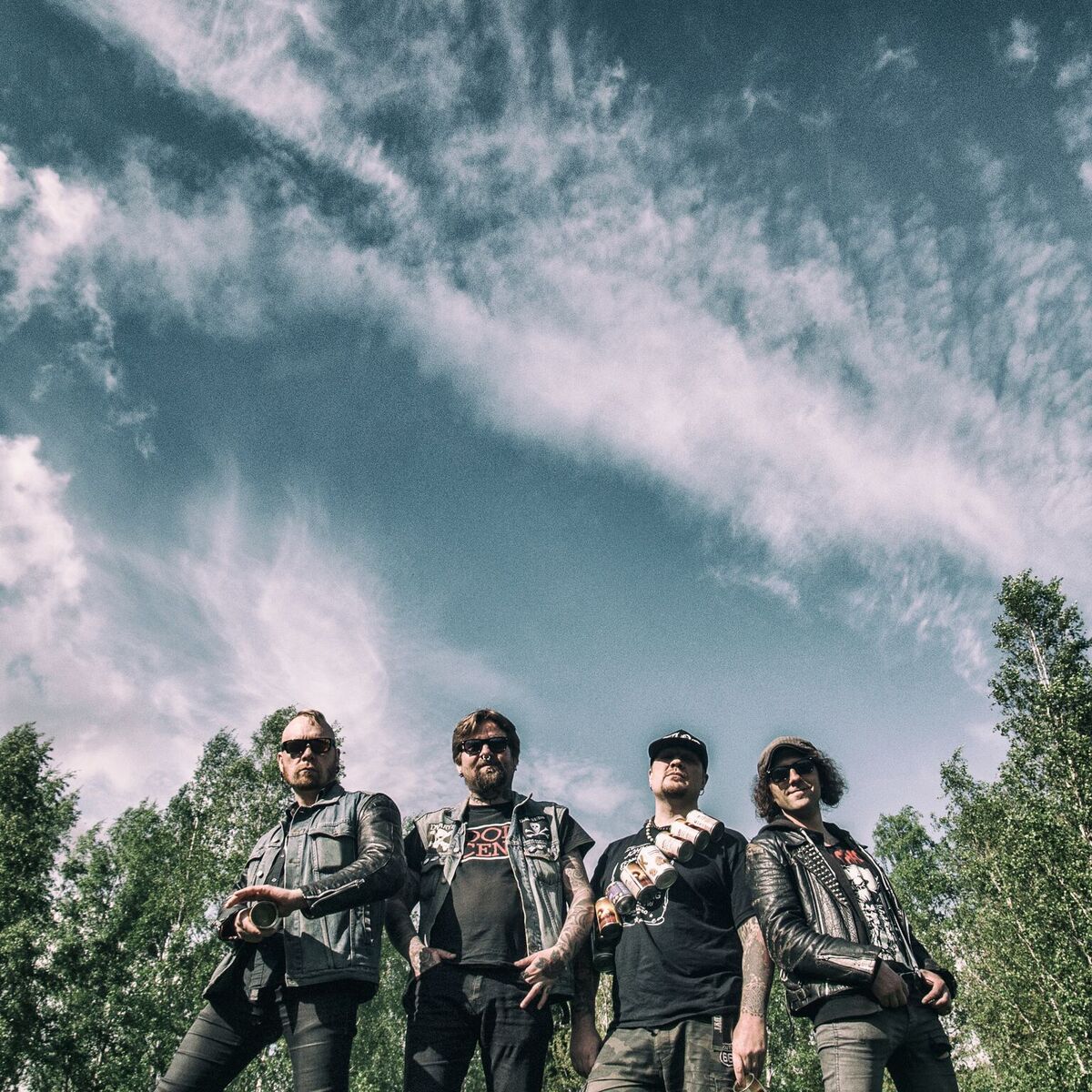 Politic and music, does it goes hand in hand? Which is your most political song?
Tommo: Sometimes music and politics go hand in hand. But I think there are stronger and better ways to have impact on society than writing songs, like direct action, non-govermental organizations, civil disobedience, making choices as a consumer etc.

Best political band/artist?
Amos: Tyhmä Valtio
Masa: Manic street preachers. M.D.C, Kenny Arkana. Wasted
Tommo: Juice Leskinen
Antti: Sepi Kumpulainen
Do you think that music(lyrics and so on) can change anyones life, I mean people who listens to music?
Masa: Music and lyrics got very strong influence. Since I was quit young, punkrock changed my life. Specially finish bands like Ratsia and Pelle Miljoona&1980. Music chance life's. If it got meaning.
Tommo: Maybe lyrics sometimes can reinforce some decisions, or offer a new point of view. Music in general can relieve pain, and understand your emotions. Music is a communication of feelings and emotions. It can give you strength.
Amos: Yeah, I think so. Music gives you hope and good vibes even if you are in bad condition.

Your cover on your CD looks really nice, is it important to have a record cover which shows people which type of music you play? Your favorite recordcover? Who does your covers? And do you have any good recordstores in your hometown?
Amos: That "7 design is from my cold dead hands pretty much. Favorite cover? Danzig III: How The Gods Kill (gatefold LP)
Antti: Best covers are drawed oldschool covers. Like old movie posters. Vinylcovers deffinetely. Best recordstore here in Helsinki is Teen Wolf recordstore in Kallio. You should check it out if you are in neighborhood.
Tommo: We sent you a vinyl. Good going, sir, haha! Anal Thunders 4am illusion is best record cover I know. As Antti mentioned, Teen Wolf is great record store. I warmly recommend this recordstore, if you happen to visit Helsinki
Is it important to get out physical records of your stuff? Why or why not? Vinyl, CD, cassette, what do you prefer if you could choose whatever ? No recordlabel?
Antti: Of course vinyl in every aspect.
Tommo: Vinyl is for those who want to listen a good quality sound. Vinyl record has more room for good cover art.

Please tell me a funny thing which have happened during your career and under some gig?
Tommo: Few years ago we met this weird, bearded dude, called Juha Mieto, when we playing a show in little village called Kurikka. He told us he got 4 or 5 calls from different men, who were asking him, if he is gay. He went public, telling everybody he is sadist. So this boy came to sit on he´s lap, and after ten minutes or so, somebody said, he didn´t know who, that so what, he is grown man, he has to control and master these kind of situations. He had very nice lerputs from he´s dad at times. Weird story.
Amos: Like Tommo said! That was so funny! Think about it! 4-5 phonecalls!

How does your audience look like? Which people do you miss on your concerts? Which is the biggest band you ever have played together with?
Tommo: Our audience looks like people, who go to concerts to see bands. Biggest band we ever played with was Dogs Home Revisited. They are really big dudes, so it is biggest band we ever played with.

Please rank your five favoriterecords, five favoriteconcerts and five most important things in life?
Amos: . Quick one: "Appetite For Destruction" (Guns N´Roses), "Danzig III: How The Gods Kill", Misfits: "legacy Of Brutality", Faith No More: "King For a Day ...Fool For a Lifetime", Hanoi Rocks: "All Those Wasted Years (live)" Conserts: Pantera (-92), Danzig in Provinssirock Helsinki Icehall (-95), Social Distortion in Hamburg (2004), Guns N` Roses (Hämeenlinna 2017), Heartburns (Tavastia 2016) Most important things: Good ones
Tommo: Most important record ever for me is W.A.S.Ps Last Command. I don´t want to name other records, because I change my mind all the time. Best concerts are Barathrum in Tuska Open Air 2003, Kohti Tuhoa 2015, Death Side in Obscene Extreme 2016, Enslave in My War Fest (Tokyo) 2015, and Speedtrap in Hässäkkäpäivät 2015.
Antti: Theres too many of bands to name just one. At the moment I´m looking for Thin Lizzy record so let's say that.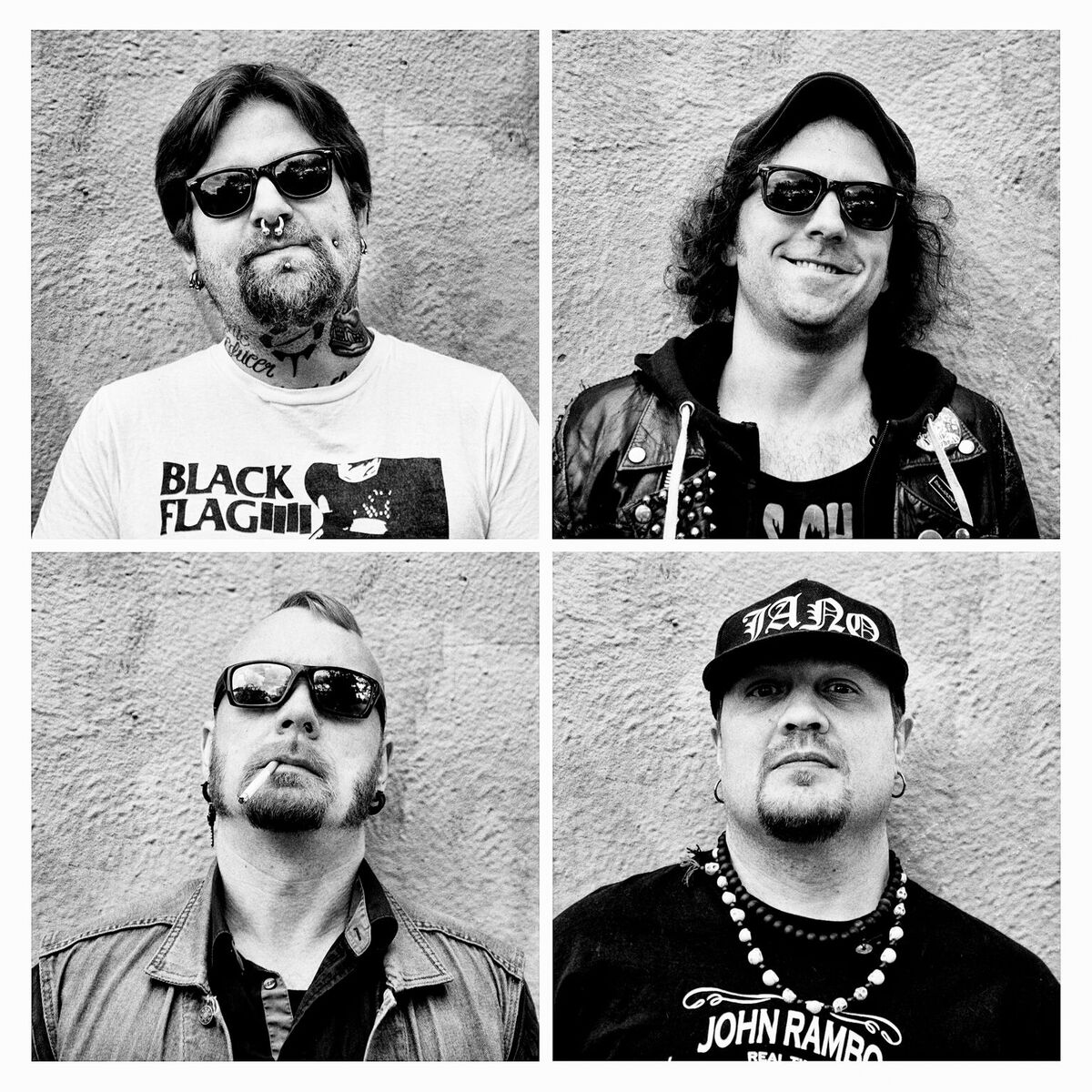 First, last and most expensive record ever bought?
Amos: My first album was Hanoi Rocks: Back To The Mystery City. I bought that when I was 6 years. I was in love w/ that "girl". That "girl was of course Mike Monroe and it was in poster that was in my friends bigsisters wall.. Last album I bought: Pistones : "Eyes Over The City", most expensive was maybe original Guns N' Roses: "Live ?!*@ Like a Suicide" in good condition
Tommo: Maybe Motörheads No sleep ´till Hammersmith. I don´t want to tell the price I paid. The record is from the collections of Nappi (member of Riistetyt), who passed away few years ago. Nappi´s family wanted the records to be sold, and my friend Jukkeli took care of it. He wanted to make sure that the records go to good homes & right owners. Jukkeli thought this record should belong to me, and sold it to me.

Is it boring with interviews? Is it much interviews??
Tommo: At this point this with this interview, yes, haha! Not too many interviews so far, though.

If you could choose five bands from the past and the history and nowadays and both dead and living bands to have a concert together with your band. Which five have you been chosen?
Tommo: Motörhead, Hurriganes, Clown, MC5, Murder Junkies with G. G.
Is music a good way to get out frustration and become a nicer person outside the music??
Antti: I have started to like rehearsing more and more past times. It has not been that way always. There was a period of time that I almost hated to go rehearsing place. For me it is a good way to get out frustration.
Tommo: Playing in a band can be quite frustrating and make you a real dickhead sometimes. So, maybe not.
Which is the most odd question you ever have got in an interview?
Tommo: So far, not too many odd questions.

Which is the question you want to have but you never get. Please ask it and answer it?
Tommo: Never really thought about this kind of thing.
Futureplans for the band?
Tommo: We are going to hit studio to make 12" LP this spring (2018). We have a bunch of really good songs to record. We have been working over a year with the songs, and the bar is high for the record. Let´s see how it plays out. I´m excited and totally charged about the record. <![if !supportLineBreakNewLine]>
<![endif]>
For yourself?
Amos: Learn how to play drums
Tommo: To make bunch of good songs also for also Uhrit, and to go to studio to record a 12" LP in summer 2018. To make lyrics for upcoming Lapinpolthajat record. All the music is now ready, but lyrics are now the challenge. Frustrating situation, the stories for the lyrics just don't came to me like they used to. I don't know what to do with that.<![if !supportLineBreakNewLine]>
<![endif]>
Wisdomword?
Amos: Kukko kiekuu! (cock rocks!
Tommo: Eat your veggies, drink enough water and hail Satan!
Antti: Stay tuned.
Something to add?
Tommo: If you like rock´n roll, you should check out our band live, you won´t be disappointed. Thanks for this interview!