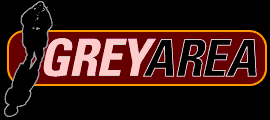 Iīm very happy to hear my old friends again from Black Train Jack that now has formed Grey Area. Vinny is answering my questions.
History?
-Formed in Dec.1997, Ernie & I got together just to jam and we started writing. It was coming out quickly and easily so we decided to send Tony@Victory a 5 song demo, he liked it and we had enough material to do a full length. Results the S/T debut released Oct. 1998.

Please tell me a little about every member?
-Ernie was in Token Entry, Black Train Jack, he works on Websites, Steve was in Crown of Thorns, he works on independent films, Jaysin was in Warzone, he is a dispatcher for a courier service, Vinny(me) was in Warzone, No Redeeming Social Value, I am a manager in a warehouse.

You were in Black Train Jack som of you, werenīt you, why did they split up?
-I'm not to sure.

Have you taken the melodies from there and the aggrevisity from old HC? -
-Yes

How would you describe your own music?
- Melodic with an edge. Emotional & energetic. Somewhere in between punk and HC

How come did you came on Victory?
-I already knew Tony through Warzone, but I sent him Greyarea's demo. If anyone has this, I will pay big $$ for it.

Is it a good label?
-Victory is great. It is hard doing things without a label. They have a hardworking staff. Their distro is incredible, the best independent in my opinion.

What do you like the other bands there?
-KID DYNAMITE, PROMISE RING, LIFETIME, etc.

Is there any good bands in USA now?
-Saves the Day, Hopewell, Under the Gun, Dropout Year.

What do you know about Sweden ?
Warzone was supposed to play there, but something happened. We got to meet the guy in Celtic Frost though(he owned the club).

Have you heard any swedish bands?
- ABBA?? aren't they from there??

You do Gotta getaway on Fanbelt CD ,do you do any more covers?
-7seconds

Do you like the old punkbands like SLF and that stuff?
-YES

GreyArea what do you mean?
-The Greyarea between Punk Rock & HARDCORE

Fanbelt Algebra ,what is it all about?
-Mathematics & Machines. What makes things work....

You do all the lyrics, itīs unusual for a drummer, is it difficult to do them?
-It is weird cause these words are my feelings, it is my life. I just write down what I'm feeling....it is the best way of expressing myself. I don't find it difficult, it just comes to me.

What drives you to make lyrics like this?
-Everyday life, experiences I've had.

How is it to live in USA right now?
- Alot of racial tension here in NYC, but overall it is pretty good.

Is it violent?
- Yes & No. There is violence everywhere, bad people bring bad things.

How about nazis and that stuf, what shall we do about them?
-Racism is bullshit, it is just ignorance like Nazi's, KKK, etc. There is nothing we can do really except keep them in hiding like the cowards they are. Racism will never go away unfortunately.

How is a good concert with GreyArea?
-People smiling, singing along, enjoying themselves. It is all about a good time, NO TUFF GUYS, NO FIGHTS, etc.

How does the average GreyArea fan look like?
-All different types, very diverse.

Do you have good contact with your fans, if you have,in which way?
- I deal with all of the business for the band. Booking, etc. We don't have any Lawyers, Booking Agents, Managers,etc. I deal with the kids, no bullshit. We don't depend on the band to pay our bills, so we can do things inexpensively.

You have an own homesite, is it important to have?
- These days YES

Who does it, is it yourself which is doing it?
-Ernie does all of it(our sites, layouts, etc.)

What do you think about the new way to communicate?
- Great

Five records you canīt be without?
-1)Minor Threat"complete discography", 2)The Cure"boy's don't cry", 3)Face to Face"big choice", 4)Cro Mags"age of Quarrel", 5)7seconds"the crew"

The first record ever bought?
-VanHalen"1984"

The most expensive record you ever bought?
-I have the "Together" comp. which is now worth alot, but I don't spend alot of money on records.

Are record collectors pretentious arseholes?
-All depends on the person.

What does punk mean for you?
- Dedication, Family.

Is it many interviews?, Is it boring to be interviewed?
-No, I like it. I get to voice my opinions and let people in on who I am.

Which is most frequent asked question?
-What was Raybeez like????

Is there any good zines to recommend on the net or in the USA?
- In effect, corn zine.

Do you have any future plans to tell me?
-More shows, more friends, more records, more HC!!!!!!!!!

I have only two CDīs with you. The two ones on Victory, what have you done more and how can I get it?
-We are on a comp., called"No Borders", I would say call Virgil Dickerson and tell him you want one....720 929-9252 or write 1828 E. 96th circle Denver, CO. 80229.

Wisdomword?
-Expect the worst, hope for best.

Something more to add?
-Thanks for giving me this opportunity, thanks to everyone who supports Greyarea, and hopefully we will see you soon. Check us out at www.greyarea.net or write Vinnie Value/ Greyarea PO Box 430 Village Station NY, NY 10014-0430